Originally posted by ArabellaPearl
"What we anticipate seldom occurs: but what we least expect generally happens."
Quotes used for the character discussions: by Benjamin Disraeli, Lord Chesterfield, and John Lubbock!!!
Shyam Manohar Jha:"An injury is much sooner forgotten than an insult"... which is very true in the case of our ruthless villain of IPK!!! He is not that kind a person who could easily forgive nor forget...Be it an injury or an insult!!! I will try an give u one Perfect example ' take a look back when he had an a leg injury in the initial episodes ... he was hit by an auto rickshaw... there was absolutely no mistake with the driver as it was our shyamji who stood rite on centre of the road ...so many vehicles moving to n fro [he was deep in thoughts about dealing with our Khushi]... but what did our shyamji do? Pulled the driver out and started hitting him so bad for the pain he caused. If that was the case then, just imagine what worse thing he would plan for our ASR... who had slapped him not once but twice during the confrontation scene after the kidnapping!!! ... Now beating him black n blue [it was almost like a boxing match] in the hospital!!! To shyam this is gonna be his character assassination ...he is never gonna forget the INSULT/PAIN caused!!! He is definitely going to enter the RM with more evil plans that we cud ever imagine!!! This man...Who could go to an extent of killing his own blood for revenge... will do more stinking dreadful deeds to win over his opponent!!! His motto "so little done, so much to do"... The drama Begins!!!
Arnav Singh Raizada :"Man is never so manly as when he feels deeply, acts boldly, and expresses himself with frankness and with fervor"... Yeah he is a state of breaking down into pieces ... he is tired of facing difficulties one after another... he is expressing himself/his past in front of his Love/life khushi. He is shattered as everything is totally taken away from him without mercy. He acts boldly when he sees the man who deceived their clan for LUST/MONEY!!! "Man is only great when he acts from passion". When she gave him the courage he readily accepts and acts with passion...takes a step forward to set things right ... to be a pillar of strength for his Di ... ARNAV SINGH RAIZADA IS MANLY [NOTE: this for the people who compared ASR to a woman... for crying n expressing himself in front of khushi!!! how cud some ppl??? heights of foolishness is say!!!]
Khushi Kumari Gupta Singh Raizada: so many qualities to ponder upon!!! This woman is ultimate n one of a kind!!! She is ignorant ' "The first magic of love is our ignorance that it can ever end"!!! "What we see depends mainly on what we look for"... likewise she always looks forward for good things to happen... Simply believes that one day she will end up living a fairy tale!!! "I am prepared for the worst, but hope for the best" is her motto!!! She "Never complains Never Explains"... she doesn't want anyone disturbed coz of her!!! She is strong enough to fight for her problems on her own with the all powerful Devi Maiyya on her side!!! "A consistent soul[KHUSHI] believes in destiny, a capricious [ARNAV] one in chance"... yeah... Arnav the capricious one ...is impulsive...takes decision without thinking thorough... has got entwined with Khushi by the sacred thread of the Almighty!!! .. Now it's the consistent souls' chance to lead the capricious one ... to the place destined 4 them!!!!
Subhatra Devi a.k.a Dadi: her favorite mantra "Damn your principles! I will Stick to my party. [Shyam-Anji-Dadi]"...she does not let any other principles come her way!!! Her supreme goal is to bring her Damadji back to the RM!!! .. She will never step back until the sheer purpose of her entry to RM is fulfilled!!!
MESSAGE FOR THE FANS:
"Silence is the mother of truth "' is the reason to why Arnav n Khushi kept all the sorrows/secrets to themselves!!!
"Something unpleasant is coming when men are anxious to tell the truth. "'we are seeing so many truths coming out one by one ... something that's really unpleasant is waiting for us as each of the character in IPK is ready to open up and tell their part of the story .. REMEMBER "Circumstances are beyond human control, but our conduct is in our own power"... It's necessary for the viewers to wait for the unpleasant ...rather than predict!!!... Let's stay together throughout!!!
FOR US TO REMEMBER:
The Characters here in IPK do not change but are only developed!!! It's just that our Opinions alter...
PICTURES: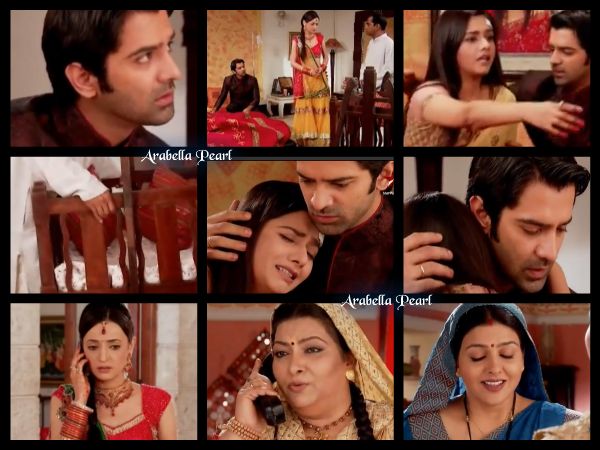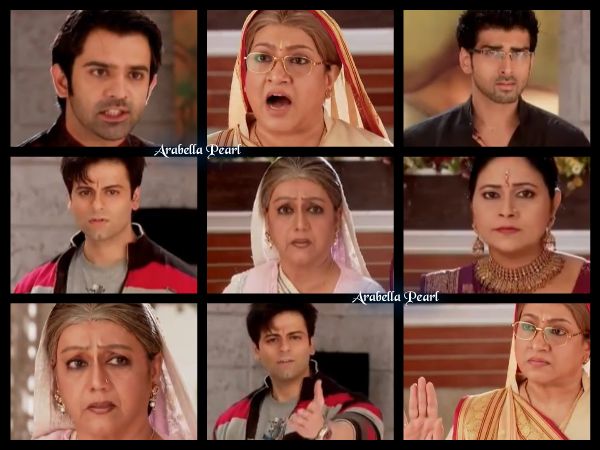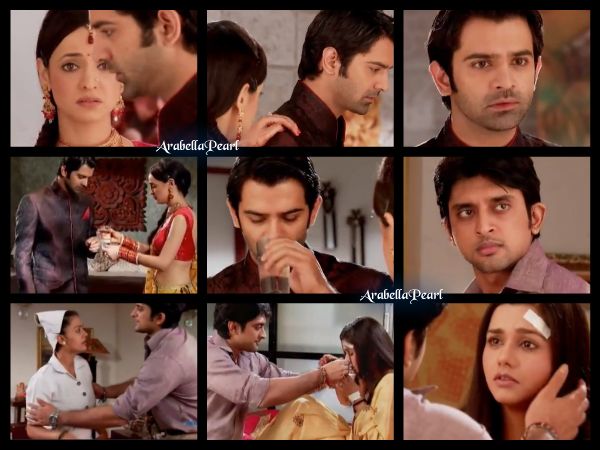 AUDIENCE POLL:
Originally posted by laddoo598

What are the writers trying to prove? That all women are dumb? And only the men are the smart ones, the ones who know how to manipulate and control these women? Shyamu is making AnJhali and Dadi dance to his tunes, and Khushi seems to have lost whatever few grey cells she has, and ASR is the only one who has some semblance of sense left. What a mockery of women, its clear that all writers want to convey is women are fools who wear their hearts on their sleeves and are prone to committing all sorts of dumb foolery.
Originally posted by uktamil

Another thing is that I dont like Khushi to be this naive when it comes to Shyam - cant she remember who he almost killed her and Arnav for money? Than why does she think losing a child will change him. Thank God for the fact that Arnav hasnt been fooled and that Khushi listened to him and his judgement.who ever decides to bring Shyam back into the house. I still think it might be Anjali or Dadi and even Nani might do this for Anjali's sake. But who ever it is will surely feel the wrath of IF forum.
Originally posted by mepobaa

Guys if u see nanji supported asr today in front of dadi and i really love it and i think she knows the true color of shyam unlike dadi whi just believes her damadji rather than pothaji..
Originally posted by anannya_arshi

Asr to dadi: "Kya lene aiye hain aap ashram se...wahi rehna chahye thi na apko?" What a dialogueee!! Love u ASR!!u rockkk!
Originally posted by eveline

It was high time..and finally out of the mists of uncertainity...I see the hero emerging...ASR...now the man starts living up to his name...One glance...just one glance between Dadi and Shyam...and that too when he was emotionally so unstable...and still he could figure out what was the equation between these two like minded home wreckers...one brief interaction..and he knew what was cooking..!! aaah...how long have we waited for this to kick in...what fun!!So looking forward to shyam returning to RM...and being defeated hands down by our one and only...ASR!!
Originally posted by divvk

we know, shyam kept arnav's will paper in cradle and saw HP taking it today.. so, is that will paper gonna come as proof???I know this is the prediction, which has 0.00000000000000000000001% of it being shown.
Originally posted by zobsheh

i think i would prefer mami and payal drama any day over this ...i mean mami taunts Payal and she cries...silent tears...and tries to put up with her
Originally posted by fatim28

Fans WE have to be PATIENCE and we will enjoy the day KHUSHI will have JUSTICE because trust me the day is going to come
FINALLY SOMEONE FOUND "VOH AURAT"!!! CHECK LINK!!!
http://www.india-forums.com/forum_posts.asp?TID=3181363
DEAR DARLINGS I WILL ANALYSE THE COSTUMES ONCE ARNAV N KHUSHI GET RID OF THEIR MEHENDI CEREMONY CLOTHES!!! WILL BE BACK SOON!!! I PROMISE!!!

thank Y'all !!!!!
luv n
BellaPearl