Hello ... Hie ... Salaam ... Namaste ...



Welcome one
...
Welcome all ...


To the grand grand celebration of the 100th Episode of our jaanuable show Ek Doosre Se kaarte Hai Pyaar Hum ...
First thing first,

to the entire cast and crew of the EDSKHPH show, hope you guys have a long inning on SP

The journey of the show started on the 23rd April 2012 at 7.30 pm (IST) replacing a well known show Saasural Genda Phool aur dekhte dekhte EDSKHPH has completed its 100th episode today
and by the completion of the 100th episode we have seen AniJal getting married
and that
Shashwat getting married too
Ab celebration hai, toh cake toh banta hai naa ... Here goes the cake to the entire cast and crew of EDSKHPH show
...


THANK YOU
PRODUCER JD MATHEJIA
:-
for getting a show which a stress buster and relief from those
saas bahu sagas. Its breath of fresh air from the same old gheesipiti kitchen politics and saas bahu drama. The recent track takes us back to square one, please J D Mathejia dont lose the original charm of the show.

DIRECTORS:-
A fabulous work by you'l, until date you'l have used all the characters of the show to their best. The episodes which showed why the twins were jealous of their elder bro Aniket was beautifully woven, to be frank dil pe lag gaya boss
Thank you for making each actor understand the depth of teh character they are playing, warna Debu wouldnt have been crushing on Shashwat
and I wouldnt have been crushing on Aniket

CVs :- I love you guys because you'l have given every actor a screen space, it includes even Susheelas peehaar
You guys havent sidelined the male members of the show, especially the father (Nikhilesh Mazumdaar) his presence around the house and especially he contributes in them is the best em best
and the eldest son (Binoy Mazumdaar) a well woven and crafted character, despite being the eldest he aint lost in his own duniyaa and doesnt think twice before depicting his love towards his younger siblings, must say Bhai ho toh aisa
DIALOGUE WRITERS :- I also love you'l for us a change from the jii majii and jii ahemjiii kinda dialogues
You'l have got innnovative dialouges like "hale hale ave" "sab eka eki" "singing salesman" "tablatod" "takiya phaad" "Ahemdavadi kadak istri" and my favorite "Kabhi khushi Gham wali pani puri"
Jokes apart, am glad that the eldest son, Binoy Mazumdaar of the house has dialouges apart from "jii mom" and "green and black tea"
ACTORS :-
Wonderful portration of the characters given to them by the PH. Especially Pooja Bannerjee aka Tabla tod Tejal. she has done pure justice to the tomboyish character of Tejal and has brilliantly portrayed a person with a heart of girl and her urge to have Sanyukta Mazumdaar not as a MIL but as mother, with lovely acting she has made her mark in the industry
THE STORY OF EDSKHPH
Sanyukta trying hard to shudrofy her DIL Susheela and making her a "typical" DIL. But, am glad Susheela didnt become one
Susheela finds out about Aniket desire to have a wify and a settled life, just like his elder bro Binoy Sanyukta disagrees pehle, but after persuasion agrees (If she had to agree then why do the natak of not agreeing )

Tabla tod and Takiya phaad Tejal entry
Mazumdaar family helping Aniket in becoming responsible and Phai baa trying to sudhrofy Tejal

AniJal meet then followed up Mujhse Dosti Karoge and then kept meeting till their Dil went pagaal for each other
Aniket successfully completes the target of Rs. 10,000/-
AniJal cutest, sweetest rain sequence The song Khushnumaa yeh saama, mehki yeh fizaa, kehti hai hume pass aa zaraa
Tejal meets Sanyukta first time whilst giving Anikets fallen wallet and then sanyukta goes on Tejal
After thinking for awhile "Is Pyaar ko kyaa naam Du" AniJal decide to say to each other "Saath Nibhana Saathiyaa" but Sanyukta is on accepting Tejal, but after persuasion accepts her
Meanwhile, that Shashwat writes an article in his newspaper, which costs Gulabchand (Tejal ke pappa) his farsan shop at Surat
Before AniJal sagaai, Shashwat ki shamaat aai because Tejal did his dhulai
After playing hide and seek, TejSha came face to face and he accused Tejal of being a Gundi. Hearing this Sanyukta went again on Tejal and AniJal went

BinKelesh and Aniket then become Sherlock Holmes and find no proof against the article, and hold Shashwat wrong for his deeds Sanyukta goes but does nothing to her son
Aniket seeks forgiveness from Tejal and her pehaar . Sanyukta still against AniJal shaadi
Knowing this Tejal, calls it a quit making hers and Anikets Shashwat like this
BinKelesh play cupid and re unite AniJal
Afetr much battering Sanyukta agreed to leave to leave past, and ready to accept Tejal as DIL Hearing this Shashwat went and made a plan
Shashwats foul game works and Sanyukta couldnt attend AniJal wedding

Misunderstanding between TejYunkta grows even more
Tejal refrains from doing greh pravesh, making Sanyukta go
EDSKHPH FORUM
Lovely and a friendly forum. I have completed almost a month around here
and have had a lovely time here too. A month ago i was bhatkofying from on e forum to the other but finally I came on here
and am very much stable here
all thank to my Aniket Mazumdaar urf Vishal Gandhi
This forum has given a peace of mind and has made me jovial again, almost pulled me out of my depression
Have made brilliant set of friends here Debalina Paul and Ek haazaron Main Meri Behna Tanni Partner, love you.
Two of the most beautiful people I met here and have become an integral part of my life on IF are Anaa urf Anna Kapoor Sharma and Shilpa Dii. Though, I met on the other forum but it was EDSKHPH Forum which made them close to my heart, love you too
SPECIAL MENTION
VINDER90 (WANTED DEAD OR ALIVE) He has only made saying a new member here thats it, but doesnt come here only
Vinder your "RAW" style wala OS and SS is needed here too, come and roast that Shashwat really soon
I miss your "RAW" style here also
Please come soon
I finally end the rant here
Here goes the party guys ...
FOR MY ANNA KAPPOR SHARMA aka AKS
I know you veggie
CHICKEN KEBABS
MUSIC and DANCE
SALAD FOR THE DIET CONSCIOUS PEOPLE
Mexican Salad
Indian Salad
BUTTER CHICKEN
NAANS
VEG MANCHURRIAN
RICE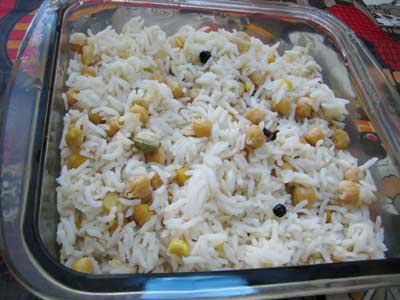 HAKKA NOODLES (N- VEG, on request)
SPECIAL DEMAND, Daal Baati Choorma
Manish ayi le, tari daal baati choorma
DESERTS
Chocolate Mousse
HAVE FUN GUYS ...
PS - Il make the Awards post by afternoon, need to work on it. So stay glued to the EDSKHPH Forum


Edited by dhruti - 05 September 2012 at 5:23am