I'll be there for you, I promise
I'll be there for you, I promise

A shoulder to cry on
A hand to hold you
A flame to guide you
A mirror to show you
A friend to encourage you
A wife to always stand by you!
Yesterday we saw a 29 year old man, who was always sure of himself and his decisions.. Who in his arrogance claimed to be the creator of his destiny and people around him.. Who did everything possible in his power to protect and keep the promise he made to his sister.. stripped of all his arrogance, pride and false beliefs.. He came face to face with the fact that no matter what he does, he cannot protect his sister.. There is some power beyond his control which pulls the strings and shapes life and its events..
That man sat defeated.. reflecting at his inadequacy to bring happiness to his sister's life..He failed to protect his mom when he was 14.. He failed to protect his sister from evil and misfortune now..
He opened his heart to the only person who has made an effort to love him with all his shortcomings.. A person who has time and again proven her worth and her love and devotion for him.. He felt the need to share the burden of his sordid past because for the first time he knows that he has finally found someone who will not leave him, desert him but someone who will always be there for him, holding him, guiding him, sharing his pain.. He no longer has to fight his battle alone.. He has found his partner in Khushi.. his other half!
As he poured his heart out, talking about his past, his deep seated grief, his fear of losing his di like he lost his mom, the past repeating itself, his anger at his dad for taking away his mom, of reliving the past and his father's deceit every time he saw Shyam's face and his betrayal to his di.. She stood silently by his side, hand on his shoulder, shedding silent tears at the pain he had been harboring in his heart, seeing him breaking into million pieces.. letting him vent out his grief.. She enveloped that boy who lost hope in her arms and held him close to her heart..
She reassured him that he is not a failure.. He has not been unsuccessful.. He always did what he promised.. He always kept his sister happy.. He always valued his sister's happiness above everything and did everything in his power to keep her world intact.. But he has to accept the fact that somethings are not in our hands.. There is something called as fate and destiny which has a bigger role to play in our lives.. He cannot change that.. What happened with his parents, with his di was not because of something he did or did not do.. It was not something he could prevent.. These things are out of our control and reach.. We should not worry what cards are dealt to us, rather we should focus on what needs to be done next in that situation..
She tells him what needs to be done! He needs to be with her sister.. He needs to be there to support her, to bring her out of the clouds of despair.. Anjali needs him more than ever.. He has to put behind his sorrows, look above his heartbreak to see her like this and be there by her side to help her come to terms with the loss of her child and her hope.. He cannot lose hope.. He has to be strong for his sister once again.. She takes him to his sister's room.. encouraging him and promising him that she will always stand by his side.. She will be his strength.. She will the support he can lean on.. She has faith in him, that he will do what is necessary to help his sister in this moment of tragedy!
The one who took away all her happiness
is the one she believes to be her happiness!
At the same time, in his sister's room.. the evil is once again rearing its ugly head.. She is once again being drawn into the web of deception of her husband.. Where Khushi is mending her broken husband.. Shyam is breaking her already broken wife!
He comes to her room, she apologises to him and he makes his first move..
How did this happen? How could you let this happen? It was her responsibility, how could she let it go? The deception just deepens after that.. Hinting that if he would have been there, nothing of this sort would have happened! Pretend Tears falling down his cheeks.. He hugs her, trying to comfort her and pretending to draw strength from her.. His emotions once again on display to show how heart broken he is.. Cementing dadi's belief of his love for Anjali.. And Anjali's belief that she mattered to him as much as their child.. He cannot bear the loss of their unborn child.. She begins to comfort him..
Its his trick to simply exploit her love once again.. Her love for him will never let her see him suffer alone.. She would want to take away his pain, forgetting her pain..
One part of my brain says that he is doing this to make her go nuts with guilt.. The other part says that in his attempt to show his grief, how broken he is, Anji will forget her pain and strengthen her heart to be there for him and thus not going mad in the process.. His plan has to backfire in some way.. I am just waiting to see how and when and most of all how badly..
The encounter!
As shyam walks out to get the doctor, Arnav walks in with Khushi to be with his sister.. Arnav takes one look at her sister's face and her tears.. His resolve is back in its place to ward his sister of all evils especially the biggest evil standing in front of him..
He knows, Shyam has given nothing but pain to Anjali.. He is the cause of all the tears his sister shed.. If he had not entered her life in the first place, nothing like this would have happened! He drags him to a corner.. His anger and frustration reaching its peak.. The words of deceit coming out of the mouth of Shyam, not making a dent on his heart.. The tears, the pain, the loss of his child, the father in Shyam crying.. Arnav is aware of the true face of this cheater and he will not be fooled again by his words.. He remembers his confession of love for Khushi, his claim that his sister was the only obstacle in his path of love for Khushi..He witnessed his smug smile when he found out that Anji was pregnant and knew that Arnav could not do anything.. He tried to fool him into believing that he cared for this kid by showing his false love but failed in his test of providing for his sister and her child by trying to kill him for his wealth.. He knows Shyam's true intentions and he would not let a man like him near his di..
Arnav tells Shyam in clear words.. He is nothing.. His sister can never need a man like him.. He will not let him enter his home, till he is alive.. In simple words.. He will guard his Di with his life..
This dialogue spurred the memory of the earlier one in which Shyam said that he would not let Arnav and Khushi unite till he is alive! In other words,, he will go to whatever lengths, harm anyone to serve his purpose.. Cos I am sure of one thing.. Shyam will not sacrifice his life for anything.. He will destroy everything that comes in his way! be it an innocent child!
All of ASR's bottled rage and frustration comes out in the form of punches to the cause of his di's misery.. Shyam's display of false love goads Arnav to hit him in the earnest.. The voice of his dadi, not to treat damaad of the house in this manner only instigates him to hit him harder!
The realisation..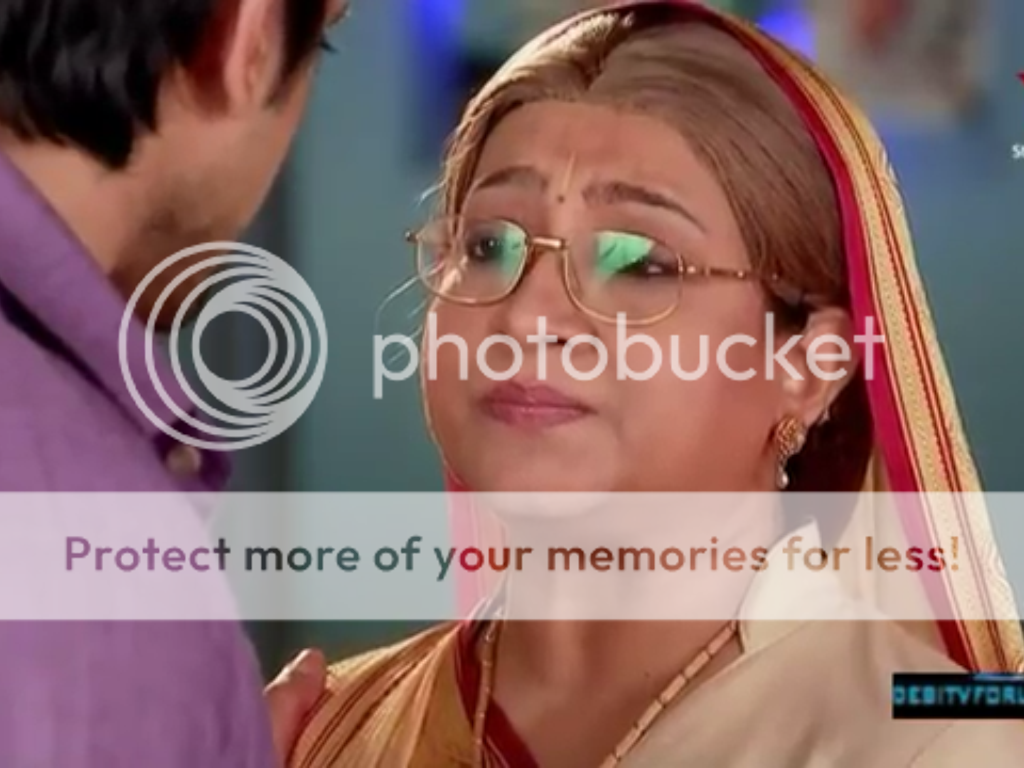 He witnesses the exchange between Dadi and Shyam.. Shyam's hand on dadi's shoulder.. his plea to dadi to look after his rani sahiba..
When dadi professes of the love Shyam has for Anjali, Arnav is sure that Dadi is being taken for a ride by Shyam..
The realisation dawns on him that dadi is being manipulated by Shyam.. One look says it all.. He now understands the sudden appearance of dadi, dadi's angst with Khushi, her repetitive hints at bringing Shyam back, Anji's need for Shyam.. He is aware of the purpose behind dadi's re entry in their lives, her bringing up of the past again and again!
This particular scene made me very happy.. Because now that Arnav knows dadi's agenda, whatever awaits next when Dadi and Garima have their own encounter, he will be inclined to believe Garima than his dadi.. He is well aware of how She sees only what she wants to see..
The strength
I absolutely loved this shot and applaud the brilliance of IPK team for it!
In the above pic we can see..
the beauty of the light.. Arnav and Khushi in the bright light.. Shyam like his deeds in the dark and shadows..
Dadi standing behind Shyam.. offering him support..
Khushi standing with Arnav holding his hand.. Arnav's hand curled into a fist, ready to launch on his opponent..
Khushi who always has been the voice of reason which stops Arnav from giving into the mindless rage.. the only person who has been acknowledged by everyone to make Arnav see and do what no one else can do... Hers is the only voice that penetrates his rage, his heart.. Today also she held him back.. His wrist enclosed in her hand..
But this is not the beauty.. The beauty is, that Khushi is also his strength.. A reservoir which will sustain Arnav's strength in the battle.. An when time comes, she will be the power in his hand and launch punches and hits on Shyam.. She might hold him back now.. But she will also be the one who will give him that extra boost when required.. She will be that extra kick which will be needed to bring the downfall of Shyam Manohar Jha...
Edited to add:
other tit bits:-
1. The whole walk of Arnav and Khushi from the idol of Lord Ganesha to Anjali's room was heart touching for a very simple reason.. Arnav who was walking ahead of Khushi..Khuhsi followed him, looking at him throughout.. Her eyes watched him constantly..love and support visible in them.. Plus a determination to be with him always.. Also hinting at that in future Khushi will always keep an eye out for Arnav
2. Shyam's persistence that he will not leave Anjali and go anywhere shocked Khushi.. Arnav just got furious and furious..
3. Shyam's walk of shame.. Thinking aloud about killing his own child for his ulterior motive cannot be called anything else but shameful.. Only a hideous man would attempt such a thing!
4. Dadi has become redundant to Shyam.. She could not prove his worth.. She was not even able to bring him home despite the dhamaka he created!
5. Once back in RM, dadi launches an attack on Arnav accusing him of being careless about Anji's health.. In his stubbornness he is not listening to her voice of reason..
Credits!
Barun Sobti.. Uff.. No words.. I adore you for the way you pick yourself up.. Whenever we see a slight dip in your performance, you come back with a much more powerful ones in the next moment.. A brother's pain, helplessness, rage both in expressions and voice done brilliantly!
Sanaya Irani.. Your love and support for your husband as Khushi shone through your eyes yesterday.. The tears you shed were potent..
Daljeet.. The anguished cry of the mother.. The helplesness.. brilliant..
Abhaas.. How I hate your character.. Everytime Shyam comes on screen I cringe with disgust and anger.. Your deception.. your tears.. deepened my hate for Shyam a thousand folds!
Love
Kopal
PS: Sorry guys for being a little irregular..
Thanks to the like team.. and the wonderful comments.. If possible please pm me the link for comments.. As I don't wanna miss a single comment..
Hats off to all the writers of redux, who make redux what it is..


Edited by Chani123 - 04 September 2012 at 9:24pm