Originally posted by GanBarunFan
Hi Anjali:
I've not met you in real life but your positivity and warm nature comes across the virtual medium and I proudly consider you as one of my dear friends who's always ready with her jhappi when I need one. You're always welcoming and a voice of reason with a touch of phangurl which makes your presence such a endearing one.
I made this especially for you ...your birthday gift from me...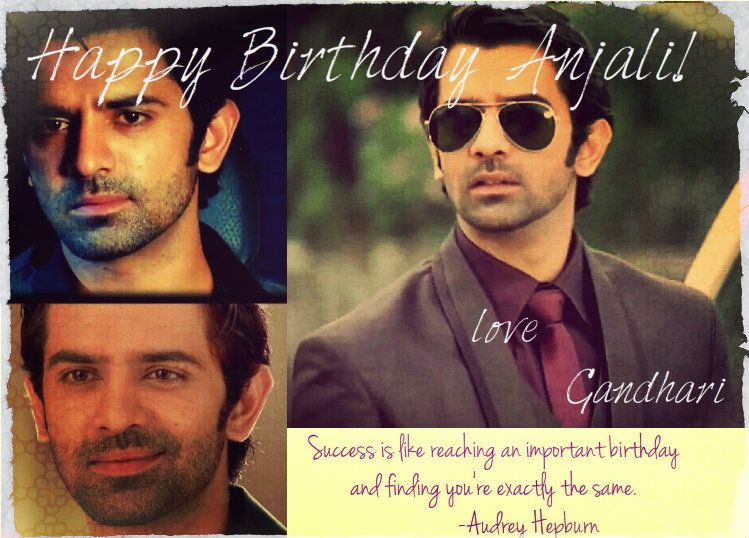 and I know you love the hooded gaze
Wishing you all the best on your day and hamesha!
Loads of love, caramel chocolate sent your way.
xoxoxo
G
Hai, Rabba Ve!!!!
I had left SKD to emerge back into reality and you took me right back in there, yet again, G!!! Yeh caramel ne mujhe kya kar diya!!! I have come to admire you so much for your talents, yaar...fantastic in your penmanship and your collages are now the talk of the Crooner...I just LOVE the entire "effect" so much every time you post! Your fabulous creation above is just LOVELY--that Audrey quote in that 4 frame applies to all of us, but amazingly to the man himself, na!!?
"If you have two friends in your lifetime, you're lucky. If you have one good friend, you're more than lucky."
~S.E. Hinton
But more than anything, your keen mind, sense of humor, and that caring heart are what really always standout! And these are my most precious gifts! So, THANK YOU, hun for always giving me a reason to to smile!
And my jhappis are right here for the taking!!! So here you go again, my sweets...
OMG, did I just notice you went GREEN!!!??? Yay, DAAAZZZLLLERRR!!!