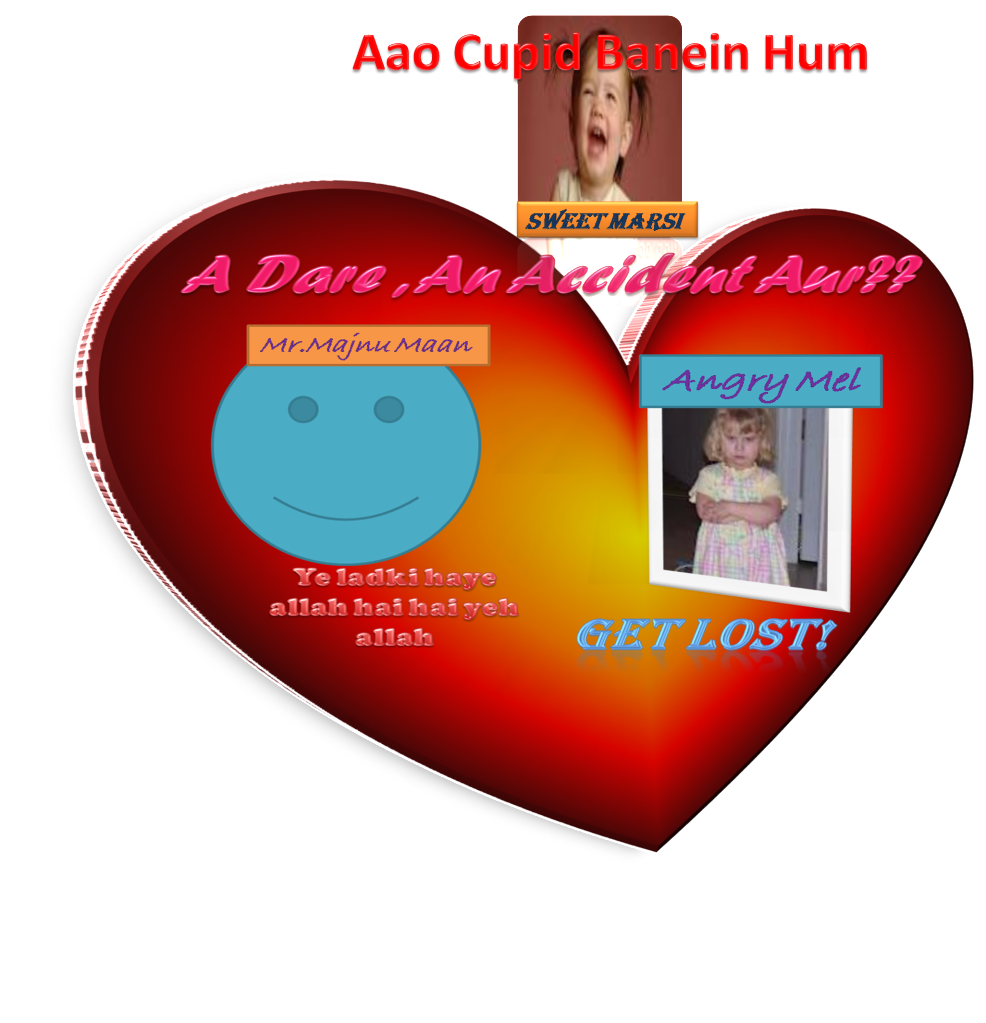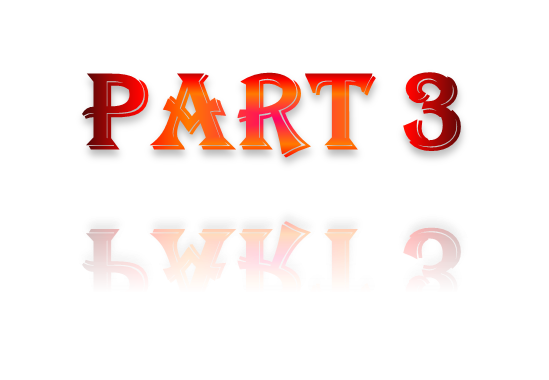 Maan and Ananya went away hand in hand after Mel literally grilled them out along with both twin partners. As soon as they were out of their sight, Ananya smacked Maan's head.
"Itni over acting karne ki kya zaroorat thi????" Ananya querried with her typical one eyebrow raised.
"I got nervous Marsi!!" Maan said guiltily.
"Haan haan Teri toh bolti band ho gayi hai after listening her talks!!" Ananya teased as Maan gave a dreamy look going into flashback mode.
::::::::Flashback::::::::
Maan had gone with an intention to flirt with Ananya.
He ttok a rose and went near her.
"Madam!"
Ananya turned towards him.
"Go away!!"
"I like you!"
"Chappal se maroon kya!!"
Maan was scared and he went away.
Suddenly an accident was about to occur when Mel saved him.
He was shocked at first to see her shouting at him.
M:Oye are you blind didn' t you see the car
Maan:Thanks for saving my life
M:yeah whatever
Just then Ananya came.
A:Mel how can you yell like that to such a hottie
M:Oye sharam kar
Maan:Kyu if I am hot why can' t she say so
A:Hayyyeee
Mel:Yuck you guys ar disguting me
A:Whatever so called miss shareef then leave from here na agar itni sharam aarhi hai
Throughout the conversation Maan was staring dreamily at Mel oops his lady love Mel.


"Gadhey!! Suar ki aulaad uss pagal ke muh kyun lag rahe ho Kaminey!!" Ananya screamed on that loafer Maan.
"She is dreamy" Maan said dazed.
"WHAT???" Ananya shouted.
"Eh noo no thing!!" Maan said breaking his trance and began to leave when Ananya grabbed his collar and said "Kya bola bey tuney????"
"Ruk baccheee tujhe acha sabak seekhati hoon taaki kisi ladki ke aas paas bhi nazar nahi aayega. And also a right lesson for Mel for teasing me!!" Ananya thought smirking evilly.
End of Flashback.
"Oye!!" Ananya smacked his head again.
"Chal Practice karni hai!! TUjhe Mel ka dream man jaise ban na hai ya nahi???" Ananya said.
"Chaliye!!" Maan said again with a dreamy smile only for Mel.
This made him remember his first practice session for grooming for Mel.
Flashback
"Wear your specs. Geek waley!" Ananya ordered.
"Kyun!" Maan made a yucky face.
A:"Mel ko aise hi pasand hai. Abb iss mai mai kya kar sakti hoon!!"
A:"Chalo shukar hai pehen to liya Phew! Abb Cactus pakad!"
M:"Kya????? Roses kyun nahi!!"
A:"Mel ko saarey flowers se allergy hai So Cactus se usko propose karna!"
A:"Abbb chalna shuru kar."
He straight way walked.
A: Abey oyyee aise kaise chal raha hai. Catwalk kar. Mel ko catwalk karne waley bohot pasand hain.
M: Are you sure?
A: Tujhe mere uske bestie honey pe shak hai?
M: Umm shayad...
A:Kya bola tuney!!
M: Nahi nahi bilkul nahi!!
A: Abb catwalk kar.
Maan wore the geeky glasses and held the cactus plant with a handkerchief in his hand and catwalked back to front and then back.
A; Good!
End of flashback.
Maan practiced once again finally ready to propose Mel.
In the evening he went towards Mel who was waiting for Ananya in a restaurant.
He started his catwalk towards Mel with a bowl in one hand and a cactus plant in the other.
All the customers were staring wierdly in her direction. Mel was staring at him too wierdly.
"What the hell is this Lover Boy doing?" She thought.
"What are you doing????? Standing on one leg? Cactus? Bowl? Geek specs??? Wierdo!!" Mel said
"Proposing!!" Maan replied.
He came and stood on one leg and said "Mel You are so cute so innocent , I like you!" And thrusted the bowl towards her mouth and she forcefully drank but suddenly spitted out on Maan's face.
"Bittergourd Juice!" She screamed.
"Ananya told so you like it! You hate chocolates!!" Maan said innocently with a sad smile disappointed and heartbroken.
"ERRRGGGHHH ANANYA!! I am gonna kill you!!" She screamed in a huff.
Ananya smirked evilly hiding behind a tree.
"Abb aaye dono oont pahad ke neeche!!" She said .
Next your turn Mel.


Edited by Miss.Mars - 11 September 2012 at 8:11pm