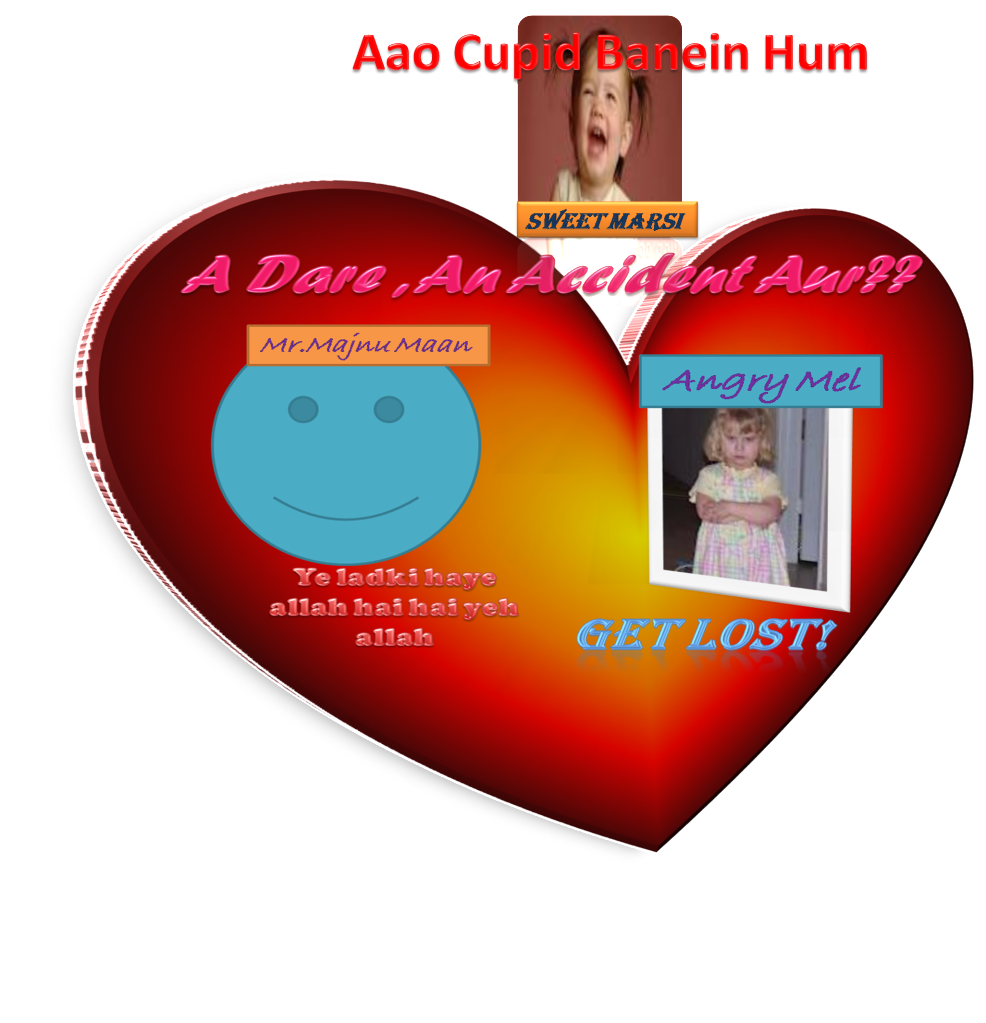 Last part"What are you doing????? Standing on one leg? Cactus? Bowl? Geek specs??? Wierdo!!" Mel said
"Proposing!!" Maan replied.
He came and stood on one leg and said "Mel You are so cute so innocent , I like you!" And thrusted the bowl towards her mouth and she forcefully drank but suddenly spitted out on Maan's face.
"Bittergourd Juice!" She screamed.
"Ananya told so you like it! You hate chocolates!!" Maan said innocently with a sad smile disappointed and heartbroken.
"ERRRGGGHHH ANANYA!! I am gonna kill you!!" She screamed in a huff.
Ananya smirked evilly hiding behind a tree.
"Abb aaye dono oont pahad ke neeche!!" She said .Mel walked over to Anu. ''Anu you went way to far. You shouldn't have done that, ylou bhurt the poor boy's feelings''''Hmmmp I am really bad na''Any started cursing herself and crying.''nautanki ab rohne she kuch nahi hone whala''Chal let's applogise to Maan.Mel and Anu walked inside to find a hurt and fuming Maan. He was cursing under his breath. ''What is he saying''asked a teary Anu. ''How should I know, I am not a dog with sharp ears''Melopie, dogs have sharp noses''''Ears bhi''
''Hottie doesn't believe me''
Before Anu could start crying. The twin partners came from behind''
''Chup both of you we got a ear deceive so we can hear Maan clearer''
Mel, Anu and the twins put the deceive in there ear. They could indeed hear Maan clearly.
''I hate girls. I will never look at another girl again, their all the same. Deceiving people, if I would be rich and smart I am sure they both would run behind me. I will change but never give a single look to any other girl. There all true Sameera's
Sameera's Mel and Ananya said in union.
'' woh kaha se aayi. wondered a confused Mel
Anu pointed at the poster. that stated. Sameera the heartbreaker girl. It was a poster of new serial.
''Ek minute so we are Sameera and the reason he hates girls'' A shocked Mel stated.
The partners twin hitted both Mel and Anu.
''Look what you guys did you made Maan like this. Agar you both weren't interested you couldn't have told us. Hum the na''
''Oye it is Mel's fault se rejected him''
''Shut up Anu, why did you tell him lies''
''Hawww you told me to shut up, bestie ghandi. Now Manofy me or else I won't talk to you''
Both the twin parents looked at anu and mel's special convo
.
''Hello their is a bigger issue''
''What'' Mel and Anu aksed in union
The twin partners hit smacked their head.
''MAAN''
''How is that a problem he will become, better looking, rich and marry Geet all thanks to us haina Bestie''
''Absolutly right Melopie''
The END
ANU will write epilogue