Part 25:
Is it a success because as expected Geet herself came with food nd didn't budge until Maan had it which shows how much Maan matters to him for which she was ready to leave her insecurities nd fears for a while or is it a failure because once again Maan was not able to apologize as Geet didn't let him complete his sentence nd left from study but still Maan is smiling may be because Geet had requested him to finish the food before going back to work. Well it's really complicated at tymes to understand something which shows two different things at the same tym, Vicky thought as he scratched his head confusingly before taking out his diary once again to make a new entry after cancelling the previous one while sighing heavily
Plan B: Make your wife's care nd concern for you as your weapon when stuck up in such kind of situations.
Status: Complicated
Conclusion: Sometimes it's difficult for you to understand the language between a husband nd wife as they speak to each other in their own languages which is alien to others. So its better you should leave it to them for a tym being nd don't make yourself crazy to know what actually happened
Score:
Maan Bhai: 1 or may be 0 don't know exactly
Geet Bhabhi: 2 (I guess still not sure)
"Main Joru ka Ghulam, Arey Ban ke rahunga" Vicky sing out loud as he made his way towards the study still not knowing whether to console his brother for the failure of the plan or to congratulate him for the success of plan to some extent.
*****************************************************
"Bhai why are you getting so much tense? Have patience we'll definitely be successful atleast once" Vicky said in order to calm down his hyper brother who was pacing like a hungry lion in Vicky's room giving an intimidating look to him as he tries to calm him making Vicky to gulp his saliva.
"Patience? From past 6 days Geet is not talking to me forget about talking she's not even looking at me infact she's sleeping in Annie's room at night from past 3 days on the pretext of helping her in her project nd you are asking me to have patience right? Wow!" Maan said sarcastically as he throws his hand in air while Vicky just stood over there listening to the scolding of his elder brother like a school kid who use to listen scoldings of his teacher
"That day to you were boasting so much that "Bhai don't worry Vicky the Love-Guru is here. Geet Bhabhi won't be able to remain angry for long. Nd blah blah blah" Now what happen Mr. Love Guru? Are all your ideas are out dated that they are not showing their effects or is it Geet who is made up of from some different minerals that your ideas are not showing their effect" Maan said sarcastically as he shakes his head in disbelief.
"Bhai you are saying as if your plans had showed their effect on Bhabhi." Vicky said meekly only to get an angry glare from Maan making Vicky to shut his mouth instantly
"Ya I agree that even my plans too didn't show any effect on her but atleast she had gave some reaction to it. just like that day in the study she forcefully made me eat the whole food though she didn't said anything nd even that day when I had decorated whole room with flowers nd teddies though it was all filmy nd I hate such stuffs but whatever it was atleast it brought smile on Geet's face which was not there from so long or 2 days back when I was continuously sending chocolates nd candies to her through parcel along with the sorry card through parcel which was again very filmy but I know that Geet like such stuffs even that day I saw her smiling throughout though I know that at tymes she did get irritated when Savera nd Annie were teasing her but still I could see that blush nd smile on her face which clearly indicates that she likes it all. Nd wat about your ideas they all just went in vain without showing any effect except getting another entry in your diary " Maan said as he reminisce the happenings of past few days while Vicky just looked at him mum.
"But Bhai what's the use at the end result was same only Na nd i.e. Geet Bhabhi still didn't talk to you or letting you to apologize." Vicky said slowly feeling sad at the plight of his elder younger while Maan sighed heavily as he sat on the couch beside him. It's true that from past few days Maan had approached all those ways which he don't even dreamt of approaching.
He can't believe it that he the great Maan Singh Khurana has taken help of those filmy stuffs but to pacify Geet he can go to any extent especially when mistake is his only. He knows Geet likes all those typical Lovey Dovey stuffs that were shown in typical Bollywood movies nd he had done almost all of that, be it sending flowers or teddies or chocolates, or decorating whole room along with sorry cards nd what not except he didn't sang any song for her. C'mon it would be too much for him. He had lost even the number of counts what all he had done which was out of his way to bring her back to normal but nothing worked. Ya they showed their effect on her a bit like Geet smiled whole heartedly or had even blushed too due to the teasing but it seems that, that night is etched in Geet's mind permanently as whenever he thinks that he was close to his success that night out of nowhere flashed back in his mind nd then everything went back to square one nd at the end what all he could get is failure.
He had even pretended himself to be sick too so that Geet could take care of him nd he could get sometym to talk to her but to his luck even that didn't worked nd he had to sleep whole day in order to take rest as his wife had literally threaten him to do so though not quiet verbally but her eyes were enough to express her words nd cherry on top this tym she had Dadimaa also with her who had forcefully made him rest whole day nd thus his this chance of talking to Geet also failed. God knows how many more days nd how many more ways will it take to rectify his deed nd make everything normal like before, he thought as he sighed heavily holding his head between his hands
"Relax Bhai everything will be fine soon." He heard Vicky's voice which was laced in pure concern as he puts his hand on his shoulder to comfort him.
"I had really bothered you a lot isn't it nd if that was not enough then you had to bear my scoldings too." Maan said as he looked at Vicky smiling sweetly at the concerned behaviour of his brother.
"C'mon Bhai you know its nothing like that. infact I am happy that like this I am able to spend sometym with my brother who is always busy in his work nd in the amidst of that if I am able to help you even a tiny bit that I think all my logics nd ideas on Love are worth." Vicky said with a cheeky smile nd Maan just shakes his head.
"I just wish I could make everything back to normal soon." Maan said as he sighed deeply
"You'll Bhai just have patience. Everything will be fine soon." Vicky said as he pats Maan's shoulder in a comforting way
"Bachna Ae Haseeno….Lo Mein Aa Gaya" Both heard the loud shrill of Message tone of Vicky's cellphone before Maan could say anything nd Vicky looked at Maan smiling sheepishly as he saw Maan watching him in disbelief. He just muttered a quick excuse me before checking the message nd Maan just leaned his head back on the couch closing his eyes but next moment he instantly opens his eyes as something dawn upon him.
"O No Bhai! Why I didn't think of it before?" He heard Vicky exclaiming in surprise. Guess that same realization upon him too.
"Yes why I didn't think of it before." Maan said as he ran his hand through his hair in disbelief.
"How could I miss this important fact?" Vicky said once again as he got up from the couch in surprise
"Ya that's what I am wondering how could I miss such an important fact." Maan said standing whacking himself mentally for his foolishness.
"How can you be so dumb Vicky?"
"How can I be so dumb?" Maan said groaning in frustration
"Yes Bhai can you imagine that xyz company had launched their new Play station nd I am still having its older model."
"Ya right Vicky woh play station………." Wait! What Did he just said? Maan thought as he registered what Vicky had just said
"Play Station? Till now you were talking about Play Station?" Maan asked in disbelief guessing he may have heard wrong.
"Yes Bhai Play station. Can you believe it me the Great Vikrant Singh Khurana a.k.a Vicky who always keeps track of latest gadgets nd play stations didn't knew that the new model is already in market. Shame on me!!! Thank god Kunal texted me or else I would still be unaware about it." Vicky said as he shakes his head in disbelief unknown of the anger building up in his brother
"Shut Up Vicky!!! Here we are not able to find any solution to bring Geet back to normal nd here you are worrying for that god damn Play Station. I just can't believe it that at this age when soon you are going to handle responsibilities of KC; you are worrying about latest model of play Station." Maan roared in anger nd Vicky instantly shuts up his mouth knowing very well that it's dangerous to say a word more now.
"But Bhai aren't you talking about it too?" He asked nervously fearing for the outburst of his brother
"Damn it! I was not talking about that silly Play Station. I was talking about Ranbir Kapoor." Maan said as he slumped back on couch nd Vicky frowned in confusion.
"Ranbir Kapoor? I agree that my play station was nowhere related to the current situation but then how come Ranbir Kapoor is related to it?" Vicky asked confusingly as he sat beside Maan.
"Yes he's related in every way. Don't you remember that Ranbir Kapoor is Geet's favourite infact she's die-hard fan of Ranbir Kapoor. There's endless list of the craziest acts that Geet had done for Ranbir Kapoor. You wont believe it she had watched Ranbir Kapoor's movie whole night nd next day was her exam. If I would sit nd tell about her acts then even a day would be less. I don't understand what so special in that creepy actor that Geet is so crazy for him" Maan said as he remind each nd every incident that Sameera has told him nd that he himself witnessed but Vicky didn't missed the tinge of jealousy in Maan's voice when he was narrating everything to him.
"So you are planning to bring Ranbir Kapoor to manofy Bhabhi? Waise its not a bad idea actually since Bhabhi is so much fond of Ranbir Kapoor then I am sure she'll definitely forgive you after listening to him but Bhai I am afraid that what if seeing Ranbir Kapoor Bhabhi forgot each nd every thing or just gets lost in his charms nd good looks may be she can forget even YOU." Vicky rubbed Maan's jealous side more as he made the world's most innocent face while smirking from inside nd Maan was just burning in anger listening to what Vicky is saying.
"Just Shut up Vicky. Try to speak something sensible for a change all right. I am not planning anything of such sort ok. If I could I won't even see his face. Creepy Casanova. Nd anyways if Geet would see him also Na then also she wont di anything of that sort what you are saying. Ya she likes him but it won't be like she'll forget ME in front of him so don't fly so high." Maan said annoyingly while Vicky was finding it hard to stop his laughter
"Ok ok I take my words back. Anyways tell me what had you thought then if not bringing Ranbir Kapoor." Vicky said quickly changing the topic
"Ranbir Kapoor can't come but we can go to him right? Vicky is there any movie of Ranbir Kapoor released recently?" Maan said being thoughtful.
"Ya woh "Rockstar" has released 5 days back."
"Great so I'll take Geet with me to watch Rockstar nd I know Geet wont be able to refuse as its Ranbir Kapoor movie nd there I'll apologize to her nd she wont be able to run away also." Maan said as he smiled widely on his perfect plan.
"Wow Bhai you are great. I'll just arrange the tickets. By the way how many of us are there; me, Annie, Savy, Dev Bhai…….."
"Wait! Wait! Wait! Don't tell me that you are planning to make whole family accompany us?" Maan interrupted in between as he looked at Vicky in disbelief.
"Bhai! Won't you take us with you? Afterall we too wanted to spend sometym with you. I know you are married now nd only Bhabhi had right on your tym but what about us? Aren't we your siblings? Can't we go to movie with our elder brother? Have we become strangers to you? I've been helping you in your mission nd you are denying me to accompany you. It really hurted Bhai." Vicky said as he wiped away hos fake or should i say invisible tears from the corner of his eyes making a sad face faking hurt while Maan just rolled over his eyes on his "Nautanki"
"Fine you all will go with us now stop your mellow drama. Waise its gud also if you all will come with us. Geet won't get suspicious about my Plan. Now arrange the tickets fast nd let me know when you do that." Maan said as he gets up from the couch nd turned to leave.
"Don't worry Bhai. I'll arrange everything nd especially will arrange corner seat for you both after all you will be needing it. You know what I mean?" Vicky said as he winked at Maan who just looked away feeling embarrassed nd left the room before Vicky could tease him more.
"Bhai Pyar to aap karte ho Bhabhi se bas you are not accepting it to yourself. No worries Vicky the Love Guru is here then why to fear. Lets this mission gets complete first then I'll head to my second "Secret Mission" i.e. to make you accept your feelings for Bhabhi. Wow! Savera would be so proud of me." Vicky muttered as he patted his back before going to do arrangements for Tickets.
***************************************************
"Movie nd you? Dev Bhai can you please pinch me. I mean did I heard right? Did Maan Bhai just ask all of us for a movie?" Annie said unbelievingly as she looked at Maan as if he had grown two heads while Maan just rolled over his eyes
"Bro you seriously asking us for movie. I mean 'movie' nd that too you. You never liked to see these movie nd all" Dev asked in equal disbelief not understanding whether he was dreaming or is it reality. Maan nd movies were like two opposite ends which can never meet no matter what nd here he's not only going to movie but also asking everyone to accompany.
"I don't understand why you all are making fuss of such a simple thing. I mean ya its true that I don't watch movies bit that doesn't mean that I don't like them. Its been long when we all had gone somewhere together so I thought why not movie nd then later we all will have dinner outside nd ya not to forget shopping for you girls is also there." Maan said as a matter of fact as he shrugged his shoulders but Annie, Dev nd Savera were still not able to believe what they were hearing nd Vicky was just sitting over there coolly playing game on his mobile while Savitri Devi just smiled while shaking her head seeing the interaction between her grandchildren
"Bhai I am not going with you because I know what kind of movie you are going to watch. Either it would be some kind of documentary or any English action movie. Sorry I am not interested." Annie said non interestingly as she turned to leave
"And what if I say that it's a Bollywood Masala movie nd the actor is none other then "Ranbir Kapoor". Then?" she heard Maan's voice nd instantly turned back nd looked at him in disbelief only to find him smirking while raising his brows.
"RANBIR KAPOOR!!!!!!" all the guys closed their ears as they heard Annie nd Savera squealing loud in happiness nd excitement
"Bhai why didn't you tell me before that you are taking us to see "Rockstar". Arey I was planning from so many days to se it. O Bhai! You are the best. Wait! Let me call Geet also. She'll jump in happiness when she'll listen that we are going to see Ranbir Kapoor's movie." Annie said excitedly jumping like a kid as she called out for Geet while Maan just stood there smiling at the excitement of his little sister nd he was dyeing to see the same excitement on Geet's face too as he looked towards the direction from where Geet is coming.
"What happen Annie? Why are you calling me like a maniac? Is everything ok?" Geet asked as she came into living room looking at Annie worriedly.
"Ya Geet everything is all right. You just go nd get ready fast. We don't have much tym." Annie said literally pushing Geet towards her room.
"But where are we going? Nd that too all of a sudden?" Geet asked confusingly as she looked at everyone.
"Geet tu na questions bahut poochti hai. Anyways to inform you we all are going for a movie nd guess what whose movie. RANBIR KAPOOR's" Annie said with her eyes making wide nd Geet just opened her mouth in happiness.
"Ranbir Kapoor? You mean "Rockstar." You are saying true na. Dekh I don't like jokes in such matters." Geet asked excitedly while smiling widely nd Maan just closed his eyes in contentment seeing her smile nd happy after so long.
"Yes Geet Maan Bhai is taking us to see Rockstar. Can you believe it? Maan Bhai nd movie? Nd you know after that we'll go for shopping nd will have dinner too outside. Oh! It would be so much fun." Annie keep on blabbering but smile on Geet's face started diminishing as soon as she heard that Maan is taking everyone for movie.
She had seen change in Maan's behaviour in past few days nd she really doesn't understand why is he doing so. She knows it very well that Maan is not fond of movies nd especially these Bollywood movies then why is he doing so? She could see that he was trying to apologize to her for his behaviour but she really don't want him to do that as she knows that he was not wrong. it was she who has forget her place in his lyf nd that's the reason she has distanced herself from him but then him approaching her in all these ways which he don't even like it was again bothering her. She don't him to apologize like this neither did she want to be near him. He himself want this distance, isn't it? Thatsy he had left for London like that nd even before that also whole month he had been indifferent with her then why is he doing all this when now she herself is keeping her distance with him, she thought as she looked at Maan who was looking at her expectantly nd she instantly lowered her gaze. It's not in her to break his expectations but she cant go also with him because she knows that he'll again try to apologize to him nd she cant see him like that. She had forget her place not her therefore he don't need to apologize for it right, she thought as she tries to think of someway to escape from this situation.
"Geet, What are you thinking? Go get ready fast or else we'll miss the show." Annie's voice broke the trail of her thoughts nd she looked at her
"Ummm Annie I completely forgot I had to go to meet Badi Maa nd Bade Papa today. Infact I was going to get ready for that only when you called me. Sorry I can't come with you all." Geet said as she looked at Annie hiding herself from Maan for she knew that he'll easily catch her lie but least she knows that Maan had already caught it.
"C'mon Geet don't talk rubbish. Its Ranbir Kapoor's movie nd you are not going to watch it? Yaar you can go tomorrow also to meet uncle nd Aunty. Today you are coming with us nd that's final. Now go nd get ready." Savera said as she tries to push Geet towards her room
"Savera is right Geet Bete. You can go tomorrow to meet Arnav nd Madhu. Go to movie today Afterall it's your favourite actor's movie. You can't miss it right." Dadimaa said in order to convince her nd Maan thanked her silently through his eyes for the help to which she just smiled faintly.
"Dadimaa I could have gone tomorrow also for but Bade Papa had specially called me today morning nd ask me to meet him as he was missing me badly. It's been long since I had met him nd Badi Maa so I said that I am coming today. If I would have known about this plan earlier then I shouldn't have told them that I'll come today. Now they must be waiting for me nd if I'll not go then they may feel bad. I'll watch this movie some other tym may be on DVD. Please Dadimaa." Geet said rather pleadingly shutting everyone's mouth as all knew what her Badi Maa nd Bade Papa mean for her therefore no one had any say after that including Dadimaa.
But maan knows that's its just another excuse for not going with him as he talked to Madhu this morning only where he comes to know that Arnav had gone out of town for 2 days therefore there's no chance that he can call Geet today morning to meet him when he himself was not here in the town. But he can't blurt that even too becoz he don't want anyone to know that Geet is lyieng nd trying to avoid him when she herself is trying her best to show there relationship normal in front of everyone. Maan looked at Geet painfully who just looked other side knowing very well that he had once again caught her lie but she can't help it as she's helpless in front of her heart
"Fine now when you had said this then I won't stop you but you had to promise that you'll go to shopping with me next week." Annie said as she sighed in defeat nd Geet just nodded her head in affirmatively assuring that she'll definitely go for shopping with her next week before heading towards her room but not before looking at Maan apologetically.

Plan K: Always keep track of your Wife's Favourite Actor

Status: Failed (As usual)

Conclusion: Sometimes even Ranbir Kapoor cant help you.

Score:
Maan Bhai: Prefer not to say

Geet Bhabhi: As usual much more then Maan Bhai
Vicky closed his diary after writing the current status while sighing deeply looking at his Elder brother symphatatically not knowing when he'll be finally able to manofy his wife

*********************************************************
"Geet Bacchha tell me what happened? Why are you so lost today?" Madhu asked while gently caressing her hairs as Geet placed her head on her lap while Geet just stayed quiet feeling the soothing caress of her Badi Maa
Its been an hour since Geet had come to her house nd since the tym she has came Madhu is noticing that lost look on her face nd she instantly understood that there's something which is bothering Geet. First of all her sudden visit like this then her lost face then her talking just minimal nd now laying in her lap like this. She may have not given her birth but she could recognize each nd every emotion of her daughter therefore she knew that Geet is sad nd hurt over something as whenever she's sad or hurt or in some kind of turmoil she use to place her head like this only in her lap. Nd today if she had came like this all of a sudden nd laying in her lap like this then there must be something really big which she's not able to express, she thought as she continuously caresses her hairs lovingly.
"Geet, Beta did something happened between you nd Maan?" Madhu spoke after a while nd Geet tilted her head upwards looking at her confusingly.
"Maan had called me half an hour back when you are in washroom. He wanted to know that whether you had reached home safely or not. Don't know why he was sounding very low. Through him only I came to know that everyone had gone to see Rockstar. Nd my daughter came to meet me leaving Ranbir Kapoor's movie indicates that all is not fine. Tell me Bacchha is there any problem between you both." Madhu said caressing her face affectionally while Geet just moved her face back hiding her tears from her. she don't know how is she going to tell her Badi Maa what all she's facing from past months but she has to tell her right because she knows that Madhu wont drop the subject so easily.
"You know Badi Maa sometimes I feel that Sameera Di wouldn't have gone anywhere. I wish that in that accident in place of Di it would be me then everyone's lyf would be perfect. There wouldn't be any kind of disturbance in anyone's lyf. Neither your nd Bade Papa nor Maan's. Waise Bhi my Maa nd Papa are with God then I would have also joined them but atleast Di's lyf would have been saved nd no one had to bear the sadness of losing her. Everyone needed her You, Bade Papa, Maan, people at KM everyone while I was an orphan therefore no one would mourn for me for long." Geet said all while crying silently while Madhu looked at her daughter shocked.
"Geet, What rubbish are you talking?" Madhu shrieked in horror as she make Geet moving away from her lap only to find her crying.
"Why you are saying like this Beta? Nd how can you say that your death wont cause any kind of sadness to us? You are as important for us as Sameera. We haven't saw any difference between you nd Sameera then how can you think that if in that accident it was you in place of Sameera then our lyf would be perfect. Geet I may have not given you birth but my God knows that you are always my younger daughter then how can you even utter these words? Tell me beta did anyone had said anything to you. Before this you haven't said anything of this sort. Tell me did Maan have said anything to you?" Madhu asked as she wiped Geet's tears hugging her tightly
"Nahi Badi Maa he haven't said anything to me." Geet said between her sobs but Madhu knew that there's something really big.
"Tell me everything Beta if you consider me your mother." Madhu said authoratively nd Geet couldn't hold back anymore nd she told her each nd every thing that she's facing from past 2 months except the Vidyut's part as she don't want her to worry more.
"I am tired Badi Maa. I am tired from everything. I am tired from my heart who only beats for that person who can never be mine. I am tired of these emotions. I know I got agreed to this alliance even after knowing that I can never take Sameera Di's place in his lyf but Badi Maa I failed in front of my heart nd didn't even realize when I had fallen for him but Badi Maa still I haven't expected anything from him but what all is happening from past 2 months nd especially that night when Maan had accused me is really getting unbearable for me now. Though from past few days I am seeing change in his behaviour, I could see that he's trying to make everything normal between us. What does he think that I didn't understand that he had faked his illness or had purposefully locked himself in the study or had made the mess in our room? I know everything but Badi Maa I am just not able to forget that night which only reminds me that I had no place in his lyf. it hurts me to see that he was effecting himself nd his health in order to seek my forgiveness but I am not able to forget anything Badi Maa, my heart fears to do anything for him lyk before. You only tell me Badi Maa what should I do? Is it my mistake that I love someone who can never love me back? Is it my mistake that things have been changed so drastically that everyone's lyf has turned upside down? I really Love him a lot Badi Maa nd I don't want him to do anymore compromise for this marriage but it really pains Badi Maa to see that the person I love is trying to distance himself from me, that he don't have even this much trust on me that he had accused me for such thing." Geet said as she cried bitterly in her mother's arms nd Madhu just patted her back calming her down. She feared for this only from the start of this alliance thatsy she was not in favor of this marriage but when she saw changes in Maan nd Geet's relationship she thought that may be her fears were baseless but today after listening to Geet's turmoil she could understand what he daughter is going through form past months while she was unaware of all of it.
"Geet, look at me nd don't cry" Madhu said as she pulled her out from hug wiping away her tears.
"Geet you know all this from start don't you yet you got agreed for this alliance. I am not saying that it's your mistake but you have to keep your patience beta. Yours nd Maan's Marriage is not normal like other couples, it was different therefore such complications are bound to be happen Na. Ok let me tell you today a story; story of your mother. You know your Maa's nd Papa's marriage was also arranged unlike mine nd your Bade Papa's. Mohinder was in love with someone else but she's the daughter of Daarji's rival therefore Daarji didn't got ready for that alliance. Your father had tried very hard to convince him but all in vain nd in the end that girl committed suicide nd that incident had really affected Mohinder a lot. After few months Daarji had forcefully made him married to your other by faking his heart attack but Mohinder was never ready to move on with Rano nd he had cleared this thing to her in the first night itself. Rano was shattered to know this nd any girl would be whose husband tell her on the first night that he cant move on with her because he's in love with someone else who is no more in the world. But you know what your mother didn't accepted defeat. She keeps on loving him nd doing all her duties patiently without any expectations. Many tymes Mohinder use to yell at her or accused her baselessly nd I had seen Rano crying silently alone at some corner of the house for she was too hurt with his behaviour yet your mother never lose her patience nd keeps on loving him selflessly without expecting anything in return nd at last after whole one year of their Marriage Mohinder had finally reciprocated her love. Rano's selfless love had broken all those walls that he had created around his heart. actually he had started falling for her long back but he was not able to accept this fact that he can love someone else apart from that girl therefore he use to behave like that but at the end he finally defeated in front of her Love nd had accepted that he's irrecoverably in love with Rano nd the symbol of their Love is sitting here right in front of me." Badi Maa said as she affectionally patted Geet's cheek while she just looks at her unblinkingly.
"The journey from Mohinder's hate to Love is not easy for Rano. May tymes she had broke down just like you. Many tymes she had thought to go away from his lyf for his own good but she cant nd you know why because she loves your father insanely nd therefore she patiently does each nd every thing without even expecting anything from him nd at the end it was her selfless love that had won nd not Mohinder's ideologies. Geet, I had seen your mother's reflection in you that day when you said to me that you don't expect anything from Maan nd just wanted to do all those things that a wife suppose to do without any expectations. Therefore I was sure that one day you'll definitely win Maan's heart with your selfless love like Rano nd you know what you are succeeded in it also to great extent. I had seen love for you in Maan's eyes. I cant misjudge any person Geet therefore I can say it with 100% surety that Maan loves you probably thatsy all that happened between you that night after the party but it was just he was not ready to accept it nd so he's behaved so indifferently with you. But Geet you only said Na that he's truly repenting for what he did then you have to give him a chance beta. he had gone out of his way in order to seek your forgiveness so now its your turn to consider about it.
I know it's not easy for you after what he said to you but beta problems comes in every married couple's lyf nd mine nd your Bade Papa's too. But in your case the problem is bit complex because your marriage is not usual like others but you can't accept defeat like this. You knew all this from start nd you had selflessly loved him nd performed all your duties as a wife. You have been strong all this while then why are you breaking down now. Win him with your Love beta nd I am sure that day is not far when Maan will himself confess that he loves you. I know at tymes it'll get unbearable to you, I know lyk any other girls you too had some expectations, some dreams for your marriage but Geet when you had been patient all this while then just have little patience more nd trust me you'll definitely get all the fruit of your selfless nd unconditional love. God tests those peoples only whom he knows is capable to qualify in his test nd here he's testing your love nd you have to qualify in it. Just give him a chance nd do everything that you are doing till now patiently nd selflessly. If your mother can do this then even you can do this. Always remember Geet that when a girl loves someone truly then her love is her biggest strength therefore don't make your love as your weakness. Try to know that why he behaved with you like this that night. It was not that he had behaved with you badly like this before then what happened that night that he didn't even listen to you nd had accused you like this. You have to bring out Maan from the pool of his logics nd ideologies with your love nd trust me on this Geet that Maan needs just a chance nd only you can bring him out from Sameera's memories nd make him move on with you. He loves you, it can be seen in his eyes Geet nd only you can make him realize his love for you." Madhu completed looking expectantly at Geet who was lost in some thoughts. It's true her nd her mother story is every much similar then can it be possible that what Madhu is saying is true. Can it be possible that Maan really loves her nd just not able to accept it? Everything seems to be so confusing to her nd she really needs to give a good thought to all this.
"I need sometym to think Badi Maa." Geet said after a while with a deep sigh nd Madhu just gave an understanding nod.
"Take you tym beta. I am not asking you take any decision in haste nd always remember whatever decision you'll take your family will always be with you." Madhu said as she caresses her head lovingly nd Geet just hugged her Badi Maa like a small kid who needs his mother when he's confused over something.
********************************************************
It was almost 8 pm when Geet had came back at KM only to find it all silent nd dark, guess no one had returned yet. It was then she remembers that everyone had planned for dinner outside nd so Dadimaa had also gone to join them. Means she's all alone right now. To see its better that she's alone as she really needs sometym to ponder over Badi Maa's words, she thought as she took a deep sigh before heading towards her room. She was feeling much lighter after sharing her feelings with her Badi Maa that she had kept within herself from so many days but now as Badi Maa said she really needs to think over her words. She knows that Badi Maa is saying right, she had to be patient just like she was till now but will it be easy, she thought as she stepped inside her room only to find it all dark. Nd as she switched on the lights the sight that awaited her has really surprised her.
She saw whole room decorated with flowers but what caught her attention is the table at centre which was adorned by Gol Gappes along with different flavors of water nd chutneys. And as Geet saw her favourite Dish in front of her a wide smile crept on her face nd she forgot each nd every thing nd had literally ran towards the table nd started relishing mouth watering Gol Gappas. She don't know who had brought it over here nd who had arranged it like this for her but she was really enjoying relishing it as it was her biggest weakness. At that moment she forgets everything that was bothering her from so many days nd was just feasting on her favourite dish. She was so lost in its taste that she didn't even realize that someone is observing her each nd every move nd antics from behind with a contended smile on his face.
Maan was watching Geet while leaning on the door. Since the tym Geet had refused to see accompany them to the movie Maan was not at all in peace. He knows that he's at fault nd he had really tried very hard in these 6 days to manofy her but everything went in vain even the thought of taking her to Ranbir Kapoor's movie also didn't worked nd so he was feeling totally helpless nd frustrated. His determination to bring Geet back to normal was slowly breaking yet he tried not to lose his patience but he was not sure till how long he was able to keep it intact. Though he was ion movie hall along with his siblings but he was not at all able to concentrate on what's going on the screen nd hence he left the movie in mid asking Dev nd Vicky to take care of the girls while he had some important work to do nd came out from the place.
He ran a frustrated hand on his hairs as he found his each nd every idea getting flopped like this when he saw a Gol Gappa stall in front of him nd his lips curved into big smile as he finally got it what he had to do to make his wife happy nd smile. Therefore he came home early nd did each nd every arrangement by himself as he was determined to seek her forgiveness today itself nd he was sure that today anyhow Geet had to listen to him as today no one is at KM with whose excuse Geet could go away from him nd therefore he will make her listen to him nd tell her why he behaved like this with her nd he was sure that Geet will definitely understand if he'll tell her the reason for his behaviour. There's no shame in expressing his turmoil to his own wife, he thought as he checked each nd every arrangement last tym before going out from the room after switching off the light
So now here he is watching each nd every antic of his wife with a smile on his face. Her reaction was exactly the way he had expected nd he was really feeling contented seeing her si happy after so many days. He just shakes his head wen he saw her closing her eyes as she felt sour taste of water. The way her lips were moving nd pouting nd the way she was making sounds as she relished the Gol Gappas was really making hard for Maan to stand still nd look at her as he was once again found himself burning in some unknown desires for her but he makes sure that he just keeps his desires on check or else he wont be able to do what he wanted to. Therefore he just stood over there watching her while controlling himself hard.
It was after sometym when Geet felt her every fiber of body burning due to someone's piercing gaze nd it finally dawned in Geet that who had done all this arrangements. She may have been unaware about all this but still she knows that it can be only Maan who can do all this. Because at the end of the day she can't deny this fact that no matter what but he really cares for her a lot nd therefore only he can do all this to bring smile back on her face nd as the realization dawn upon her she instantly turned back to look at the door only to find Maan standing over there leaning against it looking at her smiling conforming all her thoughts.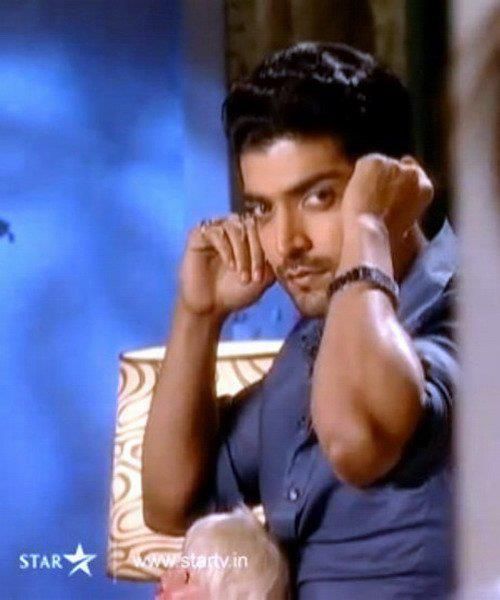 As soon as Maan saw her turning nd looking towards him he instantly held his ears mouthing Sorry all the while looking at her expectantly. Geet don't know what she should do now after seeing his gesture. In these 6 days he had not left a single chance to make her feel special nd she just wanted to run in his arms nd hides herself in them forever yet she couldn't able to forget his words. She could see true remorse in his eyes yet she was unable to say to him that she had forgotten each nd every thing so he also forget all this. Nd Badi Maa's words were just adding more fuel to her miseries. She was so confused with her own feelings, with her own turmoil nd now what Badi Maa had suggested. She can't see him like this neither did she want to fail all his attempts but she can't bring it in her to forget everything he had said. At one tym she wanted to run in his arms nd at the same tym his words stops her from doing so nd she was just not able to understand which way should she choose to get rid from all this restlessness nd turmoil. She really needs a good amount of tym to think where their relationship is leading, she thought as she looked back at Maan who was still holding his ears waiting for her to react. Unable to say anything she just left for washroom from there leaving Maan behind confused, hurt nd dumbfounded at her reaction.
Precap:
Confontration
Phew! so dis is it guys... Preety long Part nd i know its more as a filler but i found it necessary to include this nd show What Geet actually feeling is... sorry if you all dont like this next part me Pakka Maaneet honge as you all can guess from Precap before we head to our another tiny miny twist so keep waiting for that
... Hit the like button if you all like it nd do leave your comment/criticism... its necessary...
@Osheen Sweety this update is specially for you... Belated happy B'day dear... sorry wo ahem ahem wale scenes nahi the becasie abhi uski requirement nahi thi but no worries future me aayenge na pakka
... tab tak you enjot this nd my twists
Allright ummm finish this thread for the next update... i didnt asked Much haina
So keep coomenting nd ya long comments or else i wont update soon
Samjhe ya Samjhaoon
P,S. I had created my FB group named "Aakriti's Magical world of Maaneet" pls join it to get immediate notifications of my updates... here's the link
Aakriti's Magical World of Maaneet
Do join it
Luv Aakriti