Part 24:
"Veerji I..." she tried to say again something only to be cut by Maan yet again.
"You had done enough of your talking that night NT. Now it's my turn. I don't say anything then it doesn't mean that I don't know what's happening in front of my eyes. I know how much Geet's presence irks you in this house nd how you always finds chance to make her fall in everyone's eyes just like you planned to make her fall in my eyes. Isn't it? Nd don't you dare to deny it NT as I am not a fool. I know each nd everything but it was just I don't want yours nd Dev's relationship to be spoiled I was quiet till now. But don't consider my quietness as my weakness NT as if I can remain quiet for yours nd Dev's relation then I can break that quietness also for the welfare of mine nd Geet's relationship. Therefore from now on I don't want you anywhere near Geet nd if by any chance mark my words NT by any chance you are again planning to plot something against Geet which can worse our relationship then remember NT I wont give you any warning before taking any action like I am giving you now. Next tym you won't get chance of even being warned. Rest you are intelligent enough to know what I mean. Got it" Maan said rather in a threatening voice looking at NT dangerously to which she just nodded her head meekly nd Maan just turned to leave smirking.
"One more thing NT. I guess it's been long since you had visited your parents. They must be missing you. Isn't it?" Maan said as he stopped near the door facing his back towards her before leaving the room leaving a fumed NT behind gritting her teeth to understand the meaning of his words.
"I'll get back to this Maan Singh Khurana. Sooner or later I'll get back to this." NT muttered with gritted teeth as she saw Maan's retreating figure going towards study
****************************************************
Geet looked at the door of the study nth tym since morning only to find it still closed. Her forehead crinkled in worry as she saw the close door again nd again. Well, the reason of her worry is not the close door of the study but the person behind that close door who is working maniacally since morning leaving his breakfast nd now lunch behind. God knows what kind of important work he is doing that he doesn't have tym for even breakfast, she thought as she mentally groaned on Maan's carelessness. Why don't he understand that his slight carelessness is a big reason for her worry for her but it seems that he least care about her worry nd enjoying doing his work without caring that someone is dyeing over here in his worry, she thought as she once again looked at the study door only to find it in the same position.
Since morning she had tried numerous ways to make Maan eat something. If not anything then atleast some fruits. Vicky, Annie, Dev nd even Nakul she had send everyone inside the study with this item or other but Everytym all she got is disappointment as Maan had refused to even look at the food then forget about eating it nd scared the hell out of the person instead who had gone there with the tray of his food. Just like when she had again sent Nakul inside with lunch which have all his favorites nd especially made by her but it again met by same treatment nd poor Nakul had literally ran for his lyf out from study along with food after hearing Maan's loud nd roaring voice. if Dadimaa would be here then she don't have to worry this much as she knows that Maan can refuse anyone but not to her nd she can anyhow made him eat something but to her luck she had gone for some cultural function nd will return after lunch.
By every passing minute Geet is now getting irritated with his behaviour as he's really behaving like a 3 year old kid who use to make people run behind him for having a glass of milk. She really don't understand what does he really want by doing all this as he himself had mentioned that he had an important presentation lined up today in the office nd now instead of going to office he had locked himself inside the study asking everyone not to disturb him. But how can she not worry as her lyf resides in him. She's well aware of the health issues he use to face whenever he ignores his health amidst of work nd here he didn't even had a single grain since morning then how can she be calm nd composed after seeing him like this.
There was a tiny miny thought at somewhere at the back of her mind that he's doing it purposefully. May be he wanted her to talk to him nd treat him like before but the at the next moment she just shrugged it off as she still remembers how Maan had accused her of taking Sameera's place in his lyf therefore there's no chance he'll do all this purposefully, she thought as she sighed dejectedly at her fate. Many tymes she thought of going inside nd shut all his work until he had something but Everytym she stops herself as she reminds of his words. But then again her love for him is too strong to feel the wound given by him which was not letting her rest in peace. She was in a turmoil yet again when she had to again choose any one option from the given two options nd the irony is that once again both the options are right at their place.
If she chooses option 1 i.e. not interfering in his life anymore for she had no right then she'll save her heart from being crushed anymore but then it'll cost his health, his well being which she cant bear. And what's the use of saving that heart which will be in more pain seeing him in problem. And if she chooses option 2 i.e. go to him nd forcefully shut all his work just like she use to do before then it'll make her heart calm as it'll be sure then he's all safe nd fine but the fear of being the victim of his harsh words nd actions once again was stopping her to so everything before. Once again she felt like she's on crossroads where she has to choose any one direction where either her heart will be crushed more or either it'll be in peace knowing that the person for whom it beats is all safe nd fine. She thought for a while nd then took a deep breath as she finally made a decision nd made her way towards kitchen with a determination.
***************************************************
"Great going Bhai. I guess this plan of yours will definitely work." Vicky exclaimed in happiness as he saw Geet going towards the kitchen from behind the pillar nd Maan smirked as he heard the information given by Vicky through Bluetooth.

After the failure of Plan 1 Maan was more agitated to bring Geet in talking terms to him. Though he was sure of his oops Vicky's Morning plan also but Geet getting control on her anger had crushed all his hopes. But nevertheless he had many other ways too to manofy his roothi wife. And the way he had opted now had 100% surety of its success as he knows that no matter what Geet will never let her insecurities nd fear to come in front of his health. He still remembers how Geet use to boss over him whenever he ignore his meals in amidst of work nd even last day also inspite of being so hurt she had made sure that he wont skip his meal nd had sent lunch through Nakul with an excuse of Dadimaa sending this lunch for him.
He chuckled as he remembered the lame excuse of his wife. What had she thought that he won't recognize the aroma nd taste of the food made by her? No! A big No! How can he not recognize the essence of her food when it etched all over his heart, when he had craved for it all the time during his stay in London? But that's his wife Geet who thinks that no one can catch her lie but she don't know that she's a horrible liar nd too naive nd innocent when it comes to hide anything. And especially if she do something for him then it was just impossible to hide it from him.
So now her this care nd concern for him only is going to make his plan successful. No, he was not using her or her innocence or taking advantage of it, he never can. It was just he was taking the help of her care nd concern t bring her back to normal like before. Therefore he purposefully skipped his breakfast nd now lunch nd locked himself in the study on the pretext of doing some important work after asking Dev to handle today's presentation. He knows it very well that when Geet wont find him on the breakfast table then she'll definitely be get worried for him nd do whatever she can in order to make sure that he had his meal.
But he's also Maan who knows each nd every trick of his wife therefore he had really scared the hell out of everyone even Annie too who seems to be in mood to patch up with him but the matter in Maan's hand was much more important then anything. He too wanted to see to which extent Geet could avoid him nd what all weapons she can use because he knows that at the end she herself will come to him. he don't need to take the help of Vicky's plan this tym as he knows her too well to plan something on his own accord. But Vicky was with him in this plan as he was informing him each nd every move of Geet via Bluetooth just like he informed him just now about Geet heading towards Kitchen making Maan realize that success is just a step away now.
"Really Bhai you know Bhabhi too well. Now I understand why you were so sure of this plan of yours." Vicky's voice broke the trail of his thoughts nd he comes back in the present realizing that Vicky is on call.
"Are you sure she has headed towards Kitchen only." Maan confirmed yet again as he sat on the chair nd opened his laptop.
"Yes Bhai nd the way she had left towards kitchen it seems that today she'll be in peace after getting your mouth stuffed with food." Vicky laughed at his own statement making Maan chuckle too.
"Just few more minutes Geet nd then everything will be normal between us like before." Maan thought as he cuts the call after asking Vicky to give him all the updates about Geet.
Outside the study Vicky was grinning happily as he was sure now that everything will be normal again between his Bhai nd Bhabhi nd he is happy that he's playing a part in the mission of bringing these two peoples close to his heart together. Savera would be so proud of him; he thought as he sighed happily nd once again took out his diary to update it with current status.
Plan B: Make your wife's care nd concern for you as your weapon when stuck up in such kind of situations.
Status: Work-in-Progress (95% successful)
Conclusion: Sometimes unknowingly it's your own wife who helps you in giving ideas to bring things normal between both of you.
Score:
Maan Bhai: 1
Geet Bhabhi: 1
*****************************************************
"Pata nahi what he's upto today that he's behaving like this? First he made the mess in whole room for finding that so called important file of his nd now locked up himself in the study leaving all his work nd skipping his meals. He's not even having his food if someone takes it to him in the study also. God knows how much tym of his will it consume ns what kind of important work is he doing that he's starving like this. Sometimes he seems to be like an enigma to me. No matter how hard I try to know him it seems that I don't know him at all. But whatever I wont let him play with his health like this. What does he think of himself that he can do whatever he wants by scaring others? No Way!!!! I'll also see how will he not have anything now. Arey, har waqt inki manmaani thodi Na chalegi. What would be the worse that he'll yell at me, shout at me, will say bitter words to me Na? I'll listen to them but I won't let him do what he wants. Hai Na Babaji! Haan." She cribbed as she arranged Maan's plate in the kitchen but it was more to convince her heart who fears to go before Maan nd do something for him but at the same tym it can't see him plying with his health like this too.
"Someone seems to be really busy." Geet heard a familiar voice from behind making her halt in her actions for a while but then she again resumed her work ignoring the person.
"Ignoring me won't change the fact Geet from which you are trying to run away." He said as he walked nd stood beside her.
"Listen Vidyut I am really in no mood of listening any kind of sarcasm from you. So please let me do my work peacefully." Geet said as she puts the food in the tray nd turned to go towards the door walking past him.
"Why don't you accept Geet that you are run away not only from me but from the reality too?" Vidyut's words made her halt in her steps nd she turned to look at him only to find him smirking
"Aap Kehna kya chahte ho?" she asked as she looked at him confusingly.
"Yahi ki inspite of knowing everything you are acting like a blind. Maan had said you so many things that night, had humiliated you so much yet you are worrying for his well being leaving all your self-respect behind. What do you think Geet that by taking food for him nd showing your care for him like this will evoke love in his heart for you? You are wrong Geet." Vidyut said as he took calculative steps towards her nd stand right in front of her while Geet just looked other side preventing herself from his piercing gaze.
"Yes you are wrong Geet. Geet I know Maan since childhood therefore I know that once he'll be committed to anything then he'll be committed to it till his last breath. Be it any person or anything nd then nothing or anyone can budge that commitment. Thatsy I am saying that no matter what you do, how much you do for him but he won't give you any place in his heart because Maan still loves Sameera nd he'll always be no matter that she's not alive anymore now. All you'll get from him is his humiliation nd hatred just like that night nd that I can't see. Whether you believe it or not but its true that Maan will never love you nd the only person who will love you for whole of the life is me nd only me. Maan will never understand you nd your emotions for he was too lost in the memories of Sameera to acknowledge your feelings nd the only person who will understand you nd ur feelings nd will keep you happy for whole of the lyf is me nd only me." Vidyut said in a soft tone knowing very well that he's hitting a right point nd Geet snapped up her head in shock to look at him after seeing his audacity. He's professing his love to the girl who's now wife of his best friend. Is this his friendship, she thought as she looked at him disgustingly.
"Yes Geet only I can love you for whole of the life. Only I can keep you happy forever nd this fact you also know very well. If Maan wouldn't have came in between then probably today we both would be with each other nd would be happy in our world. But don't worry Geet, its still not that late. Just leave everything nd come with me. I'll tell truth to everyone nd trust me no one will say anything to you. You don't deserve this humiliation, this hatredness Geet. You only deserve love nd happiness nd only I can give you not that Maan. Only I can fulfill those dreams those fantasies of yours that you had seen nd that should be present in a normal married couple. Geet only I can give you all those pleasures that you deserves in your married lyf. Only I can..."
"Enough!! Not a word more now." Geet's loud voice laced in anger interrupted Vidyut in between nd he looked at her only to find her looking at him angrily.
"Captain Vidyut Singh Shekhawat, in case you had forgotten then let me remind you that I am not a teenager or a bachelorette that you are confessing your love to me. I am a married woman nd your best friend's wife to whom you are professing your love shamelessly. It would be better if you try to be in your limits." Geet said with her eyes spitting fire. If looks can kill then Vidyut definitely would have been turned into ashes by now. Today she is not worried of his reaction, today she is not scared of his anger, today she is not guilty of hurting him because today he had crossed all his limits by saying her to leave Maan nd go with him.
"I don't believe this Geet. That man had humiliated you so much, had said so harsh words to you, Arey he don't even trust you enough yet you are defending that man" Vidyut said as he looked at her in disbelief.
"Maan. His name is Maan nd he's my husband therefore take his name with a respect in front of me nd wo mere saath jaisa bhi behave kare still he's the best person. And as far as his behaviour towards me is concerned then he's my husband therefore he had full right on me nd he can behave the way he wants just like I had this right on him. He must have behaved badly with me that night but I know my husband too well therefore I know that whatever happen that night was not completely his mistake. And anyways I don't have to learn from you to how to be with my husband nd how to be not. And as far as that incident is concerned then I had said it before also nd again saying that whatever happened between us was a matter between a husband nd a wife nd I don't want any kind of interference from an outsider especially you who don't have even this much shame that he's trying to spoil the married life of his best friend. I am married to Maan in front of the whole world nd the oaths that we had taken are not just for the name sake. I believe them nd firmly follow them. to cry out loud we are husband nd wife not only for the world but for each other too nd with that relation only I had given this right to Maan to behave with me the way he want, just like he had given me the right to care for him, to boss over him nd do whatever I want for his well-being. Nd you are asking me to leave Maan nd go with you because you think that I am not happy. Does only physical pleasure is everything to make your marriage work? Aren't emotions, true care, the feeling of togetherness is enough to make your marriage work? huh answer me? but you know what you cant because for the people like you only physical love matters. they domnt care about feelings or emotions of other persons. Today you had crossed all your limits Vidyut with your shameless confession to me who is your best friend's wife nd that best friend trust you like anything." Geet said all in a trance looking straight into his eyes while Vidyut look at her speechless.
"You know what till now I use to feel guilty that though unknowingly I had hurted you but today I thank Babaji that my heart never evoked any feelings for you nd inspite of you Maan is there in my lyf because the person the person who is shamelessly professing his love to his best friend's wife nd asking her to back out from her marriage can never hold any respect for any relationship nd therefore he can never be a good partner. This is the last tym I am telling you stay away from me nd my married lyf as you really had no place in it." Geet said before leaving from the kitchen along with the food tray leaving Vidyut behind looking at her retreating figure unbelievingly.
"You are saying all this due to that blindfold which this marriage had tied around your eyes but I'll also see Geet till how long this belief of yours will be intact as I know Maan will never give you Sameera's place nd sooner or later you had to come to me only nd that's my promise. You are mine nd no one can keep you apart from me Geet. No one" Vidyut muttered as he looked at Geet's retreating form before leaving the kitchen.
******************************************************
Unknown of the confrontation happened between Geet nd Vidyut, Maan was waiting for Geet impatiently in the study. Vicky had already informed him that he had seen Geet coming out from kitchen along with a food tray nd Maan was sure that it is only for him. But then what is taking her so long, he thought as he looked at the door impatiently nd then shifted his gaze towards the laptop. His stomach was grumbling badly due to hunger as he didn't had anything since morning but he didn't cared as he knows that all this problem is nothing in front of the reward which he'll get in form of Geet's forgiveness.
Therefore he just sat in front of the laptop working ignoring the pleading of his hungry stomach convincing him that soon Geet will come with food nd all his complaints will be solved. He was trying to concentrate on the on the laptop only when he heard the click sound of opening of knob of the door nd he smirked knowing very well who is there thanks to the tinkling sound of her anklets that had always informed him about her arrival. He immediately shifted his concentration towards laptop pretending to be work seriously as he saw Geet coming inside from the corner of his eyes unknown of the storm going in her heart.
Geet though has been strong enough in front of Vidyut to take a stand for Maan nd their marriage but she couldn't deny the fact that his each nd every word were like adding fuel to the fire of insecurities nd fear lurking in her heart yet she cant see Vidyut crossing his limits nd bad mouthing bout Maan. True, she was hurted due to Maan's behaviour off late but it is also true that at the same tym she loves him insanely. Therefore she can't see anyone saying anything about Maan or their marriage.
Yes she knows that Maan can never love her, she can never get Sameera's place in his lyf nd heart yet she cant even think of a single second without him nd here Vidyut had an audacity to ask her to leave Maan nd move ahead with him as Maan wont be ever able to love her nd fulfill her desires. How cheap anyone's mentality could be, she thought as she slowly made her way upstairs towards study. She had never ever thought that a person like Vidyut could think so low. How can even think of her leaving Maan for this reason? Maan's name was written not only in her heart but on her soul, on her each breath nd she's only his not only in this lyftym but in every lyftym no matter if he loves her back or not then how can Vidyut ask her to leave Maan.
A part of her though feeling bad for talking to Vidyut like this as there was a tym when he was her god friend but then the way he had shamelessly profess his love to her today had wash away that tiny miny guilt nd she didn't regret her words a bit. Till now she was quiet because she thought that though unknowingly Vidyut had got hurt due to her but what he did today was enough for her to come out from the guilt of hurting him. this is not the first tym that Vidyut had tried to convince her to leave Maan but this is for the first tym he had crossed all his limits therefore she's happy to lose a friend like him then to bear him saying something awful for Maan nd their marriage.
She did the right thing nd she don't regret for her behaviour, she thought nd sighed heavily. She really wish now that Vidyut knows his place nd he wont interfere in their lyf anymore, she thought as she took a deep breath when she realized that she had reached her destination .Vidyut's words were still ringing in her mind but she decided to shrug it off as she don't want Maan to witness the storm going in her heart especially then when she don't know how Maan is going to react when he'll see him there in the study. With the thudding heart she opened the door of the study nd entered inside only to find Maan engrossed in his laptop totally ignoring her presence.
She stood there for sometym looking at him working on laptop nd unknowingly she felt her heart calm just by looking at him. His mere sight is enough to make all her restlessness nd problems vanish in thin air. At that very moment she realized that no matter how much hurt she's due to him or how much indifferent she's with him yet she can't live without him even for a minute then forget about whole lyf. The way Vidyut had confessed his love to her today had given birth to a new fear in her heart nd that fear is of losing Maan. She just wanted to run in his arms at that moment where she can hide herself from all those people who tries her to separate from him for she knows that she'll be always safe over there nd no one can separate her from him. But then the reality of the situation stops her from doing so nd she just stood over there looking at Maan convincing herself that Maan is there with her nd no one will separate her from him.
"Why is she not saying or doing anything?" Maan thought as he looked at Geet from the corner of his eyes when he found her standing still at her place nd in order to gain her attention he hits the pen stand on his left die on the pretext of taking pen still pretending to be oblivious of her presence
The faint noise made by Maan break Geet's trance nd she realized for what she was here. She looked at Maan only to find him still working totally oblivious of her presence. She opened her mouth to call him but then shut it up not knowing how he will react to her presence but then she had to call him anyhow therefore she coughed hard in order to gain his attention but Maan completely ignored her nd continues working nd Geet pouted annoyingly seeing him so engrossed in work that he's not realizing her presence also but least she knows that Maan was really having a gala tym as this is what he wants nd he just smirked seeing Geet pouting from the corner of his eyes.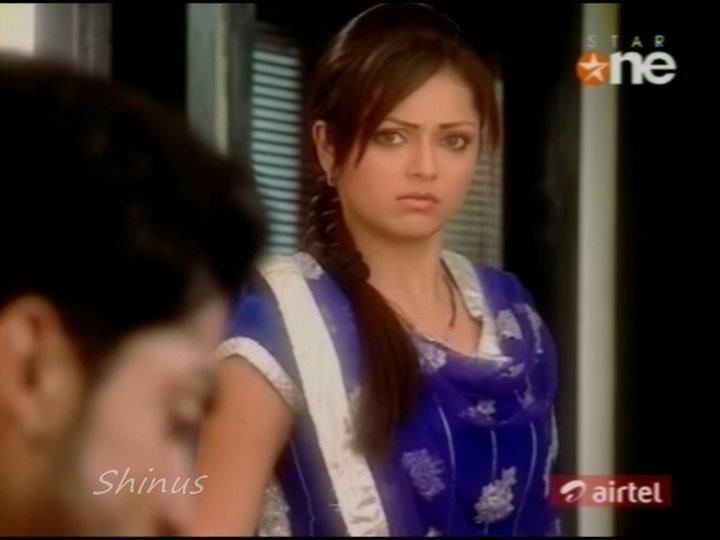 She taps her foot impatiently to gain his attention but it didn't budge Maan as he just sat over there relaxed. At last she coughed little hard then before to gain his attention nd Maan knew that this is the tym as it won't be safe if he would push her further.
"Nakul I told you before also I don't need any food. Stop disturbing me again nd again nd go from here." Maan said in a stern voice without shifting his gaze from the laptop nd Geet's jaws dropped open listening to him. From which angle did she looks like Nakul, she thought as she looked at herself from top to bottom while Maan is finding it hard to control his laugh.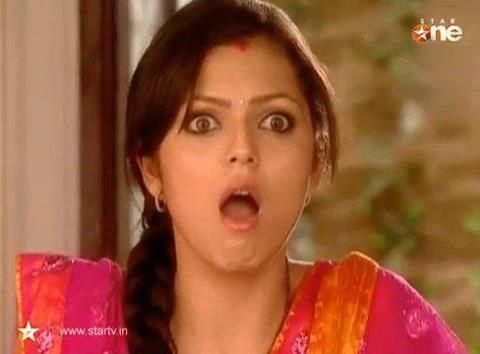 "Maan! Maan!!" she finally called out loud in irritation this tym nd Maan just close his eyes for a while listening to her usual self after god knows how long.
"Arey Geet, when did you came? I didn't realize. Anyways is there's something important to say?" Maan asked innocently as he turned to look at Geet
"Have something Maan. You didn't had anything since morning." Geet said sternly nd coldly trying her best not to show her concern but Maan could see her hidden care behind those stern words of hers.
"Ummm Geet I had lots of work to do so I can't have anything until I finish my work. You don't worry I'll have it later." Maan said as he once again turned his head towards the laptop only to irritate her further.
"Maan it'll hardly take any tym. You can do your work later also." she said rather pleadingly but Maan had his own plans
"Ummm No Geet I don't have even tym to breathe then forget about food. I'll have it afterwards you don't worry." Maan said still looking in his laptop nd Geet just fumed in anger. Why the hell he's not understanding that his health is more important than work, she thought as she looked at him angrily. Maan knows that he's hitting the right point nd all his thoughts are confirmed when he saw Geet marching towards him angrily nd next moment he found his laptop being shut hard nd there stood his sherni looking at him angrily exactly the way he wants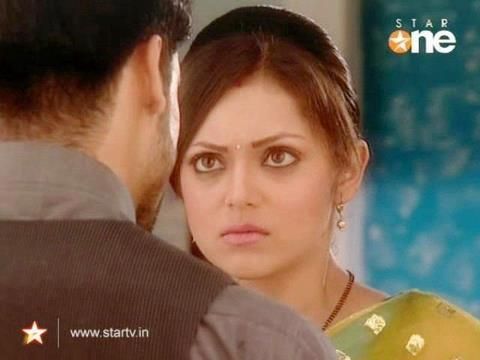 "What the hell..."
"Chup! Bilkul Chup!" isn't it use to be his line, Maan thought as he looked at Geet who was talking to him in a commanding voice nd looking at him sternly as she pointed her finger towards him nd Maan just gulped his saliva seeing her so angry. Guess he had pushed her too far then necessary but he was actually liking it as he really missed her bossing over him like this all this while.

Geet draws her finger back still giving him a stern look nd eyed him to have food. Maan looked at her nd then at the food nd just turned his face sideways while crossing his arms across his chest not wanting to have food until he finishes his work. Geet gets irritated nd pouted as she saw his childish behavior. He's now really behaving like a 3 year old kid who gives a tough tym to everyone to feed him something, she thought as she saw Maan's tantrums not less then a kid. Therefore she turns his face towards herself nd feed him forcefully the morsel that she had just broken. Everything happened so sudden that Maan couldn't understand first nd by the tym he could register what's happening Geet was already feeding him.
This was not the part of his plan but he was loving the way things are going on its own accord, he thought as he continues feasting the morsels from Geet. At that moment Geet seems to forget everything that had happened between them for her mind just concentrating on feeding him. nd anyways she had never ever thought about anything else when it comes to Maan just like now when she had forget all the rude behaviour nd harsh words of Maan in front of his health. Maan just keeps on looking at her in awe as she feeds him food as if he was a child nd she's his mother. He didn't stopped her neither did he said anything but just continues eating while looking at her lovingly.
She's truly an angel who never thinks about herself in front of him or anyone. Even if someone could kill her then also she'll think good only for that person. What was he even thinking before hurting her like this, he thought as he looked at his wife adoringly. Unknown to the thoughts going in her husband's mind Geet was busy feeding him. she had enough of his tantrums since morning. What does he think he can do whatever he wants nd no one would be able to stop him? Well then he's all wrong as she's still alive nd till now she's with him he had to listen to her. Only she knows how much restless she was till now seeing him starving like this nd now she's feeling calm nd contented by feeding him like this but what made her more happy is that Maan didn't said anything harsh to her. At that moment she forget what Vidyut had said to her few mins back in the kitchen, she forget how Maan had behaved with her that night, she forget everything nd all she could remember is Maan nd only his well being. His health matters to her the most nd in front of that nothing else is important. Not even her shattered heart, not even her wounded soul. She loves him beyond the limit of sanity then how can she see him so careless towards himself. Even if after that Maan accuses her again also or say anything harsh then she won't feel bad as then she'll be knowing that he's fine.
She thanked her Babaji umpteenth tym that he let her choose the right option but at the same tym this thought was also in the back of her mind that this is all temporary nd she still don't have any right on him but till long his health nd well-being is concerned everything else seems to be oblivious for Geet even her own hurt. She was lost in her thoughts while feeding him when she felt a tug in her wrist nd as she looked up she saw Maan holding her hand nd looking at her adoringly with a soft smile playing on his lips. Geet looked at him questioningly yet innocently while battling her lashes to which Maan just forwarded the morsel in her mouth to feed her all the while looking into her eyes.
"I know if I haven't had anything since morning then even you also didn't had anything since morning." Maan said hoarsely nd Geet just fell more nd more for this gesture of his
He cares for her, he really cares for her that means he still understands her unsaid words nd emotions like always, her heart squealed in happiness as Maan continues feeding her all the while looking at her unblinkingly but then the events of that night played back in her mind replacing all the happiness with pain nd she realized that whatever was happening is not right. She was here to make Maan eat something not for all this. Yes she forcefully fed him but she really don't want Maan to think that she's trying to force herself on him neither did she want any kind of favour from Maan to make her feel better just because he was feeling that she's hurted due to him. This relationship was a compromise for him nd now she don't want him to make anymore compromises for her sake. Be it any other day before that night then she would be screaming nd jumping in happiness with his this sweet gesture but everything is different today as today she knows her place in his lyf. Therefore she immediately backed away a bit halting Maan in between who was looking at her confusingly.
"Woh you have the rest of food by yourself. I had some important work to do." Geet said as he looked other way nd turned to leave when she felt a tug on her wrist yet again nd she closed here eyes realizing that Maan had once again catch her lie.
Nd she was right as Maan had observed the change of expressions on her face nd knows very well what should be going in her mind but before he could do something Geet backed away. No he can't let her go like this especially now when he was so close to his success. Anyhow he had to make Geet speak to him to take out her anger on him or anything but he wanted to bring Geet back to her normal self nd for that he can go to any extent.
"Why are you behaving so indifferent with me Geet from past 2 days?" She heard his voice laced with remorse as he turned her through shoulders nd raises her chin so that she could face him but Geet was tongue-tied. Be it any other day then she would have cribbed him how hurt she is but after that night she knows that she don't have any such right.
"Geet whatever happened that night I am really..." Maan tried to apologize for that night but before he could say anything in between Geet interrupted him in between
"Dadimaa would be at home any moment Maan. I had to prepare tea for her. Aap please pehle poora khana khatam kar lena nd uske baad apna kaam karna or else you'll fell ill, Please it's a request." Geet said gently removing his hand from her shoulder nd left from study as soon as she can leaving Maan behind puzzled.
Even in her indifference Maan didn't missed how much she cares for him nd for a moment she is ready to shrug off her fear nd insecurities nd this is what he wants when he thought of this plan nd it was successful also until Geet remembered of that night nd as soon as she replayed that night she was again to her cold self nd like always his plan backfired. Oh! How badly he wish to remove that night from there lives forever but it can't be possible right. All he can do is to bring her back to normal as like this only he can rectify his mistake. He knows that he had work really hard as the wound he had given to her is not going to heal soon but at the same tym he was happy also when he remembered her words that she said before leaving the study. How she has requested him to finish his food completely before going to work or else he'll get ill. At one moment she runs away from him due to her insecurities but at the same tym she cares for him too. From past 2 days she was avoiding even being near him or even looking at him nd today she fed him from her own hands nd its not a thing to be ignored. So let's just say that today he had just made a crack on the glass nd he still had to work hard to break that glass completely nd Bring that old Geet back, he thought as he goes back to the table smiling widely to finish his food as requested by her which he cant ignore not now atleast.
Now was that a success or a failure, was the thought running in Vicky's mind as he saw all the happenings between his Bhai nd Bhabhi. He saw Geet bossing over Maan nd forcefully making him eat just like they had expected nd then Maan feeding Geet nd with the look on her face Vicky was sure that she's melting nd why not after all Maan was feeding him so tenderly nd lovingly but then she backed out nd was again back to her normal self nd when Maan tried to say something then she again made an excuse nd left from there on the pretext of making tea for Dadimaa but not before requesting him to finish all his food. Nd now Maan is smiling even after seeing that this plan of theirs oops Maan's also failed. So what exactly should he consider about the status of this plan? Is it a success because as expected Geet herself came with food nd didn't budge until Maan had it which shows how much Maan matters to him for which she was ready to leave her insecurities nd fears for a while or is it a failure because once again Maan was not able to apologize as Geet didn't let him complete his sentence nd left from study but still Maan is smiling may be because Geet had requested him to finish the food before going back to work. Well it's really complicated at tymes to understand something which shows two different things at the same tym, Vicky thought as he scratched his head confusingly before taking out his diary once again to make a new entry after cancelling the previous one while sighing heavily

Plan B: Make your wife's care nd concern for you as your weapon when stuck up in such kind of situations.
Status: Complicated
Conclusion: Sometimes it's difficult for you to understand the language between a husband nd wife as they speak to each other in their own languages which is alien to others. So its better you should leave it to them for a tym being nd don't make yourself crazy to know what actually happened
Score:
Maan Bhai: 1 or may be 0 or may be 2 don't know exactly
Geet Bhabhi: 2 (I guess still not sure)
"Main Joru ka Ghulam, Arey Ban ke rahunga" Vicky sing out loud on the plight of his elder brother as he made his way towards the study still not knowing whether to console his brother for the failure of the plan or to congratulate him for the success of plan to some extent.
Phew! so dis is it guys! hows it? Good, Bad or average... Please do let me know with your comments... Hit the like button if you all are going to like it nd do leave your comment/criticism... its necessary...
P.S. Gals! we are heading towards other tiny miny twist of this FF before we head to the maha twist but dint worry Maha twist is far away for now nd till then there will be few tiny miny twists from which one will be introduced after next 2-3 updates... But you all trust me na... Maine kabhi tum logon ko zyada pareshan kiya hai
... it'll help Maaneet in future only dont worry... Stay tuned for the twist

@all thank you so much gals for all your moral support nd waiting for me patiently... i really love you all from the bottom of my heart... Luv you thats wat i can say right now nd even this is a very small word in front of your support...
@Ritzy Di Di your comments always inspires me to write better nd you are actually my guide... ur suggestions nd your views always helps me to write things in better way... Thank you so much for your guidance...
@Anu Di nd Jas i really had no words for the support you guys gave me in my tough tym... you both asked me tym to tym if i am feeling better or not nd i was so touched seeing your concern... really luv you guys nd blessed to have you as a friends
@Ritu, Madhuri, maansee, payal, -lakshmi-, faiza, bubblie, eza in short my whole spammer gang nd all my FB friends i love you guys a lot for keeping my thread active nd budging me with all your comments tym to tym to make me realzie that i had to come back for you guys... Luv you all...
@Nalini aka Desigirls12 Many Many happy Returns of the Day Dear... May all your wishes come true nd you get all the happiness of this world... Here this update dedicated to you as your gift... Luv you

So see you all soon till then keep commenting nd ya Long comments
or else i wont update soon
... Keep commenting
P,S. I had created my FB group named "Aakriti's Magical world of Maaneet" pls join it to get immediate notifications of my updates... here's the link
Aakriti's Magical World of Maaneet
Do join it
Luv Aakriti


Edited by aakritisri1111 - 06 October 2012 at 2:04am