Part 23:
She had said it to save herself when she had noticed his temper. He won't be surprised if he would come to know that it could be Nayantara only who must have given this Idea to Dadimaa. His sharp senses instantly grasped the whole thing that must have been happened nd as the realization hits him he just closed his eyes in regret for not able to see it before.
How could he fail to see it before, how could he fail in thinking that NT must be trying to manipulate the whole situation when he knows it very well that how much Geet's presence in this house irks her. He can't blame NT completely because he himself was at fault for believing her over Geet nd he'll regret this thing for whole of his lyf. but right now he don't have time to be in guilt trip because right now the most important matter in his hand is to bring Geet out from her insecurities nd their relationship back to normal along with dealing with Nayantara knocking some sense in her brain so that she wont ever interfere in their lives.
"You had really suffered a lot because of my actions Geet which was just based on the misconceptions which I got by coming in influence of Nayantara's words. I know that I don't have right but I still seek your forgiveness. Please try to forgive me nd I promise that I wont let NT or anyone else harm you nd our relationship in any form. You are really an angel Geet nd I am truly sorry for hurting an angel like you. Please forgive a big tym jerk like me." Maan whispered as he gently bends down to kiss her forehead before drifting into sleep waiting for the new day to arrive which will mark the new beginning in their lives.
*******************************************************
It's such a nice feeling to be close to the person you love the most in this world. A strange sense of contentment nd security comes in your heart for you know that no matter what but you'll always be safe nd secure from all the evil things of this world if that person will be by your side forever. Geet too felt the same sense of contentment nd security when she opened her dizzy eyes as the rays of sunlight penetrating through the curtains falls on her eyes forcing her to come out from her dreamland. And as she opened her eyes she felt an unknown calm nd peace in her heart today which she was missing from past 2 months. A sweet smile crept on her face after the gap of 2 whole months as she welcome the new day of her life.
But then her eyes turned wide when she saw someone's legs clad in tracks on which she was keeping her head comfortably while hugging the waist of the person tight like a teddy bear keeping his hand beneath her cheek nd by the fragrance itself she recognized whom does it belongs to. She don't have to look up to know because his fragrance, his essence is embedded in her each nd every breath nd only one person could give her such calmness nd contentment with just by his mere presence nd as she raises her head to look up at him all her thoughts gets confirmed when she found him sleeping so peacefully resting his head on the bed post while holding her hand tight in his. For few moments she couldn't fathom that was she dreaming or Maan is really here beside her holding her hand. But then the fast pace of her heartbeats nd the calmness of her heart made her believe that he's really here nd it was not one of her dreams.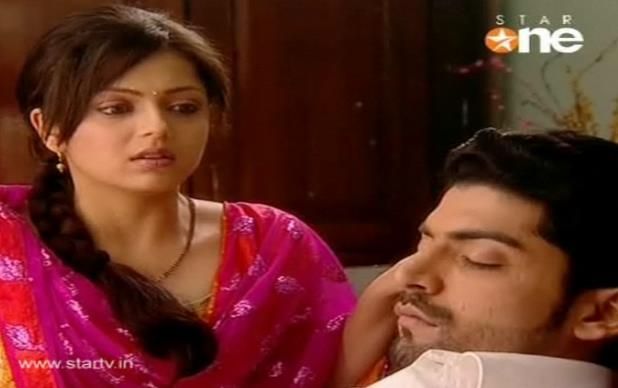 No wonder she was feeling her heart being calm nd contented today as it knew that for the one for whom it beats was beside him for whole of the night holding her close to him, she thought as she gently got up making sure not to disturb his sleep nd adore at the handsome face of her husband lovingly. He looked so calm nd innocent in his sleep. This is not the first tym when she's watching him sleeping like this. She had lost the number of count of how many nights she had stayed awake just to see him sleeping so peacefully like him but Everytym she sees him like this her heart did the same summersault like it did for the first tym. He was there, He was there for her, so close to her for whole of the night without caring about his comfort was the only thought that was running in her mind at that moment as she keeps on looking at his face lost with a sweet smile on her face.
She don't know what is he doing near her neither did she knows why is he holding her hand tightly in his nor did she knows why he slept like this in such an uncomfortable position beside her for whole of a night. All she knows that she's loving this feeling of having him beside her like this. His just this small act was unknowingly soothing her wounded heart taking away all its fears nd insecurities. Her hands itched to caress his face feeling his skin under her palms nd finally not able to control herself anymore she slowly raises her hand nd caressed his face starting form his broad forehead to his jaw line nd cheeks feeling his stubble under her palm while looking at him lovingly. She just wished that moment to stop right then nd there where she could see him for whole of her life like this only.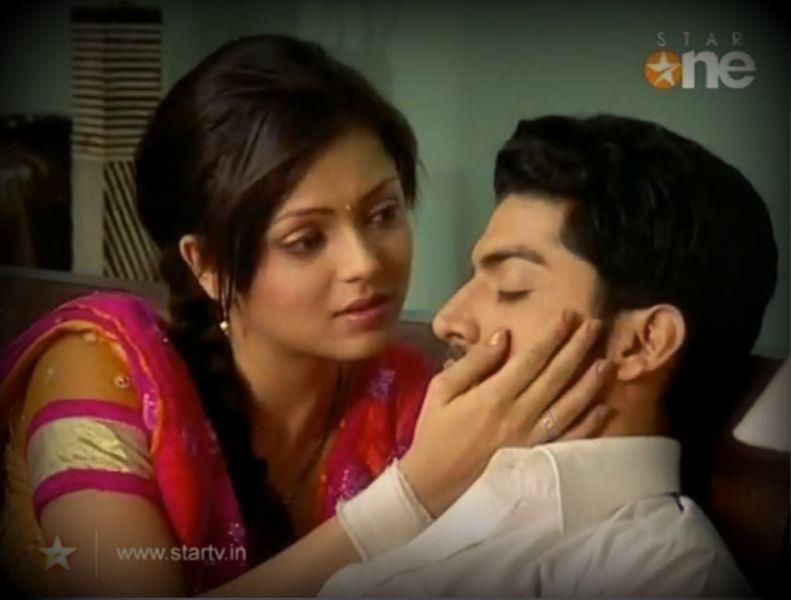 She don't know how many seconds, minutes or may be hours have been passed but she just keeps on caressing his face softly nd lovingly for it was giving an unknown satisfaction to her heart that he's here with her so close nd so contented. Only god knows how much she missed this moment in these 2 months for which she use to awake till late at night until he drifted into deep sleep nd today after whole 2 months she was again having a chance to show her love in his sub-conscious state because she couldn't show it to him when he was awake but atleast she could feel him, love him when he's sleeping, she thought as she gently raises her head to give a soft peck on his forehead.
"What do you want to prove ha... that you had taken Sameera's place? I told you that no one can take Sameera's place in my heart. Absolutely No One!!!! Yet you tried this."
"You can't take Sameera's place Geet. Did you hear that Geet, you can't take her place neither in my heart nor in my life."
Once again his words rang in her mind halting her in her actions nd her eyes started watering as the realization hits her. No she don't have any right on him not even in his sub conscious state. She's nothing to him but a responsibility. She had no other place in his lyf or in his heart. Why the hell did she forget this fact Everytym, she thought as she felt a lump on her throat in order to muffle the sob which was so desperate to escape from her throat. She just wiped away the tears that started flowing from her beautiful hazels from the back of her palm of her free hand nd tries to free her other hand from Maan's grip making sure not to disturb his sleep. But more she tried to free her hand more tightened his grip gets on her hand. Geet saw him stirring in his sleep indicating that she's disturbing his sleep with her efforts. She don't want to disturb him but she cant be near him too because she knows that if she'll stays near him for one more second then she'll definitely wont be able to control herself nd break down. Therefore she just pulled out her hand from his grip with a jerk waking up Maan from his deep slumber
Maan was in deep nd peaceful sleep after god knows how long by just having Geet beside him. His heart was feeling so calm nd finally in peace without any kind of restlessness in it with the fact that he was with Geet whole night holding her so close. It was then in his sleep when he felt someone caressing his face gently nd lovingly nd he very well know whose soft nd gentle touch was it for he don't have to open his eyes to know the person. Therefore he just laid over there with his eyes closed feeling her soft touch. His muscles was aching badly due to sleeping in the same position for whole of the night but he didn't dare to open his eyes because he knows that if he'll open them now then Geet will once again draw herself back on her shell therefore he just stayed still letting her do whatever she want.
Though it was difficult for him to stay still as Geet's soft nd innocent touch was arousing him to no ends nd he just wanted to crush her close to himself nd feel her in every possible way. Just like he felt that night when they returned home after the party. Nd as the night after the party came into his mind he instantly got a grip on himself nd his uncontrollable desires with much difficulty as Geet's touch was not helping him in any way. Therefore he just clenched his fist tight of his free hand to control himself nd don't do anything which can worse the current situation when he felt her warm breath near his face nd he just clenched his fist more tight almost digging his nails on the flesh of his palm. Gosh! This girl don't have any idea what she is doing to him, he thought as he clenched his jaw to suppress the groan that wanted so desperately to escape from his throat when he felt her drawing away from him.
Maan got confused with her sudden drawing away. He didn't understand what happen all of a sudden? Did she noticed him awake, he thought when he felt her freeing her hand from his grip nd as a reflex he tightened his grip on her hand not wanting to let her go as he knows that moment she'll leave him he'll again feel the same emptiness in him that he was feeling since the tym she had distanced herself from him. But then it seems that she was adamant to free from hand so he just pretended to stir in sleep so that she could stop her movements thinking that she's disturbing him but then when she's finally able to free her hand with a jerk Maan too opens his eyes nd looked at her only to find her eyes misty.
It didn't take him much tym to register what could have happened all of a sudden as he could clearly read her pain in her eyes. It was again the impact of his own words which was again making her drawing in her shell. No mater how much he wanted her to forget all that that he said to her that night but he knows that it wont be easy for her to forget everything so easily no matter how much he wished her to do so. He just keeps on looking deep into her eyes trying to let her know what he's feeling right now nd she don't have to draw herself away from him
"I... I am sorry... I didn't... I don't know how..." he heard her fumbling with her words nd before he could say or do anything he found her turning her face away nd getting down from bed.
"Geet" Geet heard his hoarse whisper as he hold her wrist to stop her from going nd she just closed her eyes in order to calm herself. No matter how much wounded she is due to him yet his one touch is enough to melt her.
"Geet, Please just listen to me once." Maan said rather pleadingly nd Geet swallowed the lump that just formed in her throat.
"Please let me go Maan. I am getting late nd you'll also get late for office." Geet said still facing her back towards him but Maan just tightened his grip instead letting her know his intention of not leaving her like this loud nd clear.
"Please Maan." Geet said rather in a choked voice finally facing him nd Maan instantly loosen his grip on her hand as he saw tears welling up in her eyes. As soon as Geet felt his grip loosen on her hand she instantly got down from the bed nd rushed towards the washroom door shutting the door behind her leaving Maan on the bed alone looking at her retreating figure regretfully.
"No Geet, you can't run away from me Everytym. I won't let you runaway from me anymore now. I can't see you getting isolated like this Geet nd I promise that I'll fix everything before it'll get worse." Maan muttered as he looked at the closed door of the washroom vowing that he'll do each nd every thing no mater how much difficult it is for him to do if it costs to bring her nd their relationship back to normal.
***********************************************************
Maan looked at the condition of room in front of him nd smirked feeling satisfied with his efforts. Since the tym he came out from the washroom after taking shower, he was busy in this only. Today anyhow he wanted Geet to talk to him then be it in the form of taking out her frustration only. And anyways she had full right to do this just like he use to do. After the morning incident he was sure that like him Geet too is craving to talk to him, to behave with him normally just like they use to do before but she was holding herself back due to his behaviour nd words that night but not anymore. Now he won't let her to hold back herself because it kills him seeing her like that. He likes it when she's in her bubbly nd chirpy self; so childish yet so mature at times. He decided to walk on Vicky's guidelines for a change nd now here he is standing in mid of the messed up room.
The whole picture of the room has been changed within matter of few minutes. Papers were out of the file lyieng scattering at the floor while the neat nd clean bed sheet was brutally crumbled nd laid carelessly half on bed nd half on floor. Folders were lyieng at the corner of the floor discarded while the things inside the drawers were adorning the bed nd center table. In short the whole room looks like; it has just been hit by tornado. Everything is perfect, just like the way he thought nd he was sure that it'll definitely raise Geet's temper to no extent as the only thing that Geet don't like in him nd despise the most is his habbit of messing up the place in course of finding something. Then be it his cupboard or his cabin or their room. He still remembers how she use to crib irritatingly or get mad on him whenever he messed up their room.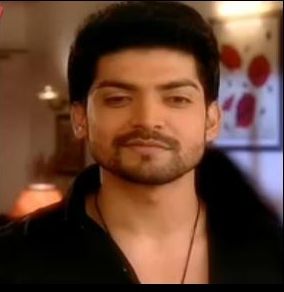 He smirked as he knows it very well that after seeing the condition of the room Geet will definitely not be able to hold herself back. No matter how much angry she's from him or distancing herself from him but this is the thing for which she wont hold herself back nd will definitely lash out her anger on it nd then before she could remind of his words he said that night he'll say to her what he wanted to say. He smiled as his mind drifted back to the tym when Geet was hell angry on him due to this reason only.
**********~~~~~~~~Flashback~~~~~~~~**********
It was the tym when Geet had realized her feelings for Maan nd their marriage has completed 5 nd a half months. It was a usual morning for everyone but it seems that Maan was an exception as he was busy in searching some file which is needed for today's presentation unknown of the fact that he was messing up the whole room nd soon going to be the victim of her wife's anger. Whole room was looking horrible with files nd papers scattering here nd there along with the bed sheet nd other items of the dresser but it seems that Maan cares least for it as he was busy in searching his file amidst of the messed up room nd this is how Geet had seen him when she had came with his coffee in the room nd her jaws dropped open as she found the messed up condition of their room which she use to keep tidy with so many efforts.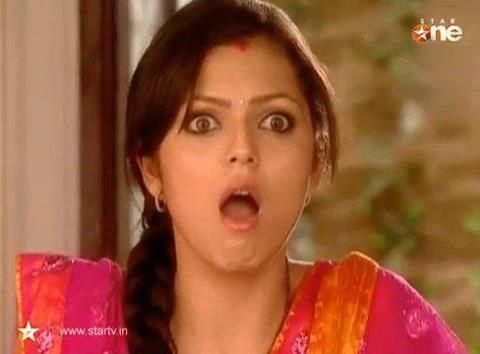 "Maan" she whined out with sheer irritation gaining his attention nd that's when Maan noticed her presence in the room.
"Arey Geet, Thank god you came. I am not able to find my design file of Chopra's. I had kept it somewhere here only but not able to find it now. Today is presentation nd here my file is missing. Do you have any..." Maan who was ranting till now ignorant of the fact how angry is his wife right stopped in mid when he met the angry glare of Geet who was looking at him angrily keeping her hands on her waist making him realize what blunder he had done nd he just smiled nervously at her.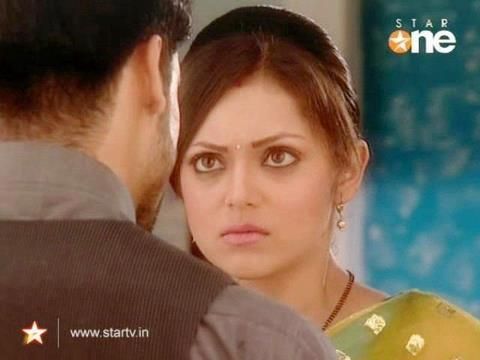 "Mr. Maan Singh Khurana how many times do I need to tell you not to mess up my room in course of finding any important file of yours?" Geet said with gritted teeth as she advanced towards him dangerously making Maan taking few steps back.
"Do you know that it takes me whole 2 hours to clean this room nd make it tidy again which you had messed up within a matter of 2 minutes" She continued looking into his eyes angrily nd Maan just gulped down his saliva seeing the sherni side of his wife.
"Geet Woh..." he tried to say something but then instantly eaten up his words seeing the angry glare of Geet.
"You know this is the only thing that irritates me nd I hate in you most. You go to the office after creating a mess over here nd then it was me who was left to clear all this but it seems you care less about it." Geet said dangerously as she finally cornered Maan to a wall.
Be it would be some other day then they would definitely land up in losing themselves in each other's eyes in such a position but today the situation is different as today Geet is hell angry nd fortunately or unfortunately Maan is her victim. Maan knows one thing very clearly that Geet seldom gets angry but when she use to get angry then no one absolutely no one can say a word in front of her anger then be that person is he himself from whose anger whole world use to fear.
"Your file that you have been searching for is in study. You yourself had kept it over there last night after going through its details. Therefore stop making more mess in already messed up room nd take you file from the study nd dare you messing up the study like our room nd I want you in the breakfast table in next 20 mins. Got it." Geet said pointing her finger towards him nd Maan looked at her then at her pointed finger nd then back in her eyes which was spitting anger yet Maan could see innocence nd care for him in them but seeing Geet's angry glare he just nodded his head like an obedient child nd Geet just smirked nd turned to Leave
"Geet Woh I am..." Maan tried to say something as Geet turned half way to look at him
"No it's ok, nothing." He instantly said while smiling sheepishly seeing her angry nd irritated glare nd made a dash out from the room before he become her prey leaving a smiling nd laughing Geet on her husband plight behind.
*******~~~~~~~~~~Back to Present~~~~~~~~~*******
Maan came out from his thoughts when he heard the faint sound of anklets indicating the someone is coming towards their room nd he don't have to guess who the person is as he very well know that it can only be Geet. The faint nd mesmerizing sound of her anklets had always given him indication of her arrival before she could actually show up. Nd anyways the way he had planned everything he was sure that it could be Geet only afterall he had made sure that he could scare poor Nakul too much with his anger that at the end he would approach Geet only for help. So now here she's coming towards their room where her husband is waiting for her with a surprise.
Maan instantly turned his back towards the door as soon as he felt Geet near the door pretending to search some file but continuously looking at her from the corner of his eyes. Geet's eyes widens in shock as soon as she enters inside the room seeing the messed up condition of the whole room which was not looking less then a 4 year old kid's room with all the papers nd other things lyieng here nd there on the floor. And she was sure that once again her darling husband is responsible for this worse condition of their room nd as expected she fumed in anger as she scanned the condition of whole room nd looked at Maan angrily who was facing his back towards her pretending to find his file but least she knows that he was smirking seeing the victory of his plan.
"Where the hell did I kept that file" Maan said as he throws back the cushion that he had picked up from the couch nd it straight away landed on Geet's face increasing her temper even more while Maan was finding it hard to control his laugh as he saw Geet's expression from the corner of his eyes. Just 10 more seconds nd she'll definitely burst out.
"Arey Geet Thank god you came. Had you seen a blue color file I am not able to find it. I had kept it somewhere over here only last night nd..." and he deliberately stops knowing very well that he had rubbed enough of her sherni side nd now within no tym she'll show that to him.
And as expected Geet looked angrily at him nd started advancing towards him dangerously making Maan to take step back. He was waiting impatiently for her to say anything as he looked deep into her hazels but she didn't said anything rather then just looking at him angrily nd finally she cornered him to the nearby wall looking deep into his eyes nd Maan smirked mentally as he found the same anger nd irritation in them that he had always seen during such kind of situations nd now he knows very well that within no tym she'll be back to her sherni avatar.
"10...9...8...7...6...5...4...3...2...1" He did the countdown mentally seeing the angry glare of his wife waiting for her to open her mouth nd lash out her anger on him.
"Maan Aapne Phir se..." As expected Geet had just opened her mouth to say something to him when she reminded of what happen that night making her realize that she had no right to do this.
No she can't do this. She had no right to boss on him as he'll again think that she's trying to involve in his life forcefully. Nd as the realization hits her she immediately lowered her gaze hiding away the tears that started firming in her eyes nd took a deep breath to calm herself nd not to show her vulnerable side to him. Maan who was observing her expressions till now felt a pang in his heart seeing her expressions change from anger to the realization to once again blank. But before he could do or say anything he found Geet moving away from him to the nearby table nd after fishing out for some tym she took out the desired file she came back to Maan who was still standing against the wall watching her amused.
"Your file. I found it at the side table this morning so kept it at this table thinking it to be important." Geet said as she extended the file towards Maan who was watching her unblinkingly.
"Maan, File." Geet said yet again in order to gain his attention nd Maan just took at the file absent mindedly all the while looking into her eyes which she was hiding by lowering her lashes.
"Geet" Maan called out to her as he holds her wrist stopping her from going when he found her turning to leave.
Geet just closed her eyes in order to calm her erratic heartbeats when she found Maan closing the distance between them. He don't have any idea what his mere presence do to her nd here he was standing so close to her that his warm breath was fanning her neck making her body burn with desires, she thought as she clenched her fist tight in order to calm herself when she found Maan turning her towards him. Maan gently turned her towards him holding her shoulders nd raises her face through her chin so that she could face him.
Maan looked in her hazels from one to another only to find her holding back her tears nd his resolution to take out from this pain gets stronger. Geet looked into his deep-honeyed eyes trying to know what was going through his mind when she saw him doing something that she had never ever dreamt off. She saw him holding his ears with both of his hands while looking at her with a slight smile nd Geet didn't missed the genuineness in his eyes with this gesture of his but what she couldn't understand that why is he saying sorry.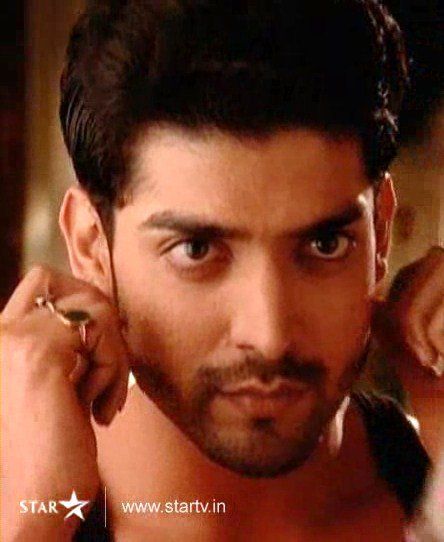 "Geet I am Sorry. Woh actually..." Maan said as he holds his ears looking into her eyes trying to let her know that he's genuinely sorry when Geet interrupted him.
"Maan its ok you don't have to be sorry for this. I don't mind" Geet said interrupting him in between nd a smile adorned on Maan's face when he saw her forgiving him so easily but her next set of words crashed all his hopes.
"I mean I know that you are searching your important file nd didn't paid heed that the whole room is getting messed up. Its ok you don't worry I'll ask Nakul to clear all this. Infact I myself will help Nakul in it. You don't worry." Geet said with a slight smile in order to conceal her pain nd Maan just clenched his fist tight as he felt the similar pain in his heart seeing her indifference yet again.
"Come for breakfast soon Maan or else you'll be late for office." Geet said while smiling slyly before leaving the room nd Maan just stood over there dumbfounded holding the file in his hands looking at her retreating figure.
He throws away the file in frustration seeing the failure of his plan. How many expectations nd hopes he had built that no matter what but Geet will definitely be back to herself when she'll see the messed up condition of their room but then how can he forget that it's Geet who is always unexpected. In other circumstances she should have shown her anger to him nd taken out all her frustration but this tym she's really hurted very much no not hurted he had shattered her heart then how can he think of her being normal so easily, he thought as he sighed in defeat as he sat on the couch holding his head between his hands.
Why is she not understanding that it kills him seeing her behaving so indifferently with him? It kills him to see her suffocating herself like this that she can't be herself in front of him. No he wont let her di that. He had already done enough damage to her nd their relationship but now he won't let Geet to repeat the same. He can go to any extent to bring her back so what of this plan fails that doesn't means that he'll get weak from his resolution. His resolution to fix all the damages done by him is way too strong to get weak with such failures infact it will only strengthen his determination. Determining this he gets up from the couch nd headed outside the room towards the study to execute his second plan.
Outside the room Vicky was witnessing each nd every interaction that happened between Maan nd Geet nd he sighed heavily seeing the failure of his idea. He cant believe it that his; Vicky the great Love Guru's idea didn't worked when the scenario that he had seen had made him 100% sure that their plan will definitely work but then seeing Geet's reaction towards everything has crashed not only Maan's hopes but also his expectations too. He saw Maan coming out from the room therefore he instantly hid behind the pillar not wanting to face the wrath of his elder brother on the failure of the plan which was actually his idea.
"Poor Maan Bhai, God knows what else he has to do to manofy Geet Bhabhi. Please God give my brother enough strength so that he could face my sherni Bhabhi." Vicky said dramatically while looking upwards nd then took out a small diary nd pen from his jacket
Mission:
Manofy Geet Bhabhi
Plan A: irritate Geet Bhabhi by messing up the whole room.
Status: Failed
Conclusion: it's not always easy to manofy your angered wife as she can behave unexpectedly at times.
Score:
Maan Bhai: 0
Geet Bhabhi: 1
With this entry he closed his diary sighing heavily at the fate of his elder brother whose condition has become just like any other husbands of the world in the love of his wife.
*****************************************************
Maan was going towards the study when he stopped dead in the tracks outside Nayantara's room nd all the things that happened between Geet nd him due to her manipulation flash in front of his eyes making his temper rise to new level. He had to handle NT too along with bringing Geet to normal so that she won't interfere again in their lives; he thought nd knocked the door of NT's room.
Nayantara was combing her hairs after coming out from shower when she heard the knock at the door nd as she turned to look at the person after asking him to come in her eyes widens in horror seeing Maan standing in front of her while crossing his arms across his chest. The colour of her face drained out as she saw intimidating eyes of Maan. She was dreading for this moment since last day when she had noticed the change in Maan's behaviour towards Geet at the breakfast table thatsy she was deliberately not coming in front of him for she was sure that it wont took long for Maan's sharp senses to know what actually must have been happened nd by seeing Maan's expressions she was sure that he had grasped each nd every thing.
"Veer... Veerji" She muttered with great difficulty seeing the deadly look on Maan's face.
"What happen Nayantara? It seems you are not happy seeing me over here?" Maan said in a casual yet cold tone as he made his way inside her room nd NT just gulped her saliva.
"No, its nothing like that. Woh this is the first tym you came to my room so I was just surprised." NT said as she smiled nervously nd Maan just smirked.
"Everything has a first tym NT. There's nothing to be get surprise in it. Just like the renovation happen in my room" Maan said emphasizing at the last line nd NT just looked other side getting caught off guard. Wasn't Dev was enough last night for lecturing her a big tym of her renovation plan that now Maan too had to do the same, she thought as she looked nervously at Maan.
"What are you saying Veerji? I don't get you." NT said nervously trying her best to keep her voice normal.
"Don't you know NT what I am saying? Ok then let me elaborate myself. Day before yesterday a renovation took place in my room without my knowledge where all the old things along with Sameera's pictures were replaced with the new things nd Geet's picture nd you know what's the funny part is that everybody in the mansion even the servants knows about it except four persons. Geet, Annie, Savera nd 'You'. Geet, Annie nd Savera was out for shopping so they were obvious about it so who else is left? 'You'." Maan said emphasizing on the last word looking straight at NT's eyes who was now looking everywhere but him.
"Woh Veerji..." NT tried to reason herself with some sentence only to be interrupted by Maan.
"I am not finished yet NT. so where was I? Ya, it was only you who don't know anything about renovation even after being at KM for whole day, even after being with Dadimaa nd Dev during whole conversation, even after giving this whole idea of renovation to Dadimaa." Maan revealed nd NT felt like the ground beneath her feet slipping away with his revelation. How he knew that it was she, she thought as she looked at Maan horrified.
Well this was Maan who never waste tym before going to the depth of everything nd here the thing is related to his nd Geet's relationship then how can he be lousy in that. He had confronted Dev while returning back from Gym this morning only where he came to know that the whole idea was of NT nd it was she who had convinced Dadimaa much to his protest. Maan though don't have any doubt before also but now after talking to Dev he was confirmed about the fact so now he is here to confront NT for his deeds.
"Veerji I..." she tried to say again something only to be cut by Maan yet again.
"You had done enough of your talking that night NT. Now it's my turn. I don't say anything then it doesn't mean that I don't know what's happening in front of my eyes. I know how much Geet's presence irks you in this house nd how you always finds chance to make her fall in everyone's eyes just like you planned to make her fall in my eyes. Isn't it? Nd don't you dare to deny it NT as I am not a fool. I know each nd everything but it was just I don't want yours nd Dev's relationship to be spoiled I was quiet till now. But don't consider my quietness as my weakness NT as if I can remain quiet for yours nd Dev's relation then I can break that quietness also for the welfare of mine nd Geet's relationship. Therefore from now on I don't want you anywhere near Geet nd if by any chance mark my words NT by any chance you are again planning to plot something against Geet which can worse our relationship then remember NT I wont give you any warning before taking any action like I am giving you now. next tym you wont get chance of even being warned. Rest you are intelligent enough to know what I mean. Got it" Maan said rather in a threatening voice looking at NT dangerously to which she just nodded her head meekly nd Maan just turned to leave smirking.
"One more thing NT. I guess it's been long since you had visited your parents. They must be missing you. Isn't it?" Maan said as he stopped near the door facing his back towards her before leaving the room leaving a fumed NT behind gritting her teeth to understand the meaning of his words.
"I'll get back to this Maan Singh Khurana. Sooner or later I'll get back to this." NT muttered with gritted teeth as she saw Maan's retreating figure going towards study
ok so dis is it guys! hope you all are going to like it... hit the like button if you all like it nd do leave your comment/criticism... its necessary...
@Crazydream here's this update especially for you before 17th Sep... ALL the best for your exams...
Important Note:
gals! i am taking off from IF for few days due to some personal reasons nd problems that i cant reveal now which is really taking toll on me now... but i'll be ol through cellphone to check my comments nd PMs so please keep commenting you all nd i promise that when i'll come back, i'll come with an update... i cant tell you all whats the problem in my side but it was just due to it i am not able to concentrate on my updates therefore i decided to take break for few days... i'll be back soon i promise may be in 8-10 days... please keep reading nd keep commenting... Bye!
Please give me long comments this is the only request i have before going... will see you all soon... miss me please

P,S. I had created my FB group named "Aakriti's Magical world of Maaneet" pls join it to get immediate notifications of my updates... here's the link
Aakriti's Magical World of Maaneet
Do join it
Luv Aakriti


Edited by aakritisri1111 - 17 September 2012 at 12:53am