Onasadhya is the most delicious part of the grand festival called Onam. It is considered to be the most elaborate and grand meal prepared by any civilisation or cultures in the world. It's a feast which if enjoyed once is relished for years.
Onasadhya is prepared on the last day of Onam, called Thiruonam. People of Kerala wish to depict that they are happy and prosperous to their dear
King Mahabali
whose spirit is said to visit Kerala at the time of Onam.
Legend goes that Mahabali who was so attached to his people that he requested Gods to allow him to visit Kerala every year. People of Kerala wish to convey that they are enjoying the same age of prosperity as was witnessed during the reign of King Mahabali by preparing a grand Onasadhya.
Rich and the poor, everybody prepares Onasadya in a grand fashion as people of Kerala are extremely devotional and passionate when it comes to Onasadya. So much so that, it has lead to saying,
'Kaanam Vittum Onam Unnanam'
. Meaning - men go to the extend of selling all their possessions for one Onam Sathya.
The Meals
Rice is the essential ingredient of this
Nine Course Strictly Vegetarian Meals
. All together there are 11 essential dishes which have to prepared for Onasadya. Number of dishes may at times also go upto 13. Onasadya is so elaborate a meal that it is called
meals
, even though it is consumed in one sitting. Onasadya is consumed with hands, there is no concept of spoon or forks here.
Traditional Onam Sadya meal comprises of different varieties of curries, upperies - thigs fried in oil, pappadams which are round crisp flour paste cakes of peculiar make, uppilittathu - pickles of various kinds, chammanthi - the chutney, payasams and prathamans or puddings of various descriptions. Fruits and digestives are also part of the meal.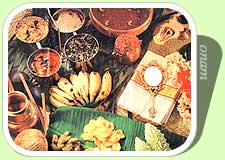 The food has to be served on a tender
Banana leaf
, laid with the end to the left. The meal is traditionally served on a mat laid on the floor. A strict order of serving the dishes one after the another is obeyed. Besides, there are clear directions as to what will be served in which part of the banana leaf.
These days Onadaya has toned down a little due to the urban and hectic living style. Earlier, Onasaya used to be even more elaborate. There were about
64 mandatory dishes
- eight varieties each of the eight dishes. At that time three banana leaves were served one under the other to accommodate all the dishes. How exactly they were accommodated in the tummy..is a food for thought!
How is it Served
There is a distinct order of serving the the grand feast of Onam. Pappad or Pappadum is to be served on the extreme left. On top of the big pappadum banana is served. The banana can be 'Rasakadali', 'Poovan', 'Palayankodan'. From the right pappad - salt, banana wafers, sarkarapuratti fries are served. After this, ginger lime and mango pickles are served. Next comes 'vellarika', 'pavakka', beetroot and 'ullikitchadi'. 'Kitchadi' made of pineapple and banana splits or of grapes and apple is served along with this. On the right, 'cabbage thoran' is served. Then comes a thoran made of beans and avil followed by bread and green peas mix 'thoran'. The meal will be complete with the 'avial' and 'kootu curry'.
Rice is served when the guests seat themselves and just two big spoons is considered enough. After this 'parippu' and ghee is poured. Then comes Sambhar. Desserts are to begin with adaprathaman followed by 'Kadala Payasam'. This colourful arrangement on the lush green banana leaf makes the food look even more tempting and irresistible .
Hold on...Be a little patient...you need to wait a little before you start gorging the lip smacking meal. There are some rituals which need to be followed. First full course meal is served for Lord Ganapathi in front of a lighted oil lamp (Nila Vilakku). This is in accordance with the Malayalese trend of starting everything in the name and presence of God.
More About the Meal
For a better understanding of the Onasadhya meal let us now go through all the dishes in a little more detail. If that temps you too much,
take a look at the recipes section
and enjoy your Onam whenever you want.
Erissery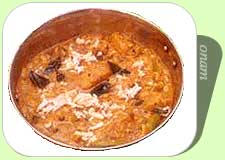 This is either prepared from pumpkins/red beans or from yam and raw bananas cubes. The spices used in this include split green chillies, ground coconut, cumin seeds, turmeric and red chillies. Erissery is seasoned with mustard seeds spluttered in oil. This is a main stay for the occasion, though not very popular these days.
Kalan or Pulisseri
This is prepared from buttermilk. Ingredients consist of sliced plantains called nenthra-kaya and yams or chena. These are boiled in water with salt and chillies. It is flavoured with ground coconut and mustard seeds spluttered in oil. Some even add cucumber cubes to Kalan.
Olan
Olan is prepared from sliced cucumber and brinjal. Sometimes pulse is also added. They are boiled in water with salt and no chillies. When properly boiled, some fresh coconut oil is poured. The dish is seasoned with flavour kariveppila (curry leaves).
Aviyal
This is kind of a mixed vegetable as all sorts of available vegetables are added to it. All vegetables are first boiled in water with salt and chillies. Tamarind and well ground pulp are added at proper time. Aviyal is flavoured with coconut oil and Kariveppila.
Thoran
Thoran is prepared by slicing beetroot and several other vegetables into very small pieces. These are then boiled in water with some salt and chillies till all the water dries up. Water can also be strained away. For seasoning, ground coconut pulp and mustard fried in coconut oil is used.
Mulakoshyam
This resembles olan. It is a special Onam delicacy from the state of Kerala and has been recently added to Onam Sadhya.
Koottukari
This is a curry consisting of a variety of vegetables and some Bengal gram. It differs from Aviyal as it does not contain tamarind.
Sambar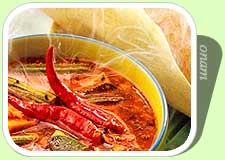 This is an extremely popular recipe from South India and relished by the whole of India. It consists of dal and a variety of vegetables like brinjal, drum-sticks, pavakkai (bitter gourd), etc. All vegetables are first boiled in water with salt and chilies. Tamarind is also added to enhance the taste. Other spices like coriander, cumin seed etc. are fried in oil and powdered. Sambhar is flavoured with mustard seeds and asafoetida.
Pachchati, Kichchati
These are types of curry consisting chiefly of cucumber, mustard and sour butter milk or curds. In Kichchatim, young and tender cucumber is added
Rasam
This lip smacking recipe is prepared from tomatoes treated with tamarind juice. It is seasoned with bay leaves and mustard seeds spluttered in oil. Some people take rasam with rice. Rasam also helps in digestion.
Payasam
This is an extremely delicious dish and is a sort of pudding. It is prepared from boiled potatoes mixed with molasses and coconut milk. The mixture is flavoured with spices. There is another type of payasam called 'Pal Payasam' in which rice is boiled with milk and sweetened with sugar.
Prathaman
There is a whole variety of Prathamans such as ata, pazham, parippu and palata prathamans.
Beverages
A special drink is prepared for Onam in which water is boiled with a combination of cumin and dried ginger (chukku). This is beneficial from health point of view.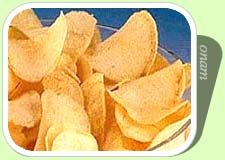 Upperi or Chips
Upperi is prepared from various things like raw bananas (kaaya), yam (chena), jack fruit (chakka), bitter gourd (pavayka) and egg plant fruit (vazhuthanga). Slices of the ingredient are fried in coconut oil to a crisp condition.
Pickles (Achaar)
These are prepared well in advance of Onasadhya. Pickles are chiefly made from mango, lemon, ginger, chillies and curry naranga.
Pappads (Pappadam)
These are prepared from black grams and are fried in oil. Pappadams are usually served in three sizes - small, medium and large.
Fruits
Chiefly plantain fruits of various kinds are served along with other articles of food at meals.