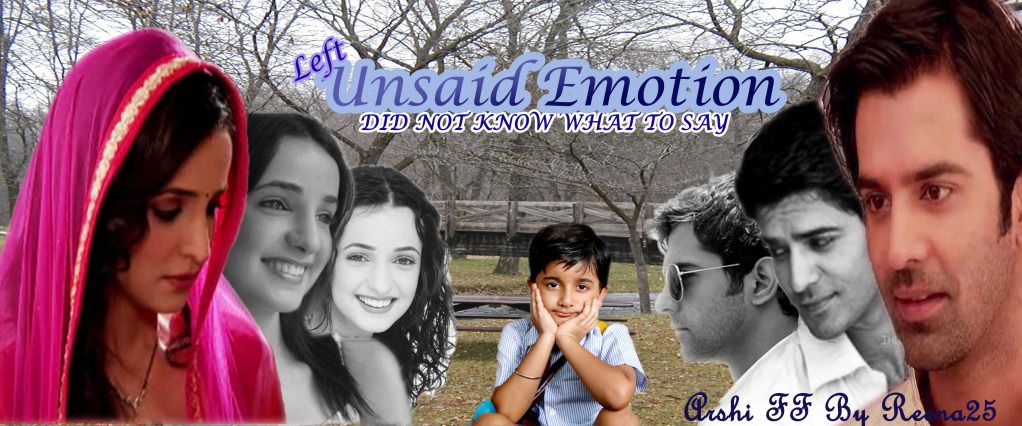 Chapter 1 The first meeting
Arnav could not sleep anymore even after he takes two sleeping tablets. Its only early morning three 'o' clock but he could not. He wakes up and sits on the bed, rubs his face with palm. Again it is her face haunting him even after six years. Her eyes looking at him longingly at him, her lips apart to say something then close without utters any words, her face usually alight with her smile and grin but filled with sorrow. He never understand that looks on her face on that time but now it was crystal clear to him. It is the same looks when you see the most wanted person for the last time before long break.
He could not sit there anymore. He gets up from bed go to poolside. It is usual for him lost his sleep suddenly in mid night but for the, last one week it become impossible to sleep, he could not sleep as usually he do. Yester day too he goes there as he does every year but even he could not find her in this year too. He slowly begins to lose his hope to see her again. He sat on recliner heavily; rest his back on the back of recliner, one arm behind his head.
He looked up at the stars. An energetic voice plays in to his mind
"Do you know they become stars, it is Babuji & there is Amma"
He puts his leg on the teapot table front of him and let his memory roaming back the past as usual every day for the last six years. Sometime it is really painful. But more of time it is the thing which gave him peace & pleasures those he could not have in present.
Before Seven years
Arnav has been studying at Delhi St. Stephan's College for two years after this year he will go to Howards University. It was the time to in take new student, all of them thinking about how to track new student in clever way. And there is a new building which was under construction near the parking. It is building for the Parking.
Arnav parks the motor bike, and walks to the college. He is deep in thinks about his personal matters about Di and Jijaji. He did not aware of the situation around him. All suddenly a tiny hand grape full of his T shirt, a shawl falls over his face, and pushes him hard on the chest. He did not expect this and falls back to the ground. That figure also looses its balance fall over him.
The red shawl flies between their face and their lips meet through the shawl at once they fall, eyes closes. He sees all the stars behind close eyes. He feels like he is in new world, like someone caresses his whole body with Dove feature, like he born for this moment. Both of them open their eyes similarity. He hearts the gasp from that figure, it breaks his spell. Her face still veils by her shawl.
He did not understand the emotion or feeling running through him. He does what will ASR do when he dose not know what is the feeling it was. He barked at her "Are you planning to falls asleep on me", "Get UP". She seem to come back to this world from her trance about to say something and showing something backside of her. He looks at her still veil face said
"What the"
"Are you,"
"Are you trying to impress me? or ..." his eyes ask her what his voice left unsaid.
She shakes her head trying to say something again but before that
"Forget it" He said angrily.
She seems taken aback by this, she turns and runs away from there. Her red Anarkali with golden border make his breathe stops. Before she turns in to the corner of building she looks back then disappears in to the corner of building.
He was staring at the spot where she stood just before. He wanted to see her face badly but could not. A man running from the new building, breathing hard, ask him "are you alright, Thank God that girl saves you". Arnav looks at him curiously. The worker nods his head said
"I did not know how but the rob cut down and that cement pillar falls from up"
The dawn comes up in to Arnav mind she saves him.
Precap
Arnav could tell even without seeing who it was it is the same hands which saves from the cement pillar.
your Comment is my Wish
That is friends
So now your time to tell howz it
should i do continue further or not
I will pm tomorrow it is really late
Luv
Rina


Edited by rina25 - 17 August 2012 at 2:58pm