PART-11
Manvi-I love you too virat
Arjun immediately pulled away and stared at her his eyes were wide
Arjun- what? Manvi are you in your senses? My name is arjun not virat!
Manvi also came back to her senses and looked at arjun who was having a shocked expression!
Manvi- who..woh.. she stammers
Arjun- look manvi I know you are now a days going a lot with virat but that doesn't mean you will forget your friend's name? its arjun not virat!!
Manvi- arjun look I am shocked see I was never in love with you and neither will I be!
Arjun- but manvi why don't you love me? Don't say you are in love with that bloody vir….
Manvi- don't even get his name on your mouth you don't even have the right to say him anything!
Arjun- manvi what's wrong with you? And holds her shoulders.
Manvi- just shutup.
She pushes his hands off her and runs inside.
Arjun- how dare you do that to me manvi. Well if not this I have many plans to execute.
And he gives a evil smirk.
The next morning manvi wakes up and slowly she walks to the bathroom to take a shower. She comes out completely dressed up and goes out. On her way down she encounters her sister.
Manvi- good morning dee!
Jeevika- are mannu tu uthgayi? Main tujhe hi uthane ke liye aa rahi thi
Manvi- who kya hai na aaj kal jabse mere dee iss ghar ke bahu hogayi hai na us ke liye pehle se itne sare kaam hai to socha ek kam kam kardu and she hugs her
Jeevika- pagli! Anyways tu jakar virat se poochle use kuch chahiye ke nahi agar kuch chahiye toh mujhe poochle!
Manvi- use kyun kuch chahiye hoga?
Jeevika- are who aaj sham ki flight se Canada jaa raha hai toh packing karne ke liye help chahiye ho ga na isliye!
Manvi- kya??? Who Canada jaa raha hai??
Jeevika- haan mannu!
Manvi- par…
Jeevika- acha mujhe jana hoga kitchen main maa ki help karne isliye main chalti hoon
It was afternoon and virat was busy packing. He was putting all his things in the bag and then his eyes rested on an album. It was his album in which he had photos of manvi during his bhai's wedding, and all they moments they spent together.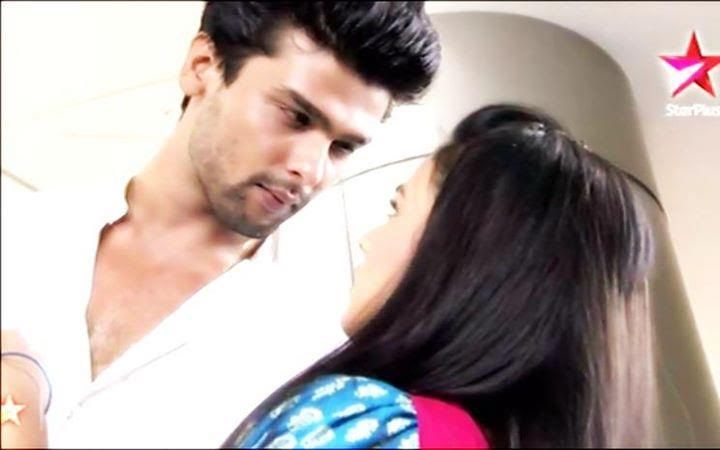 He hugged the album close to his heart and kept it inside his bag.
Manvi entered his room and he saw her. He forced a smile and waved a hi
Virat- hi!
Manvi- virat tum kyun ja rahe ho?
Virat- who..actual..actually mujhe mere music contract mila that jo Canada main hai isliye!
Manvi- tumse shayad kisini nahi kaha ho par tum jhoot bolne main kitne idiot ho!
With this he turned around and he was showing his back
Virat- mai..main jhoot nahi bol raha hoon main toh..
And he turned toward her. The moment he turned he felt a body lean on him or maybe to say hugging him. It was manvi. Virat was shocked by her action and slowly he can feel his shirt getting wet and realized that manvi was crying.
Virat- manv…
Manvi- please mujhe chodkar mat jao virat please..
Virat- man…
Manvi pulls away from him and kisses his forehead his eyes , cheeks and hugs him back.
Manvi- I love you virat I love you a lot…
Virat was shocked. He couldn't properly frame words. He was never prepared for such a situation but now only thing he knew was she loves him the same as he does.
Virat slowly pulled away and touched her face. He was caressing her cheeks and manvi was completely lost in his magical touch and was absorbing it. Virat slowly came forward and kissed her forehead.
Virat- I Love You manvi!
And hugged her close to him as close as possible. Both closed their eyes and were deeply enjoying the moment. Virat was beyond happy the day he waited for had finally arrived and he was happy a lot but again to his shock manvi pulled away from the hug with such a force that he stumbled a few steps back.
Virat- kya hua?
Manvi- nahi tumhari flight ke liye late ho raha hai na jao tumhe kya koi tumse pyaar karne na kare!
Virat understood that manvi was angry
Virat- I am sorry!
Manvi- oh please..
Virat – ek minute.. he goes and gets his air tickets
Virat- yeh lo aur inke saath jo karna hai karo
Manvi too them from his hand and without wasting a second she tore them into infinite number of pieces
Virat- now happy?
Manvi- yesss!
PRECAP- arjun tells something to virat and virat slaps him hard!
Sorry for the late and short update I know it was quite a short one but I am really sorry and I have one more sad news guys I guess my next update will be in either in this month if I get some time or it will be in januray!!
And I mostly think its January!
I know that's quiet late but I have my exams from December and I really have to work hard for them they are a lot important to me.
And guys one thing I maybe inactive for these two months but please don't block me or stop sending pm's because I will be able to read a few when I get time but seriously I am so sorry that I cannot be able to like or comment !
But I know you all will keep rocking!
Please please comment and advanced sorry for all and please wish me luck for my exams I need them!