Hey guys.. I'm Priya. I usually write fanfics & I hope u like my attempt at an RSSI fic.

Plz do NOT COPY my work.. thanks :)
Note : KMH fans. Plz don't kill me for using the title & title song. I thought the title would suit the plot better. The concept here is similiar to that of the show. But the plot is mine.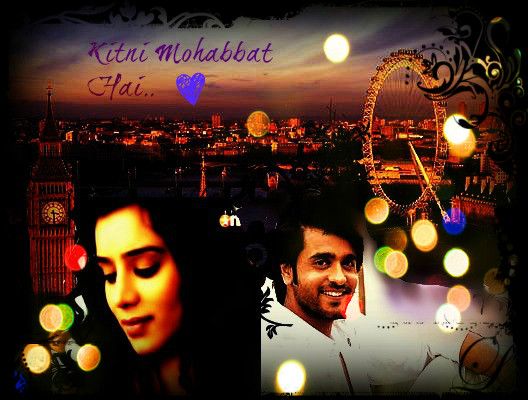 made the banner myself.. looks nice, isn't it?
PROLOGUE
Sahiba was in a cheerful mood. It was three months since Ranveeer left her on her marriage day, two months she had been fighting her family not to get her married to someone else and two weeks since she escaped after fooling Happy Singh & married Daljeet. Also two weeks since she was in London.
Daljeet was a sweet guy, she mused always helped her whenever in need. He would make a great husband, she would have said this aloud if theirs was not a paper marriage.
She woke up with a smile, she somehow had a feeling she would find Ranveer.
Daljeet brought her breakfast asked her to get ready. He told her she might find her 'Rani mausi' there at the mall, where a huge number of Indians would gather for I-day celebrations.
And so they set off after chachaji left for his work. They caught a taxi to central square.

~ Inside the Indian Mall
Sahiba sighed as she eyed the huge Indian crowd who were singing, dancing, partying inside.
"Ab us kutte ko kaise dhoondhoo..?" she wondered.
Dajeet stood in a corner urging her to go, while promising to keep a look on her from a distance.
She nodded, pushing her way slowly towards the stage. She needed to find Ranveer.
She was taken aback when there was an announcement from the stage a few yards away.
The announcer was smiling down, " now I want you guys to sing a song.. someone.. to mark the closure of this event! Ek gaana.. and we'll move on to the next event.. Cultural performances by some Indian students! Kaun gaayega... hey You!"
The guy then pulled someone from the crowd, who were cheering & clapping.
Sahiba's eyes widened. She couldn't see him properly, but that hair style...
"What's ur name?" she heard the announcer on the mike.
"Ranveer... "
And Sahiba squealed in delight. There he was her Ranveer. She needed to see him.. Oh he need to reach the stage first.
"Okay Ranveer.. a song for tonight. Kya gaana gaaoge?"
Ranveer hesitated a bit, "nahi Ji. Bahut besura hoga.. plzz.."
"No, you need to sing!"
Ranveer sighed as he took up the mike,
" okay..
jan gan man adhinayak jay ho, bharat bhagy vidhata

punjab sindh gujarat maratha, dravid utkal banga

vindhy himanchal jamuna ganga, uchchhal jaladhit rang

tab shubh name jage, tab shubh aashish mange

gaye tab jay gatha

jan gan mangal dayak jay he, bharat bhagy vidhata

jay he jay he jay he, jay jay jay jay he... "

He finished as the crowd gave a huge round of applause.
"Wow Ranveer Ji.. that's the song we needed today. Proud to be an Indian.. aur kuch kehna chahenge?"
Sahiba moved closer to the stage, now she can see him clearly. But she still needs to struggle her way to reach him.
"Haan.. ek gaana gaoonga. For someone I love.. "
Sahiba smiled,
angrezi seekh gaya Kutta.
The announcer smiled, "okay.. proceed."
And he began singing this way
"tumko chuke bhi choone ko karta hai dil

paake bhi paane ko karta hai dil

aawargi aane lagi...

saanson mein khushboo chaane lagi...

dil pe deewangi chagayi iss kadr...

bandh aankhon se bhi mujhko aaye nazar...

kaise.. Kahein... hume kitni... .kitni mohabbat hain..

Kitni mohabbat Hai.. "
The crowd clapped again.
Sahiba wanted to run & hug him.
The announcer grinned, "wow! What a lovely song.. Acha tell us all.. Woh lucky girl kaun hai? Jiskeliye aapne yeh gaana gaya?"
Sahiba was smiling broadly, from the spot where she stood and yelled, "Ranveer!"
The crowd was too loud. Ranveer couldn't hear her.
On the stage, Ranveer just smiled,
"hai koi.. Jisse milke maine jaana Sacha pyaar nu Ki hoti hai.. Iske pehle main bahut selfish tha! Sirf apne sapne ke baare mein sochta tha.. Usne mujhe sikhaya.. Pyar ka matlab kya hai. She tell me.. What love is. You put yourself before the person you love, face their difficulties.. you don't ditch them. Usne mujhe angrezi sikhaaya.. I love you Jazbir!"
Sahiba's heart stopped. Jazbir??? Her eyes widened as a tall, slim, but beautiful girl, ran on to the stage and embraced her Ranveer in a tight hug.

"I love you too Ranveer! I love you so much!"
She could hear the girl's voice.
The crowd was clapping as loudly as her heart shattered into pieces.
"Main ne acha angrezi bola na?" Ranveer asked Jazz as he released her.
"Changa hai.. you were better than Brits! " she smiled up at him. She was greatful to god, who gifted her the most beautiful thing in this world, her love, her Ranveer.
She smiled as she remembered how they fought and eventually fell in love. She remembered how he had changed her gradually into someone else. She was clad in a salwar-Kameez, sporting the tricolor badge for god's sake! Ranveer had learned magic from Harry Potter!
"Kee soch rahi ho?" Ranveer asked her. She shook her head.
"Ghar chale?"
She nodded and they walked out together.

NEXT PART : Daljeet - Sahiba talk. Jazz explains how they fell in love.
So do you like it?


Hate it?

Plzzz comment. Will edit the Hindi dialogues if you guys wanna read it in English.
Thank you :)


Edited by Priyamvada - 29 December 2012 at 12:58am