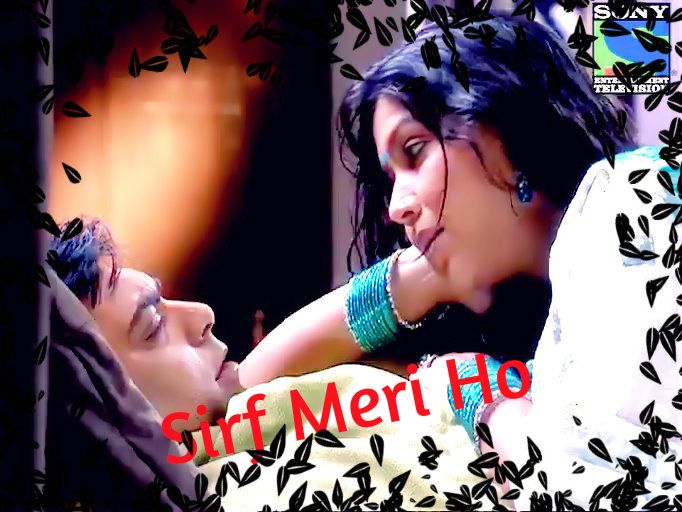 and what about you babes , you just gaave me 7 mins , you yourself landed on me controling his laugh , ha toh 7 mins hai na ,looked up the time its been 45 mins , she bewildered and asked " ram what you did " what i did .. you asked only once and i fulfilled it hai na , snaking his leg around her bare waist , no its paining , pulled her head on his chest , with in secs she dozed off to sleep ...
PART -32

The house chores sounds made his sleep disturbed ,He woke up to find priya is sleeping like a baby on his chest cuddles closer to him,His morning will be so fresh if he finds his beautiful wife smily face welcoming a great morning ...
He slipped from the comforter a slight blush appered on his face by seeing the state of their nudity and the mess they made in the yesterday...
Her bare legs intertwin with each she cuddled like a ball ,
Ufff he sighd and dressed priya with her nighty , Neatly tucked her hair back, Erased her disturbd sindhoor on her forehead , Kissed her with all his love ...
Shipra voice echoing in his ears , She was telling something to sudheer , He made an irked face ohhh how priya how you people are tolerating your mother ????
She stirred a bit in her sleep ,, he bits his lowerlip ,Ok ok tum so jao , he said that cleaned all the room ,Adjusted everything in proper ,When he felt perfect he opend the door so no one can disturb priya ,seeing her sleep , Disappered in washroom to his daily chores ...
Shipra about to knock the door slight surpriced seeing the door open ,But no sign of both , She slowly call out " priya" priya
Found her sleeping so peacefully , No where a small grin appered on her face seeing her daughter peaceful sleep , God bless you my dear ...
Shipra came to this world feeling someone near to her , She turned and bump into sudheer , who was too lost in his great duaghter happiness...
Both stared at each other and priya , they heard the water sound from washroom so they thought ram might be there...
Chalo shipra wake her up , It's been 8 ...
She neared her bed , about to call her name , The alarm buzzed , Priya's hand reachd the night stand to shut it ...
She made a grumpy face telling "Ram why don't you turn it off " She felt he is nearing to her , sone do na Ram , plzzz ...
Sudheer & shipra giggled seeing her pouting face towards ram , Shipra is reaching her to wake up , Priya is thinking it might be ram...
Ram heard Priya's blabbering asked her "Priya common get up lazy bones " ...
Shipra sat near priya , He is drying his feet on doormat cleaning his face with towel called her , "Priya utho na agar mamiiji aaya toh ""
Hmm ayea toh .. kya kahegi she asked in her sleepy tone, He forgt his watch in washroom went to take it ,with out seeing priya's parents...
Ram: Priya uthooo abhi , i want my morning favour tooo ...
priya" Ram aap bhi na ,kabhi nahi sudharegi ??? one track minded ...
ram: ith na beautiful wife hai toh mai kya karega honey ??
priya" very funny ???
Shipra patted priya on her shoulder ...
priya:Ram app bhi na ,
ram: Utho ..
priya:Uth rahi hu na !!!!! she rested herself to headrest ,lazyly she streched her arms in a hug ,
Ram who came out from the washroom about to say something ...stopped seeing shipra & sudheer ,
Priya who was in sleep , thinking its ram , " Ram why you are feeling so chubby and smoothy ,what happen give me the morning hug otherwise i wont getup you know na, dont act with soft toy the day before you played prank on me, common give me my morning hug ,Her hands reached the persons head , she found the hair was long , she opened her eyes to see who she was hugging and shocked to see her mother ...Smiley face of Sudheer...
wo ..ma.. aap..kya !! i mean..yaha... she bites her lower lip ..
Good morning ma , why you are here ??? ...
Haaawww sudheer see how your dughter is asking me ???
Its been 8 in the morning ,no sign of her still she wants to sleep and asking me what im i doing ??
I should ask you ?? What you are doing ha winking at her , slept late night kya???
Ma..kya kya bath karane lagi hai !! papa dekho na ..Sudheer sat by priya , priya rested her head on his shoulder , Papa maine bahuth miss kiya ..
Mai bi beta ,He gave a side hug to her, I'm so happy for you beta ...
Kya papa???[ Ram who was lost in his love's beautiful relation with her parents ,He don't want to disturb them, He leaned on the wall , Admiring the daughterly bond she is sharing with him] Karthik,nutz also came there ,Ram signald them to stop there
Shipra: oye hoye ... you two are made for each other beta ...
Sudheer : Ha priya , Im always worried about your future , Eventhough its arranged marrige for both of you , you are really looking good together ,made for each other , by now your conversation , I understud how much deeply you are in love with each other ...
Papa aap bhi na , what you are talking ..
shipra: priya dont divert the topic , bolo na ... kya bath hai ..
Priya : Reached her mangalsutra her face coloring up , twirling her mangalsutra in her hands , Ha ma mai bahuth lucky hu and mai ram se bahuth pyar kartha hai muj se be jyada, Im really proud to have him my side to be my Friend, Well wisher,Life partner ,My love ...
kabhi kabhi sochtha hai ki , I'm the luckiest girl in the world , and all my happiness standing infront of me in his attire ,I love him alot ...
Shipra: Tohh ...Aage bad gaye na app log ...
Priya : ; ma...again you started filmy talks ...
Shipra : Sudheer dekho na ...
Priya:: Maaa...
Ram: Was thinking what she might tell ...His ears are waiting for her to tell ...
sudheer : shipra chodo na ...
Shipra: Aisa kaisa chodo jaan, When i will get junior Ram or Priya , she leaned to pull priya in a warm hug ,But the next moment she winced with pain ...
"Aahhh "
Maa ..maa what happen , priya panicked ,cheked her hand , it was bleeding by insertd some sharp object ...Everybdy ran there ..
Shipra made priya to stand up to check what it is , it might hurt you also beta utho utho ...
There they found a piece of broken bangle ...
Shipra": how it came here ...
priya lowered her gaze , her face is turning brilliant pink shade now , biting her lower lip ...Ma wo ...galti se...
Sudheer : chalo shipra i will firstaid the wound,
but shipra nudged him asking sudheer aisa kaisa ho sakth hai , ye ladki bi na ajeeb ..ajeeb ...
nutz: Ho saktha hai ma, this is the proof,now you no need to worry for junior Ram or Priya , They will come soon giggling natasha take shipra ji away ..Everybody laughed with nuts leaving Ram&Priya embaressed...
He streched his arms to her , she cosily jumped in his arms to her daily morning hug , Don't know she wants to tell him how much she loves him ...
Nutz turned to call them up for breakfast as everybody turned, seeing the lovepair , they closed the door and back to their rooms with light heartd..
Karthik ": papa im so happy , i want to see my di all happy ..
Nutz : me too karthik , priya changed brother alot , i loved to see him happy , My two eyes were not enough to see them ,I'm so overhelmed with the news that im going to become aunt .
Kya ???? priya asked in wavy and every one also ..
shipra : Are priya beta , is that true , you even didnt tell me , how , when
Ram & priya: Both looked at each other confusingly ...and both gazed at Nutz..
Nutz bits her lower lip sorry sorry ...Aap aage bad gayi toh soon or later i will be going to aunt na , thats what i meant...
Everybody smiles at her logic...They had the breakfast ...
They are back in priya's room ,
Plz dont forgt to click
LIKE
button ...