Fun Post - By me Carisma.. Abhay/Vivian/RK's number 1 Pankha!
And we need a Pankha - When there are two hotties in this post! So come let me make you giddy
with this post.
RK sat reining over his worshipers... "RK Zindabaad RK Zindabaad, RK Zindaabaad!..."
Along Came Abhay

the SUPERCOOL Lone Ranger. "Raichand... Abhay Raichand".
All RK's IF fans danced with joy at his Arrival
"Woh agaya - dekho woh agaya.. hamari ankhon ka tara, dil ka sahara, hamari jaan ...".
"SHUT UP!

Daasi's... Aaj kal mer dor and zor chal raha hai.. Abhay is 200 years old history".
Superstar RK: "Oi! yeh dialogue.. ahaan waala mera hai, suno suno Madhu..ba..laa..ahaaan. See my dialogue".

RK: "I have everything you have! Good looks.. check, arrogance - check, Charm - check, Money - check, Name & Fame - check". RK did a lil dance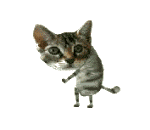 "And and and and.. Check me out in my brand new clothes check me out"!
Abhay: "Huh! - Did U not see my brand new clothes, check me out - Besides whom else can look good allday everyday for 14 mnths in just black?"
RK: "BUT I have expressions too - Look my front face, side face, chai drinking face, smiling face, smirky face, snidy face... dekho dekho!"
RK: "Maan Gaye, aur hum agaye MB ki life mein (Sorry no pun intended). You are the Maan! I mean Man
. TUM mein woh kyaa baath hai - jo muj mein nahin, Tell me Pls Tell me!"
Abhay: "Duh, Seriously dude! you don't know...Tum tho audience mein Kutta ban gaye ho - Woh bhi free waala
Where as I am still the handsome Prince-y ko baja ne waala Vampire! - Tumhaari fandom less hai because Tum Vampire nahin ho naa!"
Muje bhi bana do 'Rishabh Raichand'..." (Chand's decendants are all Raichand...)
And with three BIG BITES! Abhay turns Rishabh into a vampire!
Abhay: "Aah mazza agaya... Dharmendar tho sirf dialogue baazi maartha tha - Meine tho aaj kutte ka khoon pee bhi liya! - (No Farah... Jeh tho leech thah, incase you're wondering)".

RK: "I owe you man!
Thanks to you.. Aaj mein Hoslon se veer hoon, Sankaton mein Deer hoon... MB ke is dialogue se aaj azaad hoon !!!!!!"

Enjoy the fun post- Cari..xx Will post in MB and PKYEK Forum - so comment where you want.
Official disclaimer


Edited by carisma2 - 10 August 2012 at 5:00pm