Originally posted by sweetgal19
Originally posted by tash10
Naaayyyuuu!!!! This is me shouting your name for you to hear it from your place!!!
First thing I see when I log in IF is your PM, and my eyes nearly popped out seeing that you created a birthday thread specially for me!!! I can't tell you how right now am just so touched by this and I feel am on cloud nine
Thank you so much for making this day an even more special one, one that I can share with all the many friends on the forum!!!
Okay, now time for a big hug!!!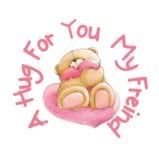 Thank you so so much!!!
And I love my gifts!!! Hayye Arnav wished me Happy Birthday!!!
*faints*
Tashu !!! Hi dear !! Happy Birthday sweetie!!!!!!!
Omg i'm so happy that you liked it ! I'm not good at making these kind of posts sweetie so this may seem very ordinary ! But i'm really glad u liked it hun
Awwe you really brought a smile on my face !!
Oh and no thanks and all okay , remember our deal ?
Oh and i'm so happy that u liked the gif's dear and hope you like ASR's flying kiss too
You said ordinary?
You must be kidding me!!!
It's one of the most special attentions that I have ever received!!!
I so love your surprise
Oh yeah, how could I have forgotten the deal?
Sorry...Oops sorry is also not allowed
Then, I only have one thing to say *beep*
Love you Nayu