Geet drapped herself in white towel and came out to get her cloths...she grabbed her bag and pulled her pink lehenga out...she looked at her mobile, and kept it on speaker...
Her sudden movement, attracted maan...he was having his coffee, when he heard some noise may be someone walking in...then he heard the sound of her payal...he was so urged to ask her where she was...but then his gaze moved towards dadi and other family members, who where looking at him curiously...he straightened himself and started drinking his coffee, still longing to here her voice...
"aap gussa kyu ho rahe ho...woh toh mujhe hona chahiye" geet felt his restlessness on the other side...but she was angry on him, as he kept her on mute, without even saying good morning...and because of him she had to hear rajji's stupid bakwas...
"aapke wajah se mujhe kitna sunana pada rajji se...aap mujhe kabhi kuch batate kyu nahi" maan narrowed his eye brows, not getting her words...while geet continued her cribbing...sitting on bed holding her towel on place...still in her wet form...
"mujhe woh sab kuch karna hai jo woh dono kar rahe the...even if it hurts" she commanded in attitude, trying to tell him, that she wants to repeat what rajji and rohan where doing...but poor maan could not understand any of her words...
She got restless with his silence..."aap karoge na woh sab...please say yes...warna rajji will again taunt me saying i am not hot enough for you" she complained...while maan puked his coffee...coughing badly...his eyes almost popped out hearing her words...while dadi and everyone gave him amused look...
Geet got concerned, and stood on her knees on bed..."aap thik ho na...please bolo aap karoge na woh sab" maan was now starlted hearing her sad tone...he just wanted to kill that rajji for filling her innocent mind with some nasty things...poor guy didn't had any idea, what she is watching and learning there...
"we will do that whenever you want...aur aap jaisa kahoge waisa mai karungi...bas aap unn ladkiyo ke saath kahi mat jana" she said on the verge of crying...
"what the hell" he blurted out in anger...he was getting shock after shock...he looked at everyone on dinning table, faking, giving his weak smile he walked out towards his car, where adi and sasha where waiting for him...
Geet got scared, she moved back on her bed, her towel slipped off her torso...she left the mobile and grabbed the towel to put again around her body...then looked at her mobile and started crying bitterly...
"mujhe pe kyu chilla rahe hai...i am telling him na, to do all the things with me...toh ab kya hua...rajji said it right, he is loosing interest in me...thats why he is not bothered..."
"why the hell are you crying" he screamed, not able to bear her tears...but geet didnt hear that, as she was busy adjusting her towel...
"geet damit answer me" his anxiety was increasing...
She sat there feeling numb, his anger was scaring her...gathering her courage she took her mobile and kept it close to her ear...
"i really love you...love you a lot...please gussa mat karo" she said meekly...waiting for his reply...but now maan was in his car with adi and sasha...and it was impossible for him to answer her...
"ummm" was all he could say...geet smiled wiping her tears...she felt relieved, atleast he replied...
"today i will apply mehndi...kal veer ji ki shadi hai na...toh abhi se hi lagaungi...then in evening, rajji will take me out towards our feilds..." she chirpily shared with him...and maan smiled amusingly thinking..."pal pal mai rang badalati hai"...
"mai yeh pink wala lehenga pehnu na...i know its your favourite" she giggled..."mumma ne yahi wala pack kiya hai...lekin iske piche wali dori mujhase bandhi nahi jati" she pouted...while maan missed a beat, imagining her bare back..."uff this girl will drive me crazy" he thought...
At the same time rajji again knocked on her door...
"geet woh mehndi lagane wali aa gayi...tu tayar hui ki nahi"
"nahi...mai abhi toh shower leke aayi hu...maine kapde bhi nahi pehne" she said it absentmindedly...not getting what effect her innocent words are having on maan...by now he could guess she is wearing nothing, or may be in a towel...his thoughts went wild, as the images of his dream flashed infront...
"maan aap thoda kaam kar lo...mujhe tayar hona hai...but dont keep me on mute...i want to here you talking"she giggled...
Maan was breathing heavily hearing the sound of her payal, her sliding the cloths on, her dangling bangles, her moans while deciding on her choice of bindi, her cribbing in deciding which ear ring to wear, she was talking to herself endlessly, deciding on small small things...while maan was naughtily enjoying her cute antics...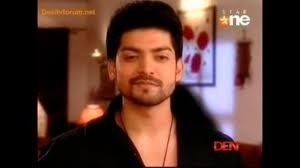 Right at this moment he decided, that after marriage he would be the one who will make her ready...with her cloths, jewellery, everything...
he loved her cribbing, but was not able to see her in so much stress...she is his princess, and he would take this pleasure to get her ready for his admiration...
"ummm mere liye yeh dori wala lehenga fir kabhi mat lena...mujhase iski dori nahi bandhi jati" he stood up from his seat, hearing her sudden voice...by now he reached his office and was sitting with adi and sasha discussing about their important meeting lined up...
Rajji barged in her room, screaming..."aur kitna time legi...because of you brij veer ji is not letting me put mehndi..."
"maine kya kiya" she said meekly...while rajji felt guilty for shouting at her...
"sorry...tune kuch nahi kiya...chal na jaldi...veer ji is calling you"
"umm meri dori bandh do...dekho kabse try kar rahi hu"
"turn around" rajji helped her to tie her dori and maan sighed in relief, thinking, chalo finally now princess is ready...
"wow geet your choli is looking sexy"
"hai na...after all its maan's choice...he likes me wearing such cloths...you know he says i am too hot for him" she lied grining, wanting to get even with her...but didnt realize maan is listening her talks...
"wow...really" rajji was thrilled...
"umm he gifted me so many short cloths...i cant even show you" she blushed cutely...acting with full confidence...while maan gulped a glass full of water, digesting her words...his heart was beating franatically, as he now could make out, what she was trying to say few hours back...
"then why did you lied about sex" rajji asked...
maans eyes almost popped out..."sex" he screamed, then straightened himself walking out towards his cabin...leaving behind a dumbfonded adi and sasha...
"umm woh i was feeling shy...maan doesnt leave me without having that"
"geet just shut up...what are you saying" he shouted on the other side...while rajji looked here and there, searching for the source of the sound...geet got alarmed and kept the mobile on mute...she was shivering now, thinking..."babaji please bacha lo...he wont leave me now...ab toh jarur gussa karenge"
"geet kya hua...why you looking so scared" rajji shook her...
"kuch nahi" geet said wiping her sweat...
"toh chal na niche chalate hai"
"ummm" and rajji dragged her out, towards the hall...
Maan kept screaming on the line...then moved his hand to slam the mobile on floor...but then stopped holding his head, feeling irritated with the turns of events..."why geet was acting like that...kya ho gaya hai usse"...he was not getting anything..."was that rajji feeding her mind with all this nasty things"...ohh god he was getting ragged, thinking, did she even know what is sex...and here casually claiming to have done that several times..."i wont let her stay there now" he decided to call brij...but then thought it would creat an ugly scene for her, and any how he must be busy with wedding preparations..."better i will go myself, and bring her back today itself"
Maan straight away went to KM, took his pair of cloths for wedding...incase if they force him to stay, and that was the major possiblity...
He took dadi's blessing, saying..."mai geet ko lane, hoshiyarpur ja raha hu...aap mumma aur papaji se baat kar lo"
dadi caressed his face, kissing his forehead..."hamari geet ko hamar pyar dena" and she smiled naughtily, hinting him to manofy her lovingly...
Maan smiled and kissed her cheek...and went away...
finally dadi was happy to see him back to perfect...she prayed to babaji to bless her kids always...later she called rano, and informed her that maan will be coming back with geet tommorow...
Geet sat in between the ladies, applying mehndi on her both hands...she was giggling on some jokes...and even blushed when some lady said, "rano se kehna padega ab geet ki bhi shadi karwa de"
"mujhe nahi karni shadi" she blushed even more, turning as red as possible...while one pair of eyes where feasting on her every move...feeling sensuously aroused with her moves...
"puttar kisika naam likhawana hai, toh likhawa le hatho mai" another lady teased her seeing her blush so evidently...
"beeji dekho na...sab sata rahe hai" she cribbed still blushing...
"puttar maan ka naam likhawa le" beeji suggested...and geet could not deny, she just bowed her head...blushing like anything...the designer imprinted maan's name on her right hand...while geet promptly leaned in asking her to also crave..."maan ki geet"...on her left hand...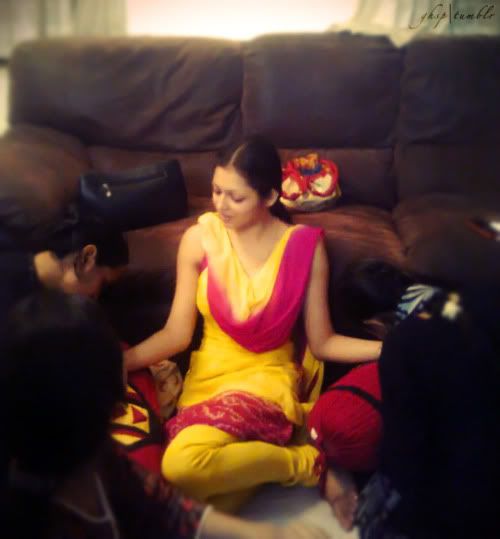 Finally her hands where done, and she got up to leave...her duppatta was falling off her torso...and she was helpless as her both the hands where full of mehndi...she tried pulling her duppatta, while leaning her head and nipping it through her teeth...but failed...suddely a pair of hands came from her back...and slowly placed her duppatta around her neck...touching her in every possible way...
Geet turned around feeling starlted with that touch...but then got shocked seeing prem standing there, while his eyes where boring right through her...
"you are looking so beautiful" he complimented, gazing his fingers on her cheek...geet moved back, gulping her saliva...
"this dress....he scanned her from top to bottom, feasting his eyes on her every curve...you look sexy in it" geet got scared looking at his face...he looked different, as in like evil...she turned to leave, but he blocked her way...keeping his hand right infront of her chest...his gaze moved from her scared face to her heaving chest...then again came back to her face...those trembling lips teased him...he was going insane looking at her so sexily dressed...all his planning failed the moment he saw her cascanding from the staircase...he wanted her, right now, right here...
"brij...veer...ji..." geet flumbled in fear...
"brij is busy with the preparations...dont disturb him" he walked close to her, making her move back...till he cornered her on the wall...
"nice mehndi" he sensuously spoke, breathing on her hands...inhaling the fragnance...
"mujhe jana hai" she trembled...feeling disgust...
"chalo i will take you" he offered...
"please...leave me" she said on the verge of tears...
"lekin abhi tak maine tumhe chuha hi kaha hai" he added huskily...
geet shrinked more into herself...creating gap between there body's...
Suddenly he jerked away, laughing maniacally..."look at your face...kitni darpok ho tum" geet looked at him confused...still holding herself securely...
he again leaned in closer...brushing his finger on her cheek..."itna darti ho mujhase...i was just joking sweetheart" geet moved her face away and ran from there...while prem smirked, satisfied with the fear he induced into her...
**************************************************************
Precap:- rajji taking geet towards the fields...ab aage kya hoga
Chalo as promised me done with another part...its my treat for u guys...it was really hard to imagine what geet must going thru in this last scene...i felt so helpless thinking wat gals must be going thru bearing such eve teasing from such mentally retarded people like prem...this is really pathetic
...
lets c wat happen wid geet here...will keep this mystery till will reach our twist...pls stay wid me as after this each part is crucial...
Soon gona give u a 2 parts OS...promise it will be smthing unique n different...something extreme and realistic...
pls press the like button and comment...and those who want pm's then add me...and silent readers i want ur comments...plssshhh its a request...
love u lots
varsha