Mathura ki khushbu,Gokul ka haar,
Virndavan ki sugandg,Brij ka fuhar,
Radha ki ummid or kanhaiya ka pyar,
Mubark ho apko ye janmastami ka tyohar.
Radha ki chahat h krishna,
Uske dil ki virasat h krishna,
Chahe kitna v ras racha le krishna,
Duniya to phir v yhi kehti h.
"RADHE KRISHNA"
HAPPY JANMASTMI.
Krishna jiska naam, Gokul jiska dhaam, Aise shree Bhagwan ko, Ham sab kare pranam! Jai shree krishna'Happy Janmastami to all..!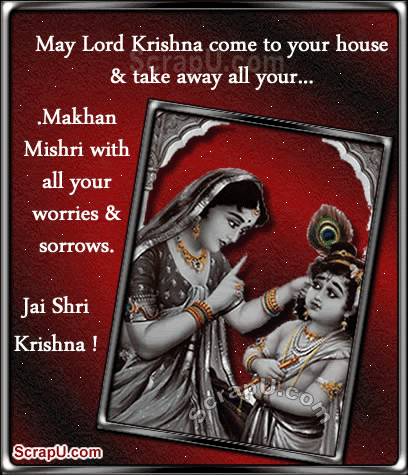 PURE VISHV Me NIRALA. MULRLI ' PURE VISHV Me NIRALA. MULRLI VALA, BRAJ KA GAVALA. SAB KAHTE NAND KA LALA. DEKHO AAJ ANE WALA. JAI HO NAND LAL KI HATHI GODA PALKI.
Gokul me ji kare niwas Gopiyo sang jo rachye raas, Devki-Yashda jinki maiya, aisehamare kishan kanhaiya jai shree krishna Happy janmastami to all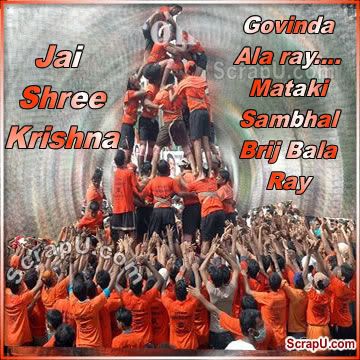 Maakhan khave, Shor machave Gopiyon ke sang Raas rachave,
Murli bajake Mann harshave hai Natkhat Nand Gopal'
Wish U A very Happy Janmashtmi
Makhan churakr jisne khaya, Bansi bajakr jisne nachaya, Khushi manao uske janm ki, Jisne duniya ko Prem shikhaya.
HAPPY JANMASATMI
Dekho Phir Janmashtmi Aayi Hai,Makhan Ki handi ne phir mithas bhadhai hai,Kanha Ki leela hai Sabse Pyari,Wo de tumhe duniya bhar k khusiya sari.Happy Janmasthmi
Nand ke ghar Anand Hi Anand Bhayo,Jo Nand Ke Ghar Gopal Aayo, Jai Ho Murli Dhar Gopal ki,Jai Ho Kanhaiya Lal Ki" Happy Janmashtami.fr
Shri Krishna k kadam apke ghar aaye'.
Aap khushiyon k deep jalayye'
Pareshani apse ankhe churaye'
Krishna Janmotsav ki aapko subh kamnaye'
Happy Janmashtmi.
krishan ki mahima,krishan ka pyar,krishan me shradha,krishan se sansar,mubarak ho apko janmasthami ka tyohar..SHRI KRISHAN ki kripa aap par sada bani rahe..
A Manohar Bansiwale..kuch aisi Bansi suna,sur thambh jae,Rag thambh jae,shanti ho jae,har sans Tuze pukare,AWTAR Jaldi le..le..krishna kania lal ki jay..
Krishna jisaka nam hai,Gokul jisaka dham hai aise bhagvan ko ham sab ka pranam hai..
HAPPY JANMASHTAMI
Happy janmashtami..may lord krishna showers all his blessing on U.May U get a lot of Happines in life..
Jay shri krishna..
HARE KRISHNA,HARE KRISHNA,KRISHNA KRISHNA HARE HARE..HARE RAMA HARE RAMA RAMA RAMA HARE HARE..AAPKO AUR AAPKE PURE PARIWAR KO..JANMASHTAMI KI SUBH KAMNAYE'
Krishn ki shakti aur Kanaiya ki bhakti se aapko khusi ki bahar mile,KRASHN ki kripa se her kadam per safalta mile..HAPPY JANMASHTAMI
if things are happeing according to ur wish,u r luky but if not ITS Happening according to krishnas wish..HARE kRiShna..Happy janmashtami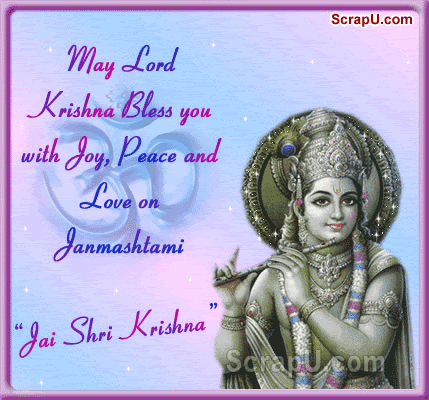 Dahi ki handi
Baris ka fuhar
Makhan churane aaye nandlal
Mubarak ho aapko janmastami ka tyohar.
Happy krishan janmastmi.