Krishnam Vande Jagat Gurum
Welcome Friends
Wishing u all a Happy Shri Krishna Janmashtami
Before going in to the celebrations, let me give u all a small intro about Krishnashtami. (I know u guys all know abt it but still
)
Some intro about Krishna Janmashtami
Lord Krishna's Birth day, also known as Krishnashtami, Saatam Aatham, Gokulashtami, Ashtami Rohini, Srikrishna Jayanti, Sree Jayanti or sometimes merely as Janmashtami, is a Hindu festival celebrating the birth of Krishna, an avatar of the god Vishnu.
Krishna Janmashtami is observed on the Ashtami tithi, the eighth day of the dark half or Krishna Paksha of the month of Bhadra in the Hindu calendar, when the Rohini Nakshatra is ascendant.
The festival always falls within mid-August to mid-September in the Gregorian calendar. It is observed on diff. days in various parts of India specially in North n South India - Smartha Janmashtami and Vaishnava Janmasthami.
This year, In few states it is observed on 9th of August i.e. today and in Few places it will be on 10th of August i.e. 2moro. Sri Vaishanava Janamshtami has been fallen this year on 8th of September.
Few things about Lord Shri Krishna
I'm not going deep into the details just few things which are discussed in general.
It was told that after Krishna's birth, when Vasudeva was on the way to Nanda's place, the River Yamuna was on flow and she only gave way to Vasudeva fully when she got the opportunity to touch the Lotus feet of Lord Shri Krishna.
How many leelas of his can we discuss which he has done right from the moment he reached Gokul.
One thing for which i was mesmerized and visualized always as to how it would have been:
It seems he mesmerized all the Gopicas and when ever he is seen, he is surrounded by them. When he was made to sleep in the cradle, at first he didn't understand why these Gopicas aren't leaving him and they keep on tapping him so that he will go to sleep. Krishna then thought that it is Earth n he must pretend as if he is asleep. When he closed his eyes, they left peacefully thus making Krishna relieved.
He got many names during his leelas in childhood - maakhan chor, Govardhan, natkhat, Murari etc...
Below are few pics covering his Leelas
Bala Krishna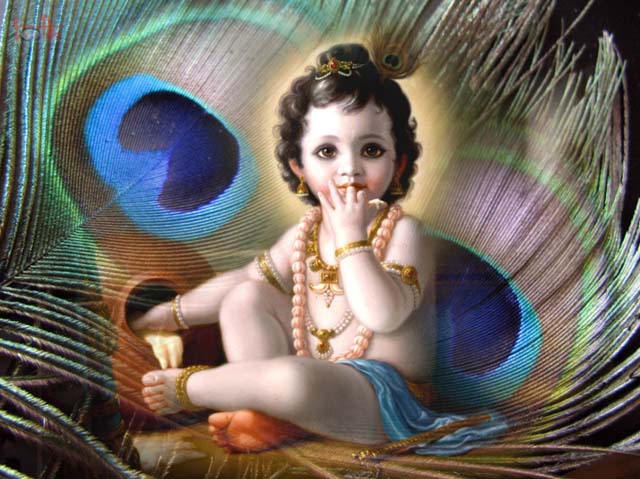 Makhan Chor
Govardhan Giri Dhari
On Kaliya nag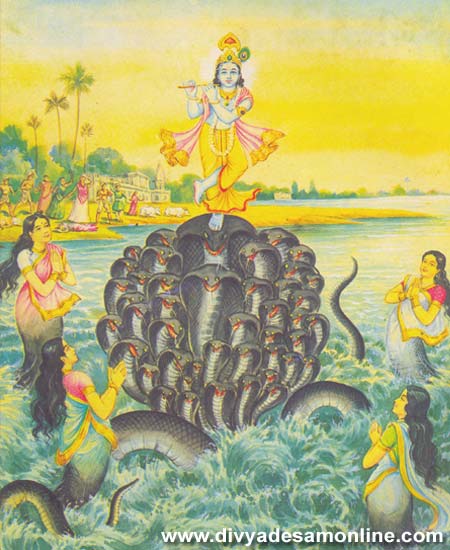 Raas leela
Nat khat Krishna
Radha Krishna
And it goes on n on of his leelas
Wishing u all a very Happy Krishna Janmashtami
Thank u all


Regards


Swetha & Jyoti

KHTV Dev Team