The episode started off from where MM were arguing with each other regarding money matters...what happens in most houses .And Mohan being all hurt that Megha is making a big deal of all this..and he sulks like a child...And the song being played in the TV screen at their home...For a moment there I wondered whether they were playing it as a bg score.Very clever of them to insert it at that point! It was so apt.And when Megha started preparing tea, I thought she might be going to patofy Mohan..but no, our lady is very sure of her hubbby and apparently has no doubts about how to handle him!!!! I loved it when she poured the chai into 2 glasses and kept it on the the table with the comment that garam chai pine se gussa tanda hojayega!!! And Madam started to cut vegetables.Mohan seemed unrelenting at first,but hearing the words badal rahi hai zindagi badal rahi hai hum..from the song played on the TV he probably rethinks...but still looks at Megha to see whether she will take the chai cup and hand it out to him...but no sign of Madam doing that,so finally he relents ,takes a cup and slowly starts drinking the chai..Megha's amused looks amused me so much..And good they showed the fb scene at PL...And the best part of it was when he slowly stretched himself..extended his arms above his head..and then slowly on to the back of the sofa..I knew what was coming..I just knew it.. because it happens so frequently in our house!!!!!!!!!...and burst out laughing when he finally brought his hand to touch her shoulder..and the sheepish grin he gave her.
.Woh!! So natural and spontaneous..And trust Guru to walk in at that moment.!!!! Mohan looked so irritated!!!!!!! This is only the beginning...Mohan dear...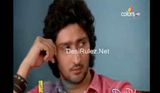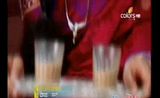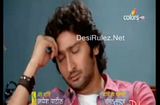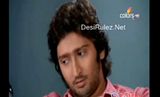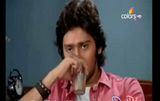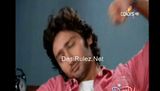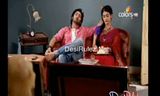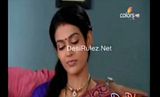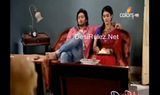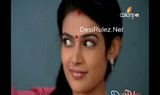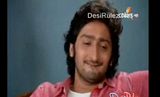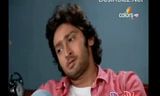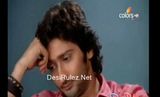 The scene between Renu and the kids was really entertaining.Renu's pelanning.. and the way she is catching hold of Nanhi's chotis..and shaking it..Ha!!!!Ha!!!!! I really enjoyed that scene except for the comment that Renu made that if the kids broke their promise and blurted out about the HM plan to MM, their mother will die..This is not the way to speak to kids yaar..they should not have inserted that sentence there.!!!
And kids will be kids!!!! Addu promptly spilling the beans about the upcoming trip..and the look he gave when he realized his blunder..sooo cute..this kid really knows how to act...a perfect match for Mohan,Megha and Nanhi..!!!!!!! I sound like a broken recorder repeating this sentence everyday many times as well.!!!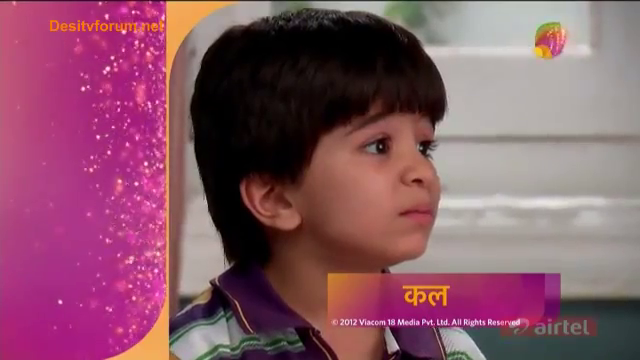 And how cleverly Nanhi changed the topic and her sentence to her parents "Ap DONO SIRF HM KE BAREMEIN HI SOCH RAHE HO...IS LIYE TO AP KO SIRF WOHI SUNAI DE RAHA HAIN"'was on the spot and out of the world!!!!!! MM did not have the guts to pursue the topic further!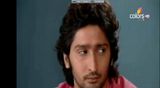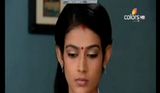 I was waiting to see what will happen when it was time to go to bed..Addu, naturally started his drama of wanting to go back to his house to sleep...and I was glad to see that Megha did not relent...And Addu walking out of the house pouting ..and Nanhi lying down on Megha's lap..Addu running back to his mother and sister...Nanhi and Megha teasing him...it was all so heartwarming to see...but the top scene was when Addu promptly went and sat on Megha's lap and said with his cutest expression.. mummy ..muche aap ke bina neend nahi atthi hai .and dkissed Megha on the cheek..!!!!!Wah baby ..You are so cute...I feel like eating you ...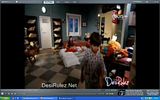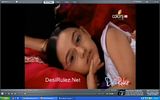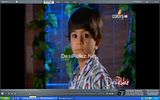 The look MM shared when Mohan came out of the bathroom and started getting ready to sleep...well...I think these two communicate best when they don't use spoken words..I feel they are quite happy at present being just friends with each other...the physical attraction part has not become one of the predominant part of their relationship yet...they are slowly moving towards it..but as of now they are relishing their unrestricted friendship...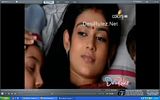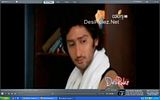 And the way Mohan rubbed Nanhi's nose and then Megha's nose with his finger..I loved it..And Addu opening his eyes his exchange with Mohan.. No I won't gush about him again...but he is just perfect!![imitating Maduri dixit in Jalak]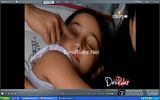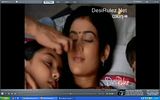 .And Megha holding out her hand and Mohan is so pleasantly surprised by that gesture and the way they go to sleep holding hands like that.I don't feel romance is lacking.In fact I am loving this kind of romance..it is so refreshing after seeing the usual romance scenes shown in other shows!.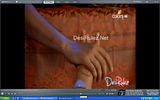 Oh I forgot one imp thing..megha was talking about cutting Addu's hair..Now Monu..beware...Megha will be behind you in no time ordering you to cut your hair.!!!!!!!
Precap was again very appealing...If not for the Rondy issue looming in the background,many would be irritated with the frequent interruptions to MM romance...so in a way that is also good.!! Whatever happens is for good only.!!!!!! Btw,I liked Megha's new hair style in the precap...all wet after bath...How many of you liked it?
And now coming to Rondy scene..I hadn't forgotten it but deliberately left it for the last .
It is good that she is going out of the country at least for a while..But I have a strong feeling that this job she has got is in a hotel at Nepal & it will be in the same hotel where Renu has booked rooms for the Batnagar family for their stay in Nepal. what a twist they are planning.!!!! And how will Rondy Batnagar feel seeing her hubby roam around and make merry with his new family...already it appears she is regretting her decision to let go of Mohan a little...when her mother told her that she will talk to Induji[kamal hai yaar..that they did not have time to tell the groom's parents about their son's marriage till now!!] and request her to manaofy Mohan ,Rondy's reply was..abh koi faida Nanhi hai..we have already started the divorce proceedings..!!!!!! Now it remains to be seen what will happen in Nepal!!!!! I will worry about it when it comes.