"Your pain is the breaking of the shell that encloses your understanding. Even as the stone of the fruit must break, that its heart may stand in the sun, so must you know pain. Much of your pain is self-chosen. It is the bitter potion by which the physician within you heals your sick self. Therefore trust the physician, and drink his remedy in silence and tranquillity. For his hand, though heavy and hard, is guided by the tender hand of the Unseen. And the cup he brings, though it burn your lips, has been fashioned of the clay which the Potter has moistened with His own sacred tears."
~Khalil Gibran, The Prophet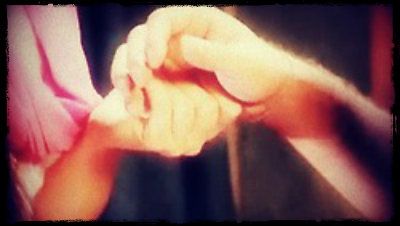 Edited~
Oh, my!!!! I waited to comment on the title because I could feel it in my bones...feel the
smokes and scars
and everything related to that one man, thanks to that one quote from
Rebecca
...Your GIFT is in telling stories, Priya, and this one was the best story, yet...
Smokes and Scars
...
vivid
doesn't even begin to describe the image, hun!!
Damdaar to DHAMAKEDAAR
is right when it comes to this Crooner, too!!!
A man of conviction, a man with principles defies his own and stands up for the woman he loves. She is his wife, she is his everything...One touch...His hand slipped in hers, and the ownership is complete. Nothing else needs to be said...Naysayers left standing in their tracks. Thats how important "touch" is to being a part of a whole, understanding what it means to belong!
One of the very first senses we develop as babies is this very sense of touch. Little hand buds form in utero as early as 6 weeks...Touch is what every baby and child identifies with love and caring, be it from a mother and caregiver; for a lifetime! But when the hand that is so critical to that touch is gone, how do we even begin to feel love, even begin to fill the void? That same man of conviction and principles lost that hand more than a decade ago...
gif credit: tumblr
"Chaudha saal ka tha jaab meri ma ne suicide kar li...She committed suicide..."
Words that are completely etched in his memory, words that do absolutely NO JUSTICE to every pore that misses and screams in pain for HER. Words that know the haunting truth which he discovered...the reason behind WHY SHE LEFT HIM! Today, a first glimpse at how much he misses that touch...those hands...that rocked the cradle...that instilled in him a sense of goodness; prematurely, taken away...FOREVER!
Every breath he takes affects her...Khushi can read his eye just as he can hers...She has seen that pain before, reflected in her own eyes...Dressed in pink, ethereal, she shows her love only in the way she can...all reservations aside...Straight from the heart...anything to bring some joy on that beautiful face...Aaja Piya Tohe Pyaar Doon--her attempt at the end to just embrace him, her arms encircled around his head, brings the memories back...sweeping, overwhelming, spinning through a time warp back to when the wound burst open...As she pleads to him to tell her...THE HARD, COLD TRUTH REVEALED...Those eyes betraying every bit of restraint...Those eyes finally finding RELEASE...A temporary respite from the pain! But the touch is still missing...the void incomplete...
"...I will be here when you open your eyes. I will give you whatever you need to make it more bearable. Here's where you & I become US!"
~Charlotte Featherstone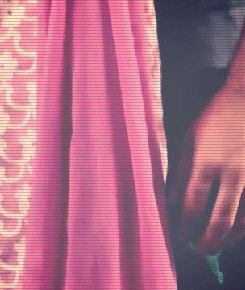 gif credit:tumblr
The circle of love, yet again..this time its her turn...That Rabba Ve--mournful, aching-- in the background- as she pours every inch of her being into him. An effort to take away 14 years of an excruciating crucification of himself to the pain. He feels the touch, and succumbs to it. But pain releases itself in doses, especially one which has filled itself in a deep crevasse for so long! His solace and his pancea, the Restorer--the Unseen hand that he now acknowledges. Right there, in front of him! That first healing touch is all it takes...the journey has just begun! She is there with him...a silent plea from her heart to his...The pain is real and she understands it. The confirmation complete.
The morning--yes, the new dawn, Priya!- only brings love, now gazing, perturbed, concerned...It is her turn to take him in, all of him...piecing every part of the puzzle that is this man! His pain so palpable...Now in her being, too! A celebration for a new beginning--Janamashtami--birth...All of it implicit in every part of the RM...Yes, for Khushi and her beloved, too, in the midst of trying to heal the deepest wounds...Yes, Priya, today was the awareness of the "nayi shuruaat"-yes, Sudhi, true HUMSAFARS together!! And, a continuation of the unsaid--"Humari baat abhi khataam nahi hui"--his cathartic moment defined it for both of them! Yes, Priya, the Pandora's box is open; and it is the secrets from this box, which will help him heal...the ultimate paradox at play!!
Seeing Di in the hallway only reminds her of her beloved. She reaches out to her--instinctively--one orphan to another; a sister-in-law to her own kin . Trying to take away every inch of pain--that lion heart never stops caring. As he watches her from the top of the stairs, her love and concern only reiterates what he has already known. Yes, I spoke extensively about haq yesterday...today, he sees her exerting that very haq on his sister too...That tableau affects him completely! Yes, the man whose soul is engulfed in pain, actually SMILES...his eyes showing her love and gratitude. Joy on his face--Khushi-even as the SMOKE is yet to clear! She is so under his skin that his darkest scar has been touched and bathed in light--ah, lets think back to one of our fav Rumi quotes, hun--"The wound is the place where the light enters you..." That is the POWER of her healing!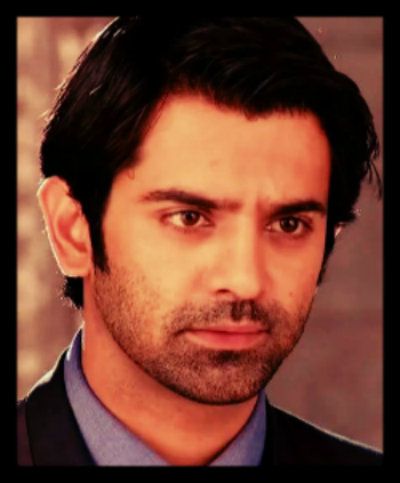 Traditions, beliefs and the truth clash yet again as Dadi tries to undermine Khushi yet again..."Humari Bahu ka Shankh"--that conch shell which will herald the new beginning--becomes front and center in the tug of acceptance. We see Anjali handing over the responsibility to find the shell to Khushi--the Mallik bahu--while Dadi tries to take it away! Dadi would rather have the Payal, the Raizada bahu, handle everything...
Ah, and then the DECREE....
"Toh kya farq padta hai..Uska jahan maan chahein ja sakti hain...Woh iss ghar ki bahu hai...Khushi meri patni hai uska joh maan chahein woh kar sakti hain!"
That very hand which had led her forcefully over the doorstep into the RM 6 months ago with absolutely no rights over anything, today was held once again (figuratively speaking) only this time with every single "haq"as his wife bestowed on her in front of a defiant family matriarch and in that very same living room! That very man who had said that he was responsible for what he had done to her, today rectifies that wrong...with the most important witnesses present! No fanfare, just a declaration once again! What NK had suspected as something Damdaar-DHAMAKEDAAR--yes, Sakha, you are always right--now revealed to all! Let there be no doubt who this woman is to me...assertive and assured...a finality to his words! Khushi's eyes only reveal love and respect...Her doubts have now been cleared!
Other Thoughts~
~Fantastic, fantastic, FANTASTIC dialogues and screenplay!!! Just unbelievable! Seriously, CVs, YOU ALL ARE RE-WRITING TELEVISION HISTORY!!!
~LOVED Naani today!!! Questioning her bestie about Khushi! Will we finally get the reveal behind the indecipherable and reprehensible snub tomorrow? Her expressions ROCKED!
~To be honest, I am not sure of a remarriage is required...especially after the Raizada DECREE today! But TRPs will dictate that one!
~ Payal!
Suspecting Khushi of doing wrong by Dadi again!
Where is the loyalty, girl???
~Anjali was great today...although her expressions in that scene when ASR reminds everyone of the lady of the house, was completely banal!
~Taxation and Revenue
--Loved the dialogue..
.ah, we & Khushi don't mind paying tax, but what kind of tax would ASR charge?
And more importantly, how much?
~RHAPSODY IN BLUE!!!
~The two-step dance
on the stairs--possibly my
most fav part
of ArHi
is when they do the two-step...often in their room...Loved seeing it on the stairs today.
..That whole scene was a throwback to PayAsh's wedding for me!
~Love...checking you out
--that new dawn, "can't keep my eyes of off you" was A-M-A-Z-I-N-G!!
~Arnav and Anjali's Amma--that solo pic of hers...really touched me...Loved seeing Khushi leaf through that album...The look on her face was so endearing!
~Aaja Piya Tohe Pyaar Doon--so quintessentially Khushi...just loved the freshness and innocence in that scene-and I think it made the following scenes even more gut-wrenching! Thank you for posting the song, hun...Waheeda Rehman is so exquisite!!
~The shankh and twins reference--ah, what do we have on the horizon...My lips are sealed for now!
~Background Score RULED today! Liked that new tune when Khushi was browsing through the family album...
~A highly charged emotional moment is cut for a break! Come on, CVs...pathetic editing!!
How anyone can completely and totally live, breathe and become a character day in and day out...is really beyond me!
The plethora of emotions that one man showcased today was absolutely PHENOMENAL!
That one scene will stay with me for a lifetime...
haunting and absolutely, pathologically believable
! You
single-handedly proved why you are the best, BARUN SOBTI!
We are the one's taking a bow!
For sure! Honestly, in front of that scene, everything else was secondary...all other performances were consistent...nothing more to write home about, other than Sanaya's hug & performance during the song sequence! I can only hope that we see more ArHi on full display tomorrow...I am all game for a complete, and more thorough performance of the
two-step
, &
some taxation, too
!!!
Congratulations to all my girls!!


Edited by Nandalala - 08 August 2012 at 5:43pm