MESSGAGES
-Nasreen-
Baar baar din ye aaye, baar baar dil ye gaaye
Tu jiye hazaaron saal, ye meri hai aarzoo
Happy Birthday to you Hina
Wish you a very happy birthday
May life lead you 2 great happiness
success and hope dat
all your wishes comes true!
enjoy your day.

message:
Hina tum tho pari ho bahut lively person aur tumari masti tho kay bolay usay time app bahut cute dekati ho
When i talk about akshara u r sooo beautiful actress and ur acting was just fab... as akshara u doing fab job ur expression was just awesome... and ur dresing style was just beautiful... and you portray Akshara so beautiful... i wish ur all wishes come true and May god give u whatever u want in ur life and will get a wonderful life ahead with lots of success...
Again i want to wish u a very happy birthday with lots of love
Loads of Love, Nasreen
-Wild-Angel-
Happy Birthday Hina...!!
Many Many Happy Returns of the day... May god bless u with all the happiness and joy... May all ur dreams and desires come true...
Have a blast on ur birthday... Love u so much... Always be smiling and always be so chirpy n bubbly like u always be...U r awesome n u always look beautiful... keep it up like and n keep rocking... All the best for ur future...Love you..!!
yrkkhfan4ever
Happy Birthday To U...
Happy Birthday To U...
Happy Birthday Hina...
Hina You are best...May God Bless You...You always remains in our hearts...You are rocking
...Keep rocking and smiling...
Love your chemistry...You and Karan rocks...
.
ArhiLover-x
Happy Birthday Hina Khan!!
Hope you have a life of joy and happiness ahead and may you have many many more!
Love from,
mariam
ANN91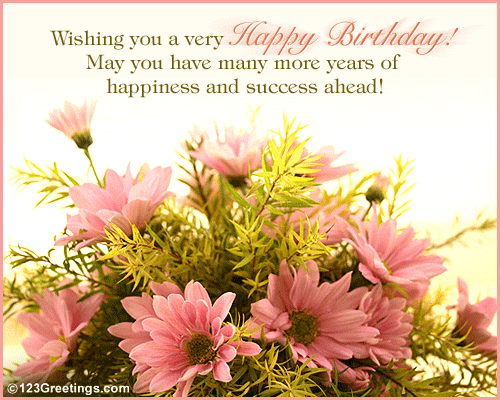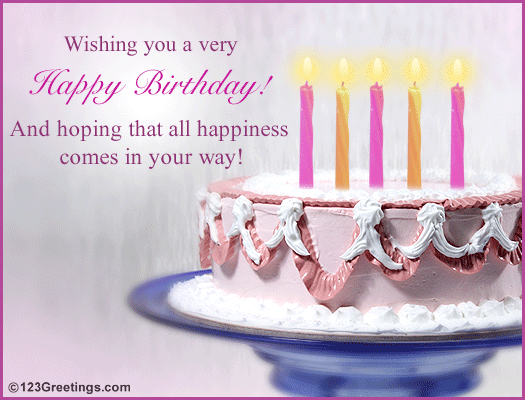 Kripa-hinu
happy birthday hina khan
in advance,,,
m so much excited love u
srkfan4ever

Hope all that you do
Turns out happy for you

And all that you wish
Comes your way,

So each hour will bring
Every wonderful thing
You could ask of a wonderful day...

Many many happy returns of d day Hina..!!!




Once again wishing u a very happy B'day Hina...!!!

luv u..!!!
dikshikhaGUPTA
Happy birthday hina!!!!!!
Its always a treat to wish Happy Birthday to someone so Sweet.
Wish you a many many happy returns of the day. May God bless you with health,
wealth and prosperity in your life.
sadia_naksh
Happy bday hina..many many happy returns 4 the day..u r my fav actoress in tv...u was the 1st resaon for me to watch YRKKH...u rock as akshara..happy bday once again...
the word perfection describes u in all aspects...u r queen of million of hearts...
Neha3
happy birthday hina khan...
may all ur wishes come true...
god bless you!!!!!!!!!
saru.g
Hey hina... First of all Many Many Happy Returns of the Day... You r very beautiful n cute... I always like jovial and chirpy attitude of urs... you r doing awesome job in playing akshara... keep rocking like that n keep smiling... all the best for ur future... love u...
Once again Happy Birthday...
Anamika_naksh
Hinaaa,
WISH U A VERY HAPPY BIRTHDAY !
May god bless you and may you get all the happiness and success in your life.
You are the most beautiful and versatile actor i have ever seen and that made me ur 'mad' fan.
Acting comes naturally to you.
I really adore your simple, down to earth behaviour.
What i love abt you is ur bubbly nature and how mastikhor u are.
Ur an amazing person. Keep rocking yeh rishta.
Ur best as akshara.
With love,
Akshita.
Apoorshan_ilma
Happy Birthday Hina! Hope you have an awesome day and an awesome year ahead. Wishing you everything and the best, you deserve them all. May God shower his abundant blessing on you always!
If I start writing the reasons I love you, I might end up failing miserably! I might end up with a never ending list or a list with none because I am clueless how to describe each reason. Just goes to prove that you are a very special creation by God! And the journey that started on the 12th January 2009, was just the beginning of a very long and successful journey, that will not only bring happiness and success but also lifelong friendships!
Hina, you are a stunner and you can make the world stop and stare for awhile! A charming smile, that can light up the world and bring a smile onto our faces, with so much warmth, straight from the heart and eyes that speaks a million things, its always a pleasant feeling to watch you! You are absolutely awesome, with so much energy that keeps the world going! Your attitude towards life, loving life and living life with passion and integrity is something we aspire! You are self-confidence and the witty nature defines more about you. You are a true inspiration to all girls out there. Do continue to be who you are and we will continue loving as always!
The name Akshara, can only be you! You define Yeh Rishta and you give life to it! No words can describe the way you portray Akshara! You make us feel connected to her, understanding her emotions, through you. You continue to amaze us every day as Akshara and a massive thank you for portraying her so beautifully. You do complete justice to the character! Your chemistry with the character, starting from Naitik to the newest addition Duggu, its just magical to watch! Your dedication to work is commendable. If it was up to me, I would give you all the awards, coz for me, you deserve them all! Watching your journey for the last few years, I can proudly say that you have grown immensely as an actor and continue to do so every day! May you grow from strength to strength as an actor, achieving all your dreams and ensuring that you are always on screen be it TV or movies, so that we can always watch you.
I think it is for these reasons and many more that there are the so called 'bashers' trying to pull you down! Just goes to show, how much you are adored and loved by your fans and there are others who cannot stand to see you succeed and prosper! But your fans know who you are! We simply love you and respect you!
Not sure what else to stay. But I'll just conclude by saying that we all love you immensely! Thank you for being who you are and what you do! Always stay beautiful and strong!
A small wish, from the bottom of my heart'
May your heart be filled with gladness everyday of the year
May you never know sadness or ever shed a tear
May every challenge be easy to face and overcome
May every storm be gentle and make way for the shining sun
May the sound of heartfelt laughter always ring in your ear
And friendships just grow stronger with each passing year
May your work be your passion
Your accomplishment be praised
And fulfillment fill your days
May you know your true self
And always recognize the treasure that you are
The gifts you hold inside
At the end of each day as you watch the setting sun
May you get a sense of pride at all that you have done
On your special day I wish you all that you desire
May today be filled with sunshine and smiles, laughter and love
Wishing you loads of success and good health always
Hope your Birthday blossoms into lots of dreams come true
May God shower his abundant blessings on you
Enjoy every moment, everyday of your life
Love Love Love Love Love Love and more Love always and forever!!
Keep smiling and keep rocking always!
Loads of Love, Ilma
PS: Now that you met Mr. THE Salman Khan, hope you find your Salman Khan very soon!

ammu4u
I wish you fine and simple pleasures.
I wish you many years of laughter.
I wish you all of life's best treasures.
I wish you happily ever after!

HApPy biRtHdAy Hina.,.,!!!


ManY MaNy HaPpy reTurNs oF thE daY.,.,.,.!!!

Wish u all the best
be happY & keep smiling always...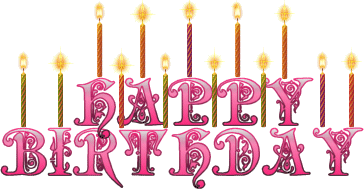 May Everything Happy
And Everything Bright
Be Yours On Your Birthday
From Morning Till Night.

And Then Through The Year
May The Same Thing Hold True
So That Each Day Is Filled
With Life's Best Things For You!
Love You Hina...God Bless You Always...
SayaliNaksh
"May this birthday be your best birthday ever,
full of light and laughter,
a fireworks explosion of joy"
HAPPY BIRTHDAY!!!!!!
u r the best actress in this world
love u soo much
keep smiling!!!!!
shrutiekta
Near or far wherever ur, my best wishes r with u, aap jiyo hazaro saal, may sucess nd joy be urs every day, yehi hai wish meri heart se!!!!!:-)
komal_naksh
God gave a gift to the world when you were born..a person so down to earth even after achieving so much at a young age..
I love everything about you Hina..your mesmerizing beauty,your transperency,honesty,your dedication towards work.. N the list goes on
May this birthday be just the beginning of a year filled with happy memories,wonderful moments and shinning dreams!!!Hoping that your birthday will be as awesome as you are..
your best years are still ahead of you..Wishing you all the best for your future..Happy birthday..Love you princess..
nahtani88
Many Many Happy Return's Of The Day Hina
May God Bless You Always
Have An Amazing Year And Career Ahead
Keep On Rocking And Partying Always
Cheers
vim916
happy birthday hina. love you as akshara. i hope all your dreams come true. enjoy the day and have a blast
Maha_naksh4ever
Happy birthday Hina .Many many happy returns of the day!...u are the most goergueous actress of Indian Television...always remain shining as a bright star!
always keep smiling May u acheive all the success u deserve...
luv u as akshara in yrkkh ...beseide a brilliant actor ur a gem of Persontoo...
stay Blessed :)regards Maha

shyamal_hina.di
happy birthday to u
happy birthday to u
happy birthday , happy birthaday
happy birthday to u
di , u r one of d closest person to my heart . Apke har b'day par mai raat ko 12 baje cake but karti hun .
I pray to god dat aapki har khwaish puri ho . Aap jo chahti hai , wo aapko mile .
mai chahti hun ki aap success ki har heights chuye . Aapko lekar mera ek bahut bada sapna hai u do movie wid your and my fav salman
d way u hav been ruling millions of hearts since d 1st epi of YRKKH , i wish ki aage bhi aisa hi hota rahe .
once again MANY MANY HAPPY RETURNS OF D DAY
Shreey
Happy birthday to u
Happy birthday to u
Happy birthday to u
dear hina
once again very very happy birthday to u hina
Virman05
Happy Birthday To You!!!!!!!!!!!!
Happy Birthday To You!!!!!!!!!!!!
Happy Birthday Dear Hina!!!!!!!!!!!!
Happy Birthday To You!!!!!!!!!!!!
Many Happy Returns Of The Day!!!!!!!!!!
Love you a lot Hina!!!!!!!!!!!
mannu53
hina many many happy returns of d dae...
bar bar din ye ayae...
bar bar dil ye gayae tum jiyo hazaro saal...
ye mere hai arzooo...
happy b'dae 2 u..
happy b'dae 2 u...
loads of lub for u
hina di u r cho chweet...aapkae n karan kae b'dae pe skul mein frns ko chocolates deti hu n unko mujse trt bhi milta hai..lub u bth karan n hina
Mayo2424
Baar baar din ye aaye, baar baar dil ye gaaye
Tu jiye hazaaron saal, ye meri hai aarzoo
Happy Birthday to you happy burday to you!
A very very veryyy happy fun filled and joyous birthday to you and mmay u have many more years to cherish and enjoy. I love u so much and wish u all the happiness in the world
. Youre beyond amazing, and everything about you is so perfect :') i hope u have the best birthday ever! Heres to another year of awesomeness and achievements! Cheers
i hope all ur dreams and wishes come true!
Its your birthday and i cant send u a gift cuz i dont live in india. But still Happy birthday to is amazing person with an amazing smile and amazing looks and amazing personalities, what aperfect little lady you are .
.. Much love. One of your biggest fans, maryam
Usamazaheer
happy birth day to you hina ...
happy birthday to you do you have many more
happy birthday to you...
happy birthday to you
hina happy birthday to u may god bless u with long life and MAY Allah succes u in the life .geo hazarroo saal.keep rocking yrkkh we all are proud of u . keep smiling in ur life
.
Sameera_naksh
One day sky was crying.
I ask him why are you
crying today.
He told me i have lost my
beautiful star.
It was a day when you were born.
"HAPPY BIRTHDAY"

swatikhanna

HAPPY BIRTHDAY HINA IN ADVANCE MANY-MANY HAPPY RETURNS OF THE DAY U R THE BEST I PRAY TO GOD THAT GOD GIVE U LOT OF HAPPINESS N SUCCESS IN UR LIFE N ALL UR DREAMS COME TRUE I M PROUD TO BE UR FAN GOD BLESS U DEAR HAVE FUN N BLAST UR DAY LOVE U SOOOO MUCH DEAR
sweet56
HAPPY BIRTHDAY TO YOU!!!!!
HAPPY BIRTHDAY TO YOU
HAPPY BIRTHDAY DEAR HINA
HAPPY BIRTHDAY TO YOU!!!!!!
U DON'T REALIZE BUT U HAVE CHANGED LIVES OF ALL THE YRKKHIANS FROM THE DAY YOU HAVE COME ON T.V...WE ALL LUV U AND UR WORK SO MUCH ..U CHANGED THE DEFINITION OF A 9:30 P.M..
..U ARE SIMPLY THE BEST!!!!
HAPPY BIRTHDAY!!!!!
kala_09
Hi Hina khan the Queen who rule our hearts and always will rule, want to wish on your birthday
really she is truly beautiful god bless this wonderful girl who stolen every one hearts
one of the best bride ever shown on tv our our beautiful hina khan as akshara
THIS IS FOR U HINA KHAN

There is a prayer
Within my heart today,

That God will richly bless

Your birthday and each day
All year with joy and happiness!
MANY MANY MORE HAPPY RETURNS OF THE DAY HINA GOD BLESS U KEEP SMILING
Lafangi_Mahi
My wishes are silent but true
Every where they will follow you
Luck is waiting for you
But wishes are mine
I wish your present
and
future will always be shinning.
Happy Birthday Darling
Mahi
Shruti.sweety
HAPPY BIRTHDAY
HINA
Have a Rocking Birthday Pari