Im Writing a
Novel
on
MaaNeeT
Those who wants to order d book..JOIN dis fb page for d details..book vil be published soon
"i love u so much.." maan moaned into her mouth...
geet blushed and pulled him even closer... they hit d climax...He collapsed completely on her while she cradled him close into his warm embrace...loving the feeling of glued to him skin to skin, from top to bottom...
"love U"
that all their thudding hearts could beat...sticked into each other !!
***************
maaneet honeymoon...
it was a truly a honeymoon for them... its been two weeks they were in in sydney and it felt like a dream...
their house was too far away from d city to be precise and it had anything and everything... there was no need to go in city nor they wanted to...
there day seemed to strt in each other's embrace and seemed to finish in each other's love. ...they had no clue if they stayed apart even for an unreasonable second.
morning seemed familiar...with maan waking and trying hard to wake geet to have her food, but geet being geet, she would pull him back into her embrace and would dig her face into his neck to fall back to sleep...
maan would smile at her and would finally give into her demand... after hrs geet would find herself being licked shamelessly and would open her eyes only to find maan's face deeped into her neck... she would smile and shook her head and would try to bring him to his senses so that she could leave d bed and would have bath... but maan would smirk naughtily and before she would realise, she would find herself in his embrace...
d bath seemed more romantic than ever where both would be lost in each other embrace in bath tub... geet would shot him pouting glares when maan would tickle her... he would show his hands up like an innocent kid and geet would only fall for him all d more and would attack him, leaving him almost baffled...
morning breakfast seemed maan's department... Daily geet would present maan such a cute face that maan would not help but make breakfast for her... geet loved eating food from his hands and maan loved it more than her...
2 plates turned into 1 and two chairs were replaced by 1. it wasn't just d physical closeness but d emotional attachment was increasinmg every passing second.
on breakfast, geet would feed maan and maan would feed her... not to be mensioned, both would finally land up eating from each other's mouse and kissing each other.
while geet making lunch, maan's hand seemed to get naughty around her... whenever he would hug her from back... his restless hands would either enter her top or her trouser... geet would slap his hands few times but would finally give up, rolling her eyes...
while eating lunch, geet would sit in maan's lap and both would feed each other more than eating themselves...
geet's teeth would always found his skin to bite, sometimes lips, sometimes nose, sometimes ear, sometime neck, sometime shoulder, sometimes chest, even his fingers too sometimes... he would looked at her wid his cute angry glare for biting him so much all d time and in return, geet would give him a flying kiss... ohh he was sure to be blown away...
d afternoon never felt boring , as they would be wrapped in each other's embrace under d duvet on d sofa of hal l, squized into each other and would talk for hrs and hrs... they would sometime talk romantically, sometimes friendly, sharing all d memories of their past life to each other, their fingers entangled into each other while their lips planting kisses here n there moment to moment...
there eyes unbelievebly lost in each other every passing second... geet would make all kinds of faces while telling him anything and everything. ...she would even talk all non sensible thing but maan would be just lost in her... his eyes never leaving hers which she loved d most. ...
maan unknown to himself started to share all his past to her... how he loved his parents... how different he was in d past, his colge, his family, his joining business, dadi maa's importance in his life... they loved to know more of each other.
geet would wriggle in his embrace from here to there lazily to adjust herself comfortably, maan would shook his head at her antics and would shift himself closer to her to give her comfort spot and more warmth, for which she would act so much of wriggling...she would giggle cutely knowing she was caught and would lock her arms around his neck to move all d more closer to him. there lips mere inches away from each other when they would talk romantically about their liking, their personal talk, maan teasing geet and nuzzling his nose wid hers, while geet biting his nose only to receive "jaan.." wince from her maan...
they would not even realise when they would doss of in each other's embrace on d sofa itself... in evening , maan would slowly open eyes lazily only to find his jaan cuddled into him so sofa , he loved her sleeping on his lap... it felt cozy and satisfactory.
maan would lay there minutes and sometimes hour, just for d sake of not ruing her sleep... he would sometimes just stare her, tucking her loose strands behind her ear, kissing her forehead, her fingers, her cheeks softly...
he would keep staring at her like she is his most priced possession. indeed she was... he would sometimes read books and when she would open her eyes and would find him reading book, she would snatch d book from him, throwing it randomly and would take him lips into hers for a romantic kiss...
maan knowing his jaan too well, would give into her demand without any complaint... he loved her cute possessiveness... yes he knew his possessiveness was dangerous but her possessieveness, her baby angry nose and those pouting lips, she would bliss him a priceless scene... he would smile into hers lips and would kiss her passionately as his hands would strt pulling her top up shamelessly... sometimes they would somehow reach her breasts or sometimes her hips...
she never wore inners being a lazy as it was absoluetly useless, every minutes or d other, maan would unhook her bra or would remove her panty, she gave up wearing them finally...just a silky top rarely reaching her waist and a short shorts reaching her thighs. every morning she would use a different colors as she knew how much maan loved all d colors on hers...
( imagine
Geet
wearing this type
poor maan
)
while for maan...he never wore anything except trouser...geet had strictly warned him not to wear any top as she is not yet planning to rape him..he had shook his head at her being naughty...and had finally gave into her demand...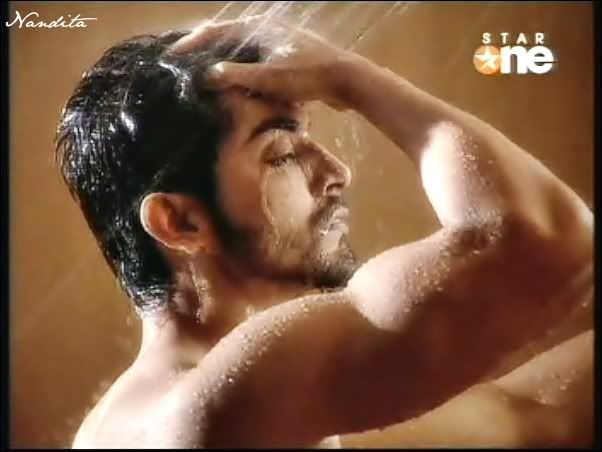 ( uff
shirtless
maan
everyday...
just for Geet
)
they were unlimited clothes, divided in two section, one for her homely use like sliky tops and shorts while other section ahd designer clothes if she would want to go out... ohh well, the other section was absolutely jealous as he knew he was useless... there was no chance of d couple going out.
every evening or sometimes aftarenoon or even morning somtimes, they would land up making love one way or d another. ...their nights seemed to go absolutely sleepless and more n more romantic everyday.
after their making out sessions in evening, maan would make cofee and and stuff for them to eat as he always knew, how tired geet gets after their love... he would caringly help her feeding coffee and food... after theirs hours of enjoing each other... geet would head to kitchen to make their dinner and helpless maan would always find himself following her...
there were lots of recipy book... geet would always try new and maan would never complain...everything of her hand would taste heaven to him, when she would be making dinner... maan would help her removing hair stanrds away from her face, sometimes kissing her nape as his hands would go around her, massging her waist...
moving her top up till his hand would reach her unsupporting curves... geet would gasp at his shamelessness and maan would naughtily lick her surprised open mouth.
geet would always find herself giving into his passion as maan would massge her soft curves sensuously... soon his hand would find its way to her trouser... soemtimes d cooker would bring them back to their senses or sometimes microwave own, geet would short him angry glare and would kick him out of kitchen... maan would make all kinds of cute baby faces to let him stay but geet would buy none...
after few minutes, geet would once again find herself being hugged form back. she would shook her head and would let him do what he wanted knowing he would not listen...
after dinner, they would soon land up on their beds, cuddled into each other... maan would be all ready to take her irritaing top out but geet would insist on watching tv first... maan would make baby face... geet would slap him playfully and would sit on his lap as they would watch d romantic movie... once the movie vil strt showing any romantic scene... two restless hands would strt crawling around her waist, soon roaming allover her body...
geet would slap him 2-3 times to let her watch but maan's face would be long lost in her neck to even realise what is she saying... geeting lost in his passion, geet would give up and would turn in jekr to attack his lips, sucking and biting him while her hands would lock around his neck to pull him closer...
d tv would remain on in background but none would realise anything... poor tv keep going on n on till around 3 to 4 am, maan would be irritated at d sound and would lazily switch d tv off, pulling geet back in his arms, who would be rolling allover d bed... maan would carefully cover duvet around her not wanting her to catch cold bcoz of AC.
This is how d love was for them simple yet special. cute yet sensuous and romantic yet passionate.
*****************
"kya khayenge aap.." asked geet, standing in d kitchen while maan was hugging her from d back, with his arms circled around her waist while his lips dipped into her shoulder.
"anything u make.."
geet moaned when his lips licked d sensitive skin behind her ear, "batayiye na...kuch special.."
" aaloo ke parathe.."
geet smiled and put d potatos in a cooker.by d time maan's hand had grabbed her waist entirely almost crushing her into him.
she turned around and circled her hands around maan's neck.
"aap naha (bath) lijiye..tab tak parathe ban jaye.."
maan carrased her cheek lazily wid his nose, "umm nah.."
geet smiled, " jayiye naa, dnt be lazy.."
his hand went more into her t-shirt n carrased her bare back seducingly, as usual she had no inners..
geet took a high breath, "maan.." his hands were wrapped like a snake around her.
"tum bhi chalo na.." maan groaned into her neck, biting her ear-lobe.
geet gasped at his shameless statement and rolled her eyes, "aap bhi na, u have become shameless.."
maan was absolutely, his hand carrased her lower waist almost entering her trouser, while his lips continuoued to lick her collar bone, "umm chalo na..."
geet slapped his chest, "mujhe parathe banane hai, aap jayiye na.."
maan made annoyed face n bite her collar bone, "how dare u bath without me ?.."
geet winced with d bite n slapped his arm again, "achha ji, aap so rahe the, meri kya galati hai.."
maan licked d area where he had bite her, "to mujhe utha deti, ke maan chalo nahane jana hai.." ...
his one hand continued to massage her lower wiast while d other started to pull her top up...
geet shot him angry glare while maan made innocent face like he wasn't being naughty or shameless..
he would be so damn cute sometimes, she felt like bitting him right there..
"maan.." geet was cut when cooker started to make sound. she immendiately turned d gas off
"chaliye jaldi nahakar aayiye, parathe bas 15 min me ready ho jayenge..."
maan made poor face, "jaan..."
geet nodded in NO..
maan tried again, "plzz na mishty.."
" MAAN.."
oughh poor maan knew he wasn't supposed to utter one more utter in front of his angry wify.
making baby sad face, maan started to live when geet tightened her arms around his neck and slammed her lips on his.
maan's hands grabbed her again as he kissed her back with same fervour... geet bite onto his upper lips while mana sucked onto her lower lip...
his one hand massged her waist pushing her trouser down while another hand started to pull her top up...
"umm.."
geet moaned into his mouth but maan stopped her by grabbing her tongue with his to taste her sweet saliva... her hand massged his neck while other went into her hairs making him groan into her mouth...
his hand pulled her top up and grabbed her her left curve with his right hand while d other remained hidden under her top...his palm kneaded her soft breast while d fingers rolled over d hard bud sensuously.
geet moaned uncontrollably in his mouth wanting to stop him from teasing her senses...
groaning, maan's hands left there assult on her and went below her hips to pick her up.
as a reaction, geet instantly wrapped her legs around his waist and maan took her to d nearby sofa in d hall. he dropped her on d bed and himself dropped on her making her gasp.
1st thing he did was taking her top out and threw it randomly. geet giggled with his restlessness... maan shot her an annoying glare and crushed her soft curves in his hard toned chest while his mouth attacked her neck, chewing and sucking her delicious skin
his hand grabbed both of her curves and started to massage them slowly yet sensuously. he very well knew when to put pressure on his hand..when to lower the pressure..how much to pull...how to mould them...and all she she could do was moan under him.
she was like his private doll...craving him more n more...he would massge her curves so passionately that they would pain sometimes with d high level of hormones rushing through her...
geet hugged him closed as he continued to suck her shoulder from one side to another...
"maan...nahana...hai..." she hardly could voice out and maan heard none...
"umm.." mumbled maan reaching out her curves as he kissed onto her mole and took d hard bud into his mouth. licking it with his tongue. she tried to grab his hairs, feeling highly aroused but he pinned her hand on either sides while his tongue played with d hard buds...
he chewed onto them, pulling them with his teeth and she screamed with pain n pleasure.
she loved his sweet torture.
maan was maan singh khurana. hard. passionate. toned. and aggressive.
while geet was soft. delictae and absoluteky fragrile like a rose petal.
maan alwys tried to keep himself in control knowing how delicate his jaan is...but he would always land up being passionate and aggressive... but she alwz managed to match up with his passion.,..
unbelieveble yet true it was...she gave in her everything just for d sake of him so that he would enjoy her completely..would not have to keep himself in control...she was his and she alwys would love him loving her completely with no control...
he sucked her breasts, biting and sucking it till it turned red and sore in his passion...finally feeling a litle satified..he turned to other one, giving his complete attenssion...
she loved and relished his passionately loving her curves..there were her weakness..her most sensitive parts..and when he loved them..she felt utterly close to him...like she was a part of him...part of his body..part of his soul..part of his existance...
he sucked and bite onto her nipples again n again..playing n rolling them wid his tongue...his teeth would create hahov on her soft curves and hard buds...they turned dark reddish and swolen under his passion...d prints of his hands and fingers were visible on them. ...he kissed in d mid of breasts and licked there...
"maan..." an sensuous maon escaped her lips when moved down to her tummy and curved his tongue into her belly button, tickling her senses high time..she wriggled underneath him. her nail periced his back and shoulder and but he didn't even realise...
"jaan.." he compalined like a ziddi kid coming back to her lips, crawling over her and kissed her lips...
his hands had already pushed her trouder far down, nearling showing her feminity, he pulled it out completely, followed by his.
his strong hand held her thigh and crossed it over his waist to open her up for him...
she moaned into deir kiss, her palm roamed over his chest and shoulder pulling him closer, scratching him with her nail...
groaning, he pulled her even closer and entered her with a full thrust.
geet gasped with d powerfull thrust and hugged maan's neck to control her heart beats...maan kissed her again to calm her again thrusted deep inside her...
soon they took into d rythm. as maan started to move in her with strongs thrusts while geet moaned in pleasure uncontrolably...she hugged him to her dear life...while he continued to claim her passionately...
his tongue rolled over her already swolen nipples..as he bite onto them again n again..loving d option..he soothed d bite with his tongue..and teassed them, poking his nose on them,,...
geet slapped his chest for teasing her so much...but d blush over her cheeks said it all...
geet shivered underneath maan feeling her orgasm, while gave a deep thrust and finally colapsing on geet, after hitting d climax.
they panted heavily for a while... maan rested his face on her breasts, panting heavily...
geet wiped d sweat from his forehead and loving brushed his hairs, pulling him closer till her lips reached his forehead as she plated a kiss there...
maan nuzzled his lips onto her chest for few seconds and finally deeped his face into her neck, while geet in his hairs, while both drifted to peace.
( imagien
maaneet
like this
)
**************
precap:
maan reading book, geet punishing maan..;)
an important phone call
*******************
_________________________________
hit d LIKE button N post a COMMENT
IMP - reader, Those who dnt LIKE N COMMENT on my updates...i vil be soon removing dem from my PMlist !!
!! THNQ !!


Edited by Angelic_mishty - 12 October 2012 at 10:50am