Angel.Jot


Mommy.
Happy Birthday to you! <3 Don't eat too much cake in case you get diabetes because that would your daughter extremely sad. =( And i hope you have a great day filled with lots of happiness and gifts. Prior to you becoming my mother, you were just a friend and a friend that i no doubt, cherished. You always seemed to make my day better just by your sweet talks and any other nonsense you thought i would care about.
Your care-free, fun filled, selfless nature is enough to make anyone love you. <3 And now, i think i'm done being all sappy so have a great day and never change. God bless.
-Jot.

spvd


wish u many many happy returns of the day dear...Happy birthday...hope all ur dreams come true...
luv
Deepa

masaf57


Happy birthday Preet. I hope all ur birthday wishes and dreams come true!

-Liana-



hEY Pyaara
wishing u a very happy birthday many many happy returns of the day

Each year your birthday reminds me
That I really want to say
I'm very glad I know you;
I think of you each day.
I hope you enjoy your birthday,
All the pleasures it has in store,
And because I appreciate you,
I hope you have many more!
May God bless you with all you desire. Wishing you a very Happy birthday.
Enjoy every moment of your precious life.

Happy Birthday, sweetheart. I wish you all the success, happiness and love in the world.

I wish your birthday this year gives you more reasons to smile and to be thankful.
Much love and blessings coming your way.
sigs for u

Have a wonderful Birthday and year ahead
With lots of love & prayers
Liana (yaara)

kriyansh24


so di... ur b'day has arrived... its such a pleasure knowing u... i love it when u use haanji in ur scrap... i just love it dunno y... u r always vailable to talk.. i do wonder when u sleep...
but whatever it is.. i just love talking to u... thank u NS (aapki partner) that i met u... and have a wonderful friend like u... Lots of love... and i want a party: sadda haq banta hai...
Happy Birthday

chalhov


PREETs
IN SOFT GLEAMING NIGHT OF STARS MAY ALL UR DREAMS COM TRUE MAY EVERY STAR OF EVERY NIGHT BRING LOVE AND JOY TO U HAPPY BIRTHDAY TO YOU



asmaju



Preet Are a sweet and a loving person I have met over here.We became close friends in a short span of time.Wish each coming moment doubles your joy and renders you with loads of happiness and all ur desires get fulfilled.

May u achieve heights par ur imagination...

Wish u a wonderful Years ahead..

Keep Smiling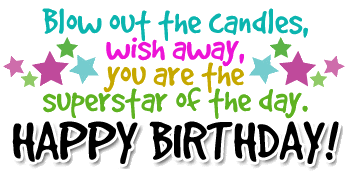 Love Asma


MistyColours

Happy Birthday Princess

May all your dreams and wishes be fulfilled and your each passing birthday
be even more fun and joyful. On your special day, here's wishing you loads of love,
laughter & happiness.
We have known each other for a long time now. It's been the most wonderful journey for me! I am very lucky to have you as my friend...and I know this friendship will prosper as time goes by
A little something for you









Love You

Neha



luvya4ever

Preet!!! It's your welcome to the world day!
In such a short time, I have gotten to know you so much and my days almost seem incomplete without talked to you! Though this stupid time difference is gonna get the best of us
Anyways, getting back on topic, which is your special day, I guess I can commence with my wishes! But first, I must tell you that you are an amazing daughter! I am so glad my wifey has a habit of collecting children and I get to meet all you awesome gals through that! Coming back on track again, btw are you seeing a pattern here? I get easily distracted... oooh look, a shiny thing *starts staring into the distance*! Anyways, what I really wanna say is HAPPY BIRTHDAY! YAY!
It's your janam diwas and you're getting older and becoming more mature and whatnot
. So, here is lil ol' me wishing you a great day and an even more awesome year! I hope you get everything you wanted and get to eat tons of cake and get to spend the entire day like a princess!!! I love you tons beti
You may even be my favorite one
! Though don't tell the others I said that
. It'll be a nice daddy-daughter secret!!!
Now that my rant is over, you can get back to the rest of your day and all the celebrating and fun that you so truly deserve!

OnlyHope



Wish you a very Happy Birthday, behna!
we recently met and got to know each other, but all I can say is you're a sweetheart and a great friend to have..oh and of course a sister too! ;) or Daddy Gun and Mommy Shifs will come after us
Have a great one and may all your dreams/wishes come true! Have fun :D
...and and here's a little something from me!

aishi.muffin

Hey Preet! You are one of the sweetest people ever! Have an amazing birthday! Eat tons of cake. ILU
Here's a small gift from me..hope you like it :)
Love,
Aishi (aishi.muffin)

-Ridzzi-

Many Many Manyyy Happy Returns of the Day Preet. I hope u have a wonderful wonderful birthing. God Bless u with loads of gifts and surprises. Have a great time!


Enjoy!
-Ridz
monikaseth

Happy Birthday

The best gift I can give you today is to pass on my dreams, good health, luck, fortune and happiness to you. May you have years full of happiness to come. Happy Birthday dear .
Do you know what I secretly wished for when I saw a falling star last night? I made a Birthday wish for you and asked for all the health and wealth in this world to be yours! Happy Birthday .


With Best Wishes Monika

mishti_17


Happy birthday Preet.. Have a great day..

SK1991


Hi preetu...
wish u a very very Happy Birthday yara...
btw hw old are u now...35 or 45...???
...ok forget it...
...
hhhmm what should I tell about u...
such a lovely friend...todi pagal hei...but still lovely...
...if I'm not wrong...we met PKDH forum for the first time...right...???? kya time tha...
...since then...u have become my special friend ya...don't know why...
...
dearo...u have amazing qualities...don't let them go away from u...never...ever...
coz those make u soo special...stay the way u are...
and be happy 4ever...we want party ha...
luv u...
** SK **
-Barun-


Happy Birthday Preet Di!
Wishing You A Year Full Of Happiness and Luck Ahead! :)
I should thank the T/D Game Cuz I have I got a great friend like you! <3 And Especially to Stuti(Mommy) for creating the "Dushman Bane Dost".
You have a lot of messages to read! So let me not bore you to death some big message ;)
Your Chotu Friend
Viz
-Stutz-, ..first.rain.., ~Saraa~, *Shifali*, Aahaana were being very lazy hence they will edit their posts later in the day with messages and gifts.