Originally posted by Nandalala
"Shadow love,
Random love,
And Abandoned love.
Accidentally like a martyr.
The hurt gets worse, and the heart gets harder."
~Warren Zevon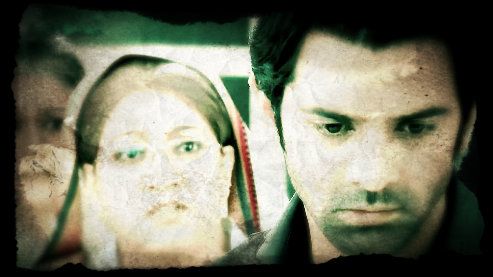 Take a bow, hun!
An absolutely RIVETING CROONER and an equally fantastic episode! Your title did such justice to theme of the Crooner...What a fantastic read that was! The nexus between North and West...What once defined him then, and what defines him now! I just loved your reference to the glass house--
Sheesh Mahal
- and what is now his own house of brick and mortar!! For me, the episode was defined by
hadsa
,
haq, and belonging.
..One
hadsa-
-incident--shaped the lives of two innocent children, and their families. Gave birth to a martyr who gave up his childhood, his innocence, his own sense of love and longing because of the antecedents--the past! Today, a first glimpse into the pathos that I have been harping about for so long! A man who so desperately wanted to belong, but was not given that opportunity by his own! A man who made a name for himself but by abandoning the identity given to him...A man molded by his past, yet defiant against it. Not allowing it to determine his future. But in the end, this very past would shape his future, drive him to make choices...He knows he can no longer run away from it. It is here. It is part of the now! His heart ready to accept love, yet the past weaves a barb wire around it...
Haq...exercised over & over today! Used as a justification for words and actions...an endearment shown beautifully in one scene, and as a blanket statement for all things done in the past!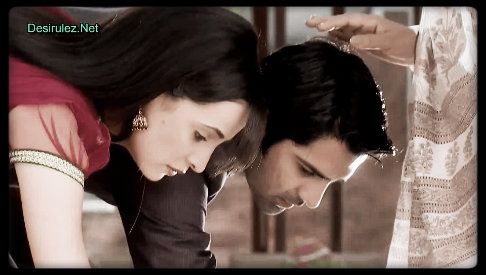 What does meeting a loved one after 15 years even feel like? Embracing tradition, he bends down to get his grandmother's blessings. A hug that speaks of innocence and how much she was missed. Past and present in the forefront as Naani, ever the host, introduces the "new" family members...That initial step as a couple...Seemingly walking towards "home"--all things "Mallik"--that ultimate sign of respect again as they bend down to get the blessing. His eyes never leave Khushi's face--she is his wife, she has every right--haq--to seek those blessings with him! But the shock at seeing Khushi being treated differently brings back memories...The hand maybe back on his head, but he hasn't forgotten when that very hand left his own...
A conversation between the grandmothers reveals that these two women are very close. They know each other well...Best friends. One responsible, the other taking her for granted. In the privacy of their chambers, we learn even more...denial and accusation...Raizada vs. Mallik at play here! Dadi wants quick answers to her Whys? The Whys surrounding her grandchildren...the minute details of their lives...Naani questions what right--haq--does she have on those children? Why did the Mallik abandon those children? Why did the Mallik force those children to become Raizadas? Abandon their own father's name? Dadi's reality comes to the forefront: she is so quick to dismiss an incident and a face from 15 years ago that changed two lives--her own flesh and blood-- forever! Offering no credible explanation, yet again--Selfish and without remorse!
An introspective Arnav hears his wife try talk to him about his past. She can sense his turmoil, anger, and yes, his thoughts...Her own face was a study in sadness as she walked through the hallway, internalizing everything Dadi said to her just minutes ago, yet when she sees him, she wants to be the soothsayer. Wants him to know she is there for him! She is ready to take responsible for Dadi's behavior on herself. Shayaad...Maybe its her. Maybe its the way they were wedded...Maybe...He puts an end to her shayaad by taking the guilt of off her! Sititng on the bed side by side...ever the married couple--Koi nahi jaanta per main jaanta hoon, maine tumhe majboor kiya--with those last four words take complete responsibility for his actions. Then an explanation...yes, an explanation for Dadi's psyche, but really a reflection on what he himself is thinking...an internal monologue seeks a voice..."Dadi hamesha haar cheez apni angle se dekhti hain..."--how well he knows her--even 15 years later! Like a mirror image to himself...She doesn't easily accept the truth, so singular is she in her views! Justified? He silently asks Khushi to be the judge.
His words are a revelation, yet there are major pieces of the puzzle missing...and she knows it...Today it is her turn...Talk to me, I am here for you! Just like he implored her at the GH...To tell him everything--Khushi tum mujhe baata sakti hoh! She implores--it is her haq as his wife--"kabhi kabhi humein aisa lagta hai ke hum aapke baarein mein kuch bhi nahin jaantein hain." Though he hears her, he walks away...he is not ready to talk to her...not yet...not until he gets some answers of his own...
She looks on...a continuation of her earlier thoughts--Khushi's epiphany, her most poignant yet--a reference to the duality in her mind when it comes to Arnav...seemingly her prince at one glance, and a complete stranger, the next! The fairytale reveals itself again! She now has to look for answers, too...
gif credit: tumblr
A quest for explanations culminates in the most raw and emotionally charged scene we've witnessed from Arnav Singh Raizada in a long time! The pain from recalling that incident slowly finds catharsis as his defiance takes over. He reminds Dadi of the facts, as they stand now--The "haq" she lost when she walked away from her grandchildren. I couldn't help but think of the death anniversary scene from last year...the look in his eyes...the depth of betrayal and saddness so evident...And today he rose above it! He reminds her of his reality--three poignant declarations! Yes, Priya, he is the master of his own domain: 1) He is not defined by the sins of his father--"Nahi mein unki tarah hoon, nahi hi banoonga"--others may see him as a shadow of that man, but Arnav Singh Raizada is who he is! 2) "Iss ghar mein--in this which is his house--koi bhi unka naam le, mujhe pasand nahi!" 3) Jahan meri patni nahi aa sakti, mujhe nahi lagta ki meri wahan koi zaroorat hai!" He has now made it clear to Dadi that his shore lies elsewhere!! By turning his back on Dadi, and physically walking over to Khushi he has exercised his haq as her husband in front of his paternal family, and essentially stated that Mallik DOES NOT matter to him!! Blood maybe thicker than water, but here, water trumps (pun intended!), yet again! Indeed, when the king returns home after 14 years, he won't be alone! In fact, every nayi shuruaat, will be with his Khushi, and her alone--North defined by West! And most importantly, he will return on his terms!! An interesting note to this scene, and one you picked up, too: the conversation that Devyani started earlier is now completed by Arnav--in keeping with that long shot visual we saw in Monday's episode where Devyani and Arnav walked in arm in arm!
Other Notes~
~I was happy we had a relative "Anjali-free" epi today! Made it that much more impactful without that sullen face!
~Finally some clarity on Dadi's truth--she never intended to see or meet her grandchildren, in spite of ASR's efforts (I now stand corrected, guys!
)...Still begs the question: why is she there now?
~The FIGHTER--need I saw more!
~Fabulous chemistry between our couple just sitting on that bed...such a comfort level as they reach out to each other...what had started that very morning, still evident in spite of the strain on both of them...
~The
"meri patni"
Rabba Ve--Awww...the awakening now has new meaning! Its no longer "their secret"!!
~NK's First impression...Last impressions dialogue: Very, very interesting! I couldn't help but think of ArHi as well when I heard his words...How far we've come. Impressions can and do change! Such a great metaphor for what we'll see going forward!
~"Sorry" makes everything better--again, couldn't help but think back to ArHi...how difficult it was for Arnav to say that word at one time, and how easily Khushi takes it on!
~Payal--ah, my wrath has no limit!!! Wow, she knows and admits she was a ttl coward and did not stand up for her sister...and then has the audacity to remind Khushi she should say sorry!!! What happened to your apology, Payal?
~Mamiji:
Her goatwa-sherni dialogue WAS NOT funny! Crass mocking! So not done!
I had goosebumps watching Sobti today...He understands Swati Chitnis' strengths so well, and he played beautifully to it! His body language, diction, and that uber confidence shone in every scene. It is such a pleasure to watch a lead who is so CONSISTENT in his performance. Without fail. Jayashree T and Swatiji just had amazing timing and chemistry!! *Bows*... Sanaya was lovely in that scene as she walks down the hallway...my heart fell for her completely! Loved her monologue delivery, too! Ah, we are back to dreams and nightmares tomorrow...I have seen the spoiler pics on the last Crooner--a wonderful instance where reality will be so much better than his dreams!!!
only d highlights and bolds expresses moi super like...