Originally posted by GanBarunFan
Priya: your quote and 1st part of the post just is so insightful.. I took me couple of reads to fully understand it...just beautiful. Agree with you about the screenplay and direction as also about the acting : highlight of the episode.I always look for your take about the episode as it connects me to the inner voice of the storyline and today was no exception.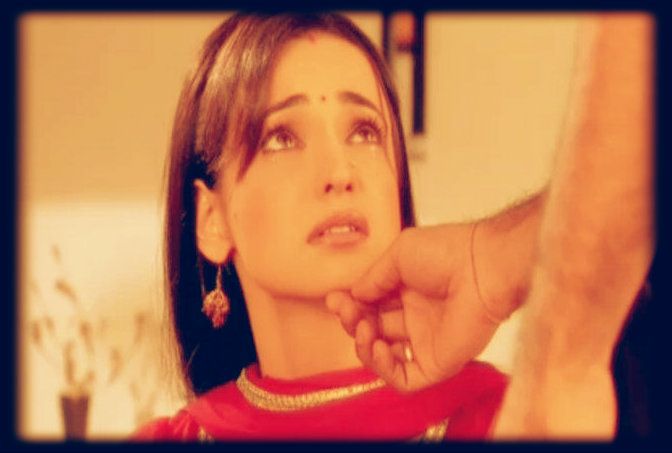 Kabhi kabhi humein lagtha hai ki hum aapke bohat kareeb hai, aur kabhi aisa lagtha hai hum bilkul ajnabi hai...

Arnav-Khushi's journey hit a major milestone today. The gates of communication has been reached. It has not fully opened up but it has been unlocked. We see a wife reaching out to her husband to help her understand what's hurting him; vocalizing her need to 'understand him and his history. We see a husband putting aside his own turmoil, assuring her of no wrongdoing in their marriage which is at crosshair of conflict between Daadi and Arnav . Tumari koi galthi nahi thi, meine tumhe majboor kiya shaadi ke liye He opens up to her about his Daadi, her stubbornness, her fixation with her own notions. A self-reflection maybe? But the rawness of an open scab from wounds inflicted 14 yrs back is evident in his inability to talk about it and his walking away from there.
Daadi- Arnav rules of engagement:Two people who are more similar than different. Both confident about themselves, their convictions. And both at loggerheads because of their past and present. She demands answers about his actions in the present and he refuses because of her 'abandonment' in the past. She reminds him that he's like his Dad whose actions still a sore point for him. She demands authority, respect because "haq banta hai hamara, riste se umar se'hum aapke Daadi hai..Aapke babuji ki amma'.he assures her of his respect for her but lets her know he'll never be like his dad, "nahin main unke tara hoon..nahin main banunga"'. She prods him as her grandson. He replies as the man of the house : Dadi, shaayad apne teek se suna nahin,iss ghar mein unke (dad) baare mein baat karna mujhe Pasand nahi hai...

6 months back Arnav had promised Khushi that sindoor and Mangalsutra were all she's going to get from him as his wife'.he'd not give her the postion as his wife and threw her out of their room as he didn't want to deal having to breathe the same air as her. Today there is another threshold. Another gestural refusal by his Dadi to Khushi's role as Arnav's wife. Arnav crosses over the threshold of separation and goes and stands by his wife : Jahan meri patni ke liye jaga nahi hai, mujhe nahi lagtha waha meri koi zaroorath hai. A resounding message addressed at Dadi but affects his wife more . which was further confirmed by his 'Aapki maarzi" . A reaffirmation by a husband that he'll stand by his wife like he did the other day when he threw Shyam out and said "I trust Khushi".
Other points of interest:
Mallik DNA signature (? ): pet peeve about people turning away before he/she finishes his/her sentence along with "Aukat" fixation too. Or mistaking one KKG(-SR) to be something she's not while she slips around them
Naani the matriarch: Making proper introduction of the bahus to the Daadi. Or stepping forward to help resolve Daadi's refusal of Khushi as Bahu Or pointing out to Daadi about her abandonment of her grandchildren 14 yrs ago which has affected their present Or stepping in as the voice of reason trying to placate two sides of Mallik v Raizada(Mallik) or smiling with pride when her Chotey declared his intension of standing by his wife
Manorama Maami the chameleon: who hides to avoid "gabbar Singh"Daadi and acts like one in front of her meek DIL.
Acting : Naani and Daadi ruled today. Finally there was one person who can share the screen space with ASR and not wilt to his overbearing personality, hi Daadi. And Sanaya's eyes spoke volumes as a bahu wanting acceptance at her in laws, as a caring wife reaching out to soothe her husbans or as a woman getting respect of a sahadharmini, by her husband in true sense for the 1st time.

And
ASR gosh I've a feeling that the writer, script writer and the director they are all in in love with this character otherwise how come in 1 yr this character has remained so true with his vulnerability, straight forwardness, conviction in his beliefs and to stand up for it. I'm in awe with him today as I was the 1st time I saw him...and it's growing. What adjective do I add to Barun's acting that I haven't used before. How can you add perfection to Mr Epitome of Perfection. His undertoned acting reflecting under control anger, accusation, pain and, defiance during Arnav's standoff with Daadi or his raw vulnerability, pain and love during Arnav's scene with Khushi made ASR feel more flesh and blood than a fictional character' the man who lives and breathes in this fictional character,Sobti you amaze me yet again!
An episode with small but significant moments, some having roots pain in the past while other with promises of better tomorrow.
Pic Credit: Shweta and Facebook

CONGRATS hd75(wish I knew your name)That post was so honest and touching! Fantastic!

& my bondhu Mou whose writing style is like her: funny but poignant! (wooing you dear
)