The third wish to be drawn out of the wishing well is that of my friends Sun and Athira
Wish Penny put in by Sun and Athira :

Raghavi scene where Raghav smiles and gazes at her in jail while she is blabbering.

Sun and Athira dear
Lagta hai tum logone wishing well mein badi shiddath se wish penny dali thi
... I really had doubts if I would ever write on this scene.


I hope these lines were able to describe the scene' If not, then like I said before, Ana ke avis se kaam chala lo dears
The below art was created by my dear friend Shaili... and all I can say is
"Abe Sunn na... thanks yaar"
Avis credited to: Ana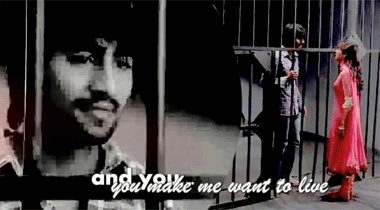 To find you here... in such a state,
Makes me bicker... at my fate;


As I blabber and... then debate,
You smile a smile... I can't relate;


Then you ask... "Are you fine?"
I answer "Yes"... and then resign;


Back to thinking... I ponder again,
To strike the devil... but not in vain;


That's when you... scorn at me,
Concluding that... with fear I flee;


Hurt fills my heart... right then,
How can you sound... like the other men;


I have done what ... you didn't see,
Slapped the demon... and self pity;


As I walk away... from you tonight
I promise to put up... a valiant fight



*********************
And I have to thanks my friend Ana here... for the wonderful avis she comes up with...
...And also to my sis Shaili here who makes these wonderful siggies for the title...
This goes out to you guys for adding that extra pixie dust
Please do let me know your impressions on these couplets


Edited by The_Inner_Voice - 23 August 2012 at 9:18am