The second wish to be drawn out of the wishing well is that of my friend Sun
Wish Penny put in by Sun : Raghavi separation scene
Sun dear

I hope these lines were able to describe the scene... If not then Ana ke avis aur Shaili ke siggies se kaam chala le dear
The below art was created by my li'l sis Shaili...
and all I can say is
"Love you Sis"
Avis credited to: Ana
I cried out loud,
To set you free...
But all you did,
Was look at me.
Tears then just,
Brimmed my eyes...
Not a soul,
Did hear my cries.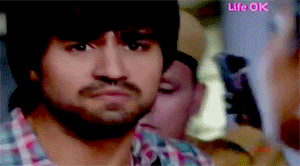 Thoughts of separation,
Had me in daze...
What brought me back,
Was your call and gaze.
Even while leaving,
You filled me with hope...
Till you are back with me,
I promise to fight back and cope.
*********************
And I have to thanks my friend Ana here for the wonderful siggies she comes up with... And also to my sis Shaili here who makes these wonderful siggies for the title...
This goes out to you guys for adding that extra pixie dust
Please do let me know your impressions on these couplets


Edited by The_Inner_Voice - 23 August 2012 at 9:14am