Originally posted by GanBarunFan

~EDITED~

Hi Priya:
Beautiful Crooner as usual. I'm so glad you touched upon today's regressive nature of the script. Frankly the whole bit of extreme "piousness" to the point of 'untouchability' vice was a turn-off for me...skipped through most of the episode till Arnav enters RM with Nani, which was the last shot of the episode.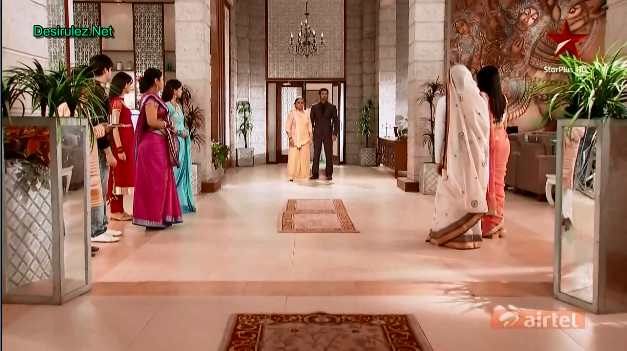 The one thing that stayed in my mind about the episode was the long shot of RM hallway entrance with Arnav-Naani on one side and Anjali-Daadi on the other .. future Battle-lines drawn ? Maybe ...or maybe not...too early to predict. But tn Anjali's and Arnav's reactions to their Dadi were significantly different...She heralded a nostalgia though painful for Anjali but appeared to evoke a raw pain in Arnav's eyes. maybe I'm reading too much..
Will just say this much ASR's "Enough Maamiji !!!" is long overdue...That's another regression which is becoming more than an eyesore..in which civil society albeit tellyland (but in a channel proclaiming to be flagbearer of "soch nayee" )does a MIL pass off her DIL as a servant? It's not the 'role' but the insult. please bring our cool Mano-Bond back! I hope they will not take Daadi's acrid behavior too far. The Precap gives me hope..because of ASR's bodylanguage and his signature bg score.
And Khushi's spontaneous self confession about her love for Arnav and knowing so little about the man himself : That's a past I want to delve into. As you predicted, it has the key to the man's trove of struggles and heartache which need to be healed for their better now and tomorrow.
Sorry if it comes across as too much rant. But I'm not sorry for my thoughts.
Your Cinderella reference reminded me of something which doesn't apply to the episode but a wish for our Khushi :
"A dream is a wish your heart makes when you're fast asleep. In dreams you will lose your heartaches. Whatever you wish for, you keep. Have faith in your dreams, and someday, your rainbow will come smiling through. No matter how your heart is grieving, if you keep on believing, the dream that you wish will come true. "

-Cinderella(
Cinderlla
)
P.S Happy Birthday to your brother Arnab!...that song is also a favorite of mine.
CONGRATS Shweta and Indi !!! absolutely AWESOME posts!!!

great job Suba and Nish!
If you call this a rant, I would say RANT AWAY!!
Absolutely pinch hit on all the critical parts of the epi...that long shot scene was a favorite of mine...,my aha moment today! I saw the pain in ASR's eyes too! I agree with you abt Mami being put in her place--should have happened well before now...but I'll take what I get! Loved you Cindrella quote...it just reminds me of those stars that she believes in! Its almost as if her parents are talking to her...I can only hope our Cindrella continues to believe!