Originally posted by mommamia
"Sometimes, reaching out and taking someone's hand is the beginning of a journey.
At other times, it is allowing another to take yours."
- Vera Nazarian, The Perpetual Calendar of Inspiration
Teju and Sonu.. Wishing you a very wonderful Happy Birthday!!!
"Aap aa gaye"!!
The distance Arnav-Khushi have traversed!!
Mother knows best. And in Khushi's case we are talking about universal mother. Who knows inside and out of us mere mortals. And when she is THE force behind Khushi's very life, doesn't she know who her damaad should be. So she chose Arnav Singh Raizada to her laadli.. And funny as it may seem, knowing everything about her Damaad, that he doesn't acknowledge about his mother in law's existence ,strange as it may seem that he would never see eye to eye with her, she still choose him to her dear daughter. That says it all doesn't it. This MIL-SIL duo I tell you.. is a pair to reckon with!!!
Regarding Arnav I feel that his path was set on Day 1. The moment Khushi fell in his arms. He was transferred in a different world. Which never existed for him before that. He was mesmerized by her from that very moment. And the thing with him is he was so scared to acknowledge that change that he devised a method to suppress that feeling. That was punishing her. Pushing her away. Suppressing her thoughts. Moving away from her. The ruthless businessman he was, his methods were of mean in nature. I always feel that when he was with her, his protective instinct were always in ON mode. So no matter what the situation he created for her, he was there for her rescue. The moment he saw her almost getting killed by the car when she was controlling the traffic in the heavy down pour, he rushed to her rescue. Well he offered her his coat didn't he. Our girl flatly refused. Irked him to core. And he spit venom. He wanted to run away from the sudden surge of those feelings. He never understood what they were. She was stirring his very base. When he sent her to the dilapidated building, the moment he realized she was in danger he rushed to her rescue. And he did become her knight in shining armor. Answer to her prayers that do. She asked her mother to send some one for her rescue Isn't it!! There we go!! And he offered her family if he could summon a doctor . Again the concern he had for her. And when she went to collect her belongings on a Sunday afternoon little expecting him to be there, he was watching her in awe. He was entranced in her thoughts the very moment she stepped into his office. After that fall, he offered his hand for her, which she refused. And after their argument, her tears shook him. He so wanted to stop those tears and his helplessness was evident. And during the teej , the moment he saw those red power near her eyes which was bothering her, his hands automatically reached to wipe. For him in those moments it was like she always belonged to him. And the moment she refuted his claim, he was brought to reality. Again he did what he does best. Taking out his angst on her. Either by ill treating her or those harsh good for nothing words.
And in this process Mr. Arnav Singh Raizada traveled a long journey. A journey that lead him to his lady love. A journey that made him experience the sweet nectar called LOVE. A journey that gifted him a precious gem , his able partner. His very own. But it was not an easy journey. He stopped many a times and took detour. His road to his destination was fogged at times. Road blocks, barricades, pot holes.. you name it!! But finally he now has a clear cut vision and he has made it to that final destination. This was his side of the story.
For Khushi, her encounters with him in the beginning was a numbing experience. She never would have wished to meet him. Every time she met his she saw a Shaitaan. Nothing less. He made sure her life was miserable. Experience by experience made her realize there exists another person in this Shaitaan. A human side. She slowly got acquainted with that person. She realized she had fallen in love with that human. She started weaving dreams. She was encouraged to dream about him because of his change in behavior towards her. But the moment she knocked his door with those dreams, he slammed the door shut on her face. As if it was an illusion she created. And the ground reality was miles apart. And she retracted. But again circumstances lead her again to the same path. She some how again rebuilt her dreams assuming it wouldn't be crushed this time as things seemed a lot different. She saw her Raj Kumar in him. The shaitaan was long lost. Nope. That was not true. Again she was crushed. Be it Diwali or Sangeeth. Same story. For Khushi after marriage, she had not expectation from him as such. Even if it was there, it was bear minimal. She was on survival mode. But she was there for him. Being his voice, his support and his partner. When she realized he was in danger and might have been kidnapped, she did everything humanely possible to bring him back. Even after rescuing him, she never expected him to acknowledge her.
Photo Credit: Bushy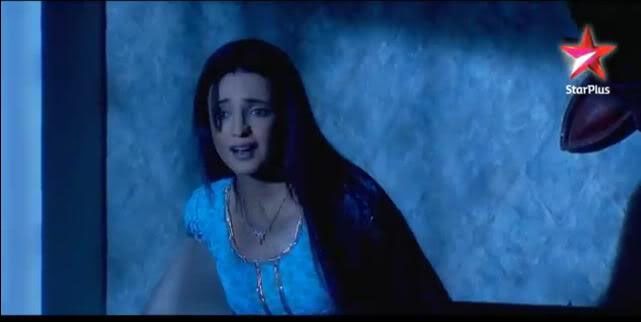 But she had the same dreams. It never left her. Aap Agaye!! Only to realize that it was an illusion again. He still was a dream not with her reach. So she was flabbergasted when she was made known that he places her in the same pedestal as his Di. And that night when serving him tea, with trembling hands when she approached him still unsure of her status, his response to her presence was just enough for her ..that hug said what her quandary was and how relieved she was. He was the only person in her life that mattered to her. Her every breadth was in his name. In her case it doesn't take too long for history to repeat. She was already under tremendous pressure because of culpability, he authenticated it!! He said how he wished to negate her existence in his life. Had he not met her, things would have been on a positive note in his life. Thus crushing her dreams once again. Thus slamming the door shut on her face again. This time it was so strong that the bits and pieces of life that she had so painstakingly stitched together was shredded beyond recognition. Only thing left for her now was to move far away from him, never to cross path. She wanted to give him back his life he had so desired. She wanted to be no part of him again.
Photo Credit: Bushy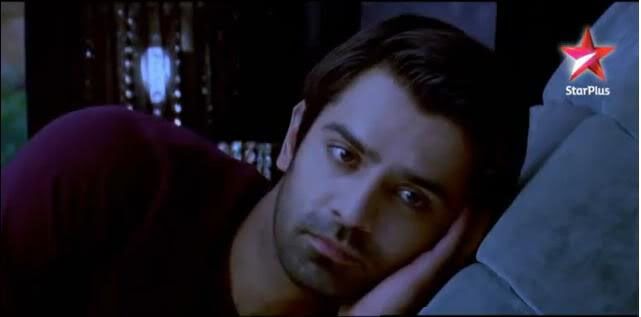 All this being watched by her mother who knows everything. So her mother flung into action having seen enough, gave her son in law that magic portion which said Now or Never. Take Action. Acknowldege , Authorize and Authenticate. And he did. This time he made her dreams come true. Her every dream. Thus making her realize, yes it was OK to dream and nothing was lost. It was all there and for good. He was indeed her Raj Kumar.!!! And YES he has Arrived.. Woh Aa Gaye Khushi.. He is all yours now!!
Special Note to CVs:
Where is my Shyam.. Bring him back.. Atleast give me glimpse of him.. Just shadow doesn't do me any good!!
Nanheji.. You are Khushi's best friend. This is for you buddy
Come as a guest
Leave as a Legend (But please dont leave.. kehne ke liye kaha tha.. Stay as a permanent fixture in IPK land)
Sandy What a Brilliant Writeup,just Loved it to the core,especially the way u made DM as MIL and ASR as SIL,woot woot iam loving this combo,and loved the way u took us thru the journey of ASR and KKG and what went thru in their mind,Nostalgic.ThankU for this brilliant Post Sandy.Love Muah