RAKHI SPECIAL
Note: This post is in not in the usual format, this is special picture post, still with analysis and surprise...Special VM made on Aranv and Anjali..with translation...


--------------------------------------------------------------------------------------------------------------------------------------
Index:
-------------------------------------------------------------------------------------------------------------------------------
[Author of This Post Reserves All The Copyright - do not copy /paste or reproduce the materials or ideas, in part or complete, without written permission from author]

-------------------------------------------------------------------------------------------------------
Thread 8: Part 105:
Episode: August 2nd, 2012 (#311)




The Gift Is Yours, Surprise Is Mine!

-
-Mere Bhaiyya-
It is a special day today at RM.. Raizada mansion.. Shantivan.. It's Raksha Bandhan...The day when a sister ties a silk thread to her brother's wrist.. and the brother makes a pledge to protect her and to be there for her forever...

For Anjali and Aranv, it is a very special day..

For Anjali, Aakash.. is sweet younger brother.. her cousin.,. she dotes on...

For Anjali.. this year one more cousin brother is there on this special day... NK..

For NK, it is his very first Rakhi.. Raksha Bandhan...in India..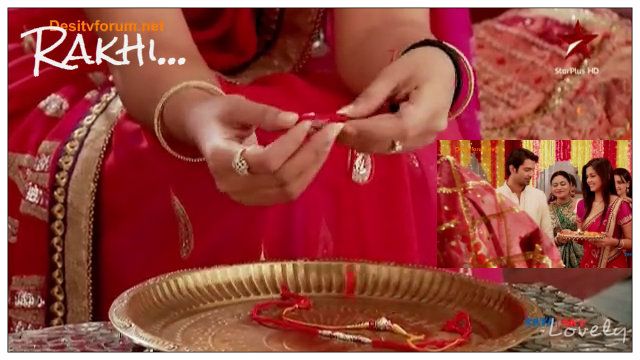 Aakash returns from Mumbai.. While Payal and Nani ji are happy upon his return, Manorama is curious if Aakash met with Amitabh Bacchan.. Aakash smiles.. He does not allow Payal to pick his bag up..she does not know if he is still upset with her.. Later on everyone gathers in the living area.. NK remarks that Aakash has returned at proper time to celebrate rakhi.. now only if Nannav.. even before he could finish his sentence, arrives the most beautiful couple..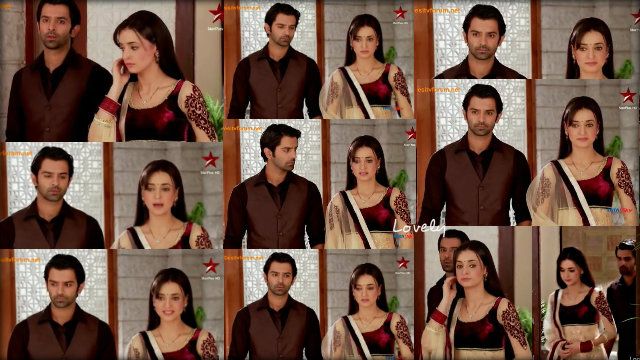 NK remarks, "Think of the devil and devil is here!" Nani ji, Aakash, and Payal are very happy to see Aranv and Khushi..
Yes, Aranv managed to bring Khushi back to RM on the auspicious day of Rakhi once again! He did that last year too!
No one knows though what Aranv had to do to get her back to RM..
Aakash hugs Arnav. Payal and Khushi smile at each other...Mami ji, however, not very happy upon Khushi's early return.. Aranv does not like her sarcastic remark about sending Payal to help Buaji instead, but he keeps quiet.. Khushi points out that Buaji is better now so, no need to send Payal there. Nani ji seconds Khushi's thought and tells that she met with Buaji at the doctors yesterday.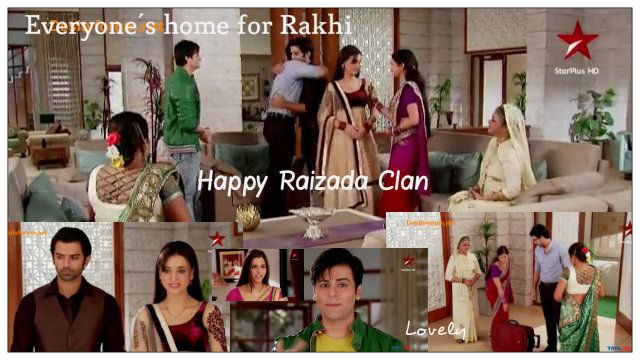 NK enthusiastically talks about planning something supercool on this 'Kaksha Bandhan.." Mami corrects him, "Raksha Bandhan.." Aranv says curtly that he has already thought about it and leaves.. gradually everyone leaves leaving NK behind.. he thinks and concludes.. it is "Rakesh Bandhan..' he thinks the name of this Indian festival is a tongue twister..
Khushi knocks on the door.. Anjali sitting in her room.. makes Rakhi... Khushi offers Raksha Dhaga.. says that Buaji had brought it for Anjali... offers to tie it.. Anjali accepts it but says that she would tie it herself.. then Khushi admires the rakhis Anjali made.. says that she wishes that she had a brother.. She says that hopefully Anjali's brothers have made some special plans for her given that she has made such beautiful rakhis. Anjali asks in turn she wishes that her brother.. her Chhotey.. spends a little time with her..then she asks Khushi if she is asking for too much..
Yes, the wounds from Khushi's lie and thus a perceived lie from Aranv regarding Buaji's sickness has made Anjali hesitant again as she tries to mend the relationship with Khushi. Khushi however, is oblivious to the fact, does not acknowledge her lie..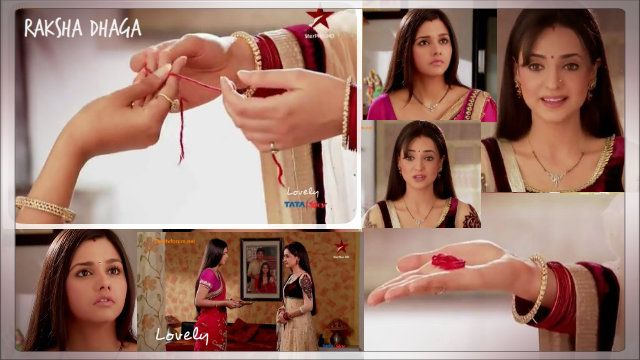 Deep in her thoughts, Khushi enters her room... when she notices HP struggling with a stack of clothes..just then Nani ji calls for HP.. Khushi says that she would take care of the clothes and asks HP to go. When she hold the clothes in her hand. she spots a kurta.. that reminds her of a conversation Anjali and Arnav had last year.. Arnav had told Anjali that once again she had brought him a kurta that he never would wear... that brings an idea to Khushi..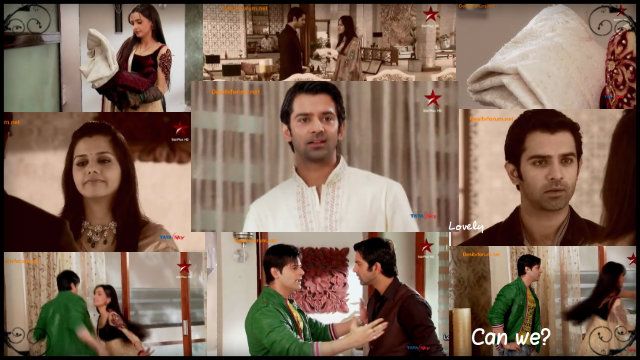 NK, Aakash and Aranv wrap all the gifts they got for Khushi. NK complements ASR on his gifts once he tells them that he got some jewelry sets for Anjali since she really likes it. . . Khushi enters the room... tells them that it's time for rakhi, so they should get ready. Aakash and ASR leave. NK is about to leave when Khushi suddenly turns around and obstructs his path.. says that she has got a good idea to please Di. But then she says that the 'Laad Governor' would not listen to the "Abla Naari.. helpless woman'.. NK teases her.. "Helpless woman.. so true!" Then he points out that she knows Nannav really well, that makes Khushi giggle..They high five.. close the door and discuss...Nk goes to Aranv after the discussion and says that he has a fantastic idea to please Di..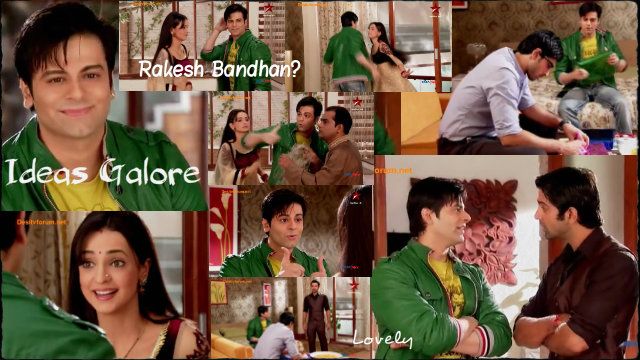 In the meantime.. everyone.. Aakash. Payal..Khushi. Nani ji.. Mami ji. and HP rush to decorate downstairs. Nani ji brings Anjali downstairs.. Anjali wonders why the lights are off and how come she sees none of her brothers there.. only to be surprised by the beautiful decorations on the temple.. Mami ji proudly says that it is only surprise part one.. then she presents surprise part two .. Aakash and NK dressed up in decorative Kurtas. Mami then declares that the Blockbuster surprise is yet to come!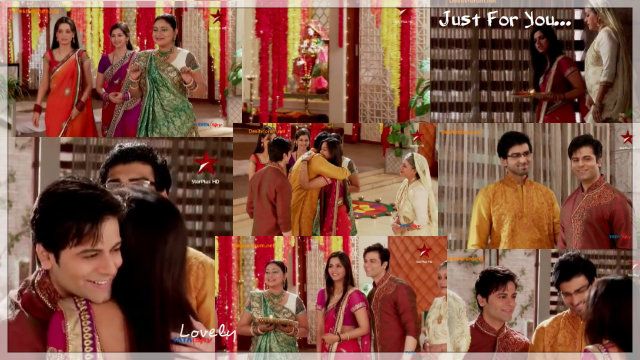 NK points out to Anjali.. descending down the stairs is Aranv.. in a Kurta...Anjali's eyes go wide.. a sight she longed for but never hoped for it to become true.. A broad smile and twinkling eyes adorn Anjali's happy face... Aranv stops in the middle of the stairs ... looks at Anjali for couple of moments... his eyes soft.. he is Anjali's little bother at this time..watching her so happy brings a smile to his face.. he comes downstairs..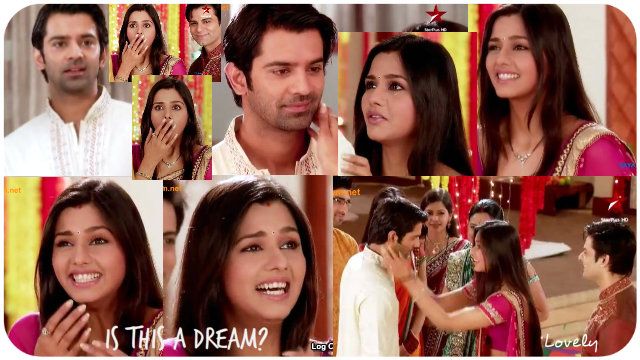 Anjali looks at NK.. as she finds it hard to believe.. NK nods that it is real! Khushi says to Payal that Anjali is really happy. Anjali's eyes well up as she hugs Aranv.. Arnav says jokingly if he looks so horrible that he made her cry.. . Arnav looks at NK first and then his gaze settles on Khushi.. says why is everyone looking at him.. even NK and Aakash have kurta on! Anjali says that her "papad ka tukda..her chip " is the most handsome one.. NK objects affectionately, "Not fair!" Aranv says that she should tie rakhi quickly as he is uncomfortable in these clothes...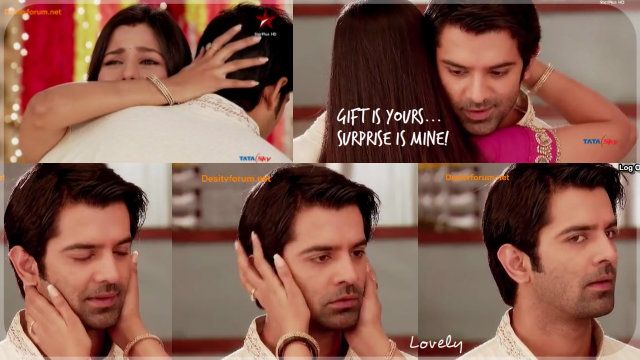 Anjali asks whose idea it was... Khushi jumps in, "NK!" NK scratches his head.. Aranv not convinced..
Then the whole family performs aarti. Everyone very happy that Anjali has all her brothers with her...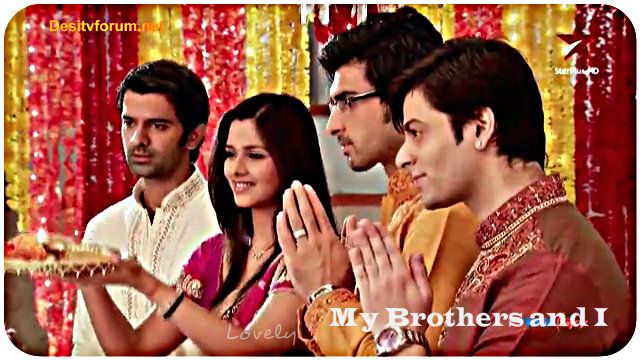 After the aarti, Anjali first ties rakhi to NK.. then it is Aakash's turn..
Then comes the turn of her most beloved brother.. Aranv.. his eyes moisten as Anjali ties rakhi on his wrist... laddoo after that.. is shared by both brother and sister with love...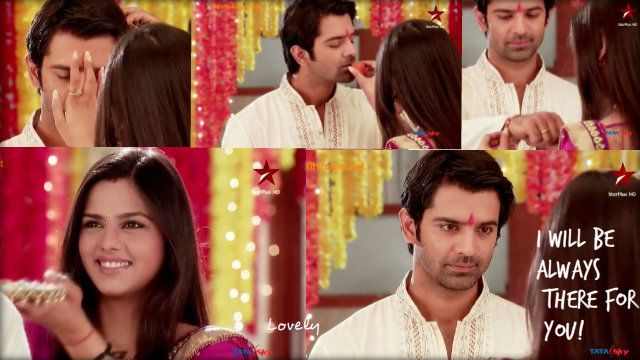 After that NK takes lots of pictures.. many family pictures too.. a special one is clicked with Aranv and Anjali in front of Devi Maiyya.. Anjali says that she will cherish that one forever..



This VM is made on Arnav and Anjali...depicting their brother-sister love and the strong bond they share..




Direct Link:
Lyrics:



Relevant
Lyrics w/Translation:

mere Bhaiya Mere Chanda My brother My Moon
mere Anamol Ratan My invaluable gem
tere Badale Main Zamaane Ki koi Cheez Na Lu I won't accept anything in turn of you

teri Saanson Ki Kasam Khaake, Hava Chalti Hai This breeze blows..when you breathe..
tere Chehare Ki Jhalak Paake, Bahaar Aati Hai Blooms come with your arrival
ek Pal Bhi Meri Nazaron Se Tu Jo Ojhal Ho If you disappear even for a moment
har Taraf Meri Nazar Tujhko Pukaar Aati Hai My eyes search for you everywhere

tere Sehare Ki Mehakti Hui Ladiyon Ke Liye To make the wedding veil for you
anaginat Phool Ummeedo Ke Chune Hain Maine I have collected unlimited flowers of hope
vo Bhi Din Aayen Ki Un Khwaabo Ke Taabeer Milen I hope that day comes when
tere Kaatir Jo Haseen Khwaab Bune Hain Mainne all the dreams I have for you come true
Aranv makes a phone call, asks, where his gift packages are... just then HP enters the room with multiple gift bags..Aranv wonders where Khushi is.. asks HP to send her in... HP steps out .. locates Khuhshi in front of Anjali's room.. she tells him to tell Aranv that she will be there soon .. Khushi wants to return Anjali's pooja thali..plate to her.. she goes to her room but Anjali is nowhere to be found..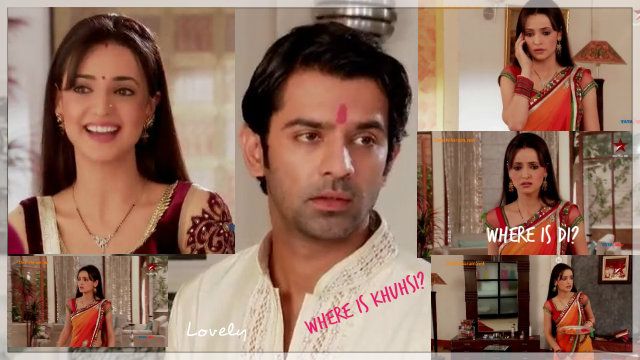 (Author's Note: Very emotional.. colorful episode.. we got to see Sanaya looking ravishing in a saree after a long time.. Barun in Kurta.. handsome.. they both looked gorgeous.. Daljeet can light up a room with her million watt smile.. NK is a breathe of fresh air... Nani ji.. Mami ji.. Payal and Aakash were good in their elements.. HP as well..This rakhi special was much more enjoyable...)

Untold Emotions:




The way Khushi gets Aranv to wear the kurta is just Khushi style.. Khushi knows what might please Anjali at this time.. and indeed. with Arnav's cooperation they all succeed in making Anjali happy on her special day..

Aranv, however, seems to wonder if it is indeed is NK's idea and those gifts he has brought in are for..?


Khushi finds Anjali missing.. where she might be? Not too many untold emotions today... except that Arnav's fear of losing Anjali just like his mother always surfaces at the most vulnerable moments..




-----------------------------------------------------------------------------------------------------------------------------
Please comment and press the 'Like' button - it means a lot!
-------------------------------------------------------------------------------------------------------
[Author of This Post Reserves All The Copyright - do not copy /paste or reproduce the materials or ideas, in part or complete, without written permission from the author]
--------------------------------------------------------------------------------------------------------------------------------

Previous:

#104: I Want You So Bad - O Mere Dil Ke Chain
http://www.india-forums.com/forum_posts.asp?TID=3118190&TPN=25


Next:
#106: The Way To Your Heart - Iss Lamhe Mein

DO NOT COPY THIS POST AS THIS IS EXCLUSIVE TO INDIA FORUMS


Edited by Lovely1 - 06 August 2012 at 8:31am