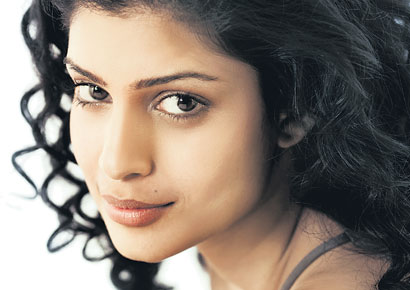 Tena Desae
Pretty as a picture and a sweet girl who can talk 19 to the dozen about Bangalore among many other things is the impression you get after meeting Tena Desae who we last saw in the internationally acclaimed hit, The Best Exotic Marigold Hotel.
And so seeing her gracing the Kingfisher 2012 calendar in a bikini can take you quite by surprise. "I am glad it happened and it was my intention anyway," chimes Tena happily recalling how it all came through:"People generally tend to cast you in roles they think you are like in real life, so when Atul Kasbekar called me for the calendar, I realised that you didn't have to fit a particular image to do something like this.
"I wasn't the least bit shy" she nonchalantly adds about doing the derring do before she happily recalls that, "shooting for the calendar was a vacation and the team was amazing."
Apart from surprising her friends and family alike, one of the better outcomes of modelling for the calendar is the fact that she bagged her current project, Table No. 21, a thriller that has her sharing screen space with Rajeev Khandelwal and Paresh Rawal.
"People saw my photos and realised that they could cast me in different roles. The fact that I do have a glamourous image now owing to the KF calendar is how I got Table No 21 too" she admits.
Delving into details about the film she says, "Table No. 21 is a film about the three of us playing a game" and that is all she is ready to reveal because, "if I say anything more I will be giving away the story." One of the highlights of the film is that it has been shot almost entirely in Fiji. "I didn't know Fiji had a huge Indian population," Tena exclaims before revealing how, "people there were talking in Hindi better than me. It didn't feel like we were away from home at all."
And about her experience working with the imminently talented Rajeev Khandelwal and Paresh Rawal, Tena says with a sense of awe, "They are so good! They make it seem so effortless. So where I'd sit in a corner worrying myself by preparing for a scene, they would play golf and then come and do the shot just like that."
But working with such gifted actors has its benefits, as Tena avers, "They are such good actors, it makes your job easy when you are playing off them."
With Table No. 21 as the only project that she has on hand, one wonders if working for a movie like The Best Exotic Marigold Hotel might have had something to do with it, in terms of making her choosy for quality projects? Pat comes the reply, "Yes, quality is extremely important for me today. After ...Marigold, I was given a lot of scripts from the West and when I read them, I was amazed by the thought that goes into it. Nothing's ever arbid and the scripts are so well-thought out." "I am hoping to do projects that are meaningful and well-thought out here as well," she says ponderously.
Quiz her if Bollywood is more responsive to her now after ...Marigold's success and Tena says, "The industry has always been nice to me. In fact, everyone's been only supportive and happy for me." Refuting all those ugly stories one hears of the industry being competitive and messy, she says, "I don't feel it competitive or messy. In fact, everyone is nice to everyone else. I think it's basic human relations and I believe you get as good as you give." Touch.