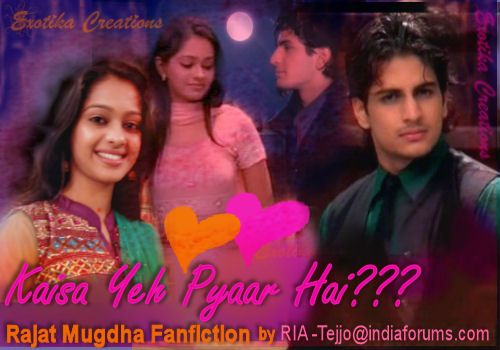 part 3
mahi came into her room n flattened on bed when her mother came with her dinner-''mahi le khana kha le ...itni der kaise ho gyi ''
mahi-''der to honi thi wo hitler jo baitha tha meri aakhon ke saamne huh''while eating quickly-''subah se kuch nhi khaya meine''
seema her mother-''kaun hitler''she bite her toungue -''koi nhi maa ''seema pat her head-''sudhar ja ab toh''she smiled when her mother looked at her puzzled-''mahi tere pass paise kahan se aye tune mahek ko paise kaha se diye or ab juth mat bolna mujhse''
mahi stopped n lowered her eyes-''maa wo mere scholarship ke paise the but its ok na jb di ka selection ho jayega to hum log kitna proud feel karenge or fir paiso ki koi kami nhi rahegi''
seema shocked with her answer-''puri duniya se lad sakti h par apni behan se nhi agar uska selection ho bhi gya na to bhi wo tujhe kuch nhi dene wali samjhi kyunki wo teri tarah nhi h''
she hugged her mother-''chodo na aap bhi na bas mujhe neend aa rhi h kal subah jaldi jaana h gudnt''she laid on bed n closed her eyes
seema cover her with bed sheet n kissed her forehead-''kab samjhegi yeh ladki''n left the room
------------------------------------------------------------------------------------------------------------------------------------next morning
he was on the way when he saw her standing on a bus stand...she struggled for a bus since last 15 minute but her all efforts were in vain...so she looked for a auto...he saw her from another side of the road...he turned his car n took it on another side...
as he approached her the another car came in front of his car...he was confused n surprised to saw abhi there-''bhai...''
he turned his car n left from there
abhi came out from the car-''excuse me''she turned n smiled-''arey sir aap yahan''
abhi also smiled back-''yeah can i help u''she looked at other side-''no its ok''
abhi-''pls waise bhi bhot ho gya''she looked at her watch n shocked-''haye sach me kitna time ho gya''she nodded n sat into car''
there was silence in the car...he glanced at her she felt his gaze n looked at him...he quickly turned his face..she also turned her face on window side
after sometime abhi started the conversation-''so aap roj bus se aati ho''
she nodded ..abhi waited for her answer but she just nodded
he looked at her-''aab bhot acchi lag rhi h red color me''she looked at him then turn ed his face-''ek yeh h or ek wo hitler h kitna farq h dono bhaiyo me''
he looked at her face-''aapne kuch kaha''she stopped n looked at him -''he is ur real brother''
abhi giggled-''yeah thoda strict h bas''
she widened her eyes-''thoda ...nhi bhot strict h wo aisa lagta h ki smile naam suna hi nhi h unhone''
ahi chuckled-''actually aarav bachpan se hi aisa h or usme uska koi kasoor nhi h humara h''
she shocked again-''kya ap to itne acche ho to aap ka kya kasoor ho sakta''he gazed at her n smiled-''thank u but aarav bhi bhot accha h''
she made her face-''huh!''
abhi-''actually aarav 7 yrs ka tha jb dada ji ne usse boarding school bhej diya tha wo chahte the ki aarav bhi unki tarah ek successful bussiness man bane..mom dad aarav ko apne pass hi rakhna chahte the but dadaji ne kisi ki baat nhi mani or use boardng bhej diya jab aarav ne apni studies completes ki to usse abroad bhej diya higher studies ke liye..is sab ke bich uski smile bhi humse dur ho gyi''
she just can't believed on his words... he continued-''aarav ko sirf 2 mahine hue wapas aaye hue usne sab kuch sambhal liya...mujhe to yaad bhi nhi ki usne last time kab smile kiya tha''
he sigh...she looked at his sad face-''sir koi baat nhi ab to wo aapke pass aa gye h ab sab thik ho jayega''
abhi smiled -''hope so''
------------------------------------------------------------------------------------------------------------------------------------
she rush towards the her cabin n looked at her watch-''oh god kal 5 min late thi to 2 hrs kaam karaya tha aaj to me 15 min late hun''
she sat on chair n started her work when he looked at her through window ...he closed the curtains n engaged in his work
abhi reached at office-''hi aarav ''
aarav without looking at him-''u r late bhai''abhi raised his brows-''sorry bro''aarav looked at him -''so thoda kaam kar le''
abhi nodded n checked his files of next project-''waise agar is project ko tum handle karo to accha rahega a don't want to go singapore mujhe yahin accha lagne laga h ab''
aarav staring at him-''really aisa kya h yaha''abhi looked at her cabin-''h kuch tu jao aarav pls''
aarav-''ok fine''
at night
she was nervous n came to his cabin..he was busy on laptop..she placed the files on table-''i have completed my work.''he stared at her...she became more nervous-''sir''
he saw the files n said-''u can leave now''she surprised n staring at him...he glanced at her-''i said leave or u want to stay here''she gasp-''no no im leaving''she hastily left the cabin
she put her bag-''wiase itna bura bhi nhi h yeh hitler chal mahi aaj to ghar jaldi phoch jayegi tu''there was silence on road...so she decided to walk
she walked on the road when 4 bikers rushed towards her...she walked unknowingly on the sides of road when one of them pulled her dupatta..she got a jerk n fell on road ..all 4 bikers laughed at her condition n stopped their bikes
she scared n screamed-''help koi h pls help me''they all laughed again-''oh swthrt yahan koi nhi ayega hum h na will help u ok''
they all were drunk n had bottles in their hands...one of them staring at her n throw her dupatta in bushes
she stammered with fear-''pls leave me pls''they all moved towards her with a wicked gladness-''ok will leave u darling now go''
she compose herself n stood up from the ground...as she moved one of them grasped her hand n pulled her towards him-''pehle hmara kaam to karne do''
she writhed to freed herself but his grip was more tighter...he wricked her arms which caused her pain she cried -''chodo mujhe jane do pls''she cried out loudly but no one was there to listen her
she bite his hand n with pain he pushed her on ground...she stood up quickly n rushed towards the other side when another bot held her hand n slapped her tightly...
he compel her restrain on her...she tried to freed herself from his grip but no use...she cried -''chodo mujhe ''he tore his suit from behind ..she whimpered n knelt down on ground...she was in pain but no one here to listen her cry n pain...she wailing like a baby...they all laughed n clutched her hairs...she screamed again-''someone help me pls''he pulled her more closer n she hit him with his hand...he came adjacent to her face when he shocked with a glimmering light he closed his eyes with dazzling light of car's headlight...they all looked at the car which stopped just few feets away from them
she felt relax when she saw him..she cried n looked at him hopefully...aarav came closer to her she hugged him n whimpered ...he looked at them with a gloomy face...
they all move backward when he throw bottle on their legs one by one...she cowered herself with fear
he gripped his collar n hit his head on bike...they all scared to saw his friend condition n rushed when he clutched them n hit their head to one another
they all fell on ground...he looked at them with with red rage in his eyes.he knelt down h punched them on their faces...they all red with blood ...he stood up n hit them with his foot
she closed her eyes...she just looking at him n sobbing with pain...he continuously beating them when they joined hand-''sorry sorry fir aisa kabhi nhi karenge hun sab''
he stopped-''get lost''they all stood up n hastily left that place..he came closer to her-''are u ok''she looked at hi with teary eyes n embraced him-''thank u ''
she cried loudly-''agar aap nhi aate to wo sab''n burst into cry...his hands still on his side..he wanted to console her but how...he fist his palm n she clutched his shirt tightly
he placed his hand on her head n pulled her-''rona band karo ahi rone wale lag mujhe bilkul pasand nhi h''she looked at him n wiped her tears but fresh tears came on her cheek...as she wiped he grasped her arm n wiped her tears with his thumb...she placed her head on his chest while his hand on her back...he felt her warm breath on his chest n on neck...he closed his eyes n placed his hand on her back..n felt the strip of her inner..he quickly removed his hand ...she came to reality n pulled herself from his body...he turned his face n looked at her bag scattered on road..he put her bag n gave it to her but her dupatta was not there
they didn't looked at each other...he removed his coat n gave it to her without looking at her...she wore it n lowered her eyes
he moved towards his car-''baitho me chod deta hun''
she sat silently into the car n squeezing her fist against her bag...he looked at her weary face n said-''so ab kal se tum nhi aaogi''
she shocked -''kyun??''he raised his eyes-''itna sab ho gya tumhare saath fir bhi job karogi mujhe lagta h tumhe ghar par baithna chahiye tumse nhi hoga''
she wiped her rest of the tears-''aap samajhte kyan h apne aap ko yeh job mere liye bhot important h mein jarur ayungi kal''
he looked at her-''thank god normal to hui''he started the car while she made her face-''pata nhi log apne aap ko samjhte kya h''
aarav-''u said something''
mahi-''nhi aap ko kya lagta h aap sab kar sakte h mein bhi sab kar sakti hun''
he looked at her-''really tum sab kuch kar sakti ho''she nodded-''han''
he gave her a stern look-''to thodi der pehle baccho ki tarah kyun ro rhi thi apni help khud nhi kar sakti''
her mouth opened-''han kar leti mein apni help aapko kisi ne bulaya nhi tha wahan jyada hero bnane ki jrurat nhi h''
he frowned-''just shut up''she annoyed him -''kyun shut up aap samjhte kya ho apne aap ko aap mujhe nhi nikal sakte aap mein apna kaam acche se kar rhi hun fir bhi''
he stopped the car n opened the doors-''bahar aao''
she came out from the car-''kya h mein job nhi chodungi chahe kuch bhi ho jaye''
he folded his hand against his chest-''ab mein aisa kaam dunga jo tum nhi kar paogi fir to job chodna hi padega tumhe''
she put her hands on waist-''chahe koi nhi kaam de dijiye me jarur karungi par job nhi chodungi'' n moved towards her the road...as he opened the doors of car she came again-''mein job nhi chodungi mein sab kar sakti hun jo aap kar sakte h''
he frowned-''ye baat kehne ke liye tum wapas aayi ho''she nodded-''han ''
he grasped her hand-''ok fine''he tightly hold her waist n kissed her lips..she shocked with wide opened eyes
he pulled her -''yeh kar sakti ho''she was numb n stunned-''yeh...yeh ''
he raised his brow-''u have 24 hrs mujhe kal yeh karke dikhana ok''n he left leaving her numb n shocked