This post is dedicated to Tanu, on her birthday,
I hope it puts a smile on your face.
A die-hard fan of saas-bahu soaps,Show Snooper (SS) was intrigued by the fact that a show which didn't have a saas or follow the traditional route made people stay up late and watch
SS decided she had to find out what made this show click. so she went and met the Creative Director(CD) to unravel the mystery.
SS: What prompted you to make a show without a saas?
CD: All the saas were busy with other shows, we only got male actors, so we decided to dispense with the evil saas
and bring in the chai-drinking or newspaper-reading sasur.
SS: Generally we see large families in soaps,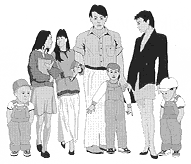 here you have only one kid in each family, isn't it a disadvantage? What happens if you need a leap?
CD: It will not be a disadvantage as the central characters will always remain young, see none of them are in a hurry to complete their studies, they will get married, have babies but will still be studying.
this way I'll retain the youthful flavour in the show.
As for leaps, we are the first to begin a new trend called
sleep
in shows, that is characters' ages will go into hibernation and when it is a birthday sequence, we will reveal how the character turns out a decade younger than what he or she is supposed to be. Brilliant isn't it!
SS:
But what about introducing new family members?
CD: We are doing that too, we introduced Nidhi's sasur?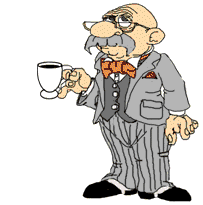 SS: But he was there earlier too, he's Nidhi's nana and sasur?
CD: That's right we are the first show to have one character play different roles in the same show. This way we cut costs and we retain our originality. (Don't share this secret ok!)
SS:
CD: Let me explain...
Dr. Mathur
/ /
Father of Nandini and Ashutosh
Father-in- law of Col. Verma and Nidhi Verma and Grandfather of Nidhi
Col. Verma
//
Son-in-law of Dr. Mathur, Father of Nidhi and Father-in-law of Ashutosh
Dr. Ashutosh
//
Son of Dr.Mathur, Husband of Nidhi and Son-in-law of Col. Verma
Nidhi
//
Daughter of Col.Verma, Wife of Ashutosh, Daughter-in-law and Granddaughter of Dr. Mathur
Have you seen any show where father and daughter
share a father-in-law or a son-in-law's father-in- law is his father's son-in-law?
In fact on
popular demand
another role for DadiBua. That will be revealed soon.
SS: Thoroughly confused, falls at CD's feet,
no wonder this show is a big hit. Waiting for 11pm tomorrow.
It's all about a family that plays multi-roles together, stays together.