this is salil ankola & Mrinal Kulkarni(Sonpari)
NOOR JEHAN
Star cast:
Gauri Pradhan as Noorjahan (Hiten Tejwani's wife) , Milind Soman as Salim, Salil Ankola playing Yusuf Shah Chak , Punit Issar as Sher Afghan Mrinal Kulkarni, Talat Aziz, and many others.
An epic tale of human emotions, love, hate, jealousies and compassion, victories and failures, fights and struggles, conspiracies and exposures…
A historical saga woven around the legendary stories of the only ruling Mughal Empress Noor Jehan, a symbol of love, romance, power, ambition and aesthetics…
Noor Jehan is the story of Mughal India that portrays through the life of Noor Jehan the indisputable Mughal heritage of India.
Relive the life and achievements of this great woman, experience the glory of the golden era of Muslim rule right from the last phase of Akbar the Great to the reign of Shah Jahan.

Prince Saleem and Mehrun-Nisa (Milind Suman, Gauri Pradhan) enjoying a Shikara ride on Dal lake and heading for Nishat Garden. -Excelsior/Amin War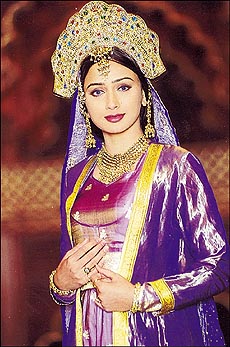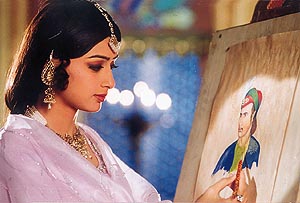 http://www.dailyexcelsior.com/99july03/state.htm
"Noor Jehan is not essentially a love story of Jehangir and his lady love. It covers history from Akbar to Shah Jehan,'' says Imtiyaz Khan. With the famous cricketer-turned-actor Salil Ankola playing Yusuf Shah Chak, the serial has several episodes on Kashmir's Chak period as also how Akbar The Great annexed this sovereign State with his great Indian Empire. So, naturally the poetess-queen Habba Khatoon, being played by Mrinal Kulkarni is back home after her first round of shooting in the Valley.


Edited by iss3 - 23 June 2006 at 7:35am