Hello all here i am back with another update ... i am not too late this time ... hope you guys like it ...
Happy Reading!!!
CHAPTER 14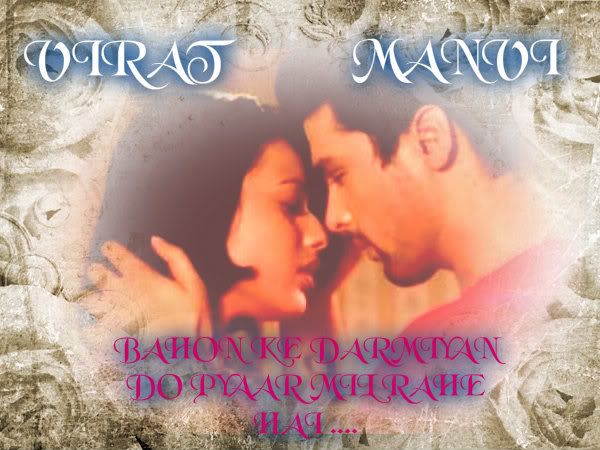 Virat left from there and went towards his room ... as soon as he entered the room ... all the memories of manvi flashed infront of him from the very first time he met her, till the time he confessed his feelings to her ... and then suddenly the thought of manvi leaving without even bothering to say bye to him or see him before leaving shattered virat ... he made a tight fist and hit it hard on the wall ...
"Nahi ... manvi tum aise kaise kar sakti ho ... nahi manvi ... yeh theek nahi kiya tumne... tum mujhe chod ke mujhse door chali gayi ... lekin kyun ... kya itna boora hoon mein ... kya tumhe apne partner ko bye kehna theek nahi samjha ... kyun manvi ... aakhir kyun kiya tumne aisa ...No ... NOOO" he hit his hand yet again ... his hand started beleeding now ... he didn't care ... he didn't even feel the pain ... cuz that pain was less compared to the pain he wass feeling deep inside in this heart ... He sat down on the floor his back to the wall and his eyes fixed at one place ... he didn't even turn the lights on ... he wanted peace he wanted time to think to what to do ... he felt as if life was running away from him ... he felt lifeless yet again ... it seemed as if he is going deep down in the dark again ... Just then maya entered she turned the lights on and came and sat near virat ... virat didn't even notice any ones presence near him .. he didn't even feel the light turn on ...
Maya: virat ... virat .. tum theek to ho na ...
Just then virat came out of his thoughts ... He closed his eyes tight shut and digged his face in between his legs ...
Maya noticed the wound on virats hand ... she quickly got up without uttering a work and got the first aid and aided virats hand ... virat still didn't move from his place ... he was still in the same position as he was before ...
Maya placed her hand on his shoulder ... : virat kaha tha maine tumhe ... ek din tum bhi kissi ke pyaar mein paroge ... Bahut pyaar karte ho na tum usko ...
Hearing this virat started weeping heavily ... "Virat please mat ro ... virat tum yoon toot kaise sakte ho ... virat woh wapas aa jayegi virat ... wapas tumhare paas"
Virat: nahi .. woh ab wapas nahi aayegi maya ... woh mujhe humesha ke liye chod ke chali gayi ... usne mujhe mera jawaab de diya ... woh mujhse pyaar nahi karti ...
Maya: virat yaad hai tumne mujhe kaha tha ... zaroori nahi ki jisko hum chahte hai woh bhi humein chahe ... agar humara pyaar waqay mei sucha hai to humein usse jaane dena chahiye ... agar woh pyaar sucha hoga woh wapas moor ke tumhare paas hi aayega ... yaad hai virat ... Virat agar tumhara pyaar waqay mein manvi ke liye sucha ho usko tumhare pyaar ka izhaar zaroor hoga aur woh khud wapas tumhare paas aayegi ... shayad mein jaanti hoon ki woh yaha se kyun gayi ...
Virat looked up at her ... "kyun gayi"
Maya: woh jab game ko chod ke tum log waha se bahar gaye to maine manvi ko swamini bua se baat karte suna ... kuch theek se sunayi to nahi de raha tha ... par woh manvi ko daant zaroor rahi thi ... yeh keh rahi thi ... ki ache ghar ki ladkiyan aise nahi karti ... aur tumhara character saaf pata chalta hai ... aisa kuch suna maine ... aur haan unhone yeh bhi kaha ki manvi kab tak apne di ke sasural mein yoon bethi rahegi ... mujhe lagta hai shayad isiliye woh yaha cchali gayi aise ...
Virat: kya tum such keh rahi ho ...
Maya: virat maine kaha naa meine kuch zyada to nahi suna ... bus kuch samajh mein aaya to tumhe bataya ...
Virat: bua kabhi sudregi nahi ... he got up and was about to run out of the door when maya stopped him ...
Maya: virat kaha jaa rahe ho ...
Virat: bua ko unki jagah dhikaane ...
Maya: nahi virat tum aisa mat karna ... tum unka swabhaav to jaante hi ho ... tumhaara unse yoon baat karne se baat bigar bhi sakta hai ... tum unse kuch nahi kahoge ... please virat ...
Virat: maya lekin manvi mujhse mile bina kyun gayi ...
Maya: tum ek kaam karo usse call karo ... usse baat karo aur usse puucho theek hai ... lekin virat himmat mat haro please yaad hai ... jab mein aur shiv ... tumne uss samay kaise mera saath diya aur tumne hi mujhe kitna hosla diya ... to phir ab tum khud kyun hosla haar rahe ho virat ... ok ab mein chalti hoon apna khayal rakhna ... aur haan do call her ...
Virat: maya ...
Maya: hmmm
Virat: thanks ... please kissi ko is baare mein nahi bataana ...
Maya smiled and okay ... and she left from there ...
On the other side manvi had reached rishikesh ... abhay was so worried for her because she was literally crying the whole time from chandighar to rishikesh non stop ... abhay tried so many times to lighten her mood but it was all in vain ... he gave up and let her empty her heart ... manvi had insisted to go to her house instead his ... he couldn't say anything in reply as he knew its futile since she is so stubborn ... Manvi came to her house as soon as she stepped him ... she fell on the ground and started weeping more than ever ... she dragged herself to the mandir thats placed in the corner of her house ...
"Kyun bhagwan ji kyun ... kyun meri kismet itni kharaab likhi hai aapne ... meine kabhi koi shikayat nahi ki aapse ... jab aapne mere mama papa ko mujhse chin liya maine kuch nahi kaha ... meri di mujhse door apne sasooral gayi meine tab bhi ... appse unki khushiyon ki dua maangi ... lekin ab ... mein kya karu ... yeh jaantein huwe bhi ki virat mujhse kitna pyaar karta hai mein kuch nahi kar paaa rahi ... lekin kyun bhagwan ji ... mere naseeb mein kissi ka saath kyun nahi zindagi bhar ke liye ... kyun jisse mei sabse zyada pyaar karti hoon ... usse mujhse kitna door bejhte ho ... kyun bhagwan ji akhir kya bigaare hai meine aapka ... mujhe kyun aise mushkil mein daal diya ab mein kya karu ..."
At Vadhera house virat came to her bhabhi's room to question her on why did she give permission to manvi to go alone ... knowing the fact that no one is there in rishikesh for her .. with her ... as he neared her room he overhears Jeevikas conversation with Beeji and Jeevika seems really worried after the conversation ...
Virat: Bhabhi sab theek to hai naa
Jeevika: looked even more worried now she dropped on her bed ... and shook her head in a slight no ...
Virat: kya baat hai bhabhi ... sab theek to hai naa ... he paused and then he said hesitantly ... Manvi se baat huwee ..
Jeevika: Nahi virat kaha ... woh phone uthaye tab naa ... aur upar se beeji kaa phone aaya tha ... aur unhone kaha
Virat: kya bhabhi
Jeevika: woh log waha se agle 2 aur hafte tak nahi nikal sakte ... kuch hua hai aur un logo ko wahi rukna parega ... na hi ab unko koi sahi train milegi na hi kuch ... beeji bahut gussa huwi yeh sunke ... kuch samajh nahi aa raha kya karu mein virat ...
Virat: Bhabhi aap fikar mat karo ... please Lekin bhabhi aapne usse jaane ki ijazat di kaisi ...
Jeevika: main koi ijazat nahi di virat ... woh khud apni marzi se gayi yaha se ... woh to ...
Virat: sat infront of her in the floor near her knees ... acha bhabhi aap meri baat dhayaan se suno ... aap na bilkul fikar mat karna main hoon naa ... when Virat is here not to fear ... Main manvi ko wapas launga ... i promise ... Please aap tension mat lena ... aapke liye aur is ghar ke aane wale mehmaan ke liye bhi bilkul acha nahi hai ... so please bhabhi mein hoon naaa ...
Jeevika: looked at virat with teary eyes and and cupped his face with one hand ... and said Thankyou Virat ... Thankyou so much ...
Seeing Jeevika crying virat eyes teared up as well and he placed his head on Jeevikas lap ... Jeevika was disturbed seeing him like that she knew virat loves manvi allot and she knew what he must have been going through ...
Jeevika: Virat pata hai jo bhi tumhari dulhan banegi woh bahut khush naseeb hogi ... kyunki usse itna pyaar karne wala mera devar jo mile ga ...
Virat lifted his head with one hand wiped his tears hiding it from his bhabhi ... "Bhabhi mujhe to aapki parchayi chahiye" and they both giggled ... "acha bhabhi usse pehle aap apne liye apni devrani dhoonde main apke liye appki behenko lata hoon and in lower voice humari manzil bhi to ek hai bhabhi"
Jeevika: kuch kaha tumne virat ...
Virat got up "nahi nahi bhabhi main jaata hoon aur kuch karta hoon bye bhabhi" and made an exit from the room and Jeevika smiled at virat ... and was back to her worry self ...
Virat got in his room and he did not know what to do so he decided to give a call to manvi he kept callingbut she kept ignoring it ... Manvi was scared to be alone so she locked herself up in her room and didn't move from her place ... just then her phone kept ringing she so wanted to answer it but she knew what she would get back from the other side ...
Virat tried many times to get in touch with her but she kept ignoring her calls ... "maine bhabhi se wada to kar liya ki main manvi ko wapas leke aaunga lekin kaise ..." he thought to text her ...
V ' manvi tum mujhe chor ke kaise aa sakti ho ... mujhe ek baar bhi bye kehna theek nahi samjha ... kya mere pyaar ne tumhe itna paraya kar diya ki tum apne dost ko partner ko hi bhula diya atleast bye to keh sakti thi naaa
She still didn't reply he waited long and decided to message back ...
V ' kyun ignore kar rahi ho mujhe
V ' partner please reply karo naaa ...
He still didn't get any reply so decided to call instead ...where as on the other hand ... manvi was so upset she couldnot stop herself from crying after reading each every word virat said but she didnot have the courage to reply ... she wud wait for his message where as she knew its her turn to reply ... but she gave up at last when she didn't receive another text from him .. but to her surprise she received a call instead ... ignored again ...
V ' kyun itna bhaav kha rahi manvi ... please answer me dammit ...
V ' manvi mujhe bahut chinta ho rahi hai ... main jaanta hoon tum yeh par rahi ho ...
V ' dar lag raha hai naa ...
He paused for a while ... and brought his fone held it near his forehead ... The whole night manvi kept reading the texts again and again ... and she didn't know when sleep engulfed her ... Virat was still in the same position till morning he didn't even know when he fell asleep in a sitting position ...
In the morning Jeevika came in the room to look for him and was surprised to the scene infront of him ... she was surprised seeing virat on the floor she quickly ran to him and tried waking him up. He made an excuse and headed towards washroom to freshen up ...
After the breakfast Virat wanted to have a talk with Dadaji so he went along with him to his study ... over there he explained everything about Jeevikas worries and about Beeji's situation as well ... so therefore he got the permission from him to bring Manvi back to chandighar and Dadaji was delighted seeing virat responsible and caring towards his family and he gave him his blessing and told him to go and bring manvi back ... But virat also mentioned it to his dadaji to not let anyone know about it yet ... as he wanted to bring manvi as a surprise to Jeevika ... Dadaji agreedwith him and decided to keep it as a secret ... the main reason behind virat hiding the truth was Swamini Bua, after having a talk with maya he kind of felt that the reason behind manvi leaving could be swamini bua as well ... He took everyones blessing only Viren and Dadaji knew where he is heading towards but the rest thought that he is probably going for work related issue ... He was all set to reach rishikesh and surprise Manvi ...
Manvi had spoken to Jeevika and she tried her level best to not to show her emotions to Jeevika and made her belief that she is perfectly fine ... but she had lied to her sister ... she hated being alone ... and here she was alone since last night ... she didn't have the courage to go out ... she did go and visit Ganga Ghat and there she did had a hearthy talk with her mama papa and felt a bit reliefed as well but as she soon as she got home ... all the sadness and loneliness soon engulfed her ...
It was evening now the journey from chandighar to rishikesh was from morning till evening and for virat it was a journey of lifetime ... every single second was like a day for him as he could not wait to see his angels face ... Manvi had kept herself locked in her room yet again as soon as it got dark inside ... She was reading the texts from virat and was thinking on how he didn't call her today yet ... she thought of calling him but soon changed her mind ...
Virat was now outside her house he took a deep breathe he wanted to ring the bell but soon he thought of surprising her or lets say scaring her ... he wanted to punish her for leaving him in chandighar and coming to rishikesh without even seeing him ... he came inside the house through the windows as he knew the trick that dabbu had taught him about sneaking inside the house ... Manvi heard some noise and freaked out ... she started reading some prayers she knew ... and then the noise started to get louder now and manvi was getting more scared she picked a stick and gathered all the courage she had and went out side her room and soon she saw a shadow of someone ... and she screamed ... "KAUN HAI WAHA"
Virat tried to hide himself ... Manvi was hell scared now ... that she was literally sweating now ... in trembling voice she again called out ... " kaun hai" and then she tried to reach near the shadow that disappeared quickly and suddenly she felt a tap in her shoulder and she turned quickly and screamed ... she was screaming so loud that virat feared what if something happens to her so he finally turned the lights on and called out her name softly " Manvi" ... She slightly opened her eyes and found virat infront of her ... she didn't know what to do she just quickly ran and wrapped her arms around him and hugged him as tight as she could ... and started sobbing uncontrollably ... their hug was getting tighter every passing second ... Virat had only wished to see her but he never expected this he never expected to embrace his life ... or his life runs to him and hugs him tight ... his happiness was beyond his imaginations ... he was in cloud nine ... virat started to rub manvi back and was trying his level best to calm her down ... manvi slightly moved from him releasing him from the hug and just then seeing the teary face he cupped her face and with his thumb he wiped all the stains of tears of her face ... The realty hit her and got lost in virats eyes ... she wasn't scared anymore ... she raised her hand and touched his face to see if he was here for real ... or if it was just her imagination ... she blinked her eyes dreamily ... "virat" said manvi softly in a whisper ... "hmmm" said virat who was busy looking at her face ...
Manvi: tum such mein ho ... ... they were standing so close but still she couldn't believe her luck that he could be here ...
------------------------------------------------------------------------------------------------------------------------
Thats it for now xoxox
-------------------------------------------------------------------------------------------------------------------------
I know this update is shorter than usual ... but i really wanted to be quick in updates now so here it is ... i hope you guys will like this chapter as well and will give me all ur love ... and comments ... thank you all ... Will be waiting for the comments ...
Please dont forget to hit the like Button ...
Thanks
Sanam


Edited by meant4uonlie - 18 October 2012 at 11:49pm