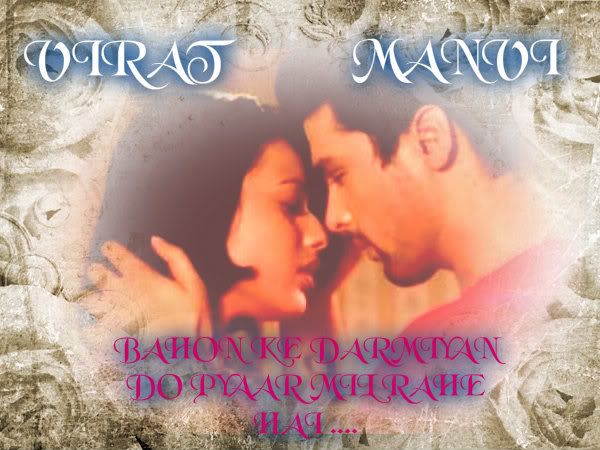 Virat: Manvi .. tum is saaree main kaafi sundar lag rahi ho ...
Manvi blushed and just turned her face away from him ...
Virat: mera compliment pasand nahi aaya ... such mein aaj tum aasman se uteri huwee pari lag rahi ho ... You're Beautiful ...
She just pushed him and made her way out of the room ... and she ran as much as she could ... and she reached the terrace ... She was smiling vividly ...
"manvi tera dimaag kharab ho gaya hai ... thode der pehle uspe itna gussa thi tum ke uski shakal dekhna tak nahi chahti thi ... aur usne tumhe aasman se uteri huwee pari kya keh diya ... tum itna kush ho rahi ho ... lekin mein itna kush kyun ho rahi hoon ... maine usse itni aasaani se kyun maaf kar diya ... kyun uski har ek baat mere dil ko choothi hai ... uske mere kareeb aate hi mere dil ki dhadkan kyun barti hai ... mein pagal ho rahi hoon shayad ... jab usne mujhe kaha ki woh ladki main hoon to me in relieved feel kyun kar rahi thi ... kuch samajh nahi aa raha ... Mama papa .. please batao naa yeh kya ho raha hai ... virat meri zindagi mein itna important kab se ho gaya ... ki uski har ek baat ka asaar mujh par hota hai ... uska mujhe choone ka ehsaas kyun itna alag hai ... usne mujhe kitna kuch kaha phir kyun nahi gussa ho paa rahi main us se ... kya mujhe ... pyaar ... kya yahi pyaar ... nahi mujhe pyaar kaise ho sakta hai ... nahi ... aisa nahi ho sakta ... "ummeed karti hoon meri baatein tumhe yaad rahegi" swamini buas words echoed in her ears ' ' main aisa kaise soch sakti hoon ' nahi yeh nahi ho sakta ' aisa kuch bhi nahi hai ' mera dimaag lagta hai waqay main kharab ho gaya ' main aisa soch bhi kaise sakti hoon ' nahi virat ko lagta hai main waisi larkiyon main se hoon ' nahi ' hahi '." Thought manvi '. She fell in her knees and hugged herself ' she sat there for a while ' Tears rolling down her eyes '.
Jeevika: Mannu tu yaha kya kar rahi hai ' viren, and virat followed her to terrace when dey started to look for her ' Jeevika realized something is up that's why she is in terrace talking to her parents ' she knew her sister very well ' "Mannu' mannu kya hua "
Manvi just turned around ' everyone could easily noticed the tears that were non stop rolling down her cheeks ' she just ran and flew her hands around jeevika and sarted weeping badly ' she didn't know why she is crying but she was weeping badly in Jeevikas shoulder ' everyone was so worried ' virat became restless seeing manvi like that ' he was not able to take it anymore '
Jeevika: mannu kya baat hai itna kyun roh rah hai ' mannu meri baat sun ' jeevika looked at viren with helpless expression ' virat wanted to say something but forced himself to stop since his bhai, bhabhi, were there and he didn't want them to think something else '
Viren: Manvi kya baat hai ' kissi ne kuch kaha tumhe ' now manvi was not able to stop her sobs ' she was crying hard and was trying to catch her breathe while crying ' virat couldn't take it anymore ' he came stood next to Jeevika and placed his hand on manvis head ' "Manvi dekho rone se kuch nahi hoga ' please dekho naa bhabhi kitni pareshaan ho rahi hai ' Manvi please '" he was just stroking her head softly ' and slowly going down her back ' he didn't know whats going on ' he was all confused ' he thought that manvi was ok ew minutes ok what happened all of a suddent he thought ' Jeevika and Viren feeling guilty as they are thinking that ' virats closeness with maya is hurting manvi so much that she cant stop herself but cry '
Virat's eyes showed so much pain and anger ... may be anger towards himself and that did not go un-noticed by viren '
Virat: Manvi will you stop crying please ' Manvi idhar dekho '
Manvis grip on Jeevika got tighter ' and jeevika realized the reason behind manvi's pain could be virat ... but in seconds she could feel manvis body relaxed ' and none knew it was the magic of virats touch in her body ' even though he wasn't holding her in his arms but still he gave her the comfort she need in her di's arms also by virats way of asking her to stop crying and his touch in her head then her back '
Jeevika: Maanu ' mera dil betha jaa raha hai ' idhar dekho apni di ki taraf .. aur batao kya baat hai '
Manvi looked up ' Jeevika cupped her face ' Mannu kyun ro rahi hai bata naa '
Manvi: I am sorry di ' kuch nahi woh bus jee bhar aaya tha ' aaj ma papa ki bahut yaad aa rahi thi ' (looking at everyones worried expression .. she cursed herself for putting everyone in that state .. nd now lying to her di ' she herself did not know the reason for her being like this then what would she tell her di about her state' looking everyone worried '
Jeevika: Mannu yaad hai na mama papa toh humare hi paas hai to phir '
Manvi: Di I promise I am finenow ' please di don't worry ' woh aap to jaante hi ho ki ' aapki mannu kitni pagal hai ' who yaha mama papa se baat karte karte pata nahi kab ' I am sorry di ' aur jab maine aap ko dekha to khushi ke maare meri aansu band hi nahi ho rahe the ' main kya karti ' di aap naa meri zindagi ho ' and mama papa ka doosra roop ' I love you di ' I love you so much '
Jeevika: I love you too mannu ' aayenda se kabhi yuu kissi ko bina bataye yaha terrace mein nahi aayegi tu samjhi ' Manvi bent her head and said Sorry '
Jeevika: ab sorry kiss baat ke liye baba '
Manvi: sorry is liye kyunki meri chutki aapni maasi ko kos rahi hogi ' kyunki maine unki mama ko pareshan jo kar diya ' and she sat on her knees and kissed Jeevikas tummy ' viren just adorned their bond ' and ran his hand thru manvis hair ' she got up and smiled at him Viren: ab chalo kaafi raat ho gayi hai ' jaake ab humein so jaana chahiye ' ok Jeevika chale
Jeevika: Mannu chal ab jaa ke so ja ' just suddently jeevika felt dizzy '. Ahh '
Mannu: di kya hua ' :
Viren: Jeevika '. Came and held her by shoulders '
Virat: Bhabhi ' bhai aap bhabhi ko kamre leke chale '
Jeevika: nahi mein theek hoon ' bas takhawat ke wajah se '
Mannu: di bas ab aap kuch nahi kahenge aap jaake so jayiye ' apna to aap khayal rakhne se rahi ' lekin meri chutki ka khayal aapko rakhna hoga chaliye ab hum chalte hai '
Viren in one swift lifted jeevika in his arms and walked towards her room ' manvi gave a slight smile towards them and turned around and her smile faded ' she forgot for a moment virat was present there ' and thought to herself ' no more of pretence ' she closed her eyes to feel the cool breeze '
"Manvi main jaanta hoon zaroor koi aur baat hai tum shayad apni di se jhoot bol sakti ho lekin mujhse tumhari aankhen kabhi jhoot nahi bol sakti ' chahe tum kitni koshish kar lo apne dard ko chupaane ki lekin tum mujhse apna dard kabhi nahi chupa sakti ' aur mein ye jaan kar rahunga aakhir tumhare man mein chal kya raha hai '" thought virat '
Virat: Manvi '
Manvi quickly opened her eyes and found virat infront of her eyes ' she quickly looked away '
Virat: manvi tumne bhabhi se jhoot kyun bola ' (manvi's eyes widened ')
Manvi: jho ' jhooot kaisa jhoot ' maine di se kab jhoot bola '
Virat: manvi dekho main jaanta hoon tum apni ma papa ke wajah se yoon nahi ro rahi thi ' batao mujhe kya baat hai '
Manvi: chep ho kya tum maine kissi se koi jhoot nahi bola ' (she turned to go away )
Virat: Partner ' tum aise nahi jaa sakti ' mujhe maloom hai koi baat tumhe pareshaan kar rahi ' aur shayad main yeh bhi jaanta hoon ki kya baat ho sakti hai ' tum meri wajah se ro rahi thi main yeh bhi jaanta hoon ' lekin manvi tum meri baat ko itna apne dil se kyun laga liya tum jaante ho naa ki mere paas akal ki kami hai ' aur mujhe gussa bahut jaldi aata hai ' tum hi to mujhe har baat samjha thi ho ' tum ne hi mujhe sahi kiya aur aaj tum meri baat ko apne dil mein leke beth gayi ' manvi maine aakhir aisa bhi kya keh diya '. Aur tum ' (manvi want not able to listen to anything anymore cuz she knew if she stood here for another few minutes she feared she might cry ' virat noticed her ignoring him ' he lost his temper ') MANVI meri baat abhi khatam nahi howi hai ' MANVI ' she stopped when she felt someone pull her '
Manvi: aah virat chodo mujhe '
Virat: manvi akhir mujhse aisa bhi kya gunaah ho gaya hai ' ki tum mujhe yoon ignore kar rahi ho ' kitni baar meine tumse maafi maangi ' manvi kis baat ki sazaa de rahi ho tum mujhe '
Manvi: main tumhe kissi baat ki koi sazaa nahi de rahi hoon ' mujhe tum akela chod do bas ' mujhe kissi se koi baat nahi karni ' mujhe kissi ki koi zaroorat nahi ' chod do mujhe jao yaha se ' she forwarded towards him and and poked him in his chest ' akhir main hoti kaun hoon tumhari baat ko bura maan ne ki ' mujhe kya hai is baat se ' (every step she take towards him he steps back util he hits the wall) ki mera partner mujhpe baar baar is baat ka taana de ki mein apne bachpan ke dost ke saath .. chi ' virat tum aisa soch bhi kaise sakte ho ' mere liye abhay ek ache dost ke siwa aur kuch bhi nahi hai ' who mere liye humesha ek bhai ki tarah ' jaise jeevika di mera itna care karti hai pyaar karti hai ' waise hi abhay ' humne humesha ek doosre ko ek bhai aur behen ki tarah pyaar kiya hai ' aur woh mujhe humesha mujhe sab ke saamne sirf ek dost manta hai .. taaki sabko humare bhai behen ke rishte ke bare mein pata naa chale aur woh mujhe sabse protect kar sake ' lekin sabne mujhe ghalat samjha ' meri character ke upar ' mein waisi nahi hoon ' lekin jisse meine apna sabse acha dost manna ' jisse maine apna partner maana ' usne bhi mujhe ghalat samjha '
Virat: bas manvi (held her hands by now they are just inches apart now ) ' tum itna overreact kyun kar rahi ho ' meine tumhe sorry kaha naa phir ab kya ho gaya hai ' maine kaha naa tumhe mujhse dekha nahi gaya ' kissi aur ko tumhare itne kareeb ' jab tum dor ke uske bahon mein chali gayi aur jab usne tumhare gaalon mein ' mein nahi dekh sakta kissi aur ko tumhare itne kareeb nahi dekh paya ' tum logo ne mere saamne ek alag character banna rakha abhay ka ' dadaji aur sabko tum dono ki Jodi achi lagi ' aur us din bhabhi bhi tumse keh rahi thi ' main kaise aise hi tumhe kissi aur ka hote dekhta ' tumhe nahi maloom kitna dard hota hai mujhe jab koi aur tumhari taraf aankh utha ke dekhta hai ' he cupped her face now ' tumhe nahi maloom mere upar kya guzri hai jab mein tumhe uske saath dekhta hoon ' aur tum us waqt mujhe kitna ignore kar rahi thi ' tumhe is baat ka ehsaas bhi nahi hoga ' tumhara dost jo tumhare paas aa gaya tha ' lekin mera dost to sirf tum hi ho naa ' kaise tumhe mujhse door hota dekhta ' tears were now dropping on manvis face from virat ' they were just inches apart and both were looking and were lost in each others eyes and neither of them realized how close they were to each other '
Manvi: Virat ' said manvi softly '
Virat: manvi please kabhi mere saath aisa mat karna ' please manvi ' main mar jaaunga ' I am sorry manvi he lowered his gaze ' bahut dard diya hai maine tumhe ' main jaanta hoon ' lekin main apne khud ke control mein nahi tha manvi ' main samajh nahi paa raha tha ki main aisa kyun ' lekin jab samajh aaya tab dar laga kahi us wajah se main apne ache dost ko naa kho doon ' manvi ' main '
Manvi: virat aisi kya wajah hai ' said softly '
Virat: manvi main '
Manvi: haan virat ' now his head bent ' eyes lowered '. He wasn't finding exact words to describe his feelings '
Virat: main isliye tumhe kissi aur ke saath nahi dekh paayaa kyunki '
Manvi: kyunki kya virat '
Virat: Manvi main tumse '
"Virat ' Virat '" as soon as they heard someone approaching them they realized their position and moved away from each other and not looking at each other ' manvi got herself busy on fixing her saree pallu '
Maya: Oh god virat tum yaha ho .. aur main tumhe kaha kaha nahi doondha ' tumhe to meri koi fikar bhi nahi hai '
Manvi looks at maya and then at virat '
Maya: kya hua virat ' and then looks at manvi ' kya baat hai kucch hua hai .. kya '
Virat is still quiet cuz he knows he was about to tell about his feelings to manvi but maya disturbed their privacy ' and ruined the moment ' virat thought ' why is it that the whole world is after him and manvi as if they don't want them to be together ' that's why everytime when he come close to her someone comes and disturb them '
Manvi: aisa kuch nahi hai .. mujhe jaake sona chahiye kaafi raat ho gayi hai .. gudnite .. looked at virat and fixed her gaze at him .. gudnite virat ' and then she left from there before exiting the terrace ' she turned back to take a look at virat ' and noticed him looking this way towards her but she also noticed the distance that was between him and maya which were less then an inch and that pricked her heart ' she just turned and left to go to her room '
Virat: Maya tum abhi tak soyi kyun nahi '
Maya: who kya hai naa mujhe neend nahi aa rahi ' islye .. tumhare kamre mein gayi to tum waha they nahi .. to isliye tumhe dhoond te dhoond te yaha chali aayi '
Virat: acha chalo ab kaafi raat ho gayi hai ' tumhe jaake so jaana chahiye ' lets go '
Maya: grabbed his hand thodi der ruko naa '
Virat: hmm bolo '
Maya: kya tum mujhse naraaz ho '
Virat: nahi toh tumhe aisa kyun lagta hai '
Maya: tum jaante ho virat '
Virat: maya woh 5 saal purani baat hai ' kyat um usse aaj tak soch ke apne aap ko pareshan kar rahi ho '
Maya: haan'
Virat: to suno ' main na tumse tab naraaz tha naa hi ab hoon .. samjhi tum '
Maya: to tumne mujhse poocha kyun nahi uske bare mein '
Virat: woh isliye kyunki mujhe maaloom hai tum ab uske saath nahi ho '
Maya: tumhe yeh kisne bataaya '
Virat: bua ne '
Maya: bua ne tumse kaha '
Virat: haan kyun '
Maya: nahi bas yu hi '
Virat: acha chalo ab jaake sote hai kaafi raat ho gayi hai naa '
Maya: haan virat tum chalo main aati hoon '
Virat: maya lets go .. main tumhe yahan akele chod ke nahi jaane wala '
Maya: waise virat ek sawaal poochoon ' virat nodded ' tum aur manvi itni raat ko yaha kya kar rahe they '
Virat: kuch nahi kuch ghalat fehmiyan door karni thi ' to bas '
Maya: meri taraf dekho ' virat gave a confused look ' maine tumhe disturb toh nahi kiya naa '
Virat: what nonsense maya ' chalo mujhe bahut neend aa rahi hai '
Maya: tum topic divert kar rahe ho ' virat ' mein jo abhi dekha '
Virat: MAYA sushhh .. lets go .. he just dragged her from there and dropped her to her room and wished her goodnite ' and left to go to his room ' but his steps took him towards his bandariyas room instead of his ' and he stopped at her door and looked here and there to see if anyone is looking and he slowly opened the door and sneaked in ' and closed it behind him ' he turned to look for her in the dark and walked towards her bed to see if she is sleeping but to his surprise ' something hit him hard on his head and then he felt another pillow hit his back ' he could see the sparkling shine from her saaree and marched towards it and held her hand and pinned her to the nearest wall '
Virat: jungle billi ki tarah kyun mujhpe waar kari jaa rahi thi tum ' kyun maarne ka iraada hai kya ..
Manvi: mera haath chodo pehle '
Virat: chodne ke liye thodi naa pakda hai meine ' he smirked and the color change in her cheeks didn't go unnoticed by virat ' waise bhi marna thodi naa hai mujhe ' kahi phirse jungle bili ki tarah tum mujhpe waar karna shuru kardo to '
Manvi: main tumhe jungle bili lagti hoon .. chodo mera haath to main tumhe batati hoon .. ki akhir junglee bili hoti kaisi hai '
Virat: acha to batao mujhe ' he moves closer to her '. And manvi closes her eyes ' manvi ab kyun gussa ho gayi thi tum ' hmm '
Manvi: maya kaun hai ' she asked sternly '
Virat: oh woh meri dost '
Manvi: toh phir who terrace mein tumhare itne kareeb kyun thi '
Virat: smirked hearing her complain about maya and his closeness ' manvi waise woh mere sirf kareeb kadi thi ' mere bahon mein nahi thi woh ' ab pata chala kaise lagta hai '
Manvi realized her mistake and lowered her gaze ' suddenly she felt virat coming closer to her ' just near her ear ' she just whispered his name "viraaattt" '
Virat: whisperes --- manvi kya tum jaan naa nahi chahti mein kya kehna chahta tha upaar ' he let her hands free ' and was about to grab her waist when manvi pushed him hard on his chest and freed herself ' and ran from there but virat was too quick and grabbed her saarees pallu ' she felt a pull in her saree and she stopped in her tracks ' virat glanced at her through the corner of his eyes .. and pulled her towards him through her pallu ' she came and stood near her .. and virat slipped his hands in her waist and pinned her back to the wall ' she shuddered with the touch her body just got ' she closed her eyes ' virat forwarded himself and was taking a clear look of her face ' and whispered '
"I LOVE YOU" ' manvi's eyes wide opened and she looked at him ' he came closer to her she could feel his breath on her face there lips almost touching ' "I love you manvi" ' suddenlt manvi pushes him ' and he gives a confused look to her '
Virat: Manvi '
Manvi: Virat tum aisa soch bhi kaise sakte ho ' Hato mere saamne se '
Virat: kyun kya ghalat kaha meine tumse '. Tum jaan naa chahti naa ki akhir who kya baat thi ' yahi baat thi manvi ' main tumse bahot pyaar karta hoon ' aur nahi jee sakta tumhare bagair ' I really love you manvi ' kya tumbhi mujhse '
Manvi: virat chodo mujhe '
Virat: he forwarded himself again and rested his head with hers ' "nahi manvi main yeh pal ab khona nahi chahta ' ab agar chod diya phir pata nahi agar mein tumhe pakar paau ' manvi tum meri zindagi ho ' mujhe nahi maaloom kit um meri zindagi kabse ban gayi ' kab tum meri dil ki dhadkan ban gayi ' tumhare bina naa hi main saas le paunga aur na hi jee paunga ' jaise dil bina dhadkan adhoora hai .. waise hi virat bina anvi adhoora hai ' manvi ' I really love you allot '.
Manvi was all speechless she had tears in her eyes ' she didn't know what to say ' one wrong move can have an affect on so many people ' she didn't know what she should do '. Her heart was screaming and was telling her to say I love you too but somehow her mind was stopping her ' she was touched by virats words ' she was so happy that virat loved her back '. But she was confused and scared what will others think ' despite the fact that she should be happy that virat confessed his love to her ' despite the fact she should just enjoy the moment she is with virat close to each other ' her mind was occupied with so much other stuffs ' fr some reason swamini buas words were keep on echoing in her ears ' and that was what was stopping her to say I love you to virat ' that was what was stopping her to open her heart out to virat to tell him about her feelings ' she was very confused at that very moment ' she stood still ' she didn't know how to react or what to say '
Virat looked at her ' "Manvi ' tum bhi kaho na ke tum bhi mujhse pyaar karti ho ' karti ho na partner '" ' he didn't get any reply from her and he was really scared ' "Manvi ab mujhe tumhari chupi sataa rahi hai batao naa ' Kya tum mujhe chahti ho '" Manvi was fighting with her inner self at that moment .. tears flowing from her eyes ' but she was still '
"Manvi kya mere hone naa hone se tumhe koi farak nahi parta ' kya main tumhara kuch bhi nahi ' kya main koi nahi hoon tumhara ' he went closer to her and nuzzled her face ' kya mere tumhare itne kareeb hone se bhi tumhe koi asar nahi hota ' kyat um mere liye kuch mehsoos nahi karti ' kya mere choone se tumhe koi farak nahi parta ' jawaab do mujhe ' Manvi mujhe mera jawaab do '"
"Nahi'" was the only word that manvi could say at that moment ' and virat felt as if his world just finished '
--------------------------------------------------------------------------------------
That's it for now ' xoxox
--------------------------------------------------------------------------------------
Hope I haven't disappointed you all ' I knoe its not upto the mark but still please do shower me with your lovely comments and don't forget to press the like button if you girls do like ' sorry for any grammatical mistakes too tired to proofread it ' I hope I haven't dragged things ' I just wanted to have them hearthy talk ' so if there is anything you guys don't like please do comment and tell me and I promise I will make it upto the mark next time when I update '
Thankyou so much '
PS. I haven't PMed anyone yet will do it tomorrow its too late now gonna go and sleep and you guys with different timing will get it later in the evening lol '
Love you guys
Sanam