Hello my beautiful people of this forums ... well i got home early from work today and was just thinking about our virman as i was in my virman land and i was just too bored so i thought to try and write something about them
... After reading such beautiful writings from our very amazing writers i got inspired to write something as well ... I know it wont be that good but I just thought of writing it ... Its my very first time of writing any story ... so here it is ... Let me know if you guys like it or want me to continue ...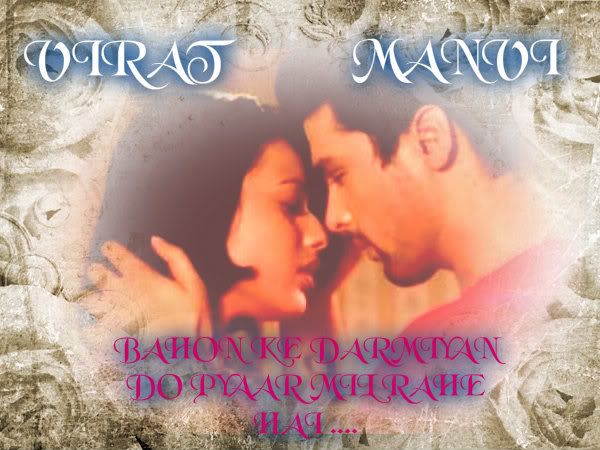 It was a beautiful night with some diamonds twinkling in the dark sky and surrounded by clouds in chandighar. Manvi was standing near her window staring at the starry night as if looking for someone in them, someone so close to her. "Mama papa kash aap log yaha humare sath hote, mama di ko aaj appki sakht zaroorat hai jaante hai, aap nani aur papa nana banne wale hai, hai na khushi ki baat lekin aap log yaha humare paas nahi ho na" manvi kept looking at the starry night tears rolling down her cheek. Suddenly she felt someones presence, " ab tumhare dimag bhi kharab ho gaya hai kya bandhariya, apne aap se baat karna shuru kardiya hai kya" virat said smirking. " tum ... tum itni raat ko yaha kya kar rahe ho jao yaha se" replied manvi without turning around with a serious tone and calm voice. " Kya hua tum thik to ho na, bina gussa kiye mujhe jaane ko keh rahi ho" virat question getting curious... "tum na chep ke chep hi rahoge naa, ek baar mein samajh nahi aati naa" virat came towards her and placed his hand on her shoulder to face him, before he could say anything. A clash of thunder hit the sky so loud that made manvi jump and throw her arms around virat holding him tight. Virat was shocked with her sudden behaviour for a moment and then when he heard her weeping in his shoulder, he slid his hand around her waist holding her tight, so tight with his hands around her. She felt relaxed as if she is in her comfort zone. Manvi could feel his heartbeat faster, she was lost in the moment, virat hid his face in manvis hair breathing in her neck, which sent chill down her spine. With one of his hand virat moved manvis hair to one side for a better view of her neck, and he gave a soft peck there, manvis knees weaken, she could feel herself loose in his warmth, when suddenly she heard Jeevika calling manvi's name ... they realized the situation they were in. Virat could feel manvis body stiffened and with a jerk she pulled her self out and kept staring down and virat realized what he had done and was holding his head... When ...
Viren: Arrey tum dono yaha ho ... aur hum tum dono ko kab se awaaz de rahe the ... he got no reply (viren realized that there is something up between them as their expressions could tell the story) kya baat hai tum dono ne phir jagraa kiya kya... he got no reply ...
Manvi: Mein bahar ... without looking up neither at viren nor at VIRAT ... she stormed out of the room ... virat was continouly staring at one place ...
Viren: Virat mere bhai kya baat hai ... tumne usse kuch kaha kya ... kuch huwa tum dono ke beech ...
Virat: Bhai woh ... woh ... nahi Bhai aisi koi baat nahi ... with that he left the room ...
Viren : Virrrat ... mere bhai ... tum mujhse kuch kaho ya na kaho ... mein sab jaanta hoon ... bhagwan kare tum bhi is baat ko jaldi se samaj jaao ... usse pehle ki bahut der ho jaaye ... with that he went down ...
Manvi headed downstairs towards the dining table trying to calm herself down from what just happened to her...
Jeevika: Mannu tu aa gayi ... kaha reh gayi thi tu huh kabse mein tujhe awaaz laga rahi thi... maana ke aaj ghar mein aur koi nahi iska yeh matlab to nahi hum dinner time pe nahi karenge huh ... manvi manvi tu sun rahi ho naaa ...
Manvi didnt hear a word she said until jeevika nudged her ...
Manvi: haaa di ...
Jeevika: Manvi tu thik to hai naa ... kaha kohi huyi hai tu ...
Manvi: nahi di koi baat ... arrey Di ab aap yeh sab kaam choro aur yaha beto, main hoon naa"
Jeevika: " lekin mannu, main thik hoon"
Manvi: Di lekin wekin kuch bhi nahi ... making jeevika sit in the chair ... ab main hoon naa yaha aapko tension leni ki koi zaroorat nahi hai ..."
Jeevika: Meri mannu itni badi ho gayi hai
Viren: arrey bari kyun nahi hogi ab maansi jo ban ne wali hai , kyun saali sahiba
Manvi: Bilkul thik kaha aapne my worlds best jiju, with a wide smile on her face ( setting the dinner table)
She noticed virat heading towards the table and sit across her ... with that viren noticed the sudden change in manvis expression ... Manvi could feel her heart beat getting faster and was nervous, she was confused she didn't know what was happening to her, she could feel virats gaze on her but she was avoiding it as much as she could.
Jeevika: manvi zara virat ko achar paas dena
manvi chocked on her food and looked up with a shock a expression to jeevika ... even virat and viren shot a glance at manvi.. virat was still feeling embarrassed about whatever happened earlier and could sense her awkwardness.
Virat: Nahi bhabhi main theek hoon
Jeevika looked confused at virats sudden reaction as well as her sisters, whereas viren could sense that something is fishy and gave them a smirking smile.
Manvi kept dropping stuffs from her hand, her spoon and she even spilled water in the table ...
Jeevika: Mannu tu thik to hai na ... itna ghabra kyun rahi hai ...
Manvi: Di ... woh ... di ... and her gaze went to virat who kept looking at her ... main theek hoon, replied quickly and ran towards her room.
Virat couldn't help but smile at her bandhariya, "what my bhandariya ... no no no aisa nahi ho sakta" thought virat, and was surprised by the sudden blackout that happened in the house ...
Viren: Arrey lights ko kya hua ...
Jeevika : Viren ji manvi upar akeli gayi hai ...
Viren: Jeevika ghabrao nahi main dekhta hoon ... chalo mere saath ... they head to see what happened to the lights ... when virat suddenly hear a scream ...
Virat: bhai suna aapne ...
Viren: kya virat ...
Virat: koi chilaya ...
Viren: nahi tohh ...
Virat cudnt resist and ran upstairs towards manvi's room to see if she is ok ...
Viren : Jeevika hum lights ka dekh ke aatein hai ...
Viraat rushed to manvi's room and could hear manvi's scream again ... he panicked
Virat : Manvi manvi darwaza kholo manvi kya hua ... maaanvi darwaza kholo ...
Ok so thats it guys ...
Let me know if I should continue as its my first time writing something J i would appreciate any feedback from you guys ... do press the like button if you like the story ... and do comment ...
Thank you lots of love
Sanam
INDEX ...
Part 1 ' pg 1
http://www.india-forums.com/forum_posts.asp?TID=3131449
Part 2- pg 3
http://www.india-forums.com/forum_posts.asp?TID=3131449&TPN=3
Part 3 ' Pg 7
http://www.india-forums.com/forum_posts.asp?TID=3131449&TPN=7
Part 4 ' pg 10
http://www.india-forums.com/forum_posts.asp?TID=3131449&PID=63150778&#63150778
Part 5 : pg 14
Part 6: pg18
Part 7: pg 23
Part 8: pg 27
Part 9: pg 33
Part 10: pg 36
Part 11: pg 41
Part12 : pg 46
Part 13: pg 51
Part 14: pg 54


Edited by meant4uonlie - 19 October 2012 at 12:08am