"something is wrong...mera dil keh raha hai ki meri geet ko meri zarurat hai…"..he took out his mobile n booked ticket to mumbai without thinking for twice..he is ready to face even her anger if she is..but he just want to assure that she is fine moreover he is craving along with his daughter to have a glimpse of her just once..
"Ab aur nahi hoga mujse..bas ek baar geet ko deklu..shayad use teek dekkar meri dil ko tassalni miljayegi…mein araha hoon geet 5 saal baad tumhe dekne..pata nahi tum kese react karogi…kya tum muje dekkar kush hogi.."thinking thus maan drifted to sleep determined to go mumbai the next day…
In the morning anju woke up rubbing her eyes with the back of her hands n saw her papa packing his bag in hurry…"good morning papa"she wished him cutely for which he smiled n came to her.."ut gayi meri princess…very good morning baby"maan wished taking her in his arms kissing her forehead…"papa are u planning to go some where without ur princess??"anju asked looking at maan's unpacked bag…
Maan(st):mein ne toh anju ke bhare mein socha hi nahi..ab kya kahu??ise bata nahi saktha ki mein uski mama ko dekne jaa raha hu kyun ki muje khud nahi pata ki geet muje dekkkar kese react karegi..if she remains the same geet who hated me n anju then…no this li'l girl cant take it.."
"ha anju papa is going on some work…will be back soon"maan said caressing her hair who slept on his lap…"nahi.."she abruplty said n got up.."nahi papa anju ko chod kar kahi nahi jayenge..anju bhi jayyegi papa ke saath"she made grumpy face as her dad is not taking her with him…"anju you are a good girl na..papa ki baat nahi manogi…papa is going on office work na how can I take u with me there..so stay with chachi n chachu…I promise I'll be back soon and.." before he could complete anju whose eyes are filled ran from there shouting"nahi nahi nahi…"
Maan ran behind her to manofy her as he know that his stubborn daughter wont allow him to go now..also he cant go when she is sad n teary…anju ran to yash who sat in living room reading news paper n hugged him by waist setting beside him.."are kya huwa meri anju ko…"yash asked n is shocked to see tears in her eyes when he broke the hug.."kya huwa meri bacchi ko.."he asked worriedly n then saw maan coming there n at the same time anju turning her face away pouting her lips cutely which left both of them chuckled…yash is very well aware of anju's nakhre n her tricks to make maan agree for anything but still they cant see tears in her eyes…
"chachu papa ko kaho na anju ko bhi lekar jaaye.."she complained cutely again hugging him.."anju aisa zid nahi karthe suno.."maan again tried to pacify her but she is not ready to listen.."anju will u not listen to me??"maan asked making faces as she is not looking at him…even that li'l girl's heart melted as she loves her papa very much..she turned and hugged maan now standing in his lap….
"papa pleej I'll come with u"she asked ever so cutely but maan cant agree to take her with him becoz he himself don't know what is the situation there..how is geet..is she ok??is she the same geet who hated her daughter…if she is still the same he is ready to face her but what about this li'l girl who always asks for her mama..will she able to endure her mama's hatred??first of all will she understand what is going on…what will be the effect on her innocent mind if anything goes wrong..no he cant afford to take any risk…he just want his daughter to be loved by everyone and there should not be any word called hatred in her life….
"jiju le jao na use…waise bhi uska holidays hai do din tak..so take her with u"yash said looking at her pleading face…"nahi yash..mein nahi le ja saktha use..u"and again anju ran from there as she understood that maan is not gonna agree to take her with him but will she give up??after all she is also his daughter..stubborn daughter…..
"kya jiju aap bhi na..waise aap ja kaha ja kaha rahe ho??"yash asked suspicioulsy…becoz maan never say no to anju and today he is not ready to take her with him even after many pleadings..also maan cant stay without anju even for few hours when she goes to school and now he is going to some other city without her…
"mumbai "maan replied straightforward shocking yash…"kya??? mumbai???kyun jiju"yash asked getting up from couch…."don't tell me that u are going to meet di"yash spoke suspiciously yet confidently…maan just gave a smile to him"ha iam going to meet geet.."
Yash:what jiju are u mad??aap di se…u are not going anywhere that's it…
Maan:but yash try to understand i..
Yash:why jiju why should I understand n what should I??do u want to take more humilation from her??jiju no not anymore..you don't deserve all that jiju…
Maan:yash plz try to understand…my heart says thet geet is in some danger..i just..i just want to see her once plz don't stop me now…and he explains about fb matter too and whatever he came to know…yash is shocked n surprised as he too knows his di very well…."yash plz bas ek baar geet ko dekna chahtha hooon mein..plz don't stop me.."
Yahs nodded n spoke"ok jiju but on one condition me,meera,akshay,anju sab chalthe hai aapke saath…and don't deny me now…tell me can u live without anju??"
Maan nodded in no…"so anju is coming with u...and I don't want to leave u alone to break down again..not this time…you do whatever you want but we will come with u…anju ko chod kar jaan bhi nahi padega aapko..so it's final now..we are going by evening flight…"yash declared..
Now maan is left with no other option than to listen to his brother in law; younger than him but commands on him like his elder brother which maan loves.."teek hai baba..jaisa tum kaho..ab the great yash sinha ka baat mein kese taal saktha hoon.."maan said dramatically…both giggled n shared a hug.."accha ab aap jayiye aur manayiye madam ko..pata nahi kis mood mein hogi"yash said as if warning maan..
Everyone in the house knows her anger…she just resembles her mom in that..no one can control her when she is angry..she is just 5 years old but very stubborn…
maan slowly slowly walked inside the room on tip toes..anju is already smiling becoz she knows what will happen next..she knows very well that her papa can never say no to her..but still acted angry as her mission is yet to complete now…she laid on bed on her stomach showing that she is angry..maan chuckled at her n slwly sat beside her placing his hand on her hair which she snapped with her hand showing her anger…
"oh toh my baby is angry on papa.."
Anju just nodded cutely still not looking at him…"accha toh kya kare…hmmm..kya kare??ha…agar mein kahu ki anju bhi papa ke saath chal rahi hai toh.."
"sachhi"she exclaimed n again made face saying"still iam angry on u..u said no to me na..."n pouted her lips laying back on bed.."oh accha"maan said seeing her nakhre…he started tickling her n anju started laughing loudly.."naraz ho papa se…ha bolo..bolo"maan asked tickling her continously…."ha..ha ..ha nai…papa nai"anju managed to speak while laughing…even maan is laughing with his cute yet innocent daughter…maan stopped tickling her n took her in his arms kissing her forehead.."I love u papa..u r the best"anju said n kissed on his cheek while hugging him by his neck with her tiny hands…"love u too my baby"and maan kissed her back.."mein abhi chahi,chachu aur akshay ko batakara aathi hoon"and she jumped down from bed n ran from there leaving maan chuckled….
Maan shook his head n started to pack his bag"bikul pagal hai…but I must say meri beti mujse bhi zyada stubborn hai..iam sure she inherited this stubbornness n anger from her mom"n suddenly his face became pale n dull…"geet…bhale hi tum mere saath nahi ho lekin anju ko dekkar muje aisa lagtha hai ki mein tumhe hi dek raha hoon…dekha na her anger when I thought to leave her here.."and he wen to his thoughts recollecting his geet…
Past
Geet is pacing here n there in her bedroom in anger with her mobile in her hand…she is dailing maan's number since long time n she finally threw her mobile on ground n it scattered in the room which is in pieces now…"I hate u mr.khurana..i just hate u…how dare u ignore my call…u are gone today"
After 3 hours or so maan came out from icu completing surgery…he instantly moved to his cabin after instructing patients gaurdian about everything..he looked at his watch n found it's 1:00 pm..he checked his mobile to find 50 missed calls.."oh gosh!!geet ka missed calls..beta maan tu toh gaya aaj..pata nahi madam kitni gusse mein hai"..he quickly grabbed his stethoscope,coat n other stuff almost rushing from there to home…
He reached home n found silent..he expected it to be a silence before a storm..he went to his room on tiptoes expecting sherni to assault on him…as he expected she is standing there ready with crossed arms but she seemed calm…so maan tried to save himself smiling at her..for his surprise she smiled back n started taking steps towards him…he is confused first but when his gaze fell on her broken mobile, picture is crystal clear to him.."maan u r gone today…kese manau madam ko…"he thought still giving silly smile to her…
As soon as geet reached him her smile turned in to a glare n next second she held his collar"how dare u ignore me??where were u??"
Maan smiled again to calm her..he is trying to act sweet with her but it's increasing her anger…"i..i ignored u??no how can i…"
Geet:don't lie…why didn't u pick my call???"
"geet wo mein.."before maan could complete she pushed him out of the room saying"get lost!!" n closed the door with a bang..
"are geet suno toh…"maan tried but in vain…he then saw that the window of their room is open n he jumped inside though it just to find his beautiful wifey cuddling on bed with grumpy face…he chuckled at her..he just want to bite her cute red nose n cheeks which are red with anger…he slowly laid beside her n slid his hand on her waist…she snapped his hand away n said "don't touch me.."..
he again did same n this time she got up from bed confusing him..she silently took a pillow n threw it on him..and then she started beating him with whatever camne in her hand... maan escaped sometimes n sometimes he got beaten by her…finally bot are tired n maan tried to hold her face to calm her but she snapped away his hand again...she forcefully pulled maan to couch"stay away from me…did u get it…don't dare to touch me"she said pushing him on couch…
maan sighed n laid to catch some sleep as he is too tired n sleepy also his wifey is not gonna listen him now…so he closed his eyes to catch some sleep…soon after only 5 minutes he felt weight on him..he opened his eyes to find geet completely lying on him n she placed her head on his chest hugging him tight by waist…he chuckled at her n said"some one said not to touch.."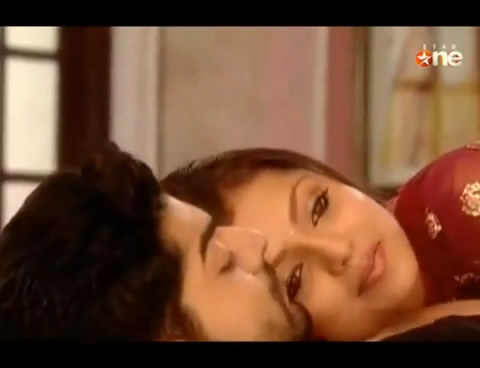 "it's u who cant touch me but I can..now don't talk to me"she said n closed her eyes to catch some sleep…maan also smiled closed his eyes….
Precap:
Present:
Geet:no leave me..i said leave me….no no…plz leave me…she is wriggling to free herself but her attempts went in vain as she did what she wanted to do.."ahhh"she screamed in pain n after few seconds she fainted…."maan..maan.."she mumbled even in her unconscious state…