guys im back...ye mat sochna ki mai baaki chod rahi hun...bas ye bhi ekdam mast story tak leke aaun toh sab ek sath ek ke baad ek update karoongi...(log miss karna nahi chahenge...:P)
so here goes ur update
days passed very quickly...rey and kria gave their approval...they were excited ...arranged marriage...life with a stranger...they were excited to experience that sweet feeling...rey was more...some where he liked her already...as usual ...ladkiyan sharmati hai baat karne keliye...
arey shaadi keliye haan toh kehdiya...par maine aaj tak unki aawaz hi nahi suni...sunne ka bohut man kar raha hai...kya ek baar?????
he was in the same confusion since three days...atlast that day night he decided to call and called her immediately coz he thought he may again think abt it...so he called her...as rings increased his heart beat increased...but till long tym there is no response...then his gaze fell on the clock...it was 11:30
stupid...so gayi hogi...cut it...
he was abt to cut when someone lifted...
"hello!!!!!!!"a angelic sweet sleepy voice spoke...he was mesmerised...he wondered is her voice really nice or he was thinking and expecting a sweet voice much that its more sweeter...but soon regained...before she could again call him he replied...
r: h...hi!!!!!!!!!!
k: koun hai??????
r: wo ...mai...
k: koun hai???????
r: rey!!!!!!
k: kya??????/
she sat up...she was wide awake now...
k: r...r...rey??????
r: hmmm...
k: ------silence--------
r:---------silence----------
k: hmm...wo...
r: actually...hmmm...mai aapse...mai aapse baat karna chahta tha...
k: hmm...
r: actually humari...sh...shaadi horahi hai ri8????
k: hmmm
r: toh maine socha kam se kam ek baar toh hame baat karleni chahiye...
k:hmm...
r: aap bol nahi sakti?????
k: wat?????/
r: wo...tab se aap hmm hmm kar rahi thi na...
k: acha wo ...hmm...
both burst out into laughter...both felt the sound of the other laughing heavenly...
k: aisa kuch nahi...mai bohut acha bol sakti hun...infact papa kehte hai mai bohut bolti hun...
r: joke ri8????
k: arey sachi...
r: kk...toh aap painting karti hai??????/
k: ji...i love it...
r: acha kk...bye got to go...kal meeting hai...
k: ji sojayi jaldi...bye...goodni8
r: gud ni8...
both hanged up at a tym...squeezed their mobiles blushing...fell on the bed...rolled this side to that rewinind last 10 mins...
they slowly drifted to sleep...
and never again they dared to call each other...but waiting for the others call...finally the shaadi started...
both the houses were very busy...indeed as they were huge bussiness magnets...they wanted it to be as special as possible for their children...
the arrangements started...with a bang they were going on...rey's family went to the guest house of kria's before 6 days of marriage as two families one in mumbai and other in delhi is not that easy...
rey somehow convinced sharon to accompany them...she first said she dnt know anyone ...
sh: rey...i know tum sach mei chahte ho i mai tumhari shaadi mei aaun...mai bhi yahi sochti hun...par mai toh kisiko jaanti nahi...
r: arey...sabse imp dulha...tum uski best frnd ho...toh aur kisko jaan na hai tumhe????????
sh: par rey ...
r: ur cmng its final...
she sighed and went in to pack her stuff...they left for delhi...and all went in blink of eyes...finally they arranged sangeet...they thought sangeet aur mehandi ek hi saat karenge...
rey and kria were made to sit opposite to each other...both glanced at each other and smiled...and looked away feeling awkward...
he was in a white simple plain sherwani on...with slight creamy colured lower ...he as usual looked dashing...it was of reys choice...he liked to be simple...all were enjoying the the sangeet and the happenings...
since they reached delhi kriya liked sharon and requested her to be from her side as she was the only child...sharon too gladly accepted...they became close in a short span of tym...
girls dresses...
kriya:(left one)
sharon: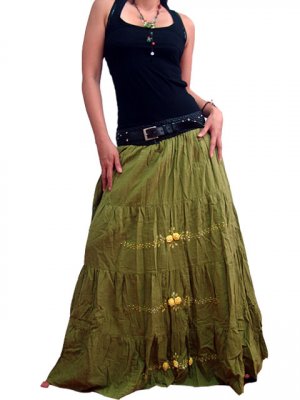 all the music was playing...
sharon went in the middle...
sh: attention plzz...ab tak hum sab bohut enjoy kar chuke hai...but asli maza ab aayega...kya aap sab dulhe ki singer brother ki gaana sunna chahte ho????
all said yes...
she called swayam ...he came a took the mike ...and then started...
song: tum ho...
sharon got irritated...
after he completed the 1st stanga she dashed to him...snatched the mike...
sh: kya kar rahe ho????????

sw: gaana gaa raha hun...

sh: oh really maine socha cricket khel rahe ho...

sw: agar pata hi hai toh pooch kyun rahi hai?????/

sh: i mean shaadi mei aisa gaana wo bhi tumhare ghatiya aawaz mei????

sw:
mera????//mera aawaz ghatiya hai??? do u even know mai koun hun???/

sh: itna udna mat...teri albums sirf meri gaanon ki wajah se hit hui teri aawaz se nahi...

sw: wat??????????tujhe toh mai...

sh: haan kya??????

they both looked at each other angrily...

k: arey aisa kisne kaha mera dewar ka toh sab se acha voice hai...

sw: sachi bhabhi?????

he said gng towards her and sat on kneew in front of her...

k: muchi...

sw: aww!!!!!!!! aap kitne cute ho?

he pulled her cheeks

k: tum toh mujhse jyaada cut ho...

she pulled his cheeks...

sw: awww meri pyaari bhabhi...

he hugged her tight...kriya smiled wide ...as her smile widened rey's smile widened too

she pulled back

sw: bhabhi dekho na ye dono hamesha ek saath milke mere peeche padte hai...aap mere saath hona...

k: arey mera dewar itne pyaar se pehli baar kuch maange toh mai na kaise kahun??????/haa????

swayam was very impressed with her...


(just look at this guys...i personally love this...see kajol and hritik at last...


and and swayam looking at each other the same way...
)


http://www.youtube.com/watch?v=jgLSD-MV2i0&feature=related

both were smiling at each other...rey was skipping many beats seeing her this cute...

sharon kneeled beside him and said in his ears...

sh: achi haina????

r: bohut


sh:
tu pagal hogaya...ab aisa ghoorna band kar...

rey:
arrey mai kaha use dekh raha hun...

sh: bas rey..u r caught...


rey: *babyface*

she again looked at him...both laughed...

sw: duniya ki sabse pyaari bhabhi ho aap...

k: mera toh pata nahi...tum toh ho...best dewar..

she kissed his forehead...

k: *winked at swayam* acha sharon...tumne bola ki mere dewar kuch nahi aata toh tum kaha na kya karte hai shaadi mei???/

sh: mai???????



k: haan tum hi...

kriyam smirked at her...


rey saw her...she too looked at him...as soon as she saw his intense gaz she shivered and looked down and slowly lifted her lashes...he mouthed a kiss...her eyes widened...

sharey giggled...and hi-5ed

kriyam got it was their prank...

riya is no less...she gave him one of her sexiest smile...

now it was his turn...he was getting aroused...but he was controling hard...swaym chuckled at this...kriyam hi-5ed...

shar got up went to the music band said something and came to the centre of the floor fixing a mike to her top...

she looked at the one sitting at the drums and winked...he showed thumbs up and kissed his stick...threw it up rolling and caught again and gave a bang...

start the song

http://www.youtube.com/watch?v=MaGTzJIsUGE

then
she started singing and dancing...in btw swayam too joined her singing...

rey was just looking at kriya...he was full on fida on her...he just want to take her into his arms and kiss her badly...he smiled at his thoughts...kriya was abt to clap her hands when the girl pulled her hand and started applying mehandi...kriya pouted...she is moving to the beat but the girls asked her to be quite...she pouted more...

rey gasped and skipped a beat...he could feel his body heating...he had butterflies in stomach

gosh ye ladki bina paas aaye hi meri kya haal kar rahi hai????/i cnt believe mai ek aisi ladki ko itna pyaar karne laga jisse maine bas ek do baar bat ki...she is driving me crazy...i need to talk to her...

swaron were entertaining everyone that no one noticed kriyaansh...rey was looking at her intensely...she was shivering at his gaze...she was feeling very nervous noticing the way he was looking...all the marriage and love stories she saw in films played before her eyes...she shivered at the thought of him trapping her...

she looked down...rey was intensely looking at her...she looked at him with innocent eyes...he looked at her and gulped down...

the song finished and all clapped and kriyaansh came back to earth...she was looking at them but rey still focused on her.........may be his age was not alowing him to control but ri8 now he wanna take her in his arms...

soon another song started...

the dj started his work...soon the song angrezi beat started...


http://www.youtube.com/watch?v=FwV-G-5MTTw

swaron were on full character ...as they themselves were dancers they were dancing bang on...toatallly pulling everyones attention...kriya was jumping for the beats but the girls were never letting her to...whenever she pouted rey skipped many beats...

soon the girls announced that they completed...she looked at her hands...they were beautiful...soon after seeing her hands the first thought came to her mind was rey...

she looked up...he was looking very intensely...she wondered that his look was able to seduce her...she lowered her lashes and showed the hands to him...he looked at them...a huge grin formed...


play this song...


http://www.youtube.com/watch?v=eNx8HPqm6QE&feature=related



he mouthed beutiful...she blushed and looked away...looked down and looked up but he was not there...she searched...but no use...she wanna dance...all were busy dancing...no one paid attention to her...she with lot of difficulty stood up...but her lehanga struck b/w her leg fingers and she slipped back...she closed her eyes tight but fell in his arms...she had her hands up...hangind back over her head and she closed her eyes tight...soon she felt her legs off the ground...she thought she was abt to fall and shut her eyes more tight...he looked at her...smiled at her childishness...from last 2 minutes she was in his arms but still she was thinking she will fall and chanting bhagwan ji...

he smiled...soon she heard the music become faint...she then opened her eyes just to look at him...as soon as she saw him she shivered feeling his touch...his look was very intense...she wondered where he was taking her...she looked...they were heading her room...she looked at him with wide eyed he went in and closed the door behind him...locked it carefully without letting her down...

she was shivering on the thought what he is gonna do next...he moved some forward and placed her down but his both hands on her waist...she looked at them and at him...he too followed her gaze...

r: wo...wo...wo tumhari lehanga...lo...loose hogayi thi jab tum uthi...so...

she looked down at her lehanga...yeah the knot was slightly loosened...she wanted to bang her head and dig a hole in earth and hide with embrassment...he looked at her...

r: if u want i can help u...tumhari haaton mei...mehandi...

kriya was very confused...

r: chaho toh mai chod deta hun...

k: nahi nahi...*feared*

rey smiled naughtily...kriya looked at him and blushed and feared at a tym...

r: toh mai karoon????


kriya nodded left with no other option...

he closed his eyes...he went to her ri8 and kept his both hands on her waist left side one from front and other from back and touched her bare waist...she gasped hard...he slowly sensed the curve of her waist and came down as he cnt see where is the lehanga...finally he found it...he held it and adjusted it to the ri8 placed sensing her skin with finger to make sure he was placing it at the correct place...but she was shivering at his everytouch...he slowly brought his hands from left to ri8 adjusting the lehanga and caught hold of the threads...he untied it first...she gasped hard...soon he tied the knot ...but his hands failed to leave her waist...it felt soo nice to him ,,,,...as butter...he again traced the same path where the lehanga was tied to feel her skin...she was dying she cant even close her fingers...finally he pulled his hands back...both looked at each other...

ps: she had her dupatta tied this way...



her dupatta was hanging down...he went on his knees...caught the end of the dupatta with ri8...while pulling his hot breath touched her bare stomach...she flinched back slightly...he came back and looked at her...and then at her dupatta...he pulled aside the pallu slightly with left to keep the free end...but ended in looking at her smooth silky waist...his blood rushed fast...he looked at each part of her waist ...her stomach mving in and out coz of hard breathing was making him more crazy...he looked up at her slowly...she looked at him breathing hard...he shifted his gaze back to her navel...to her bad luck he found a thread on her stomach...he cught the end of pallu b/w his teeth and forwarded his hand to remove the thread...she starred at him wide eyes at what he is dng...he slowly placed his hand and took the thread btw his hands...and took it away...and looked at her...cutely pressing his lips he shoed her the thread...she just smiled at him...

he too smiled...took the end of dupatta and pinned it inside her lehanga...and while dng this both felt an adreline rush...both breathed fast...he moved his hand to caress her stomach...she was shivering...but he stopped in middle...took his hand away and stood up...he moved back looking at her and opened the lock...she moved forward to go out but he blocked her way...she looked at him nervously...he walked front and she went back...

r: maine tumhe aaj tak kabhi ye kaha ki???//

k: kk...kk...ki????????

r: ki tum bohut beautiful ho????/

k: she blushed and nodded no...

r: toh...aaj ...aaj mei bolunga ki...u...u look gorgeous...i never ever looked at anygirl...but dnt know y...i cant keep my eyes off u...

she blushed to core...

r: u know ...aaj jab tum blush kar rahi thi ...tab bohut cute lag rahi thi...

she slowly lifted her lashes and looked at him and hit the wall...she looked back with horro...she looked front...he was just cmng forward...he trapped her and leaned forward...she closed her eyes tight and breathed hard...he whispered in her ear..."beautiful" her cheeks turned total red...he pecked her cheeks and went back...she opened her eyes...he was smiling at her...she blushed to core and ran away...he passed his hand through hair and smiled and went back of her...he never looked around where he was and whose room it was...he went down...soon both joined the crowd...but none noticed as all were busy in dj...but these two were glancing at each other time to tym...

finally they returned back to their rooms...kriya layed down...same attire she didnt wanna spoil the mehandi...she layed on the white pluffy big bed lyk princess and was looking up hands spread wide...soon wind made its way blowing her pallu and passing her waist...everything that occured sometymback came in front of her eyes...she turned making sure abt her hands and dug her face in the pillow blushing./...she looked up just to find his smiling pic...she blushed more and slept of never knowing when she slept...

there rey was also miving to and fro on bed...he went and took cold shower nearly 5 tymes...but nothing helped...he jumped on his bed and hugged his pillow tight...

r: im loving this feeling...i m loving it...i m loving her...!!!!!!!!!!


he said and drifted to sleep...


hows it????????


lyk and cmnt...

i want looonnnggg cmnts...

new style of dilse...

kaisa hai????/



love u all


love kriyaansh more



and arsha even more...



-deetha


Edited by deetha - 07 August 2012 at 10:42am