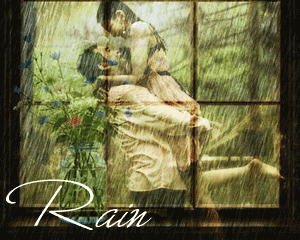 There have been plenty of amazing rain scenes on TV and we obviously can't write about every one so we limited our choice to the top 5... we hope you enjoy watching and discussing these scenes...if there are any other rain scenes you've enjoyed feel free to discuss away...

No.5
The chilly weather, the lovely rains, the lightening and the thunder -- it was in this situation that Arjun asked Purvi if she is ready to spend her lifetime with him. It was in this weather that Purvi ran towards Arjun, hugging him tightly, expressing her unconditional love for him and accepting his love for her!
The rain symbolized Victory- Victory of Acceptance against Deniance..
Victory of Unending Love against Sacrifice..
Victory of Happiness against Compromise..

No.4
He defined anger...hatred...pain...and revenge while she defined elegance...innocence...calm persona and honesty...and together they defined "true companionship"
Agam and Nimrit's dream rain dance was a must watch...their first ever romantic dance...and even though it was a dream, fans were happy to see the love between their favourite jodi... the expressions...music and rain make this dance and moment Perfect

No.3
The hardest thing to do is watch the one you love slip away into eternal sleep...and that is what Virat has had to experience. Just when he realised he's fallen in love with Manvi, he's forced to accept that she may not live to love him till the end of time. But this wasn't enough to stop him from supporting her, loving her and protecting her.
Seeing Virat's unconditional love for her, Manvi is forced to close the distance between them and confesses her love in the stormy weather...This is not the end...but the beginning of a beautiful love story...

No.2
Chaar dino ka...pyar o rabba... lambi judai...lambi judai...
These are not just lyrics of a song, but also reflect the love story of the most romantic and sizzling jodi on TV...our very own Angad and Kripa from the Hit Balaji show, Kaisa Yeh Pyar Hai...
AK were a unique couple, who experienced every aspect of love, hatred, jealousy, passion, betrayal, heartbreak, pain and revenge...but despite everything, their love for one another could only grow deeper and deeper... And after 5 years of Lambi Judai, they both came together and confessed that they still loved one another...a romantic confession fans were eagerly waiting for...

No.1
Nothing hurts more than realising she meant everything to you, but you meant nothing to her...
After being betrayed and rejected not once but twice, Dutta set off on the road of destruction... a journey of Dutta to Dutta Bhao...a painful truth of shattered dreams and broken hopes...a thrilling and soulful story of a gangster finding his true love in the "unwanted" Nakusha.
Witness the rain wash away every last trace of Dutta and make way for the Patilwadi Gangster...Dutta Bhao!


Edited by Yuvika_15 - 29 July 2012 at 1:17pm