Subha...apt topic
...even i am not liking this new version of NBT so much!!!...well let me try and highlight the good things...after overlooking the drama that is being shown nowadays(sorry i dont want to hurt the feelings of others who are enjoying the current track...i just want to express my views
)...well frankly i was not being able to enjoy the sangeet ceremony because i dont know why riddhima madam gatecrashed to create problems for Megha and Mohan...she seriously looked like some psycho spirit to me
...but one positive view is that Mohan might tell the truth to Megha..well i atleast hope he will be able to!...all i want is the Riddhima drama to be finished and peace to be brought back to the show!
...well i know that drama is necessary for TRPs but that does not mean the audience will be shown illogical tracks such as this one
now coming back to the topics that are selected for discussion...
MEGHA'S CONFESSION
- it was nice and the scene again became unforgettable from ordinary due to the acting...kudos to Kunal who really brought Mohan alive that day...his reaction was just outstanding...(especially when he put his hand on his mouth in disbelief that Megha had actually confessed her feelings).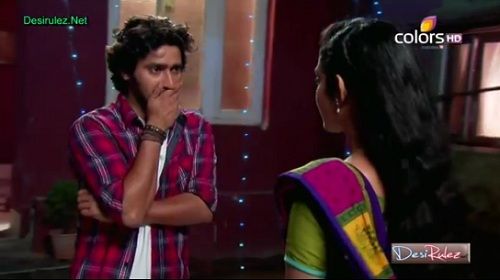 ..
it was like a dream to him...at that moment..the two were just lost in each other's love forgetting every pain, every tension, or even how others might react. Then came the great call from madam psycho who disturbed this peaceful moment and the two lovers!
...and that to the signature ringtone was changed into an ordinary one...at that time when Mohan spoke to ridz on the phone...all i felt was this is not Mohan..this is some ordinary hero!
...an ordinary fellow who had made a very stupid mistake of marrying a random psycho to fulfill her father's last wish
(which by the way might not be the last wish as he is still alive
)
To talk about Megha...she looked beautiful.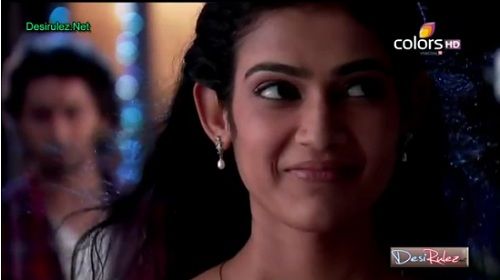 ..
she was lost in love as well...trying to tell Mohan that she loved him! she loved him the way he was( she asked him to keep his shoe laces untied)...and then she confessed...
...and this time she did not hesitate...she exposed all her true feelings for him without thinking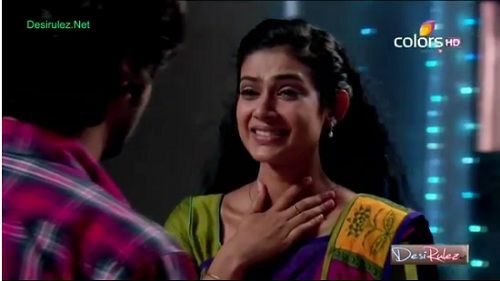 ..
.i was totally absorbed in that moment
..it was beautiful.!!
and then came the first hug
...which totally added to the atmosphere of love around them...they were lost in each other's arms...unaware of the world.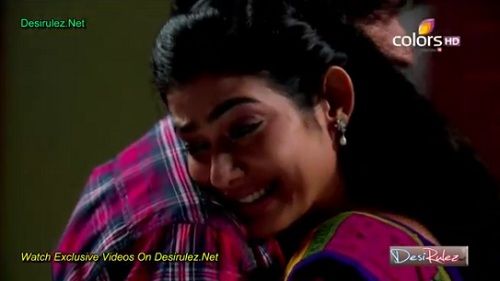 ..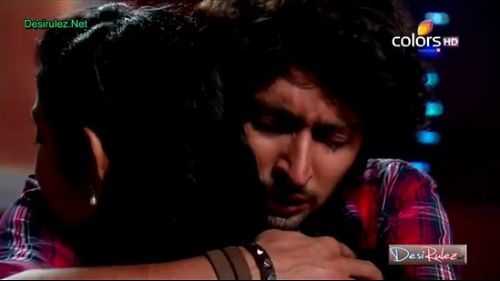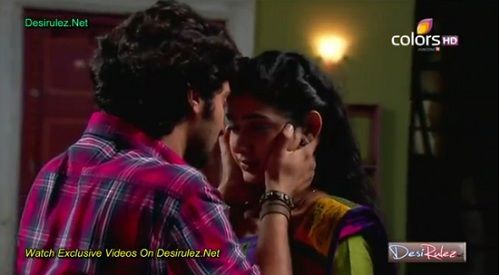 BUT psycho madam just had to interfere
...causing this atmosphere to be polluted with the harsh reality of Mohan's marriage with her!
Well the confession was a memorable scene if the Riddhima angle would be omitted...Mohan could have retained that happiness he felt after megha told about her true feelings but he could not because of that call
...it is this very Riddhima angle which is bothering me as well!!...but there is nothing to do!!!!...TRPs are also much required!!! Well at least TRPs have been constant due to this track...otherwise i find no positiveness in this...and i am not even being able to enjoy the moments( which were supposed to be magical...as it is after all the marriage of our Mohan and Megha)...!
but this magic seems to be absent..*sigh*
MOHAN-NANHI
- Nanhi has always been a sweet heart for me...she is the little angel of the show
...love it when she starts to be NAANI rather than NANHI!!! she looks so cute when she talks to Mohan like he is her classmate
...well yes she is used to calling him "SPIDERMAN"...it is a name which only she can call him and no one else..it belongs to her!! it was her who gave Mohan that name...their relationship is truly wonderful...they treat each other as equals...yet respect each other...Nanhi and Mohan's relationship has developed each day and now it has transformed into an unbreakable bond...which began with friendship and is going to culminate into a father- daughter relationship(hopefully soon!)...This unusual duo never fail to dissatisfy when they are together on the screen...and it becomes all the more adorable when Nanhi begins to behave like a grandmom with those pink framed spectacles
...in the scene when Mohan thanks her for her hanky knots and her wishes...i was thanking her too..(only if she would tie another knot to prevent Riddhima from entering Mohan's life
).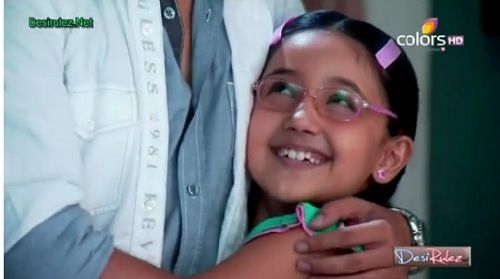 ..She looked so cute at that time!...and their special hi5 which is again unique like their relationship
...there she had fulfilled another of her Spiderman's wishes by bringing her mother to meet him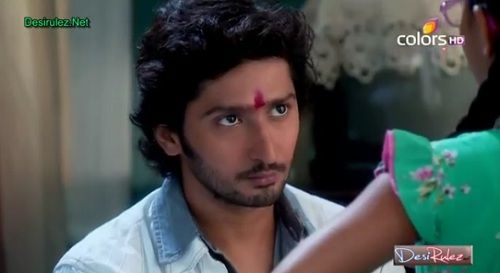 ...and you could see the happiness on her Spiderman's face after seeing Megha outside the door!...
Nanhi also asks...why cant elders talk "seedhs seedhe"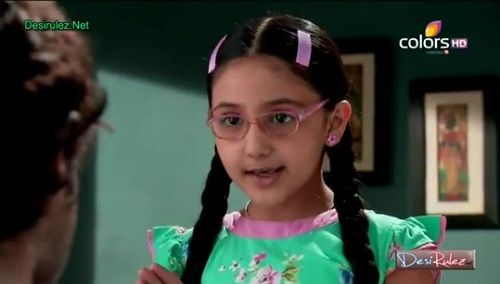 ...only if she would know that elders were not as innocent as she was and Mohan and Megha were feeling shy at that time!
...(that was a really cute scene with megha shying away from mohan's intense gaze
)...and then guru taking nanhi away to give privacy which was needed by the Spiderman and mummy at that moment
...
then came the time when grandmom Nanhi asked her classmate Spiderman to repair the fountain and again bring back the flow of happiness in their lives which had gone after Amar died..."isiliye toh tumhe yahaan bulaya". said Nanhi to tell Mohan that she had called him and only him who was no outsider now and had all the rights to reapir the fountain.
...i can never get enough of the cuteness these two bring on the screen...love them
Nanhi and Mohan always rock and they will keep rocking
MOHAN-MEGHA SCENE
- this scene was such a wonderful scene
...after nanhi and guru left the two alone...to give them their share of privacy!..Megha blushing at her intention of coming to meet Mohan being caught and Mohan internally jumping with joy after seeing Megha at his door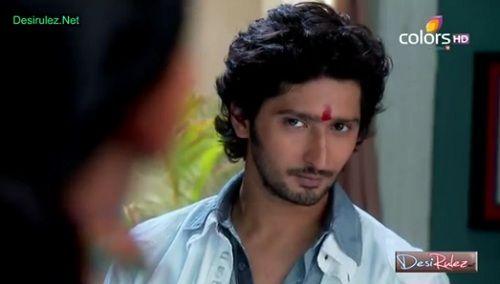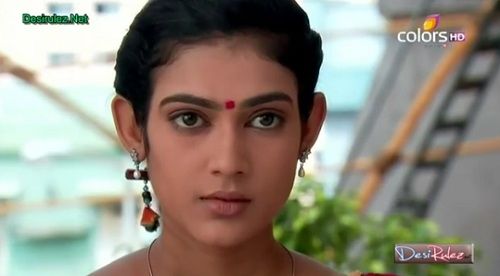 Megha shying away from his intense staring and failing to control her cheeks from turning red at his gaze
...these two have a spectacular chemistry and both are really good actors
...and then the much needed conversation (although according to mohan shaadi se pehle milne par thoda sa badnaami hota hai
)...but the conversation though incomplete as Mohan was not able to tell her the truth...was very much needed as Megha spilled the beans of Indu's constant effort to keep them away from each other
...but thankfully Mohan got a taste of the true colours of his mom and also promised Megha to try and console her peacefully without fighting or breaking ties with her...and then his little thought in his mind that he must have done something really good in his life that he got Megha in his life..
.really loved the way they acted that moment
...
and then came Mohan's turn to spill the beans of his marriage..but he hesitated thinking of how to express himself and also how she would react to the news...and he could not say the truth...
Then Megha understanding his awkwardness and realizing that although he wanted to tell her something...he was not being able to
...she told him that it is not necessary to speak out every secret when you are in love and the most important thing is trust..AITBAAR...and the fact that he loved her and she loved him was enough...well said Megha
...but this truth was better if it would be revealed rather than being hidden.!!
...nevertheless the scene was really good and the chemistry between them sparkled in the scene..so i really liked it
So this was my POV...feel free to agree or disagree


Edited by shourie - 22 July 2012 at 6:52am