Originally posted by ria_lovesajan
Every Monday to Friday, sharp at 8 p.m, I switch on my TV to star plus with somewhat this Kinda expression-
With a hope that atleast in today's episode, Mamiji, Anjali and Akash will get some brains to think maturely over the current situation, but at the end of the episode, I end up like this-:
You know, now-a-days my favouraite character is Laxmi... She is far more sensible that Manorama, Akash and Anjali... atleast she keeps her mouth shut these days, and till now she hasn't interrupted when our Arnie baby and his Jalebi girl are busy romancing!!
Yo... Our Arnie boy has become quite... no... very romantic... very naughty... Driving me completely crazy!!
If I were Khushi, I would have went on dancing after every Rabba Vey..! <33
So a golden advice to Our Hotwa on behalf of all forum members- Go and get your girl at any cost, marry her again with all rituals, consummate your relation and then have a happy married life, and PLEASE KINDLY send your Anjali Di where her 'Shyam ji' is!!!
Hope she'll be happy with him!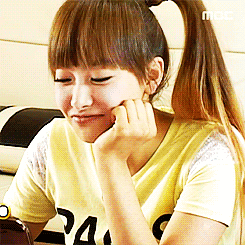 P.S- No offense to anyone.
It's just a fun topic, since the temperature of the forum is extremely high due to anger after friday's episode!
Do share your views.
Ria.
i guess you wrote down exactly every true fan of ipkknd goes thru before and after every episode... grt job! :) thnks4 pouring millions of heart in one go! :)