Originally posted by GanBarunFan
Oh the IPK CVs! Some days you feel like hugging them and on other days you want to strangle them! But you have to respect their tenacity to stick by their principle of unpredictability in the world of predictable daily soaps. But in their defense what they showed today is more attuned to reality. And reality bites.
Today Anjali walks in to a romantic rendezvous between her brother and his wife. The same brother whom she had forced to go for his out of town meeting though he had insisted on coming with her for Satsang. And that grand rose petal pathway in no way or shape looked like an impromptu plan (even I need those special minions who can invisibly lay a pathway between a run from the stairs to a hug :D). So Anjali jumped into the conclusion that her brother lied to her to be alone with his wife. Impulsive? Definitely!(but then probably it runs in the gene). Unfair? NO! Today's Anjali I understand.
"Waqt badal gay hai Chhotey'Tum badal gaye ho' "
"jabse hamare sawalon ka jawab dena chhora hai tbase saab badal gaya'"
Anjali and Arnav share a lot other than bloodline. They share a painful past which defines them albeit differently. But t has always been Chotey with Di every turn of the way; protecting her , sharing with her everything. Till his sudden wedding. He didn't share his reasons (Anjali doesn't know he's hiding the reason for her only). But Anjali put that aside and took the role of the big sister and welcomed Khushi to RM.
Again on the day Shyam was thrown out. Only one reason given :"I trust Khushi". Again Arnav was trying to protect his fragile, pregnant Di from the harrowing truths of Shyam Manohar Jha which he knew will shatter her coming from his mouth. But to Anjali it was Arnav siding with his spouse. And each incident: finding them together celebrating Khushi's birthday the very next day of her suicidal attempt, him ordering bouquet, saree especially for his wife and today finding them together almost kissing when he's told them he'd be out of town, all validated her fear. She's alone in this, Chotey has a life now apart from her. Anjali doesn't know the real relationship equation of Arnav and Khushi. She doesn't know these are the beginning moments of a couple's life together. To her the Chotey who used to move heaven and earth to make sure everything is perfect in his Di's life is not only the reason of her perfect world shattered but is indifferent to Di's suffering and is blissfully happy with the reason of "her pain". Her new reality.

It's a lot for anyone. And a person like Anjali who has been so royally sheltered by her brother and family, she has felt a sense of entitlement of being front and center in two people's life her husband and brother. Now both gone. It's a rude awakening. She's bound to feel abandoned, lonely and angry. Hence her words. Yes trials and tribulations of the man who goes beyond for his loved ones is now at a cross-hair of a see-saw. How he balances time will tell.
Payal is reaching her saturation point of taking insults for no wrongdoing. I loved how she stood up again for her sister '"
sirf aur sirf Khushi ki wajah se'Shyamji ki sachchai sabke samne ayii
" and explained how her efforts to helping the has been rejected leaving her with no option but taking care of the people who take care of Di. But that Akash's gene from his mother's side is showing up. And how further crass can Mami get?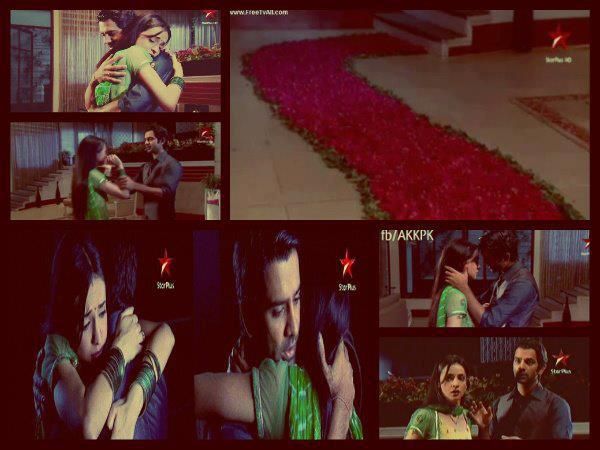 And now to the scene of the day till it was rudely interrupted. A husky "Khushi".Then a first. Arnav waiting in open arms to receive his wife's hug. Till now it has always been Khushi hugging first and then he followed. And the "shhh" to let her know he's there for her. The soft "Kya hua? darr gaye the tum?" while lovingly moving that tendril of hair from her face. The indulgent smile when she was angrily shoving him for putting her through this. The tug and bear hug to placate her. And she tried to fight it 'but then gave in to his love, her own feelings and hugged him back. A picture perfect scene of two people's confession of their love for each other without the words. And then the husky "Won't mind agar tum mujhe apna pati mann lo'" .Then the gesture to seal the deal with a kiss. 'till his family interrupted them. Loved the 'Relax!" . ASR the guy who never believed in love is caught standing on a pathway of roses in the family hall about to kiss is wife, is not flustered at all. His nonchalance is adorable!
A typical IPK signature khatta meetha episode. A lot of movement in story wrt to all the characters. Yes it was a bit anticlimactic from romance perspective after the previous day's visual foreplay'.but then isn't that what we signed for(well maybe 4th time will be the charm. Please CVs)? A roller coaster journey that makes you feel sometimes you're dropping in a bottomless pit but somehow you know the bend ahead will be better.
Performance wise Barun as usual stole the episode from the romantic husband, to unflustered Chotey in the hall getting a tad irritated with Mami's Gupta sisters snides, to a surprised Arnav on Di's not believing his truth and the concerned brother. Varied emotions, each pitch perfect. Sanaya's uneasiness in close romantic scenes are getting a bit distractive especially when you share the frame with Barun. Deepali has been a treat this week. She's nailed every scene she has been in. I'm loving her. Akshay is the weakest link in a team of brilliant actors. He and Daljeet need to step up more with more screen presence, while he's consistently 'constipated', Daljeet is inconsistent. Anjali's character now is more layered than just looking pretty, being sweet or crying buckets.
Cribbing point: what's with Raizadas and meds? The other day Nani gave Anjali medicinewhen she was upset'yesterday the same. And Anjali was fine during her 1st trimester. What's with this almost fainting look during her second trimester? Pregnancy is not a disease for heaven's sake!

Hey Gandhari, wonderful post dear, highlights in blue
Even I said the same in my post, why the continuous fainting, dont understand the need. Barun was indeed the show stopper, but yeh toh roz hi hota hai na dear
Deepali was quite good.
Arnav can never resist himself, from removing that strand of hair from her face, he does it all the time. Luv it
Agree with ur views on Anjali. In fact the shock & surprise on the part of the family is quite acceptable. Bcoz they r not aware of the real equation between Arnav & Khushi, how both of them have entered a new phase of realisation & acceptance of love... The family was always under the impression that it was a bond of love since day 1. So the ugly truth of the wedding has to come out in front of Anjali & the rest fr them to understand the complexity of this relationship.