Hey Guys, a few of you might know me already..
I'm writing a story based on 3 parallel love tracks set against the Army backdrop..
I've already posted the a few parts of the FF on Iss Pyaar ko forum, since Arnav-Khushi are one of the couples.. And now it has been shifted to Fanfictions. So, you guys can follow it there..
Since Virman are an equally substantial part of my story, and I wanted to reach out to fellow Virmanians and EHMMBHians, I'm posting the link here..
I'm posting the Character sketch. Do read it and follow the FF if you like it..

(3 Parallel Love stories woven into one!!)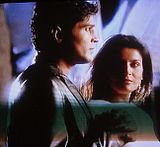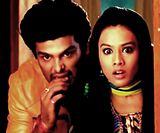 Arnav-Khushi.. Rajveer-Naina Virat-Manvi
Character Sketch:
So here you go..
****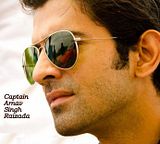 Captain Arnav Singh Raizada
is a brave soldier and loves his motherland.. He has an elder sister Anjali, who is married and stays in Delhi. He has an Engineering degree in Electronics and Telecommunications and hence his sister wanted him to settle down with a peaceful, well-earning job. However, his child-hood friends have had a huge influence in his life right since the beginning and hence they had joined the Army Academy together.They're still in touch, however, they have a few differences. He has some secrets in his past which haunt him till date..Though he may appear to be very arrogant, ruthless and cold at the outset, he has a heart of gold, very forgiving and loving.. Not many people are aware of this facet of his personality.. He doesn't think twice before endangering his life for the sake of his country, but he has a mission to accomplish before he can embrace death..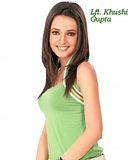 Lt. Khushi Gupta was studying to be an architect at college. She was a very fun-loving, bubbly and colorful girl. However, a tragic incident in her past turned her life upside down and forced her to join the Army. She doesn't care about her life anymore. Her sole purpose in life is to try and undo the consequences of that incident in her past..She is here with a purpose. She has very high regard for principles and morality and respects the judicial system..She loves Indian sweets and is proud of her roots. She is an orphan and is at present lives with a couple, whom she considers family.
Lt. Virat Singh Vadhera belongs to one of India's most influential families. His grandfather, father and his elder brother have all been lawyers. However, he was a seeker for adventure in life. Following his brother's advice, he had joined the Army academy.. There, he understood his life's real worth and is now proud to be an officer in the Indian Army. He loves his family a lot but has shut himself up to emotions since the tragic death of his brother. He always masks his emotions behind mischief. He respects his seniors and would readily lay down his life on the battlefield.
Lt. Manvi Chaudhary was a small town girl lazing around and wasting her life as a teenager. But due to the death of her elder sister in an accident, she was compelled to face harsh realities of life. Her grandmother means the world to her and she was the one who motivated Manvi to join the Army and serve her country. She knows Virat personally and was his classmate at the academy. Though she constantly keeps fighting and bickering with him, she considers him to be her best friend.
Major Rajveer Singh Shekhawat is a brave and kind-hearted soldier. He is respected by his seniors for his commitment and is loved by his subordinates for his jest for life. He is also a great leader. He has led and successfully won many battles in the past and has achieved success at a very young age. He is married to Captain Naina Singh Shekhawat for the last 4 years. However, they have a few differences which have turned their marriage sour. 'Trust and friendship' are the commandments of his life and he doesn't forgive people who break his trust. He has been working on a secret mission for the last 4 years. He has a painful past as well.
Captain Naina Singh Shekhawat is a very caring and understanding woman. Her father is a Colonel in the Indian Army and hence, it was her dream to be a part of it as well.. She is otherwise very intelligent and brave but has slight self-confidence issues. She holds a law degree and so, also works as a lawyer with the Indian Army as a prosecution lawyer in some cases. She is brilliant at her job and has lost only one case till date, which continues to haunt her. She loves her husband, despite their differences and understands him better than anyone else. Her friends are her extended family and she can go to any extent to protect her dear ones.
Hope you guys liked it.. Do follow the rest of the story there.. And leave your comments on the Fanfic page, and not here..
See you there..
Tum Dena Saath Mera.. (Fanfictions)
Those of you who would like to be PMed, please send me a buddy request and I shall PM you when I update next.. Please note that PM's will be sent out to only those present in my buddy list..(Makes life easier).
NOTE: The organizations, missions and everything else related to the Indian Army are purely fictional. Any resemblance is purely unintentional.
I do not own the characters.. They belong to their respective shows and original creatives. My stories are my fantasies, are based on ideas derived from the shows and belong entirely to me..
My works are only meant for members of India-forums and are not to be copied to other sites..
Links to my other works
Arhi SS: Teri Khair Pe Vaar Diya
Do not forget to press the LIKE button and leave your valuable feedback.. Take care and Keep falling in love!!
[THIS IS A MEMBERS ONLY POST]
The Author of this post has chosen to restrict the content of this Post to members only.


Edited by mohabbatgirl - 20 July 2012 at 5:34am