Laksh65...

PART 5:

"Khushi...khushi...!!!!!" arnav called. He got scared. He took her near the car and splashed some water on her face. Khushi slowly opened her eyes and looked up into his chocolate brown eyes. "Ar...arnavji...!!!!" she whispered. "Shh...you don't have to say anything khushi...come...i will drop you home...!!!!" he said.

As arnav was about to start his car , a call arrived. He saw that it was Daya sir. "Jai Hind sir..!!!" he exclaimed. "Jai Hind Beta...!!!!" Daya said. "Arnav you have to stay with that girl for sometime as shyam is tracking her down...to get to us...she might be in trouble becoz of us...!!!!" daya said.

Arnav agreed to stay back with khushi for somedays. They reached khushi's house. "Khushi look were home..." as he looked at her , he saw that khushi had fallen asleep...he smiled. He took her in his arms and headed towards the door...

But as they entered the house khushi was awake. He took her to her room and she said "Sir please put me down..." as khushi called her 'Sir' , arnav felt as sumthing pricked his heart. As he put her down , she was walking towards her bed but suddenly she felt a sharp pain in ankles.

Arnav rushed towards her side. "Khushi...are you alright!!!!!" he asked. He then made her sit on the bed and she picked up her foot. He touched her ankle. Arnav touch sent shivers down her spine. She looked up.
"Does it hurt much???" asked arnav. Khushi nodded. She didn't like that her senior was touching her foot. Arnav smiled when he heard this. He knew khushi was a very religious girl. He notices her payal. "Its my mom's!!!!" she exclaimed. "Its beautiful!!!!" he whispered. Khushi thought "Am i getting attracted to him??? Why do feel safe when he his near me...especially when i know him from today only...he is a complete stranger to me...then why???"
He told her to rest and he will bring some food for her.
Arnav came into the kitchen. He noticed the packet of pasta and made some for her. As he came with the dish , khushi said "Sir , aren't you going to eat???". Arnav nodded. Khushi gently took the plate from his hand and started to feed him. They both fed each other.
"Khushi go to sleep!!!!" he commanded. But as he turned around he saw that khushi was already asleep. "She is very tired!!!" he thought. She was sleeping in an unusual form so he picked her up and was about to place her on the bed when he felt a soft tug near his collar. Khushi had grabbed his collar. "This girl is going to drive crazy one day!!!!" he thought and smiled.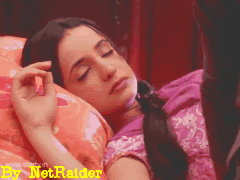 As he was adjusting the pillows , khushi grabbed his hand and put it under her head.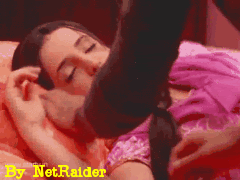 "What the???" he exclaimed. "Khushi...Khushi...wake up damnit...i need my hand back!!!!" he whispered , but in vain. Khushi was fast asleep and was even snoring a bit.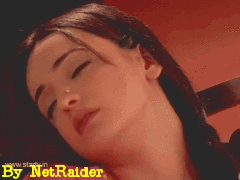 "This girl even snores sweetly!!!" he thought. He thought that the best way was to sleep with her on the same bed. He tried to adjust himself up and as he slept he saw that khushi was kicking him. her lips were pouted as if she was annoyed. "I think i will mad by the time i leave her!!!!" he thought.
Next Morning. Arnav was wide awake. He couldn't sleep at all becoz khushi was continuously practicing her taekondo moves. He saw her face. "She looks so innocent!!!" he thought. Just at that time khushi got up and saw arnav so close to her. She got scared.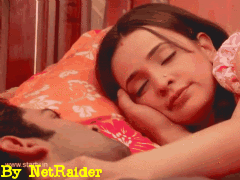 "Why are you sleeping with me???" she cried. "No...no...its not what your thinking..." he tried to explain but khushi was in her hysterical mood. At last arnav grabbed her and told her about wierd behaviour last night and she blushed. Arnav went away to have a shower. "Why do i feel so heated up when he is near me???" she thought.
Arnav went to meet Daya. He had set Aman to look after khushi. Aman and khushi were chatting. "Sir , How do you know arnav sir???" asked khushi. Aman told her that arnav was his frend. "But you know what khushi...sir has a very bad past...!!!!" he exclaimed. "Sir's wife died due an accident but he believes that it was a murder...even though sir never loved her...she was a very good frend of his...they were good frends and his wife loved somebody else and sir never managed to get time for love...and he..." he said. Khushi was listening to him intendly.
"AMAN!!!!:" screamed arnav from behind. Arnav glared at aman and he understood that he should be getting away. He went up to khushi. "HOW DARE YOU ASK HIM ABOUT MY PERSONAL LIFE...WHO DO THINK YOU ARE...???" arnav screamed. He had grabbed khushi by the shoulders and was hurting her...Khushi's eyes filled with tears. Not becoz he was hurting her , but becoz she could see the hurt in his eyes...
"Sir...sir...arnavji your hurting me...!!!!" she cried. Arnav understood what he was doing...he lets go off her hand roughly. Khushi sees that her hands had become red due to pressure he had given her.
At that time , the lights went out. Khushi got scared and hugged arnav. Arnav had forgotten his anger...khushi realized that she was hugging arnav. But arnav saw a shadow near the window. He grabbed khushi's hand and forced her into a hug. Khushi was astonished.
The shadow was none other than shyam's. "As long as im alive...nothing will happen to khushi...!!!!!!" he promised himself. Khushi was lost in his touch. "Why am i feeling like this???" she thought and cried. He remembered what daya sir had told him yesterday. He has to protect khushi , no matter what..."But why am i so protective of her???" he thought.
PRECAP: As arnav enters khushi's room he saw shyam forcing her...he beats him up...and has to tell khushi about his real indentity...daya reveals whay he wants arnav to protect khushi...what will be khushi's reaction????
hope you will like this. Anyways,
Thanx for support u guys gave and sorry for any mistakes. CRITISISMS are welcumed and plz hit the like button and buddy me so that i can pm all of you!!!!
. And plz plz plz COMMENT and leave a reply!!!!!!!!