Part 34
NOTE: this part is just imagination of.. even though have been to DELHI for two times I don't know much about it.. so just a imagination about this place
Maan: You know wat Geet, you are such a cheap..
Geet: wat ever it is Mr. Khuranna, now concentrate on the road and ya stop cursing me under your breadth.
Maan: I will see you later Mrs. Khuranna and I will make it sure tat you pay for this trap of urs.
Geet: Off course Mr. Khuranna, I will wait but right now concentrate on driving or else let Vicky drive.
Vicky: no ways… bhabi..
Maan: I don't even intend to give Vicky.
Maan who was trapped by his darling wife into this weird picnic plan was highly pissed when he came to know where they were heading. He tried to argue on it but was shut by the women's and poor he and Vicky were now on the way to a weird place for their picnic and continuously cursing the mastermind behind this plan and on the other side, his wife was enjoying to the fullest talking about the place and all.
Geet: Dadi.. m just waiting to reach on the spot. It will so much fun na.. I mean all greenery and the flowing waters. It would be so good.
Maan: Ya and when you die of hot sun than you would need AC my dear. I seriously doubt geet tat do you even have brains.
Geet: hawww.. how mean of you.
Maan: Seriously sweetheart, how could you even think of such places.
Dadima: Maan, wats wrong in it.
Vicky; but wats so good also Dadima. Bhabi now m damn sure tat you four are not planning against us two, if so than mind it I will not fall in your trap once again. It was enough of cooking and tat dabba.. yuckkk I still cant get over it tat Vicky Singh Khuranna had to slog in kitchen and later have lunch at dabba.. omg.. wat will girls say if they come to know about it.
Yash: Nothing Vicky.. but only tat they will stay away from you my son.
And all started to laugh on it.
Maan: Serioulsy Vicky.. you stink of tat dabba smell.
Naina: So do you Maan.
Maan: Mom…. How could you…
Vicky: I swear on you women's if this is one such plan than I will surely sue you all three and Dad you to with them.
Yash: why me..
Maan: why you… oh come Dad, we very well know tat you are one of them so be ready for consequences if you four are planning for anything like tat.
Geet: Mr. Maan and Vicky Singh Khuranna, its of no use to argue now so instead of thinking to sue us its better you think about how you both will spend a day and night there.
Maan and Vicky: wat the hell.. a day and night.. are you joking..
Dadima, Yash, Naina and Geet: Nooo
Vicky: Bro we are dead. M sure i will die in the hands of these Khuranna Ladies. Mom seriously, you will not be able to see your younger Daughter in Law.
Maan: geeettt, now you are dead…
Geet: Maan m still alive see you can feel me in flesh here.
Dadima: Yash I seriously have doubt whether these two are my grandsons. Look how weird they behave all the time.
Yash: Maa me too. Naina are you sure tat they are my sons..
Naina, Vicky and Maan: Yashhh.. Dad… just shut up…
Yash puts a finger on his lips looking at the furious eyes of his wife and devil sons while Dadima and Geet were enjoying it.
Geet: No Mom.. even I doubt now. I mean just see the way these two behave and make funny faces. I mean how anyone could believe tat they are Khuranna's. See Dad he looks like a true Khuranna but you both.. hmmm I still doubt.
Vicky: Bro just shut your darling wife or else I have to show her who is a real Khuranna..
Maan: You are free Vicky.. do wat you want.
Vicky smiles wickedly and ask Maan to stop the car while Geet glares at him for not. They continue fighting throughout the journey pulling each others legs and finally when the car came to a halt Geet got down without waiting for anyone and screamed loudly looking at the serene beauty of nature.
Geet could not hold her excitement and Maan and Vicky just had their mouth wide open looking at the nature beauty. They just could not blink their eyes off from the lovely waterfall and it looked so heavenly tat they could not stop praising it while the others watched them is amusement.
Maan: Vicky is this really in Delhi.. I mean I never knew.
Vicky: Bro where did I know.. Bhabi you are just superb.
Dadima: See I had said na tat once you reach there you will praise Geet for it.
All turned to see Geet but she was so lost in the nature tat she did not hear even a single word from them. All stood watching her while Vicky was quite amazed to see her so quite right now. He went near her and placed a hand on her shoulder only to see tears shining in her hazel eyes with a cute lovely smile.
Geet: You know Vicky.. when I was small Papa and Maa used to bring me and Arjun Bhaiya here. You know we just used to wait for weekends to come and me and bhaiya used to start packing for our trip.
Vicky: tats why.. you planned a picnic at this place.
Geet: it hold a special place in my heart Vicky. I have spent the most beautiful time of my life with my parents here. How could I forget tat.
Maan and others who stood there listening to her had tears in their eyes and knew the reason why she was adamant to come here when they had suggested for different places but now they were truly blessed to come here. Geet turned around and came to them and said.
Geet: Mom, there is a temple here, A little far and it's believed tat when a married couple visits tat temple their all wishes come true and they are blessed for seven births. ( she turns to Maan). Maan can we please go there. You know Maa and Papa used to visit there whenever we came, can we please.
How could Maan say no to her when it means her happiness? He silently cupped her face and placed a sweet soft peck on her forehead expressing his happiness tat he would even die for her now while others looked at them lovingly.
Maan: I would do anything to keep this smile on your face Mishti. You just need to order me and I will be there.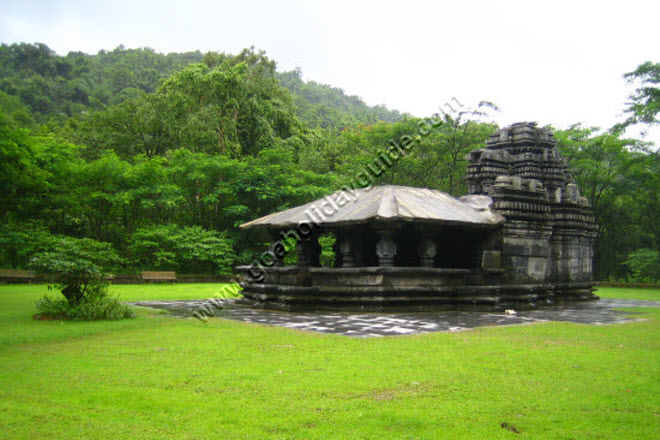 The whole Khuranna family was shock to see such a beautiful and old Temple. They though staying in Delhi were so busy in their life tat they never knew anything about it and today they came here due to their Geet. they stared at Geet who was seen smiling all time while Maan possessively holding her though there were less people around.
The river flowing next to the Temple was giving it a serene beauty and a sense of peace was there. All of them washed their feet in the river while Geet placed her white dupatta on her head and went inside the temple with Maan while his eyes were all the time on her. Maan looked at her each move silently smiling thinking tat how could he deserve such an angel in his life but was brought back to reality when Geet pulled him by her hand and said.
Geet: Maan, we are married and supposed to move together inside and fold your hands like this and close your eyes while praying.
Maan: if I close my eyes how will I see my Mishti Praying? And when my goddess is in front of me whom I should worship why I need to pray in front of others.
Geet: Maan.. please listen na.. we need to pray for our happiness and you can flirt with me later on.
Geet pulls Maan while Vicky hands over the pooja thali to Geet while she and Maan offered the prayers with others. The whole family prayed for one common thing and tat is Maan and Geet's happiness while Maan only stared at Geet from time to time and Vicky who knew only one thing is tat he needed god to keep this family and specially the happiness of his bhabi, prayed for tat.
Geet: God, I only want to thank you for returning my love and family to me. I don't need anything else but would ask one thing back. I need my baby back God, I need my Maan's love to breadth in my womb once again. I want to feel our baby in me and last but not least keep my whole family happy always.
Maan: God, I don't know how to pray and ask as I have always got wat I want. But nope today I want to specially pray for my Mishti. I know tat she will never ask anything for her as she always knows to give but I want to give her all the happiness which she deserves. I want to see her back again as my old Geet who would feel my life with her love and happiness and foremost I want to give her the one gift, which she lost coz of me. I don't know tat, do I deserve it but God I know she deserves to be a mother once again. I will only ask one thing tat give me tat strength so tat I could give her this happiness of bearing my baby, our love in her. please god help..
Vicky: Hmm.. I know tat I don't need anything in life when I have all my happiness with me. But no, I would wish you to grant me all the happiness which belongs to my bhabi no, not bhabi my sister Geet. God its enough now she had got enough of pain and not anymore and mind it if you give her more pain than I will fight with you for it. I need you to keep my bro and bhabi happy with full of love and happiness and no evil touching them and last I want my bhabi to be a mother once again. She paid enough by losing her baby once and not anymore so you better give her happiness back and you know wat I mean.
Dadima, Yash and Naina to prayed for their children's well fare and happiness but when they opened their eyes they were shocked to see Geet in between the boys and all three praying seriously. This was one, which they all missed in their life. they could never think tat their two sons would ever come like this into a temple and pray together but today their dream came true which brought tears in their eyes but with immense happiness.
After long prayers, they made their way back and visited few more places and checked in a small cottage for them that Geet had booked. They were very tired and had their lunch and rested for a while planning to visit the previous waterfall. It was evening and the whole family decided to visit the waterfall wearing comfortable clothes, Maan, Vicky and Yash in Jeans and T-shirt with Maan and Vicky wearing a see through shirt. Naina and Dadima in salwar Kameez while Geet had worn Jeans with short T-shirt upto her waist which Dadima and purchased her for the trip. She was somewhat uncomfortable with them. Maan and Vicky just stared at the beautiful woman in front of them and started to tease her.
Vicky: Oh my god sweetheart, you look utterly sexy dear. Bro m warning you, you better keep an eye on bhabi today as many men's will fall for her.
Geet hit Vicky on his hand and quietly hides behind Naina and looks at Maan who was just staring at her.
Dadima: Haina Na Vicky, she looks damn sexy…
All were like.. wattt..
Dadima: oye close all your mouths and my Geet can look like an angel in any outfit but Maan does not your Mishti looks sexy in this.
Maan: Hmmm still lost in Geet.
Yash: Maan.. wat hmmm cant you compliment her for once.
Naina who saw her son lost in his wife came forward, nudged, and said.
Naina: Maan, I know tat you cant take off your eyes from Geet but atleast say something.
Maan: she looks good.
Geet: hawww.. Only good. Chado, I know tat MSK does not know how to praise a girl and off course his wife.
Vicky: its ok bhabi m there na your chota devar.. will always say good things about you even if you are looking like a devil.
Geet: Devil.. wat.. wat did you say tat I look like a devil..
And Geet runs behind Vicky who goes and sits inside the car while others follow and Maan drew them to the river. It was so calm with few other tourists here and there while the place was only filled with the sounds of running water and the breeze. They got down of the car and settled themselves on a near by rock while watching the others enjoying it. Soon Vicky suggested them to go near the water but Dadima, Yash and Naina refused and sat back while Geet joined them. The trio got down in the water which was cold and chill and had they fun while throwing water on each other. Vicky could hardly keep quite and enjoyed by making Maan and Geet wet. Geet was hell tired and she sat back on the rock near to the water looking at Maan and Vicky enjoying swimming in their jeans while their shirt were no where no be seen nearby.
There were few couples enjoying in the water while Geet looking at them sharing intimacy with each other. She felt shy to look at the way they were clinging to their spouses and kissing them in front of everyone but who does care for the world when you are in love and you love is in front of them. She turned to see her in-laws and saw them sitting far away and could not see anything from there but as soon as she turned she saw tat some besharam girls were approaching her husband and Vicky while Maan and Vicky smiling at them. Her eyes at once became red with anger and she got down into the water and slowly reached near the group and saw a girl almost close to Maan and she poked the girl with her sharp nails making her to cry out in pain.
Girl: Wat the hell was tat?
Geet: oh tat hell was me sweetheart and don't you think tat you are wearing too less clothes to roam freely like this in front of some unknown mens.
Girl: do you have a problem with tat and I suppose you are getting jealous.
Geet: jealous and me of you.. are you joking.. and for your kind information the boys whom you are getting closer..
Maan: Geet its ok, they were just talking to us..
Vicky: Haan bhabi.. look they look so decent..
This made geet even more red in anger and she pouched on Vicky and Maan at once pulling them from there.
Maan: Geet wat are doing … see we have yet not finished..
Geet: Ya I know tat you both like to watch all those nangi pungi girls. But mind it and don't forget tat you are married Maan and you Vicky , m there to keep a watch on you.
Girl: Ms.. who ever you are. Why are you creating fuss about all this just let them enjoy.
Geet: I think so you have not heard but I wont mind repeating my word dear. You know this man he is my husband Maan Singh Khuranna and the other one my BIL Vicky Singh Khuranna and me Mrs. GMSK, so better stay away.
The group of girls were shocked to hear tat they were Khuranna's but they eyes widen learning tat MSK was married but still did not leave a chance of flirting and impressing Vicky but a glare from GMSK there were no where to be seen while Maan and Vicky only laughed seeing their sherni Geet which made geet more furious and pushing them in water she left back to her place an sat there pouting and cursing them while Maan and Vicky enjoyed the new side of Geet. they could not take their eyes of her and her smiling face. Maan turn to Vicky and smirked while they resumed their play back again.
It was almost half an hour now and Geet was a bit dry but Maan and Vicky were still enjoying in the water when suddenly she did not see them but soon felt herself in air. Maan and Vicky carried Geet in their arms and started going deep in water while Geet only screamed.
Geet: leave me, Maan… Vicky leave me see m almost dry leave me.
Maan: so you need to get soaking wet sweetheart.
Geet: I said leave me.. why dont you both go and enjoy with those sexy bimbos..
Vicky: bhabi.. there not of our types…
Geet was more angry now and soon found herself being thrown in the deep cold an chilled water making her to dip fully into it while Maan and Vicky tried pulling her down each time she came up. Finally she left her struggle and enjoyed the water. Maan carried her in his arms and dipped in water making Geet to hold his body tight while she wrapped her legs round his waist making Maan to loose his sense as a reflex of her womanhood exactly positioned on his manhood that was now hard due to her act. Geet though without realization she wrapped her legs around him but soon felt his hardness under her and made her to look at his passion and desire filled eyes. Maan pulled Geet more closer to his body making her softness to collide with his rock hard chest making Geet realize wat he intends to do. Geet though in his passion did not fail to see around and found tat they were all alone in water while Vicky who had seen them in tat position left the love birds all alone with their privacy and the others had vacated the water long back. Maan almost crushed her inside his arms making geet to moan his name and letting him know tat she indeed was affected with their closeness while Maan just smacked his lips on her making her to go insane and kissed her with all force and passion. Maan pulls her more closer if it was possible while his lips busy with hers. He licked and sucked her lower lips making them wet with his saliva while Geet hands were roaming on his back and making him mad. He bits her lower lip letting his tongue inside tasting her sweetness. Geet was no less in her passion she to bit his lips making him graon in pain while she tried to get more closer to him making him to moan her name… Geettt, but Geet was nowhere to listen and she moved more into his body while Maan was finding it difficult to hold her as she was torturing him. They kissed for long time and finally when Maan felt Geet panting in the kiss he left her only to be taken back by Geet. As soon as Maan left her lips she could not bear the loss of it and pulled his lips into a kiss which showed him her love and longings for him. He did not wait for any more and responded in the same way making her all his while still in water. The kiss turned into many more while both did not leave each other. Maan was still kissing her while he said into the kiss.." Mishti.." while Geet only said.. " hmmm…." " Mishti we need to move out of water or else you will catch cold.." But Geet was still in her world of kiss feeling him from her heart and soul and did not reply anything but just kept kissing him while Maan too felt himself getting lost in her passion and soon kissed her with all his love and passion. They did not keep a record of time but kept on kissing with slow smooches and pecks while Maan did not feel like stopping seeing his love all lost in him but his eyes soon fell on Vicky who was standing with his back to him. Maan did not feel to break her from the kiss but he had too..
Maan: Mishti, we need to go now.. see its too late and everyone will be waiting for us.
Geet: hmmm
Maan: Mishti…
He called her again and again but finding her still in the kiss he bit her harder making Geet to scream out in pain and stare at him with her big eyes while Maan smiled at her which made her to hit him.
Maan: Mishti.. since long m standing and taking your weight on me and m nearly frozen.. but if you do want to continue than I can do but before tat we need to tell Vicky tat we are not interested to come back. Wat say.
Geet: wat…. You are making fun of me..
Maan: No Mishti but just turn and see there's your sweet devar all turned from us.
Geet turned around to see Vicky standing and she only screamed his name loudly making him to turn around.
Vicky: Bhabi are you all right.. I mean…..
Vicky was lost of words as he had witnessed them kissing and did not like to break them apart so he just turned and waited for them to finish. Geet could get the meaning of his word and she shied all the way and buried herself even more in Maan hiding her blush from Vicky and Maan while Maan carried her and walked. Once they were out of the water Maan slowly put Geet on her feet while Geet still had her eyes down but the next moment Vicky's comment made her to see him in shock.
Vicky: Bhabi.. we don't mind you and bro staying in water and romancing all the way but you should also know tat it can turn harmful.. I mean if you both catch fever and cold than how will you both romance..
Geet: Vicky…
Maan: Vicky is right.. but geet as I said earlier I don't mind repeating our kiss once again.
Geet was now all just staring at the two who were making fun of her while she felt Vicky placing his shirt on her.
Vicky: I know you look damn sexy bhabi… but I pity those few people around still as if there even spare a glance at you like this than Bro wont hesitate to break their bones into pieces.
Geet was just staring at him with all love and Maan did not have any words to say.
Vicky: I know you both would like to say thanks to me but you know na VSK.. big enough so no need.. and haan how could I let my Bhabhi to be seen by someone else when she looks so hot and sexy..
Geet: Don't you feel Vicky tat this hot and sexy is too much.. I mean I loved it but you know you should also save some for your girlfriend.
Vicky: hmm.. but unless and until I get one I can use it on you.. wat say bro do you have any problem.
Maan; off course not Vicky but beta better save it for your special one as m there for her.
And before Vicky or Geet could say anything Maan scooped a wet Geet into his arms and kept walking while Vicky ran after them while Geet blushing at Maan.
Maan: mishti save this blush for tonight as you will require it..
Geet eyes widen in his simple yet strong words while she only stared at him.
Maan: Don't stare at me like tat or else I will tell everyone to go and we could stay here and continue wat we left.
Geet: Maann……
Maan: Maan wat.. m serious.. you will need all strength Mishti as tonight I would make you as mine with all love and love and only love.
Geet only held him tight wrapping her hands around his neck.
Maan; Mishti would you let me to love you tonight the way I always thought about. Will you let me worship your body and soul which I had failed to do.. will you let me fill you with my love and fill myself with your love. Mishti would you let me bring a life in your womb once again as the symbol of our love. would you..
Geet could not take anymore of his words and placed her hand on his mouth and said.
Geet: Maan… make me yours forever and ever for once and all.
Tat was enough for Maan to know tat she was all ready for her. he pulled her slightly on top and kissed on her lips without Vicky noticing it promising tat tonight they would be one soul.
Precap:
Baahon ke darmiyaan do pyaar mil rahe hain
Baahon ke darmiyaan do pyaar mil rahe hain
Jaane kya bole mann dole sunke badan
Dhadkan bani zubaan


So hope tat you liked the update.. so now give me likes and comments.. and ya.. I know many are waiting for Maan and Geet to talk, so next part will have tat with the much awaiting part.. Maaneet love filled milan.. so if you want than give me more likes and comments for this part…