Hey guys Mel here. My sincere apologies for the late posting of the update. But I had to go to work so couldn' t post it earlier. See first thing I am doing after coming back is posting. Happy Independence day from my and Miss.Mars side to all the Pakistani and Indian Readers.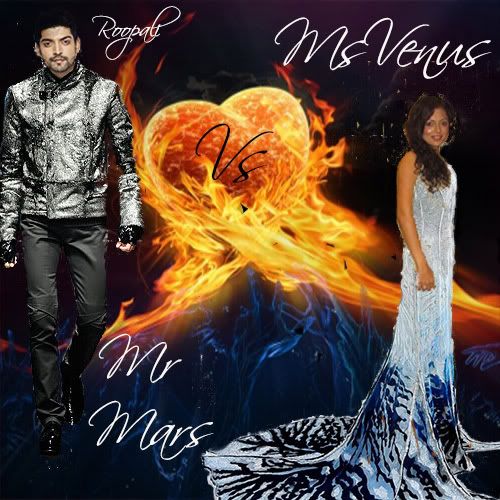 Part 10

Maan opened the door entering the room.
Geet gasped on seeing inside.
"Geet! Come in... You need to look this! This is simply amazing!"Maan said excitedly.
Geet stepped in.
Her brown eyes turned olive green.
She started walking towards the mirror as if possessed. Possessed by some evil power.
"Geet... Geet..." Maan called her innumerable times but it all fell into deaf ears.
Maan shook Geet by her shoulder. Geet fell down unconscious. Her body turning blue. She simply whispered something ...some name... "Maan...!!"
She gasped for breath coughing continuously.
Maan got tensed seeing her all senseless all cold.
"Geet..." He hugged trying to bring back her senses. She just lay there motionless whispering Maan's name.
Maan shouted loudly,"GEEETTT...!!!!!!!" as Geet even stopped moving her lips.
He picked her up craddling her closer to him like a baby , "I wont let anything happen to you, I WONT LET ANYONE TAKE YOU AWAY FROM ME !!!!!"
He took her to his room laying her softly on the bed "Geet Open your Eyes! Open your eyes DAMMIT!!!" He screamed.
"SORDO!!!!!!! Call the Doc NOW!! Immediately!!!!!!..." He called out for Sordo.
Sordo came in running. He was shocked seeing Geet in such a state.
"Master PMM!!" He stood there rooted.
"What are you looking at me! Run for the Doc..." Maan blasted on him.
Sordo immediately ran away.
***********
Dev smirked. He had started the war. His first plan was succesful.
"Geet My first step towards you... The more you are exposed to it the closer you you will be to me. He laughed loudly... evilly overconfident about his plan of action unknown to the fact that if Geet gets weakened by it Maan is getting stronger by it.
**********
PAST
"Hail D! I am at your service!" KM spoke through the green light.
"You know what you are supposed to do..."
"Yes I kno'..." KM spoke but was interrupted by a grave voice.
"Papa... What was that?" Teenager Maan Mars spoke with curiousity. The green light was immediately covered up by KM.
"Nothing... What are you doing here PMM??" KM spoke sternly. The green light slowly creeked and creeped in focusing on Maan Mars' body.
Maan could feel his stature strengthening up.
"Leave now...!" KM said and Maan followed obediently.
**********
PRESENT
Maan on not finding any help picked up Geet again taking her towards the room.
He held her while standing and getting exposed to the green light.
What happened just made Maan dumbstruck... It was a miracle.
***********
"Geet shall we start it again?" Maan asked.
Geet nodded yes.
They were interrupted by a knock on the door.
"I will put the sheet" Geet said casually.
Maan sensed the danger.
"No I will!" He spoke adamantly.
"I will do it Maan.." Geet assured him.
"No you will not..." Maan interrupted.
"Maan!" Geet spoke angrily.
"Geet!" Maan was fuming.
"Prince MARS!!!!!"
"Princess VENUS!!!!!!"
They were suddenly interrupted by few more knocks.
Maan immediately pulled the sheet and put it.
************
"Damn! How could it fail! Why couldnt he get further signals of Geet weakening????" Dev was fuming in anger breaking things in his way.
He blew another cosmic radiation on KM but KM laid there lifeless.
*********
"You will be getting the result of this insult Dev!!!!!" Dr.R spoke with vengeance filled eyes as he headed towards Venus.
************
PRECAP:::::::
Another bud grew. Why? Any guesses.
How did Geet get back her senses?
What were they going to start again
???????
Guess guess guys try harder
BTW replied to all do check the previous 10-12 pages.:D
Please press the like button and do comment soon.
Love
Miss. Mars