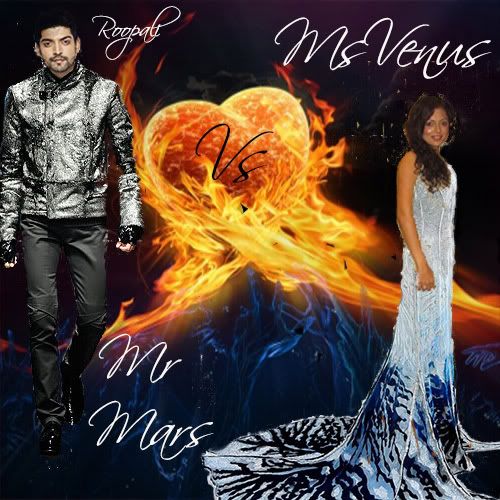 Part 8
PAST
Every single thing has an undoing. It always comes in pairs. So did the superiority of Marsians and Venusians.
"THE FORBIDDEN FRUIT!"
It served the Galactus and destroyed lives of many.
People may get attracted to its external appearance and have it.
But along with it comes great vices which kills you within.
Only few people resist it while the many rest succumb to its appearances.
A minute's happiness destroys their entire life.
And thats what happened to the happy go lucky Dev. Now known as D the Destroyer the Unnamed.
*******
*****
**
**********
"Hey Guys lets take up this challenge! Lets see who can go in!"
"No Dev! Sir has strictly put restrictions on not going inside the garden!"
"Come on! Dont be a coward! Those fruits are so delicious! Let me see if the rumours spread by KV are true or not! May be he is trying to hide some treasure there in the name of FORBIDDEN FRUIT" He spoke mischieviously.
He could see a vision. Calling him to come in. Enjoy the luxury of the place. The Garden of Forbidden Fruit.
He was brought out of the trance "You mean disobey KV? Dev have you gone nuts?" His friends screamed.
Dev was a bright child. KV adored him and his capabilities. Though he feared his negative streak he treated him like a son. Infact he actually was the son of his old friend. He allowed him all sorts of freedom like a prince would have got. Even thought of getting him and his daughter together. But it wasnt in their destiny. Dev and Geet were never meant to be together. Because Dev diverted his way. He tried making his path through thorns instead of the path with flowers.
Thats what made him weak and Galactus passed through his weak barrier.
**********
"Come on lets return. QV says we should never go into this area. " All the boys returned back while Dev turned to have a second glance. It was calling him again.
**********
Galactus saw potential in the boy.
"He is capable!"
He glanced at the ticking clock.
"And I have less time to transfer my soul!"
He saw Dev coming back. He smirked evilly.
Dev entered the Garden with greed of having the fruit.
The barrier had weakened. He had come there unprotected and the inevitable happened.
He saw the delicious fruit hanging there. He ran and grabbed the fruit.
"KV fusses for nothing over this fruit. It must be some hidden treasure" He thought as he had a bite of it. He immediately froze.
Like a lightening something came and passed through him. It was Galactus' soul.
"Over to you my Son!" Galactus whispered in his ear. His body shook vigorously as he felt some tightening inside him. His heartbeat quickened as he felt chocked. Emotions washing off him. Something strong replacing them. He felt a chain covering his wrist with a "D" on it.
The place around him changed into a castle as dark clouds surrounded.
Dev laughed loudly as the evil streak of his took a giant form.
"Now I am Dev the Destroyer!" He raised his hands towards the clouds as if gaining his power.
He clenched his fist and the nearby tree got struck with his cosmic ball energy and turned into ashes.
" I AM THE SUPREME GOD! "
*********
Glasses broke. Windows collided. Doors shook. Dark clouds covered the atmosphere of Venus and KV came to know the worst has happened.
He could see the glass for Dev had broken.
KV was shocked.
"Galactus is alive now! Through Dev!!!" He gasped.

"WHAT?"
"We lost Dev ! He has turned his slave. He went for the Forbidden Fruit there!"
PRESENT
KV was shocked.
KM stood there freezed.
'What had KM done? That he is so relieved? What information did he give to Maan?' KV's thought process had slowed down.
He immediately charged towards Dev as his guards held him back.
Dev crooned his neck raised his eyebrow.
"You actually dont mean to hurt this beautiful lady! Do you KV?" He spoke in deathly tone.
"Who?" KV was surprised as he stepped back.
Dev grabbed a girl by her hair and pulled her towards KV as she fell on the floor.
"Annie!!!" KV gasped.
She was bruised whole throughout her body and her lips bleeded.
"Tsk Tsk Dont Worry! I have not touched her KV! I am waiting for GV!"
KV's blood boiled hearing Geet's name from his mouth as he picked Annie up.
"You b****** !!! Dare you take her name from your filthy mouth!!" KV roared.
"Oops! Did I make Poor KV angry?" Dev made an innocent face.
His face contorted into an evil smile as he blew another cosmic flow rendering KV and Annie senseless.
" I think I have!" He smirked.
***********
"You FOOLLL!!" he kicked his butt.
"I..i ..i a..am s.. so.. sorr...sorry Mm...Mas...Master!!" Raj stammered.
"They have not done anything?"
"Yes Mmm..." He got a punch on his cheek.
"They are ready to fight with D?"
"Y...ye...yes... M..mas..." He got another blow the surfboard.
'Geet is too scared at the moment! I must divert her attention!'
"Up baby!" He said as the surfboard raised high. Geet clutched his collar digging her face into his chest.
He smiled naughtily. Suddenly his gaze fell on the little instrument on his wrist.
"D L Bridge!" He thought as Geet slept off and so did he.
She went towards the fruit.
It looked delicious.
As if it was calling her, attracting her towards.
She was about to reach it when two hands stopped her pulling her hands

behind her back twisting them in the process.
"You are delicious than that!"
He inched closer to her face.
She pouted.
He opened his mask by freeing her hands.
"Dreamy Mars!"
"Beautiful Venus!"
Both whispered as they kissed.
The surfboard jerked and stopped as their eyes flew open.
Sordo stood there to welcome them and so did the other soldiers.
Geet was amazed and curious too.
"Welcome to Mars Princess Geet Venus!" They spoke and bent down their heads as Maan led her inside the palace into their room.
"Geet you freshen up then we will need to start! Its high time!" Maan spoke all tensed.
***********
Maan placed the chart infront of her.
"Look Princess!" Geet looked at him surprised. She sensed his seriousness with the word at the word "Princess".
"The Plan of Action is simple. We do not know how many times he is going to attack Venus or how strong he is. So you will need to work on your force fielding skills much more and the freezing skill will help us a lot. My fire at supernova and your ice can create cosmic ball as I have figured out so this can help us in stopping him!" Maan said with utter seriousness as Geet nodded sincerely. She wanted to do her best to save her home. Her fellow beings.
***********
After discussing the few chances of survival and attacking skills Maan closed the chart moving towards the open window.
He folded his arms and stood there watching the sky.
Geet sensed his tension and went behind him. She wrapped her arms around his waist from his back. Maan covered her palms with his squeezing them.
"Dont be tensed!" She ordered.
"How can I not? They are expecting so much from us!" Maan whispered dejected.
Geet nuzzled his back.
"We wont lose!" She said turning him around.
She cupped his face in her hands.
"We will try our best!" She said grabbing his hair in her fist as his hands snaked around her waist.
"Do you think we can match up to his power?" Maan asked as he inched closer.
"We can hope so and try our best! It is not like Evil can win over Good . Never Ever!" Saying so she covered the remaining distance.
They kissed.
They needed it to drown their worries and concerns and give rise to their hopes and strengths and achieve the goal they had aimed at.
Defeat Dev and Galactus.
"I love you!" Both spoke
into the kiss.
************
Geet concentrated on the lock. It was a lock hard to open. Maan had not noticed it earlier but Geet did she was curious about it.
She tried ice daggers. It didnt work.
She slowly spinned. The speed gradually increasing .
Faster and faster.
Creating the forcefield inside the lock.
*********
Maan tried to control his fire temperature.
He ran faster and faster.
"Flame on!"
He kept on increasing the speed.
The temperature went higher and higher.
The cosmic ball still did not melt.
He clenched his fist while increasing the speed as he ran inside the hall with the speed of light.
The ball bursted.
He had attained Supernova.
"Yes I did it!!!" He rejoiced as he went in search of Geet.
*********
She was still spinning higher and higher as the lock shook but did not break.
Maan was amazed at her courage.
His eyes fell on the lock.
"I hadnt noticed this earlier!" He wondered.
Geet was almost spinning in the speed of light when Maan said "Supernova!" and shoved the fire ball towards the lock The Supernova bursted the Force field.
And so did the lock.
The lock bursted and Geet kicked the door open.
Geet fell down exhausted as Maan caught her immediately.
Both peeked into the room.
********
Here the Supernova and Ice Field combined and there Dev felt a pain in his chest.
"Supernova Ice Combo!" He gasped writhing with pain.
******
****
***
PRECAP:
How did their first D L Bridge connection break?
What did KM do?
@Faiza: Yeh lo aapka late gift!!
Phew! That was so long!
Since I didnt get sufficient comments nor likes on part 7 so me getting off updating this for 2 weeks perhaps
specially from you DQ!! *POUT*
@All: Challo challo comment soon and do press the like button.
Love
Ms.Mars