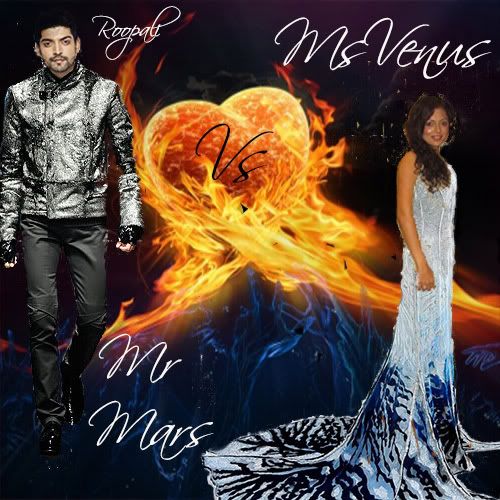 Part 7
PRESENT
Maan was extremely angry after his confrontation with Raj.
'That little b**** could not be trusted anymore. He can come up with any cheap little tricks to serve his own greed and hurt my Geet as well as destroy the planet'
"I wont let this happen ! NEVER EVER!!!"
He was shivering with rage.
He immediately made a mind connection with Sordo.
"Make arrangements on Mars for my trip!"
He ordered.
"I am coming with Ms.Venus!"
He spoke stressing each word of it.
Sordo heard his enrageous voice ...while remembering one of the beautiful moments of their past which he had witnessed only.
*************
PAST
"You have been troubling me in my dreams and now my practice sessions

Venus" He spoke blushing to himself.
"Your ice cold kisses making me feel alive" he spoke as he painted her

lips red.
"And today I will meet you!" He spoke as he completed the portrait of

her , Of his Dreams, Of Ms.Venus.
"Perfect!"
"SORDO!"
"Yes Master!"
"Bring the D L Bridge! I will see her today itself!"
"But Master! This isnt fair!"
"Everything is fair in Love!""Everything is fair in Love!"
Maan spoke smirking as Sordo ran to bring D L Bridge.
"I have never seen Master PMM being so mischievious specially using DL Bridge. This girl is surely special for Master!" Sordo thought as he brought the instrument.
"
Thank you Sordo ! You may leave now!"
Maan spoke with a mischievious glance as he wrapped the instrument around his right hand wrist.
'Up and Dream Baby!'
He whispered.
*******
He walked towards a room.
It was all lighted and like a princess there she slept there she slept like a baby all curled up but with a giant smile on her face.
"She is dreaming!" He smiled.
"About.Someone." His face contorted.
He went and slept beside her putting his hands around her waist. Almost touching each other from head to toe with her back to his chest.
His hot breath fanned her neck as her breathing quickened. She could sense someone behind her.
*******
"Though I am going to use the DL Bridge I dont know how will I be able to face him." Geet thought with a sly giggle.
Yes she Yes she was using the DL Bridge to meet her Prince Charming , her "Mars".
"DL Bridge not only allows you to watch one's dreams but also become a part of it with its ladder!" She remembered her father, KV's words as He gifted her the 13th Birthday Present - DL Bridge.
But what she didnt know was that he too was using it.
*******
As she slept off using the instrument.
She saw herself sleeping in a lighted room.
She closed her eyes as she could feel his presence.
"
Mars!"
She whispered with a smile slowly curling up on her face.
That's when she felt someone's presence behind her.
He squeezed her waist bringing her close yet burning with an unknown jealousy.
*********
The previous night was one of her most beautiful nights she has ever had.
She had met her Mr.Dreamy and she felt like flying on the top of the world.